.
In need of a winter trip inspiration? This post will take you through all the best winter activities in Megève, French Alps!
After being stuck a whole year (at least most of us) in the same country or even city because of Covid-19, the only thing we are all in need of is a breath of fresh air. And what's better for that than heading to the mountains?
As they are the highest and most extensive mountain range system in Europe, the Alps obviously hold an incredible number of different ski resorts & mountain towns, of all sizes and styles. So how to choose the perfect winter destination among all? It depends on what you are looking for obviously, but for the dreamiest trip, I would highly recommend to look for authenticity & charm! And that's exactly what you will find in Megève.
If you are in a rush, save this post on Pinterest for later! ↡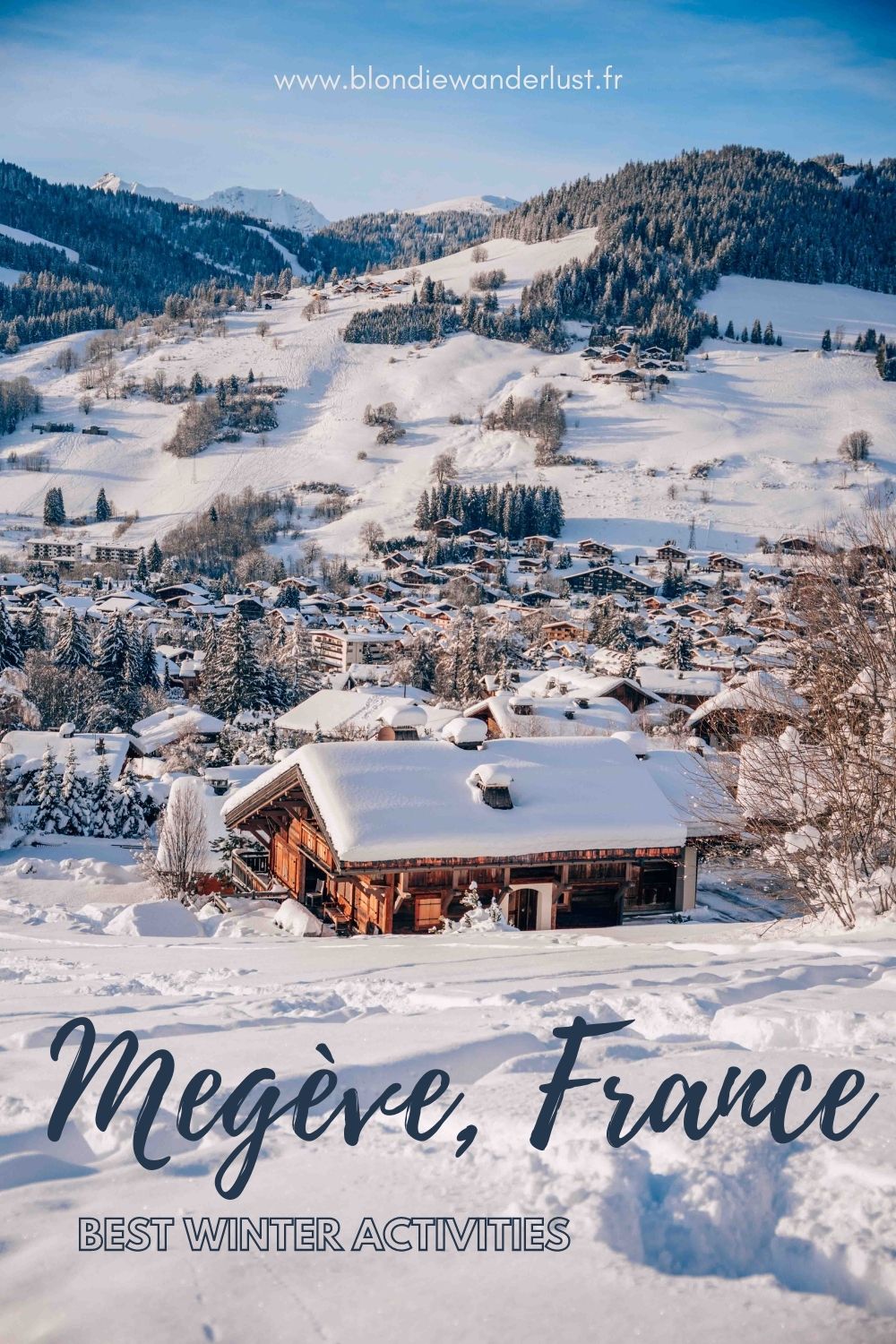 All pictures in this blogpost are edited with my own Lightroom presets. If you appreciate my editing and want to give the same look to your own photos, you can shop my presets through this link.
Located near the Mont Blanc, in the Haute-Savoie department & Auvergne-Rhône-Alpes region in southeastern France, Megève holds a population of more than 3,000 residents annually. Conceived in the 1920s, it was the first purpose-built ski resort in the Alps, and originally a prime destination for the French aristocracy. It still remains one of the most famous and fanciest ski resorts in the world!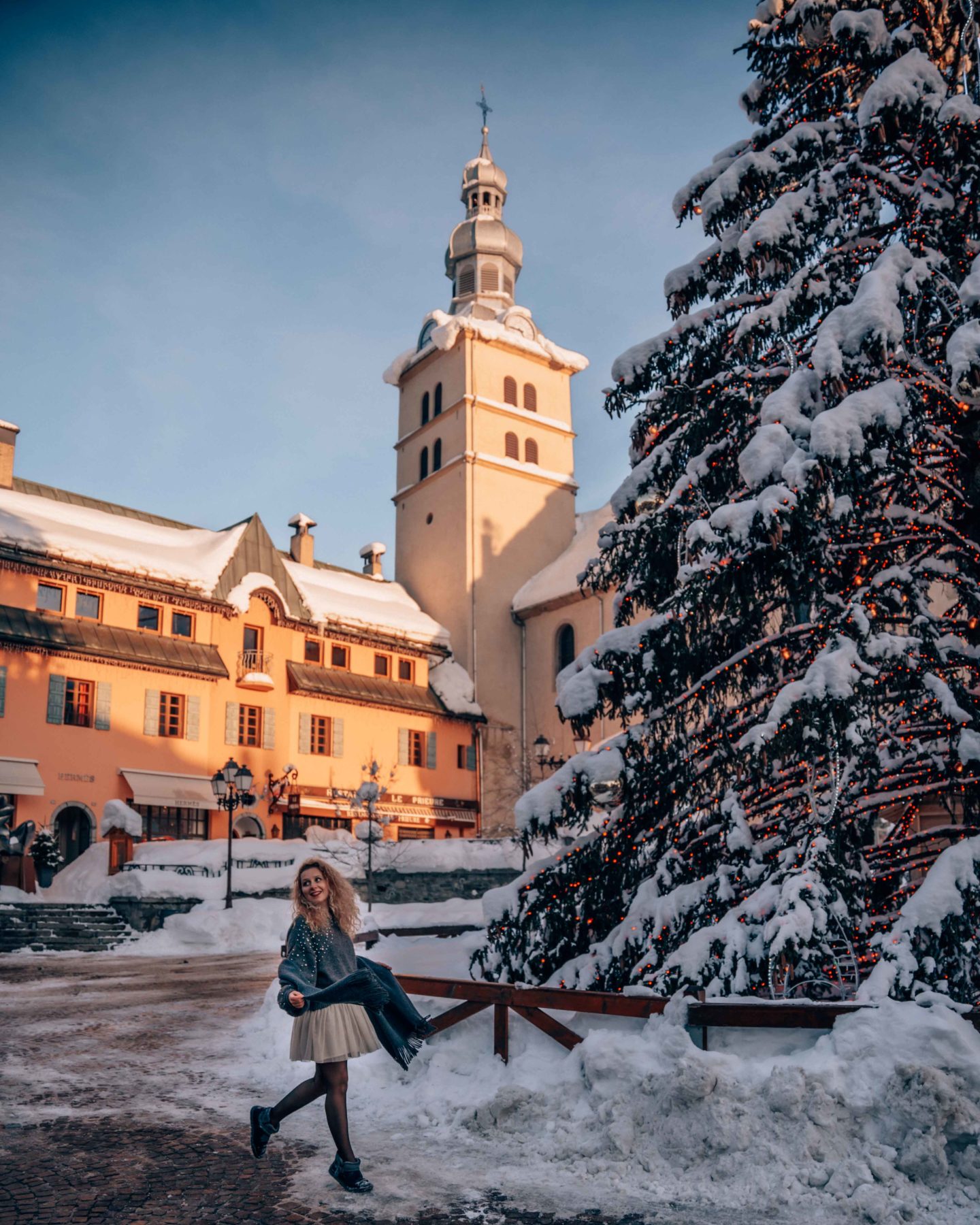 For all these reasons, there are obviously many things to do in this insanely charming town to enjoy the mountain vibes at the fullest. Keep on reading to know all about the best winter activities in Megève!
1. Stay in a cozy mountain cabin
What screams "winter escape" more than a cozy cabin surrounded by snow? Than waking up inside a room paved with wood before having breakfast on a balcony facing a stunning mountain view? Hardly anything, right?
Staying in a mountain cabin like this is clearly something everybody has to experience one day. And in Megève, the best place to do so according to me is the hotel "Au coin du Feu".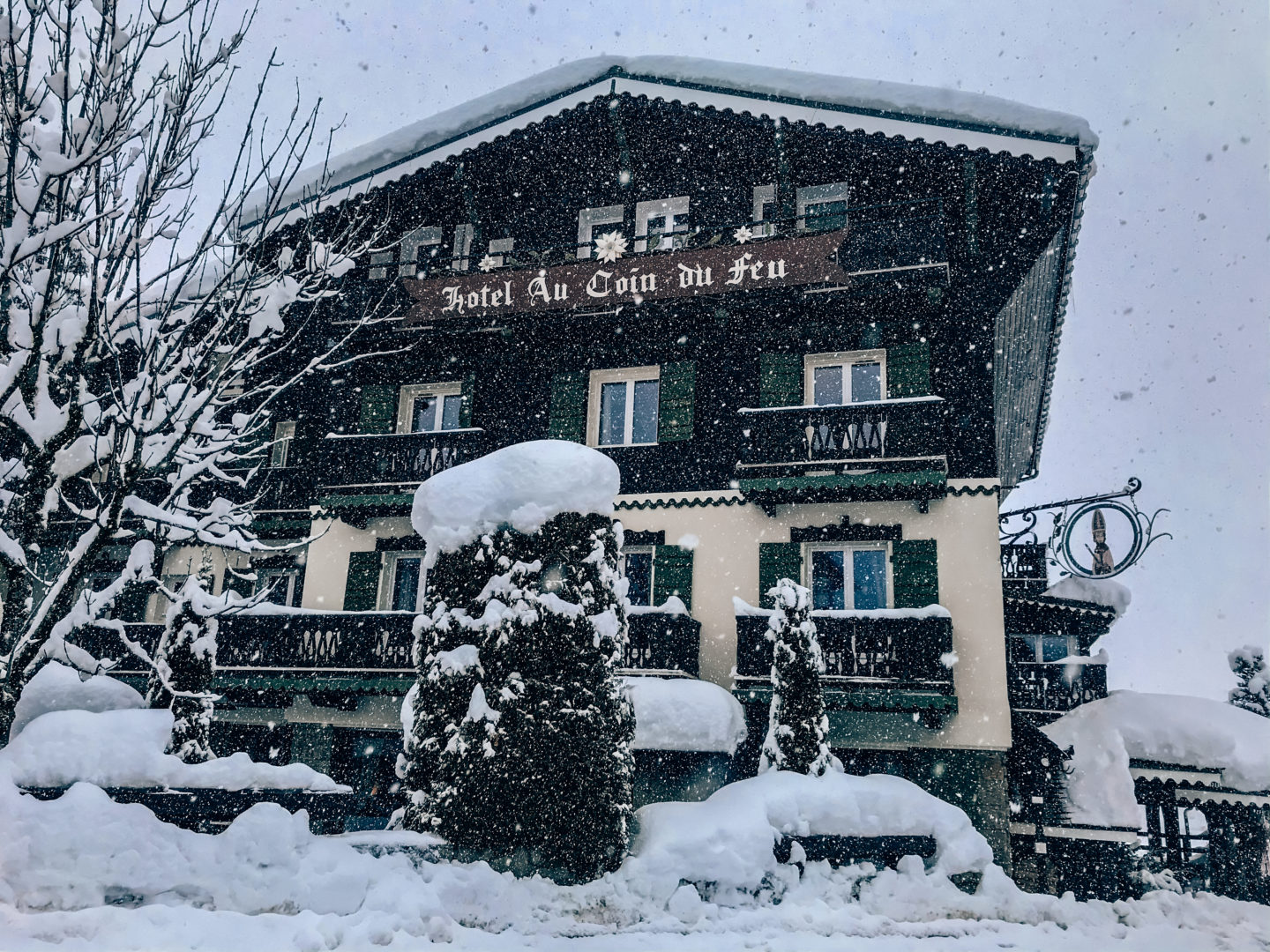 Located in the city center, barely 5 minutes away from the main square, this hotel is the perfect option for your stay in Megève. All rooms offer mountain views to make sure you enjoy the surrounding landscape, and are decorated in that beautiful "chalet" vibe.
We spent 2 nights there – gifted stay – and it was simply pure heaven. The hotel is very intimist, combines both comfort & authenticity, while giving you the most complete change of scenery! Here is a quick list of all the moments we've been able to enjoy during our stay:
A romantic date by the fireplace
I don't think anything is more comfortable in winter than snuggling up on a couch by the chimney with a glass of wine! Well, Au Coin du Feu, which literally means "by the fire" in French, couldn't wear its name better. Indeed, you will find this large and stunning fireplace at the end of the lobby, in a cozy corner that will just make you want to spend your whole evening in!
To enjoy the moment at the fullest, you can order a glass of wine from the bar right in front, or even have dinner here thanks to the hotel's restaurant, "Le Saint Nicolas". The staff is incredibly caring and will make everything to make you feel as cozy as possible! For instance, the menu on our first night was not counting any vegetarian option. But when we asked if it was possible to adapt one of the dishes to make it veggie, they even offered to tailor-make a specific meal for us! We really appreciated the gesture, and, spoiler alert, it was absolutely delicious (see below).
A soft sunset & landscape views from our room's balcony
As all rooms offer views on the mountains, you might be lucky enough to witness a spectacular sunset from your own private balcony at the end of a sunny day. Look at those colors contrasting with the mountains!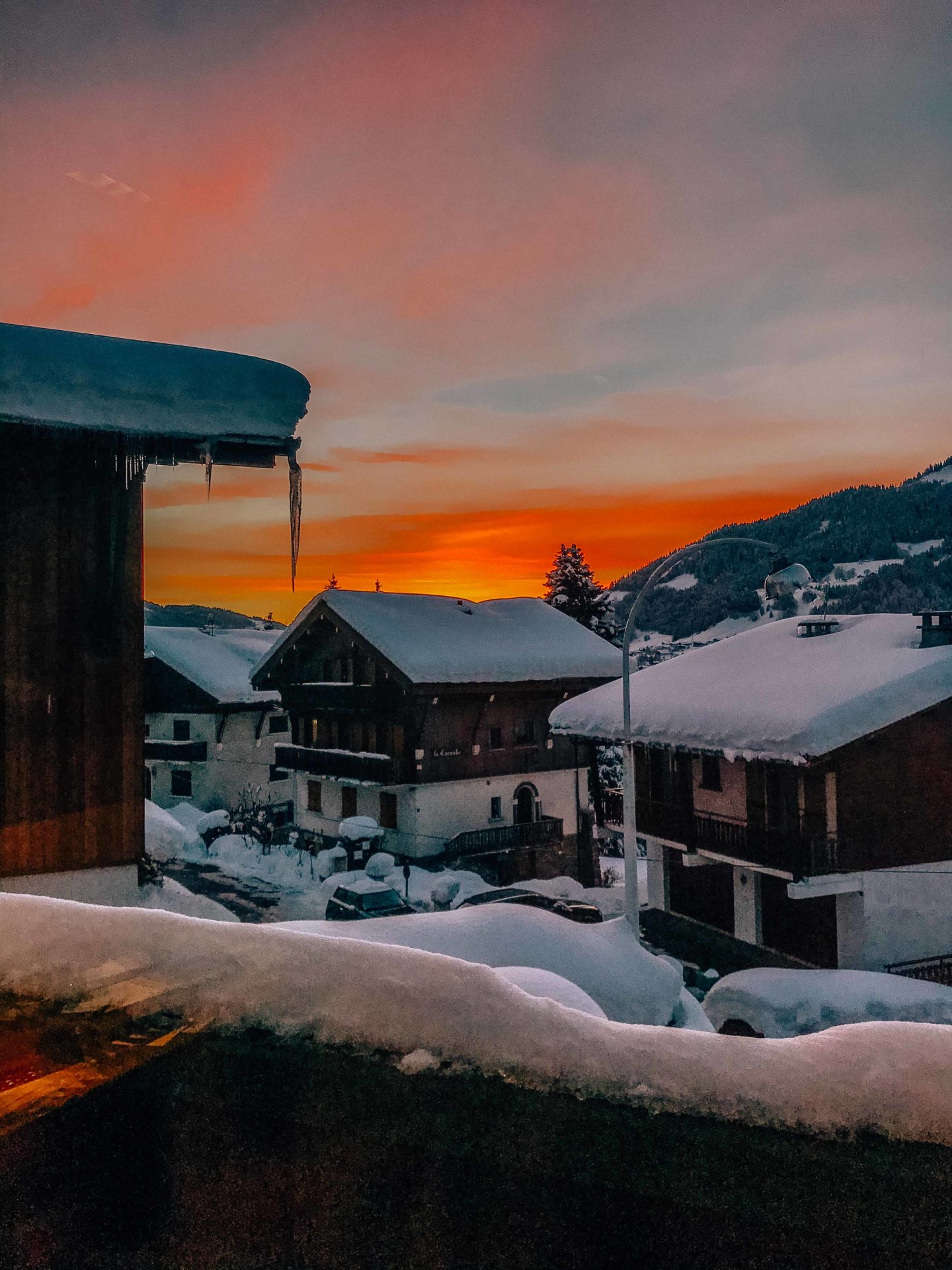 But even if you don't have the chance to see a sunset for whatever reason, you can still very much enjoy the views from your room by day! I found them just as pretty and photogenic, as you can see below. The light in the mountains is often quite incredible.
A private sauna moment surrounded by snow
Another amazing moment you'll be able to enjoy in this hotel is a private spa session. After a day spent exploring in the cold or skiing, there's nothing more relaxing than sitting in the sauna and letting the heat do its magic. Bonus point: you'll still have a view on the snowy outside for even more coziness!
But that's not it! To fully recharge your batteries, this cocooning wellness area holds other facilities, like a hammam and a treatment room. You can get Californian, Swedish or Slimming massages by booking at the reception desk. More information here.
A delicious breakfast with a dreamy mountain view
Last but not least, and as any other breakfast lover out there, I couldn't wait to see what the hotel had in store for us in the morning. And I must say I wasn't disappointed! We've been able to choose as many items as we wanted from a very diverse list of yummy treats: French pastries of course (croissants, pains au chocolat and others), bread, butter and jams, granola and yogurt, fruits, a selection of cheeses, but also cold meats (charcuterie) if you're not vegetarian like us. Put some fresh juices, a tea and a hot chocolate on top of that and you're good to go until dinner!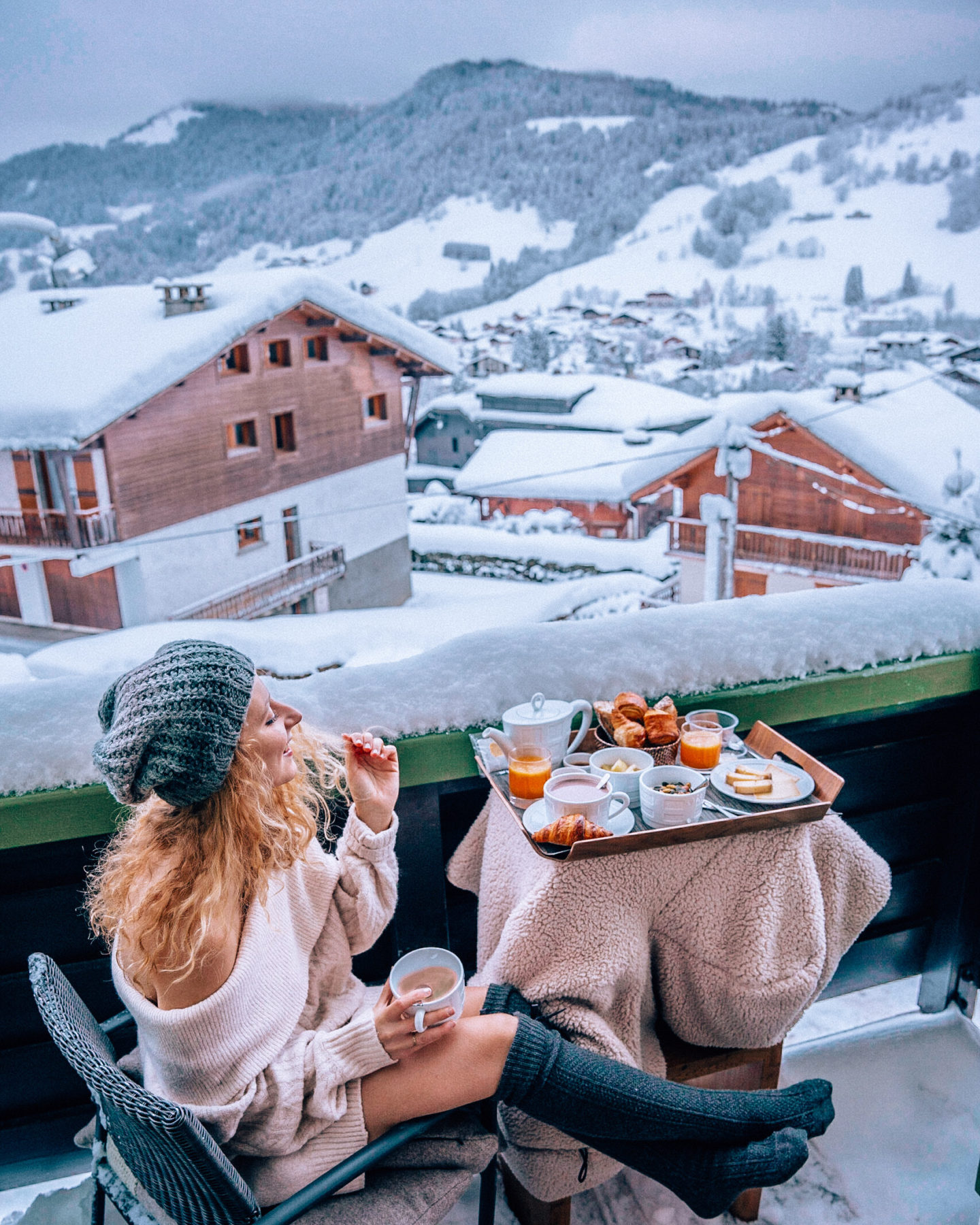 But the absolute best part of this morning was of course the view we got to enjoy, from barely out of bed and all along breakfast time. Truly special!
So, now that you know everything about the ideal place to stay, it's time to actually dig in the other best winter activities in Megève, the ones you'll experience when you leave the hotel!
2. Fly above & around the Mont Blanc
This first activity is probably the most extraordinary on the list. If you're not too afraid of heights (or even if you want to challenge yourself, because trust me, it's worth it!), I can only recommend you to book a tour flight around the Mont Blanc. You'll be able to admire the highest summit in the Alps of course, but also many different glaciers and valleys between France & Switzerland, deep impressive crevasses, lost refuges in the middle of the mountains, among other gems. It's honestly the most unique perspective you can get & will leave you with forever lasting memories!
For this flight, we chose to work with Aerocime Megève. They offer 3 different circuits, the Chamonix Valley, the White Valley or the Mont-Blanc Massif, depending how long and how far you want to fly. They respectively cost 80€, 120€ and 160€ per person (half price fares for children under 12) for either 20, 30 or 40 minutes of dream in the air. Find more details on the circuits here and all the general/practical information here. It's usually best to book at least 48h in advance.
All aircrafts have a panoramic canopy so that you can discover the stunning mountain range scenery as fully as possible. You're allowed, and even encouraged, to bring your own camera/phone in the airplane. But they also offer a 360° video (taken with their GoPro system) if you want an extra souvenir!
Of course, the pilots are specially trained in mountain flying. They will also give you all the insights about the summits, glaciers, refuges and valleys you will fly above. We always felt 100% safe in the aircraft and Bertrand, our pilot (see photo above) was an incredible guide!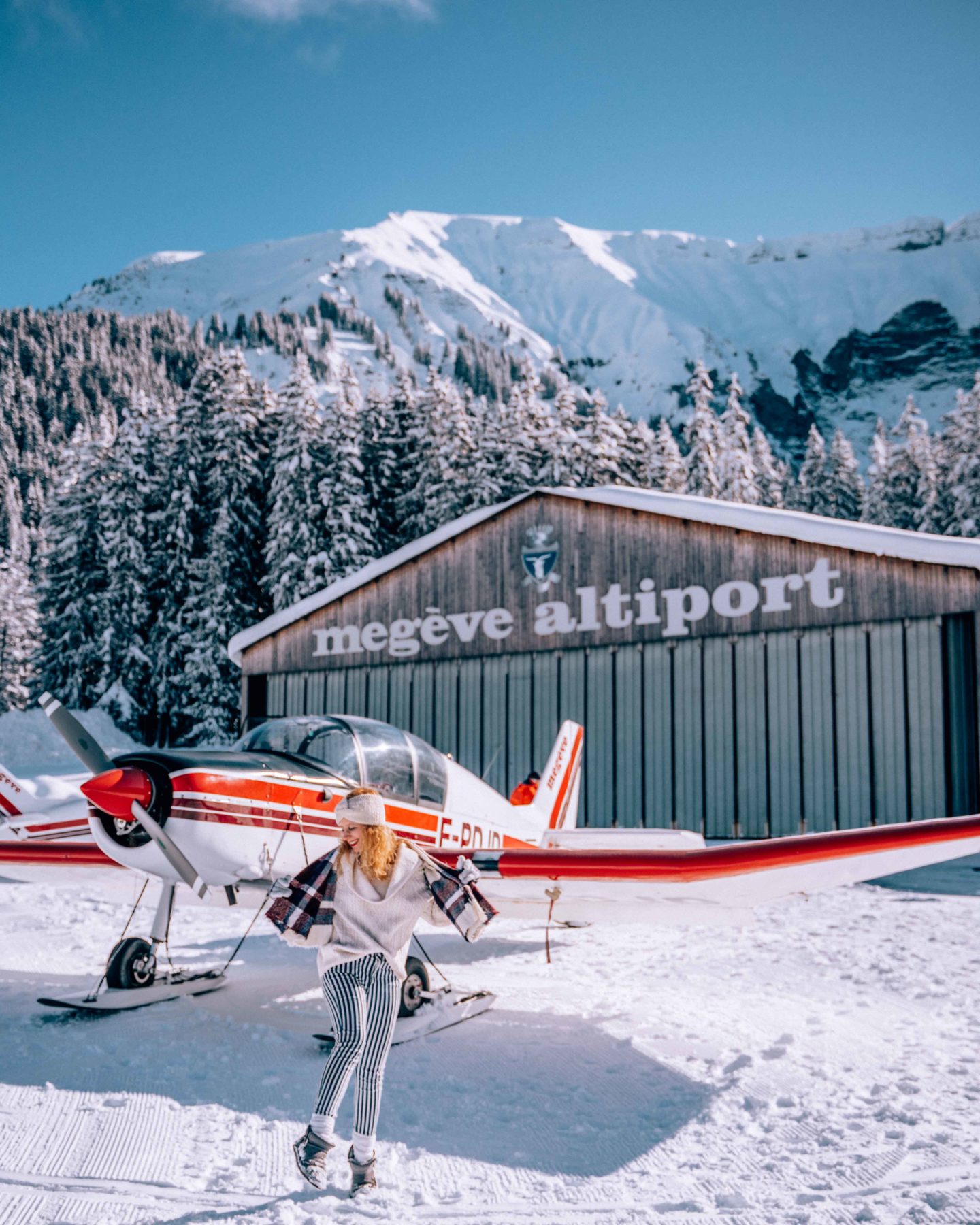 Megève altiport, from where the tours start, is located only 15 minutes away from the city center by car. Make sure to arrive with a bit of advance, to bring some sunglasses, and also warm winter clothes of course!
3. Experience a dog sledding ride
The third item among the best winter activities in Megève is something I think most people dream of doing: dog sledding. I don't know for you, but it has always been very high on my bucket list. So finally getting to experience it was nothing else than a dream come true!
We booked the first tour in the morning (at 9.30am) in order to enjoy the sunrise light & fresh air at the same time! You already know what a sunrise lover I am, so obviously it was pure magic.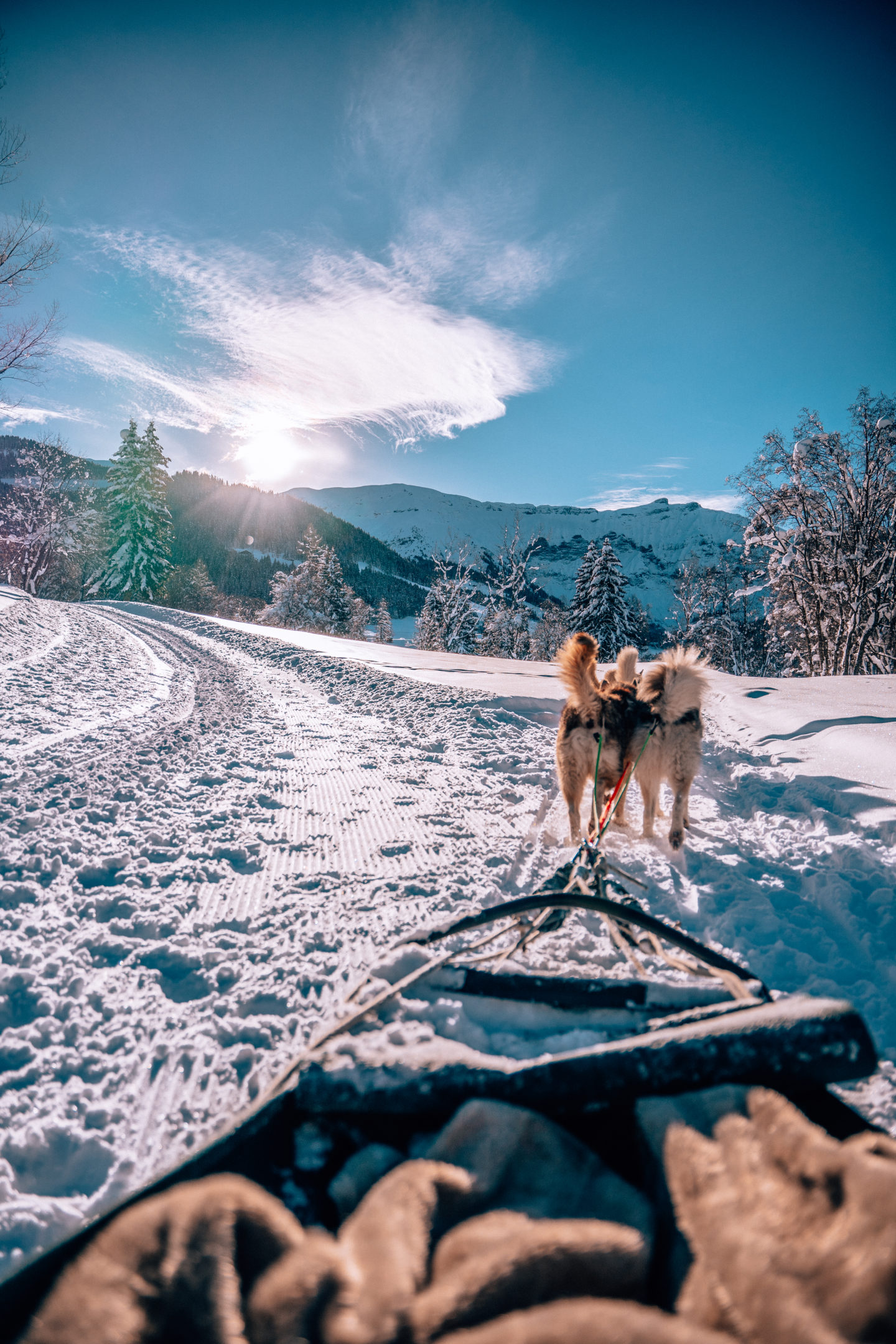 For this ride, we worked with Evolution 2 Megève, a ski school that also offers many other winter activities, from snow shoeing to ice diving and, obviously, dog sleeding. You can book a ride for 1 or 2 persons, just make sure to plan early! They're usually full quite in advance. For bigger groups (up to 4 people), you can go in other ski resorts nearby as this company is present all over the area. Find all the information and rates here for the whole region, or here for this particular ride in Megève.
The tour we did costs 160€ (fixed price, whether you are 1 or 2 on the sled, and whatever the age). You need to arrive 15 minutes in advance and it lasts 30 minutes, with a break in the middle to let the dogs rest (and get some hugs!) – it's a nice moment to take photos too.
A true authentic moment
I am not sure about how are the others, but what I liked in Megève especially is that the musher is an independent contractor, who lives with the dogs all year round and comes here only in winter. He is basically training and taking care of the pack full time, even during summer when they don't sled. As a logical consequence, he knows them and their group dynamic perfectly. That's what made the experience unique, as it was a real moment of sharing with him and understanding them. I was also very reassured to see how much the dogs love running & how well they are treated.
At the end of the tour, the dogs get a break of half an hour before the next clients arrive, so you can easily hug them again as long as it doesn't exhaust them too much. This moment is just as magical as the ride!
A little bonus we got to enjoy was this actual tipi they have on site (see below). The musher's sister, who works with him, offered us a warm drink once the tour was over. We ended up staying 1 additional hour, enjoying a nice conversation and other sharing moment. The tipi is so cozy inside, perfect to snuggle up!
So to sum up, dog sledding here was not only a real bucket list moment but also an incredibly authentic and precious experience with warm & passionate people. Can't recommend it enough!
4. Wander in the charming town center
After those 2 quite special moments, it might be time for a calmer but just as important activity: actually discovering Megève itself! This very French village will give you all the Beauty & the Beast vibes. Wander and get lost in its charming cobblestone streets until you reach the main square. It shouldn't very long as the town center is super tiny! Everywhere, you'll be able to admire a very classy mountain architecture, of mostly wooden & stone chalets.
All around the remarkable Saint-Jean-Baptiste church, you'll also find foutains, washhouses and small squares, dating from the 14th, 17th and 19th centuries. Themed guided tours are organized to discover the village's history, secrets and anecdotes if you're interested.
We have been lucky to experience Megève both with a bright blue sky and under the snow. Look at the difference between both moods! In December and January, they also put up that huge Christmas tree in the middle of the main square. It adds up to the charm even more!
Around the main square, all the streets are pedestrian, or almost… Some horse-drawn carriages are also roaming around and can take you on board. This is not the type of activity I personally like to do (and in Megève it's also crazy expensive). But if you are in a romantic mood, you might want to hop in one. Otherwise, you can just stroll around the luxury boutiques, gourmet gastronomic restaurants, or indulge in the exquisite treatments of the most refined spas. That's how fancy Megève is!
Megève all covered in snow is just even more of a winter wonderland!
5. Look for mountain views
Once you've admired the center, leave it behind you to go up near the slopes! Take the "Chemin du Maz" for instance, or the "Montée du Calvaire" leading to the refuge of the same name. That's where you'll find the most wonderful views on the town & the mountains surrounding it. To me, this is clearly one of the best winter activities in Megève!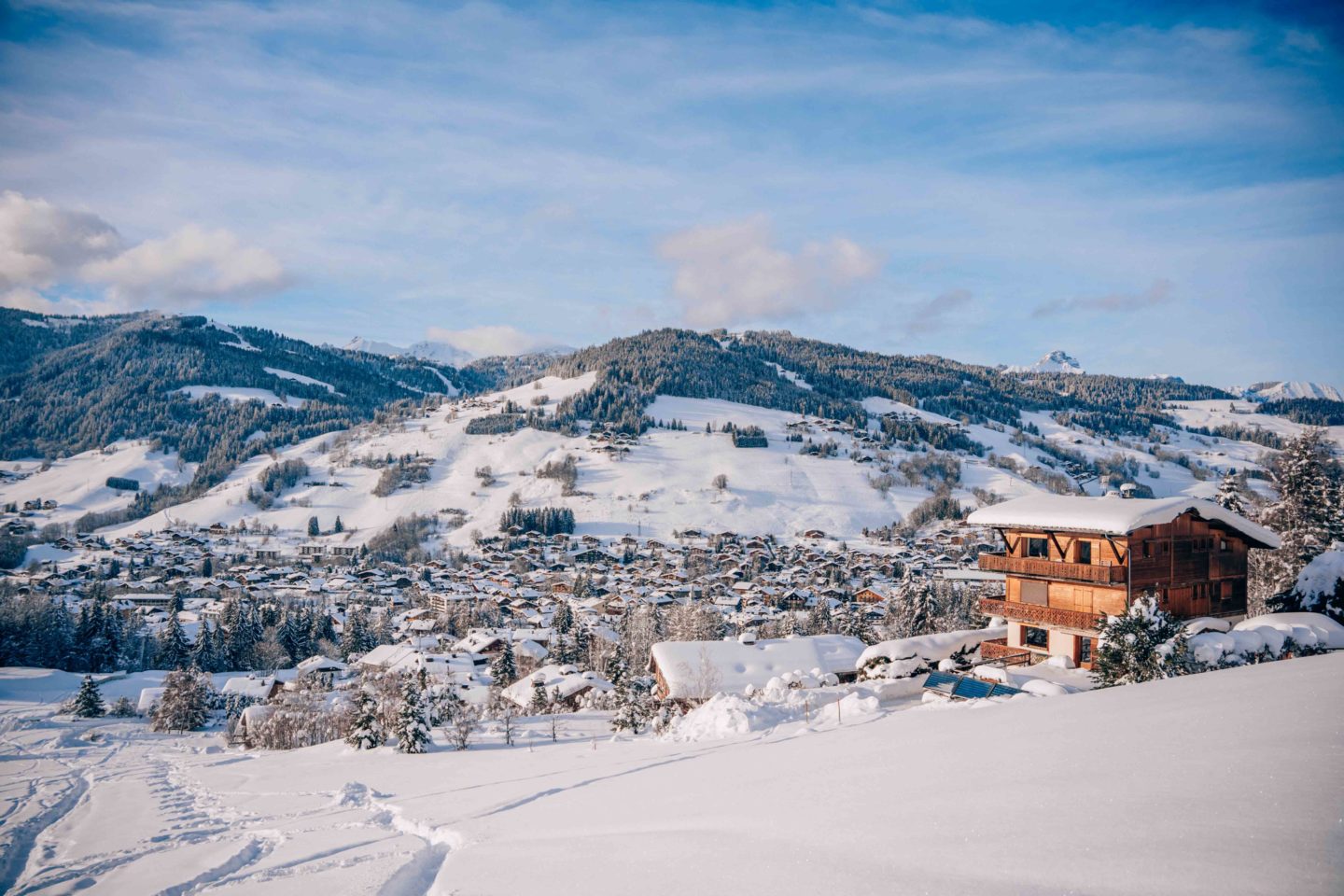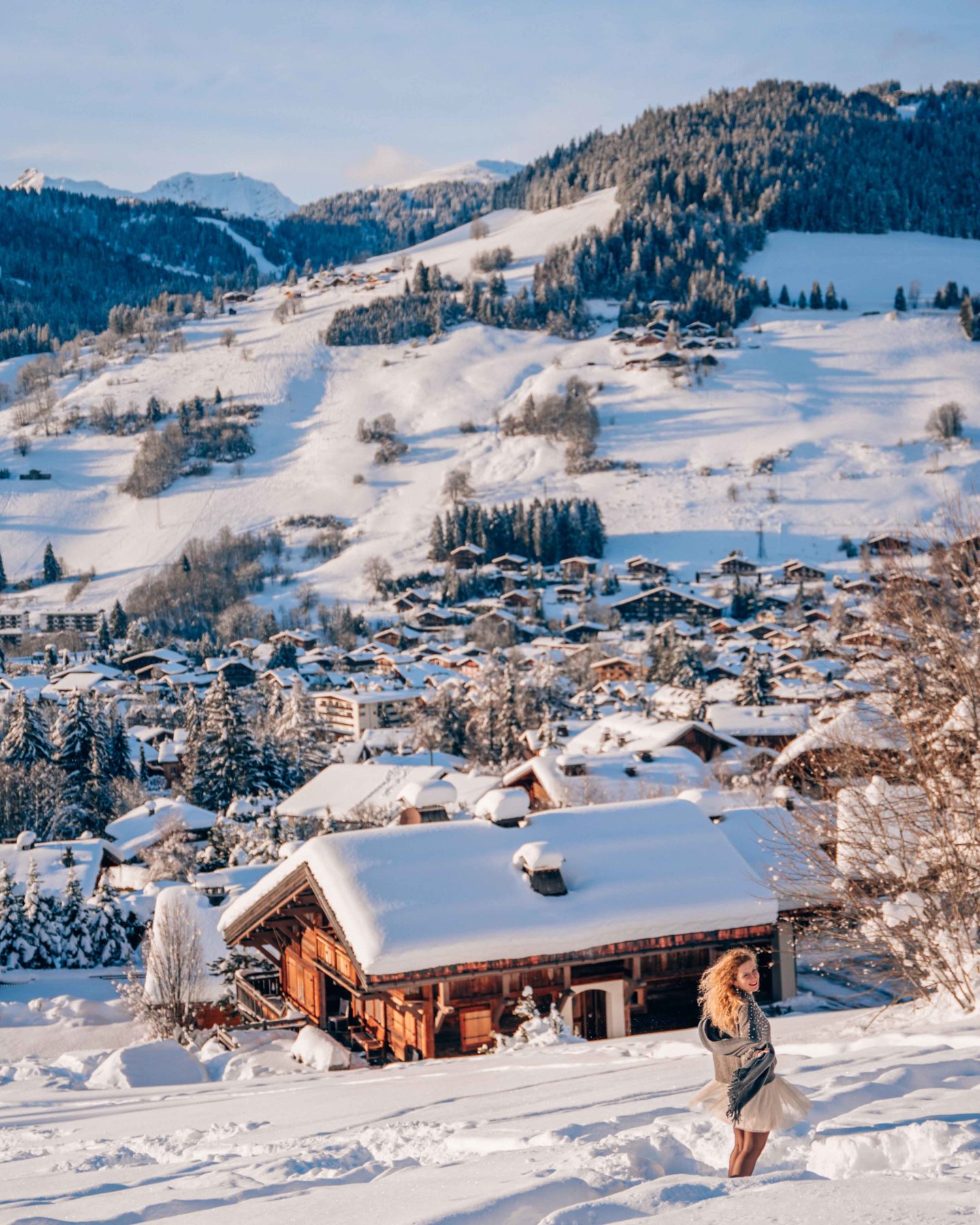 Photo tip: if you shoot with a camera that has a compression lens, or with a phone equipped with this option, stay quite afar from your subject and zoom in! It will make both the village and the mountains appear way bigger, creating the impactful perspective you can see above.
Walking on these paths going up to the slopes is extremely nice. It will provide you an incredible breath of fresh air. It's also a good workout to replace skiing, because trust me, the climb is quite steep!
6. Have a walk in the forest & play with the snow
While you are at it, you can push the walk a bit further, to find even more snow and deep nature. It will depend how much it snowed in the previous days/weeks of course. On our side for instance, we tried to go to the "Creux Saint Jean". It is a path in the deep forest following a river down below. It leads to a waterfall, a small stone bridge and a oratory for people who came to pray the saint in question. You need to start from le "chemin du Maz" and then head to the left on a horizontal path in the forest. You'll see some signage indicating it.
Unfortunately for us, it snowed non stop during 2 full weeks before we arrived, so there was too much snow to access the bridge/oratory, and the waterfall was both frozen and unreachable. Same for another one, the "Cascade de la Belle aux Bois", that you can usually find 15 mins above there. To see them, it's safer to go before November or after March. But I still wanted to include it here because it was a really fun walk in the forest! We had snow up to the knees and it was both super beautiful & insanely refreshing.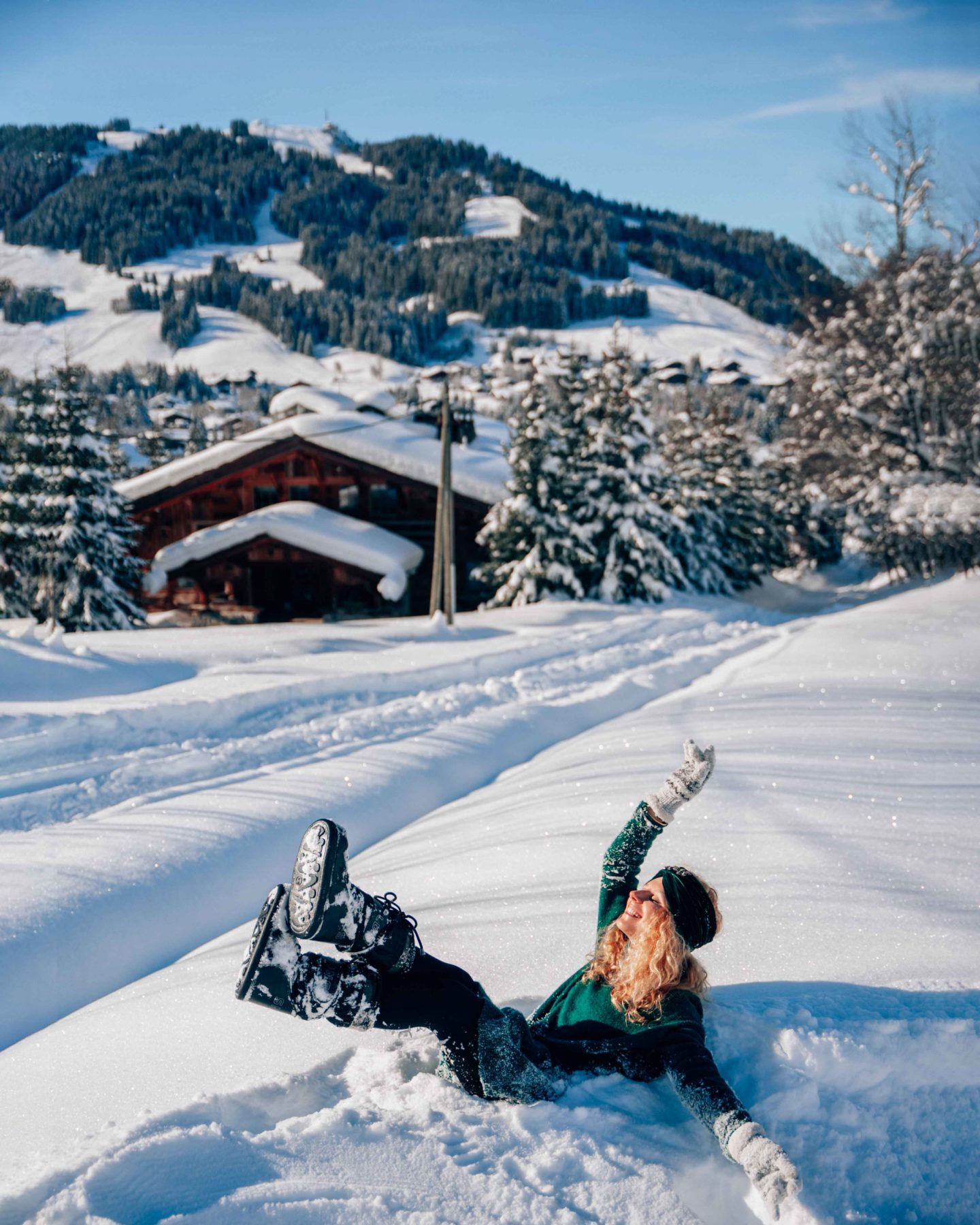 I don't know for you but I always feel like a kid when I'm surrounded by so much snow! It's just too fun to play with it!
7. Have a local dinner
After a long day walking, playing or even skiing, a comforting dinner always sounds like heaven! And of course, I couldn't NOT include eating local specialties in this list of the best winter activities in Megève! Savouring a delicious fondue, raclette or tartiflette is something you can't miss when you're staying in the Alps.
You will find countless restaurants in the village offering you to taste the famous Savoyard dishes, especially the star of the region, the iconic fondue (pictured here below). I'm sure you all know what fondue is, but just in case, here's a reminder. It is made of melted cheese cooked with white wine and served in a communal pot, in which everybody dip bread pieces using long-stemmed forks.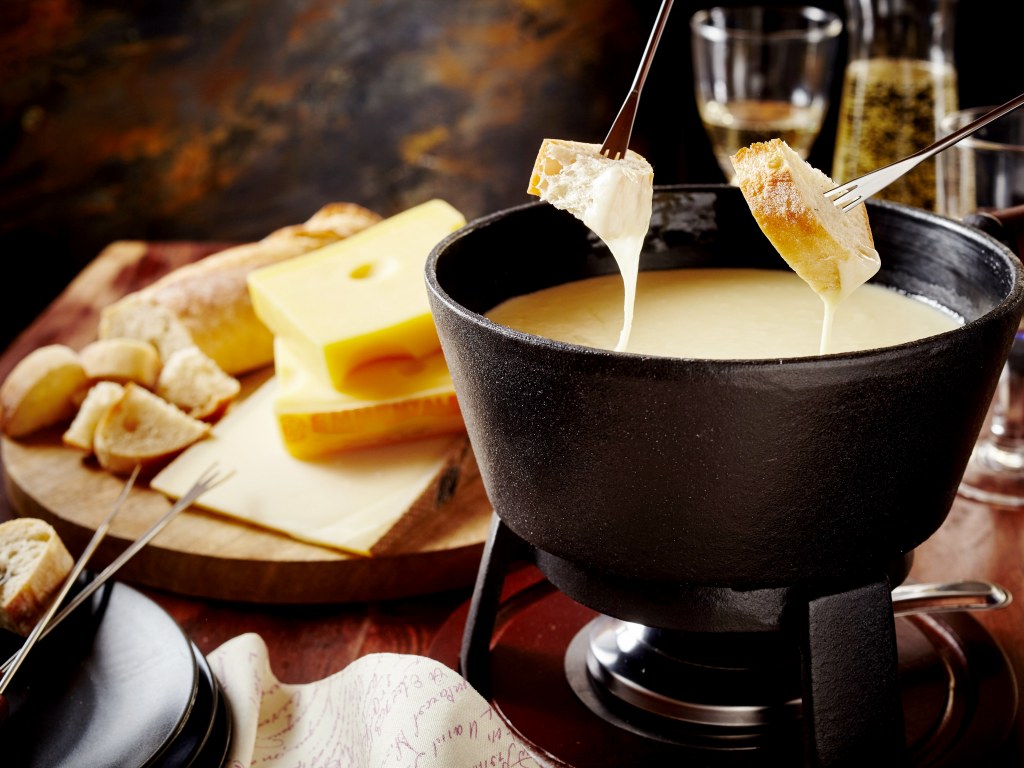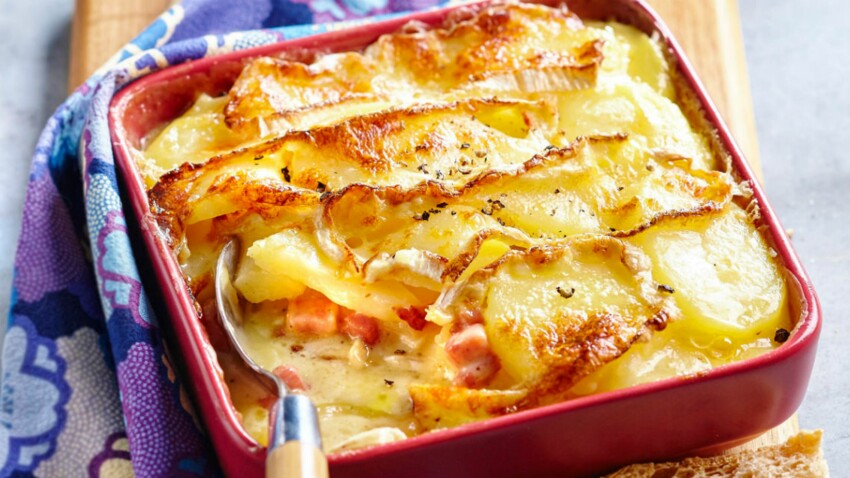 Apart from fondue, you might want to have a typical raclette (that I'm sure you all know too) or a tartiflette (pictured above). You can also try the goat cheese variation of it, called the tartichèvre – it's my personal favorite! Well, as you can see dear cheese lovers, Megève has everything for you!
8. Ski & snowboard
Obviously, skiing & snowboarding are the most logical things to do when going to a ski resort. So I couldn't leave them aside this list of the best winter activities in Megève. The domain, called Évasion Mont Blanc, counts 450km of slopes, for all levels.
In addition to it, you can also take the Mont Blanc Unlimited ski pass. It allows you to enjoy the legendary slopes of Chamonix Valley, Courmayeur on the Italian side, and Verbier 4 Vallées on the Swiss side. Quite a wide and open playground if you are a ski lover like me!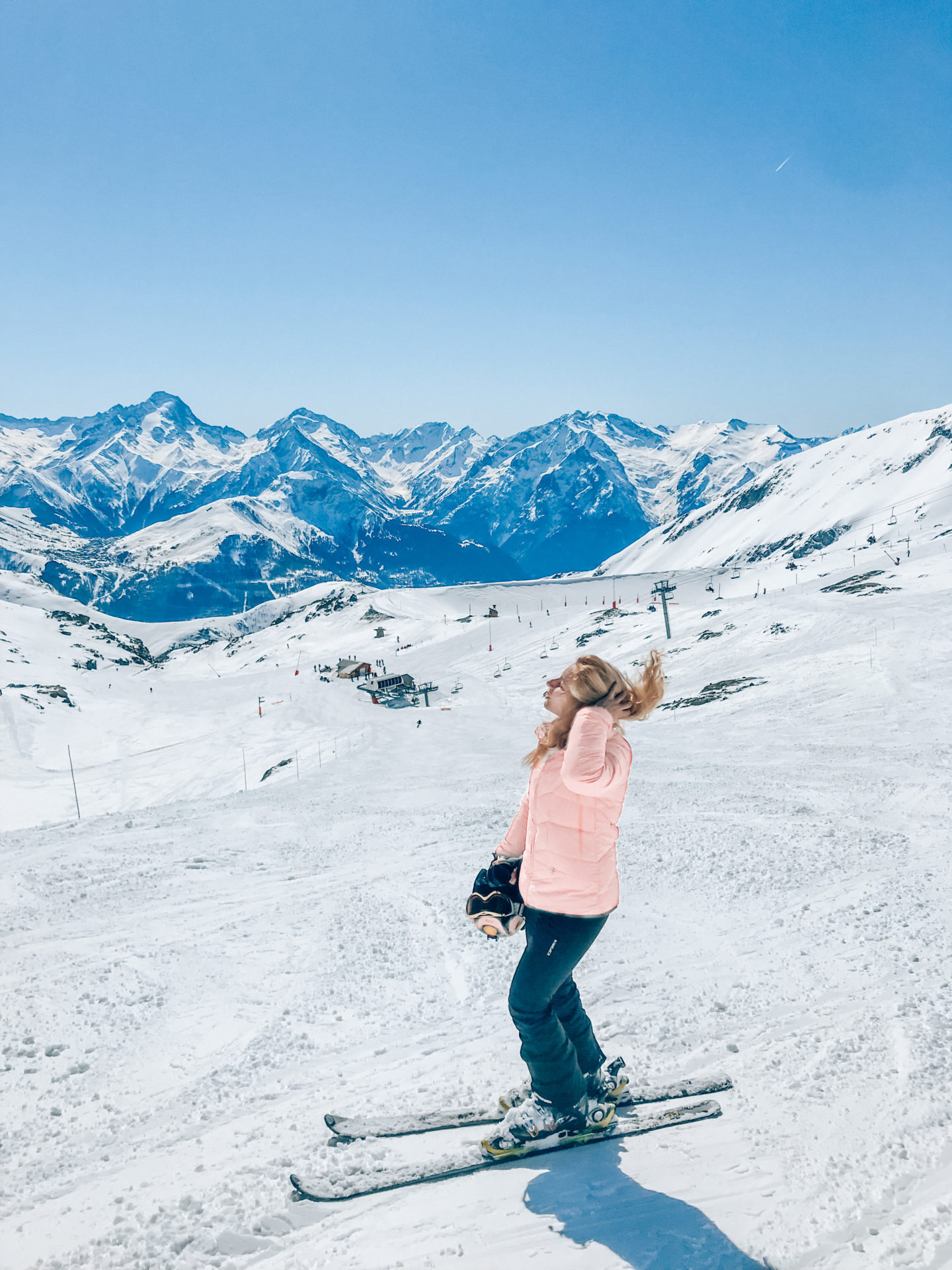 But the purpose of this blogpost was above all to show you everything else you can do when looking for the best winter activities in Megève! To be honest, as a massive ski lover ever since I was born, I wasn't sure of how I would feel going to the mountains without being able to ski (all the lifts were closed in France because of Covid-19). But I must admit that it was still pure heaven & a really nice change to try all the winter activities we don't usually have time for.
9. Road trip around
It's probably time to leave now. But if you came by car, take some time to explore the area quickly. Some roads are absolutely scenic, and then perfect for photos I must admit!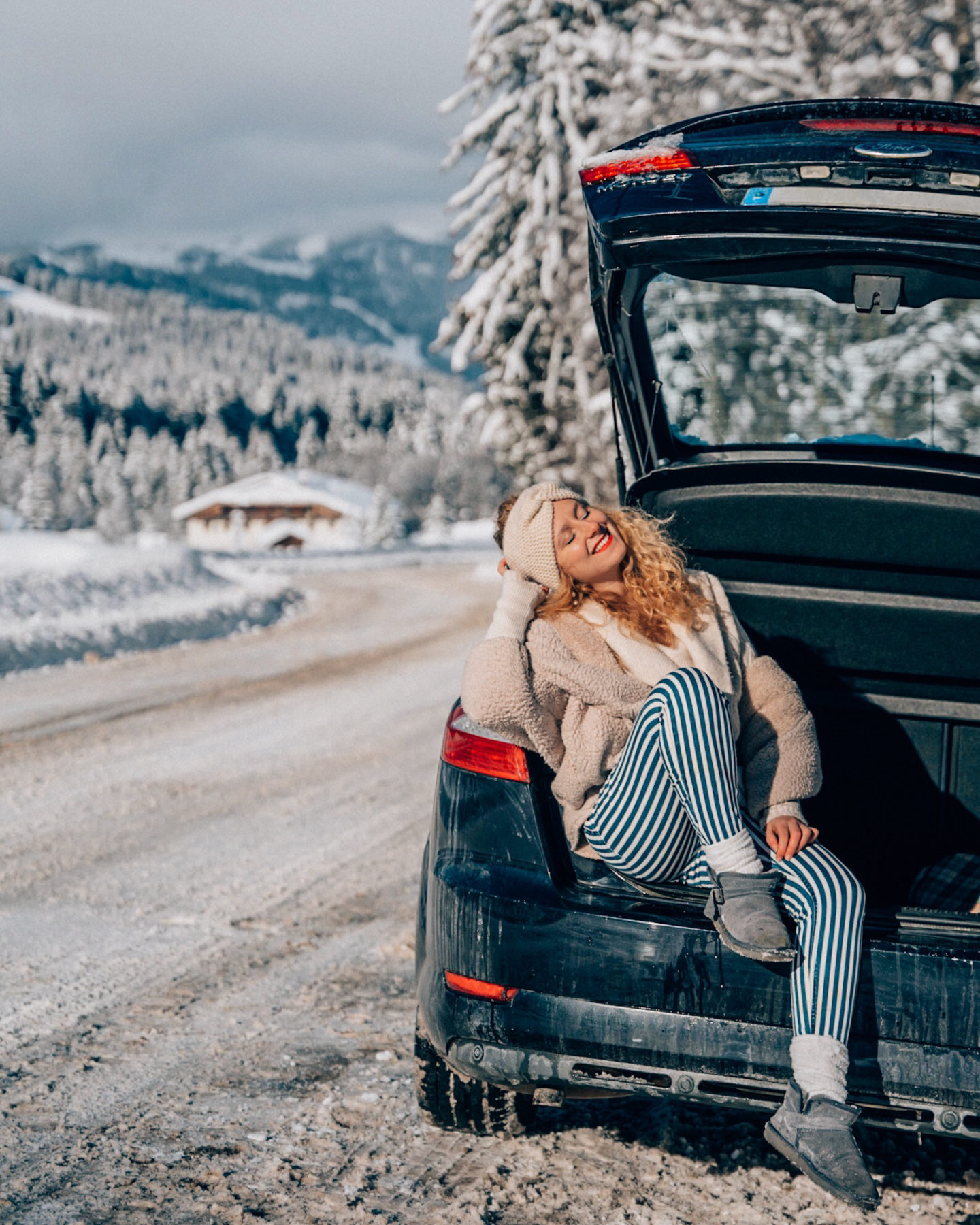 Pin this for later! ↟
And when you finally leave, think about spending a day in Lyon or Genève if you can! It obviously depends on your itinerary, but if it's more or less on the way, do not hesitate any minute. I'll post an article about Lyon in a near future to show you how stunning the city is.
That's it for this blogpost about the best winter activities in Megève! I really hope it will be useful and help you get an as incredible stay as mine. Should you have any question left or want to share your feedback or own experience, please feel free to leave a comment below! You can also always contact me directly on Instagram, I will answer you with pleasure!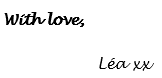 If you enjoyed this blogpost, save it on Pinterest for later! ↡