Planning a weekend city-trip to Kuala Lumpur? Looking for the best things to do during the 2 or 3 days you have on site? I got you covered! This blogpost not only includes all the must-see places in the Malaysian capital, but also details them inside a suggested itinerary order. This way you don't lose any precious minute on your already tight schedule! And, cherry on the cake, it will also enable you to see all the spots at the most appropriate moment! Just keep reading and thank me later!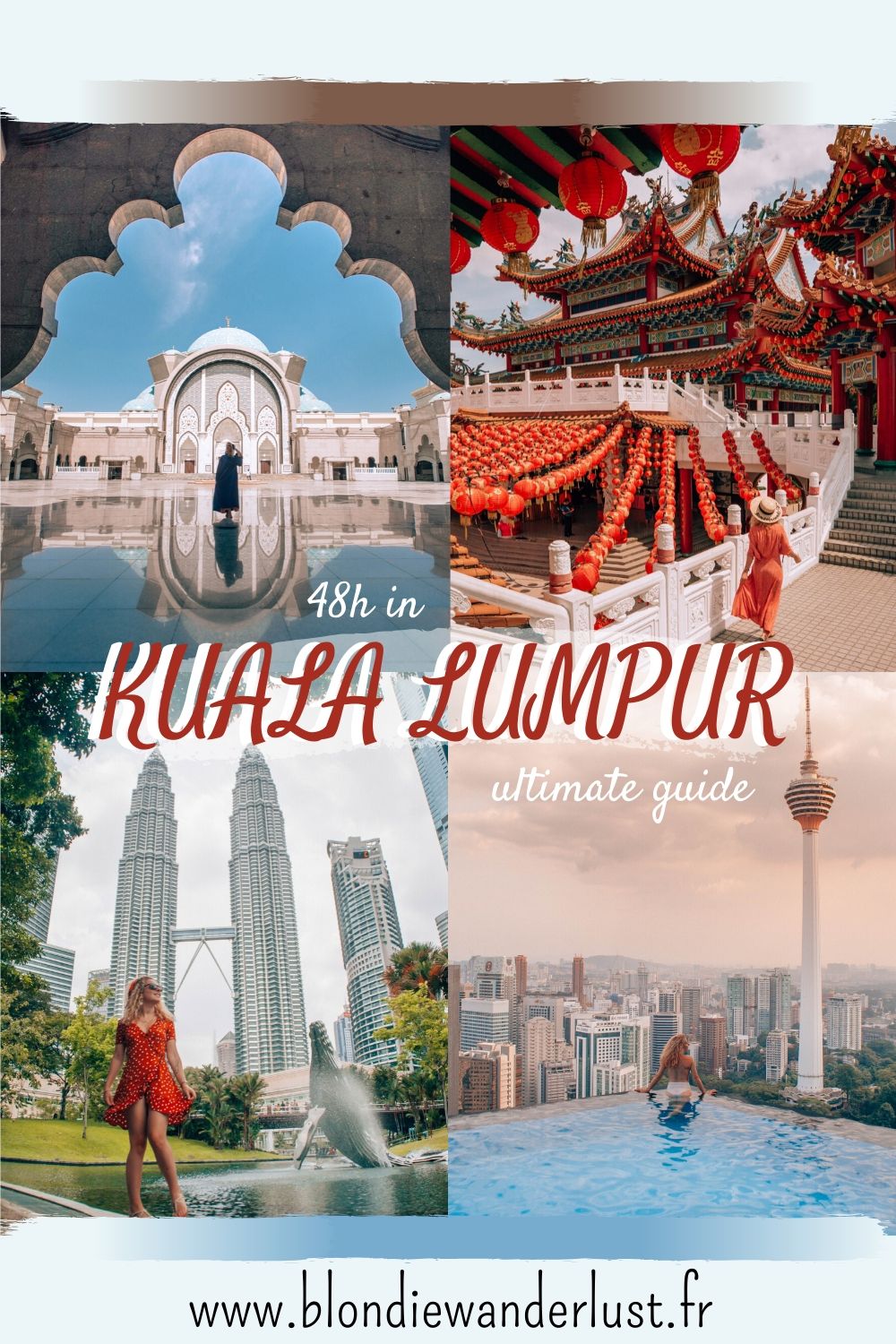 Few things to keep in mind while browsing the following blogpost's suggestions:
Unfortunately for our dear planet, I do not recommend taking public transportation in Kuala Lumpur. Overall, it is quite long, complicated and expensive. On the contrary, Grab is definitely the cheapest, fastest and most convenient way to move from one place to another. That is why I will assume that you're using the app along the practical information below. If you never heard about it before, Grab is the SEA's #1 ride-hailing service, kind of the Asian Uber.
I didn't include food options inside the itinerary itself, as we did not spend a lot of time testing addresses. But you will find a list of recommended places at the end of this blogpost.
Kuala Lumpur is a very big city and there is usually a lot of traffic: don't be surprised if you feel like there's not many places planned for each day. They are actually quite far from each other!
As I now live in Singapore (in 2020), at the frontier of Malaysia, Kuala Lumpur has become one of the nearest weekend destinations for me. But if you come from further away, you will probably spend more time in the capital, or it might be only a step on your overall trip. Feel free to adapt the itinerary and add activities if it appears more suitable – some bonuses are featured at the end too to help you do so.
Now let's dive into all the essentials to tick off of the list so that you properly soak up the local atmosphere!
DAY 1
1. Start with the Federal Territory Mosque
Also called Wilajah Mosque, or the Blue Mosque of Kuala Lumpur, the Federal Territory Mosque is an absolute must-see in KL, especially because of its iconic architecture. For those of you who might not know, Islam is the predominant & official religion in Malaysia – more than half of the population is muslim. And among all the beautiful mosques in the city, this one is probably the more majestic!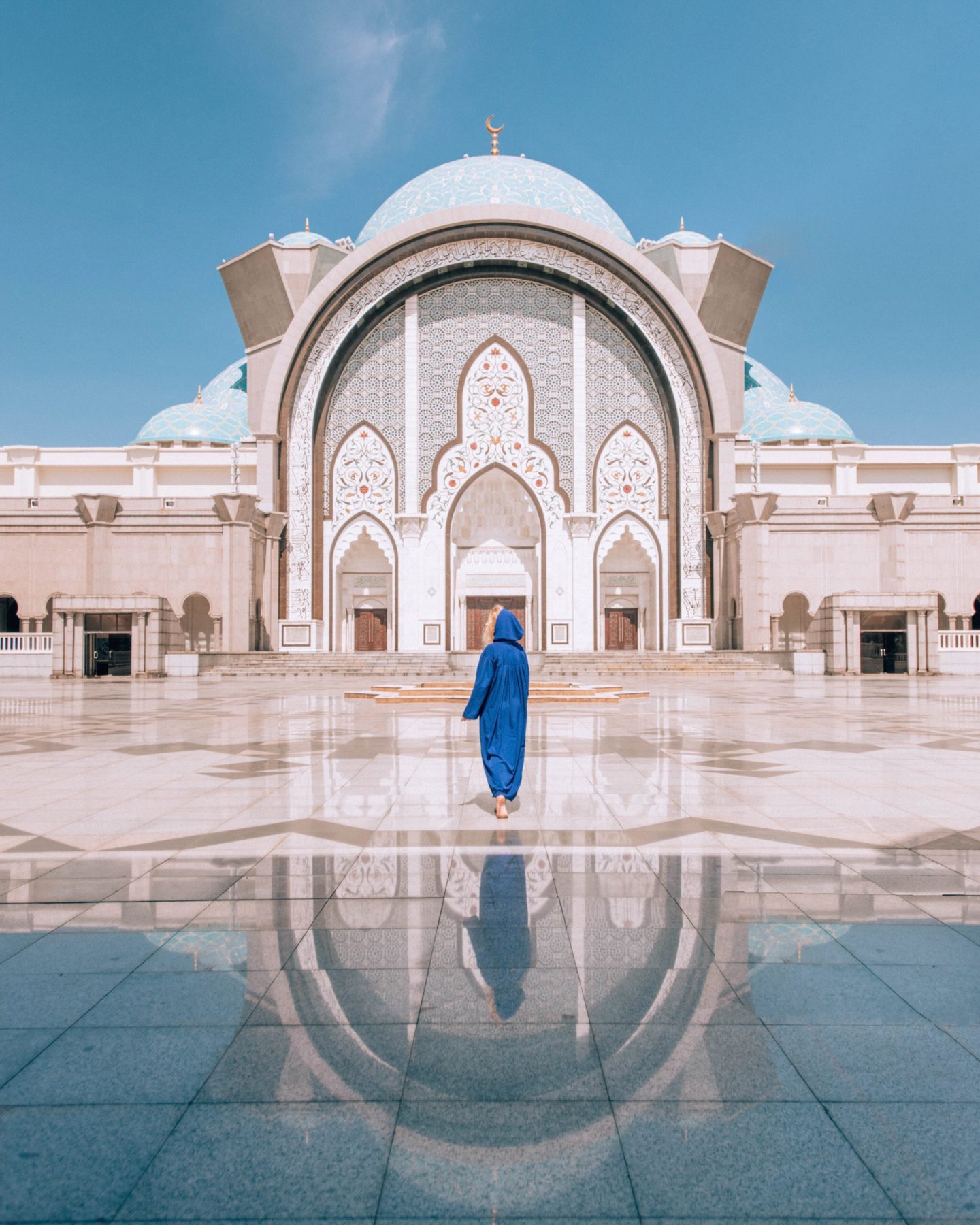 Practical information:
Free access – you will even be taken on a guided tour by one of the worshippers.
Ask your Grab driver to drop you at entrance B. The ride will cost you around 70 MYR (15€) if you come straight from the airport, or around 15 MYR (3€) from the center.
Open to non-muslim visitors between 10am and 6pm daily. Here I recommend to do it first thing in the morning. But if you are not following this itinerary, just be sure to get there by 5pm maximum, as you will need a solid hour to see everything!
You will need to take off your shoes, cover your knees and shoulders before entering. Women also have to cover their head, most often with a scarf, as in all muslim places. They will provide the proper attire free of charge if you don't have it. Check below to have a better idea of the adequate outfit.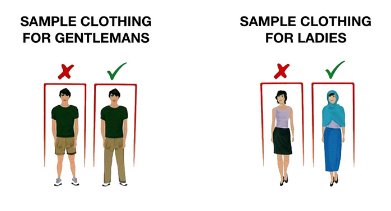 2. Thean Hou Temple
Just as remarkable as the Blue mosque, if not more, Thean Hou Temple has to be your second spot of the day! Going from one religious place to another entirely different one will also help you understand how diverse and multicultural Kuala Lumpur is. Despite the high muslim majority, other religious beliefs are completely accepted and free to coexist harmoniously. The diversity of communities is therefore very enriching!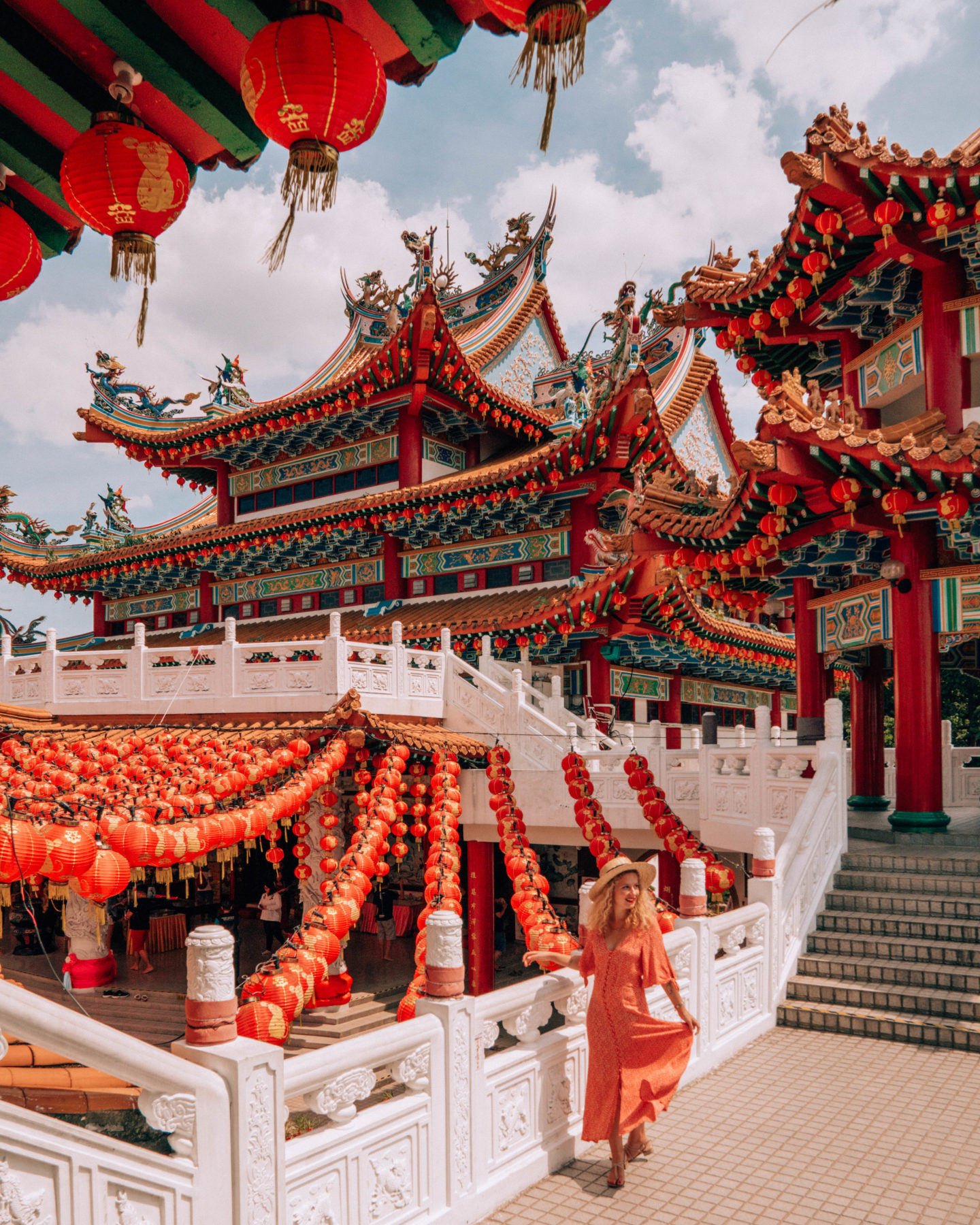 Buddhism is the second biggest faith in KL, gathering around 20% of the population. You will always see a lot of devotees praying in Thean Hou Temple, as it is one of the oldest and largest in all South East Asia. Also known as the Temple of the Goddess of Heaven, it is dedicated to Tian Hou, a goddess said to protect fishermen. It is a shrine as well, where many come to worship Guan Yin, the Goddess of Mercy.
Furthermore, it is set on a hill and offers wonderful views on the city. This modern Buddhist pagoda is overall absolutely stunning with its hundreds of red lanterns, so be prepared to take a lot of pictures! Don't forget to also check the other side of the temple, you'll be able to admire the view on this colorful staircase surrounded by palm trees!
Practical information:
Free access – the only thing you might pay, if you have a car, is the parking fee of 5 MYR (around 1€).
If you come by Grab instead, it will cost you around 15 MYR (3€) to come from the center, a bit more if you do it directly after the Mosque.
Open daily from 9am to 6pm – no need to come very early or at a specific time there, the crowds will be the same anyway. At least in the middle of the day, most people hide from the sun (it is very hot in Malaysia), so you might get more room for solo pictures!
You don't have to be dressed in a specific way.
3. Rooftop pool or bar
After sweating under the Malaysian sun (because trust me, you will 😅) while exploring the temple, it is probably time for a break! And what's better for that than a pool, or even better, a rooftop pool?!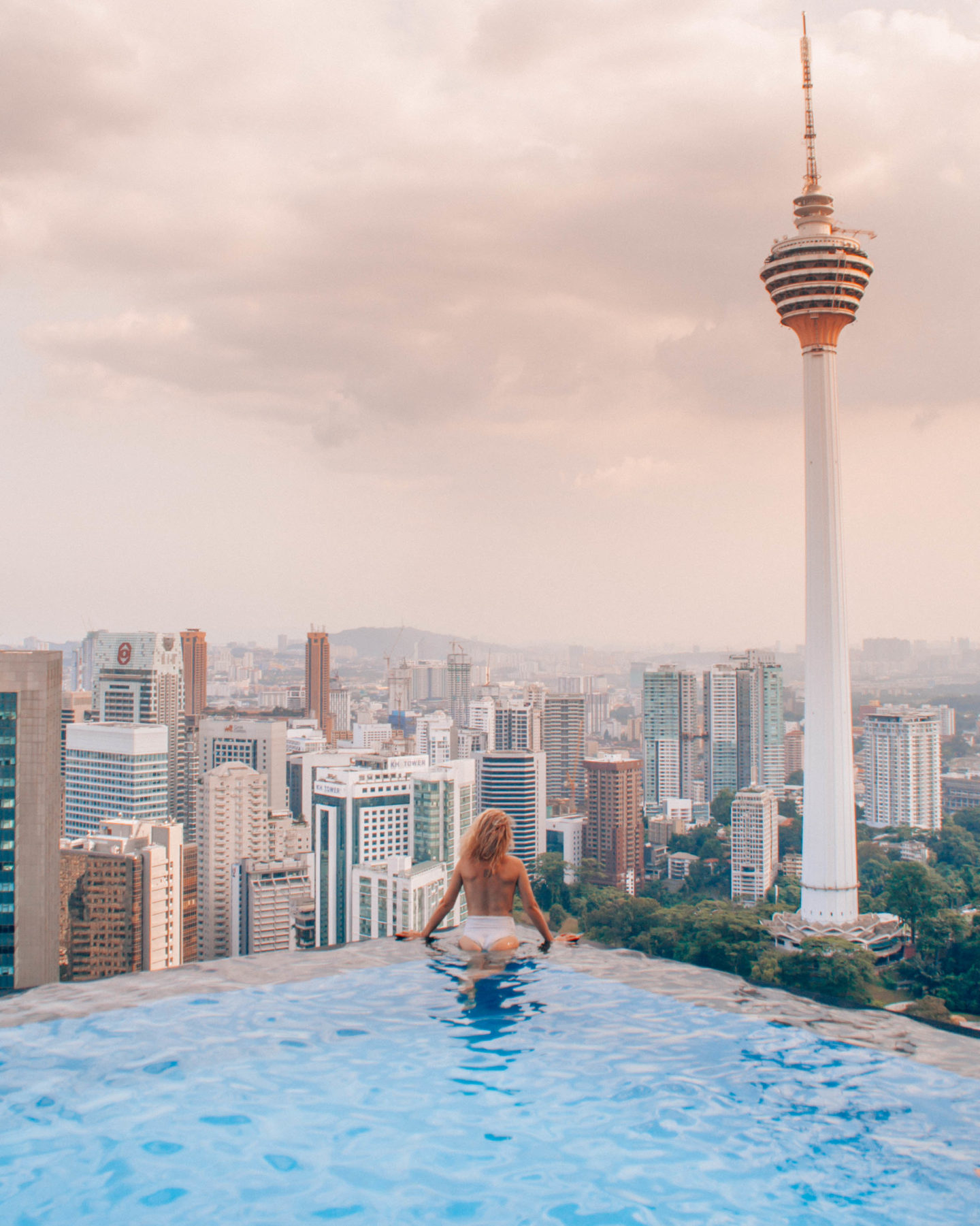 Kuala Lumpur is very famous for its impressive and beautiful skyline, especially at sunset obviously. Hence why it offers numerous rooftop options, often under the form of pools, restaurants or bars featured by the hotels. Most of the time, you don't need to be a client to enjoy a drink on the 50th floor! For instance, I know that the views from the Heli Lounge Bar or W hotel rooftop bar are quite worth it. Unfortunately I didn't get the time to go but if you do, try one of them for sure! You'll also find many other recommendations online on this topic.
When it comes to the pools however, you usually need to be staying in the concerned facility. But whatever your budget is, you can definitely find an hotel with a pool if you look well and really want to! On our side we opted for a middle-range option: an Airbnb bedroom (with private bathroom) inside a shared flat, in a quite famous residence of the city, called The Face Suites/Platinum Suite. It cost us 40€ for the night and we loved it! We didn't even see the other occupants of the second bedroom so it felt like we had the big apartment to ourselves. Definitely recommend this type of compromise if you want to save a bit of money but enjoy cooling down in a rooftop pool like this one!
Get 34€ off on your Airbnb reservation by booking through my link !
4. Petronas Twin Towers – by night
The evening of your first day is slowly coming and you still didn't explore the main center of Kuala Lumpur… Time to change this by finally heading to THE city landmark: the Petronas Twin Towers!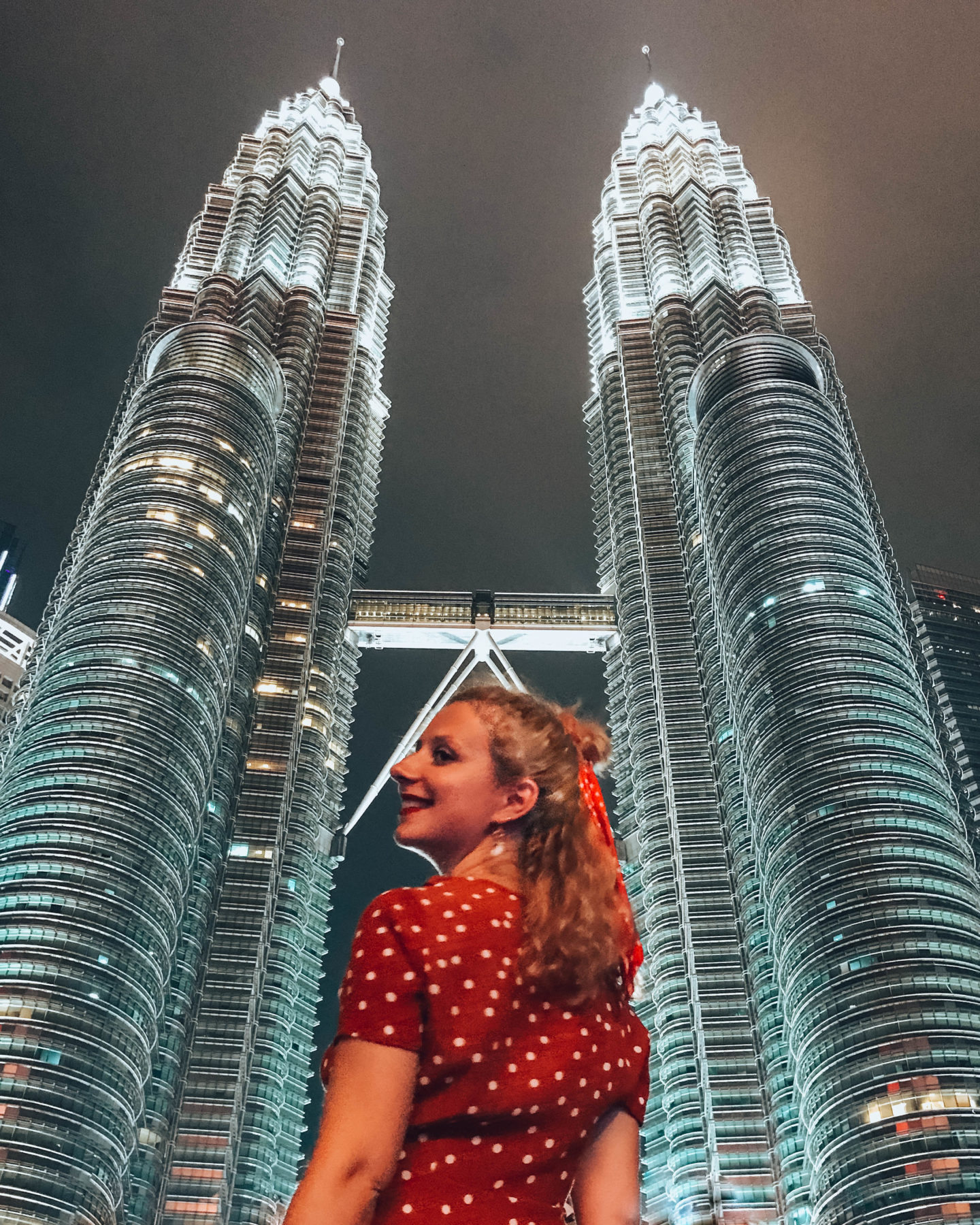 Tallest twin buildings in the world, they are named after the Petroliam Nasional Bhd, the local petroleum corporation. They soon became the iconic symbol of Malaysian development and seeing them by night is highly mandatory! You can for instance have a drink on a rooftop at sunset, as said above, and then head there when the night settles. You'll also find many dining options around (see more about that at the end of this blogpost), perfect to spend all of your nice evening in this area.
Practical information:
Free access – the towers can be seen both from the KLCC park (behind them) or from the platform in front. For the best night experience, I would recommend to choose the platform – the park will be explored the second day anyway.
From your hotel, it will cost you 9 MYR approximately by Grab, or even less depending on when you stay in the city. Keep in mind that the distances are huge in KL, only go by foot if you are really close or if you don't mind sweating!
Going on top is also possible (I chose not to do it though). It will cost you 80 MYR (17€) for the regular entrance ticket or 100 MYR (21€) for the one with skip-the-line and one-way transfer included. Both options will enable you to go up the towers, stop at the Sky Bridge (double-deck glass platform between the 41st and 42nd floors, 170-meters high, that you can see on the pictures) and head over to the Observation Deck on the 88th floor. More information here. I would recommend to purchase your tickets several weeks in advance as they are limited to maximum 1,000 visitors per day.
DAY 2
5. Batu Caves Hindu Temple
And day 2 begins already! I am sure most of you will stay longer, but if, like us, you are spending only one night in KL, and hence only one sunrise, then there's only one place you want to dedicate this moment to: the Batu Caves. First, because it is the only way to avoid the usual crowds (while it's manageable to do so during the day in the other places). Secondly, because the morning light and atmosphere make it the perfect moment to discover this uncommon temple. And thirdly, because you'll be very happy to enjoy some still-cool temperatures instead of the midday Malaysian heat once you'll face the 272 steps you have to climb to reach the top cave!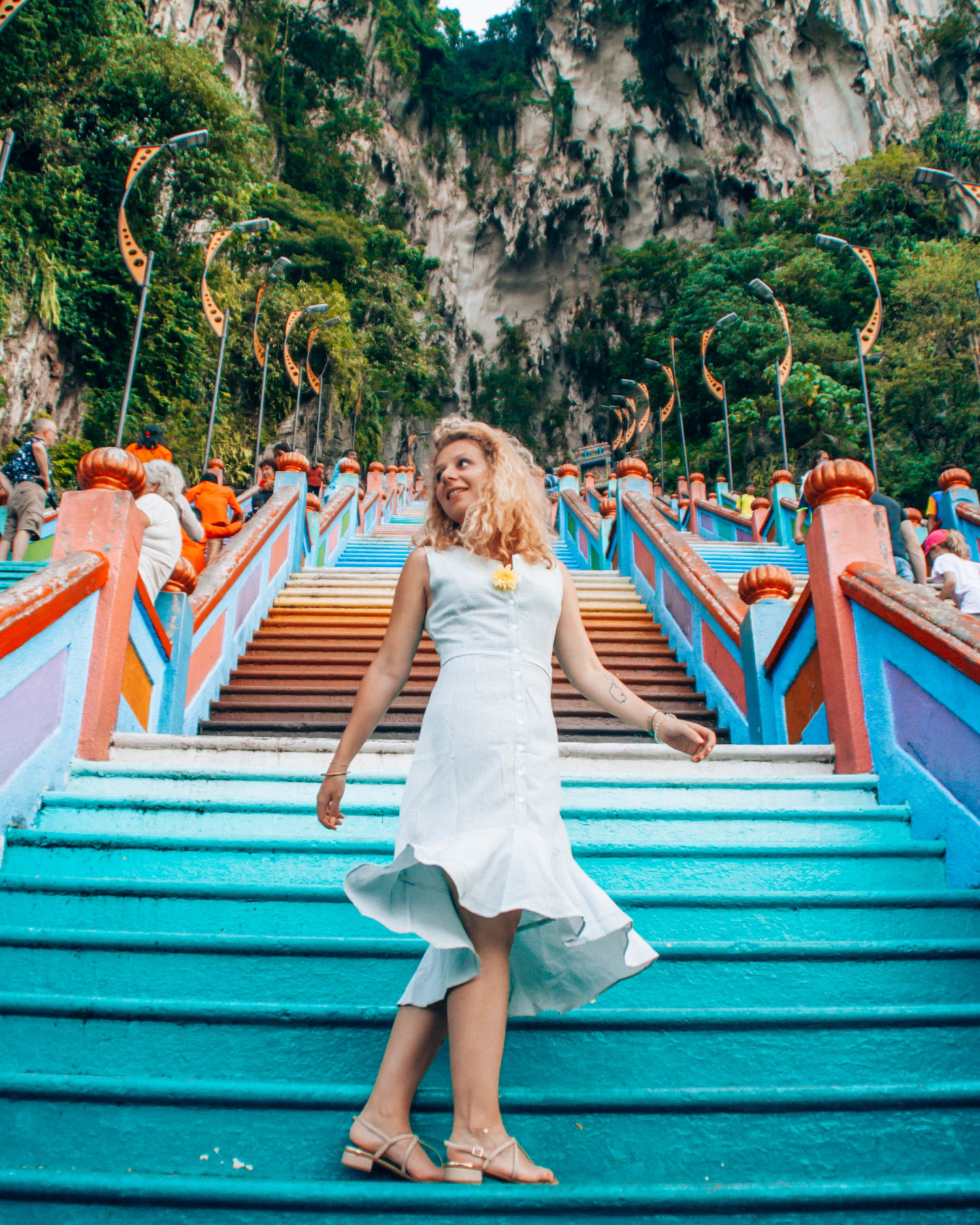 On our side, we woke up at 5.30am and got there at 7am, a bit before the sun started to rise. Be sure to check the sunrise time beforehand as it changes throughout the months ans seasons.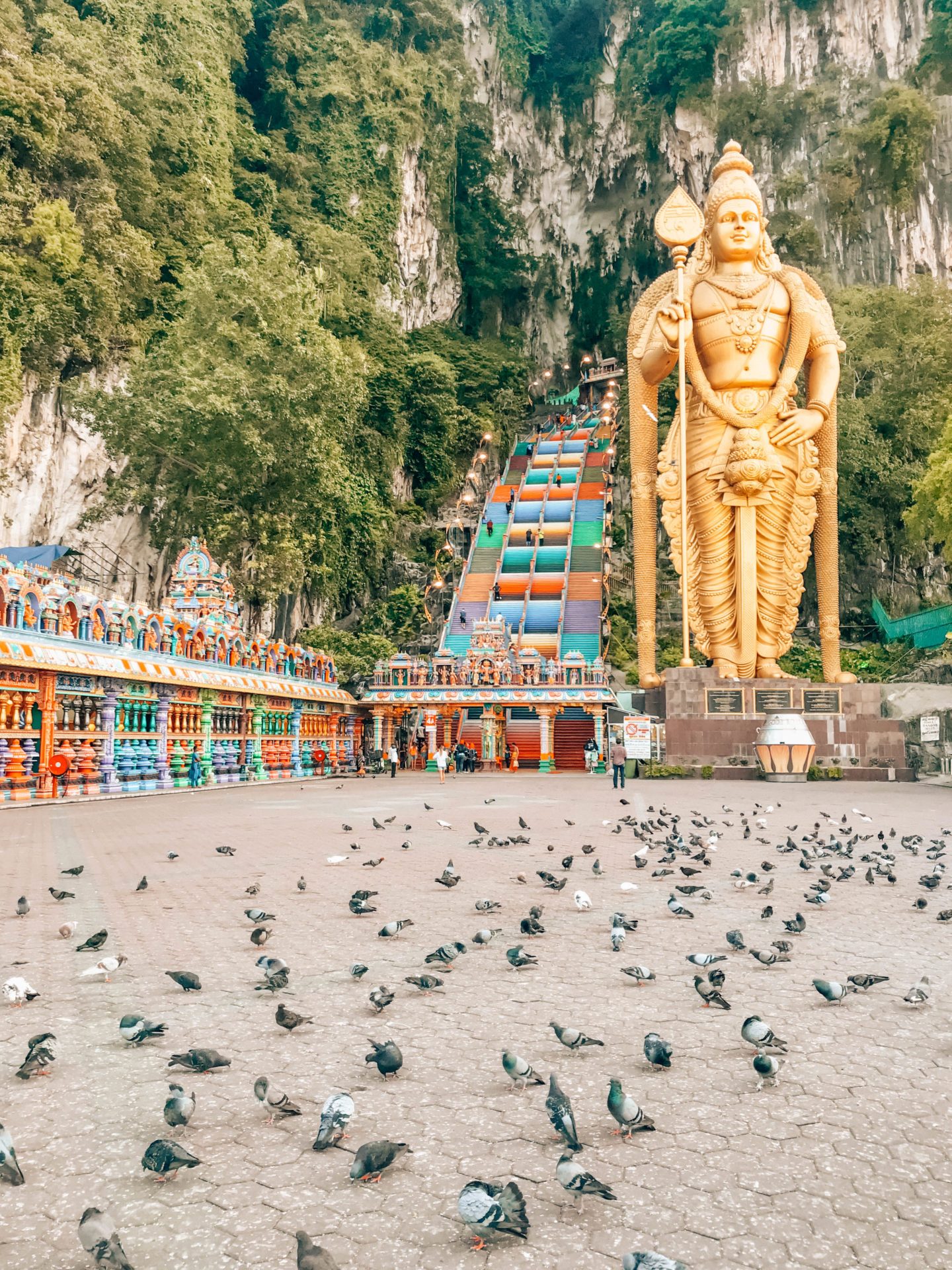 If the Batu Caves became so famous, it is obviously thanks to their monumental golden-painted statue of Hindu Deity Lord Murugan and colorful stairs. But on top of this steep staircase, other surprises await. Those limestone hills indeed host a very large cave temple and several Hindu shrines, all of them nested inside formations that are more than 400 million years old! How impressive is that?! Also called the Cathedral Cave, this main and biggest cave also possesses a 100-meter-high arched ceiling, making it even more spectacular.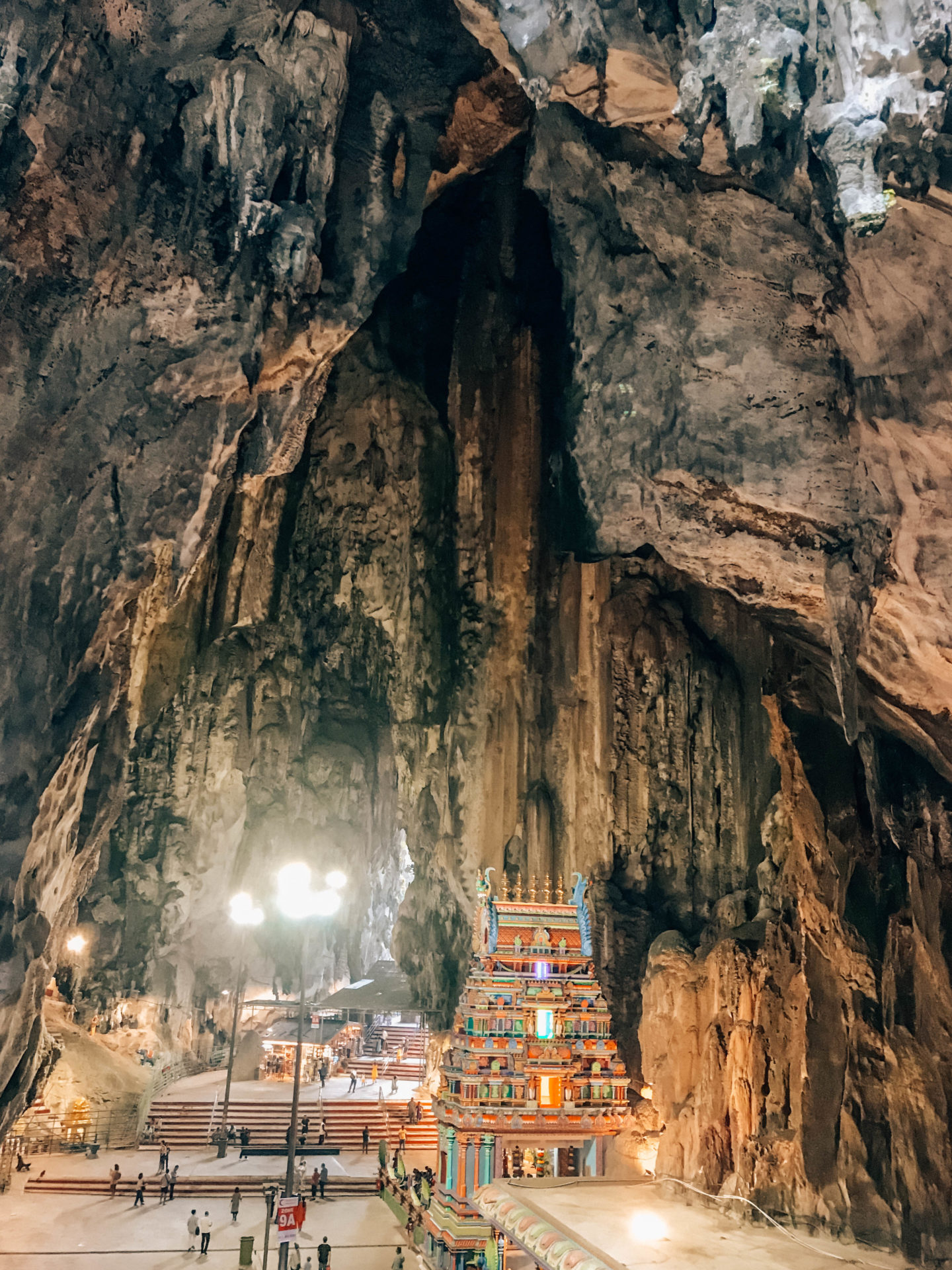 Last but not least, don't forget to start or end (depending on the crowds) with the lower temple, at the entrance before the stairs, where many celebrations are hold. It is already very pretty in itself!
Animals in Batu Caves
Another particularity of this place is the presence of little monkeys everywhere. They live inside the caves and got very used to the tourists, to the point that you might want to avoid carrying food so that they don't try to steal it. They can be very sneaky with people so don't get too close and respect their space! Overall, keep your bags tightly zipped, preferably have nothing in your pockets, beware with your hats, caps, (sun)glasses and cameras, and it should be fine. One very last obvious rule : don't ever feed them! If you start doing so, they might become more and more devious, or even agressive if you stop! Just remember that they are wild animals.
Other animals that you can find in front of the rainbow staircase: birds. In case you want to replicate the photo below, here is my tip 📸 ~ You will find many locals selling seeds to feed the birds in front of the stairs. Be sure to have cash with you if you want to buy some ; the nearest cash machine is still 15 minutes away by foot! They cost us 5MYR (1€) for one packet. Then be ready to act fast when feeding them, they won't stay long! One actually attacked me as I was too slow feeding him apparently. But even if shooting with them can be pretty messy, I think the result is quite worth it!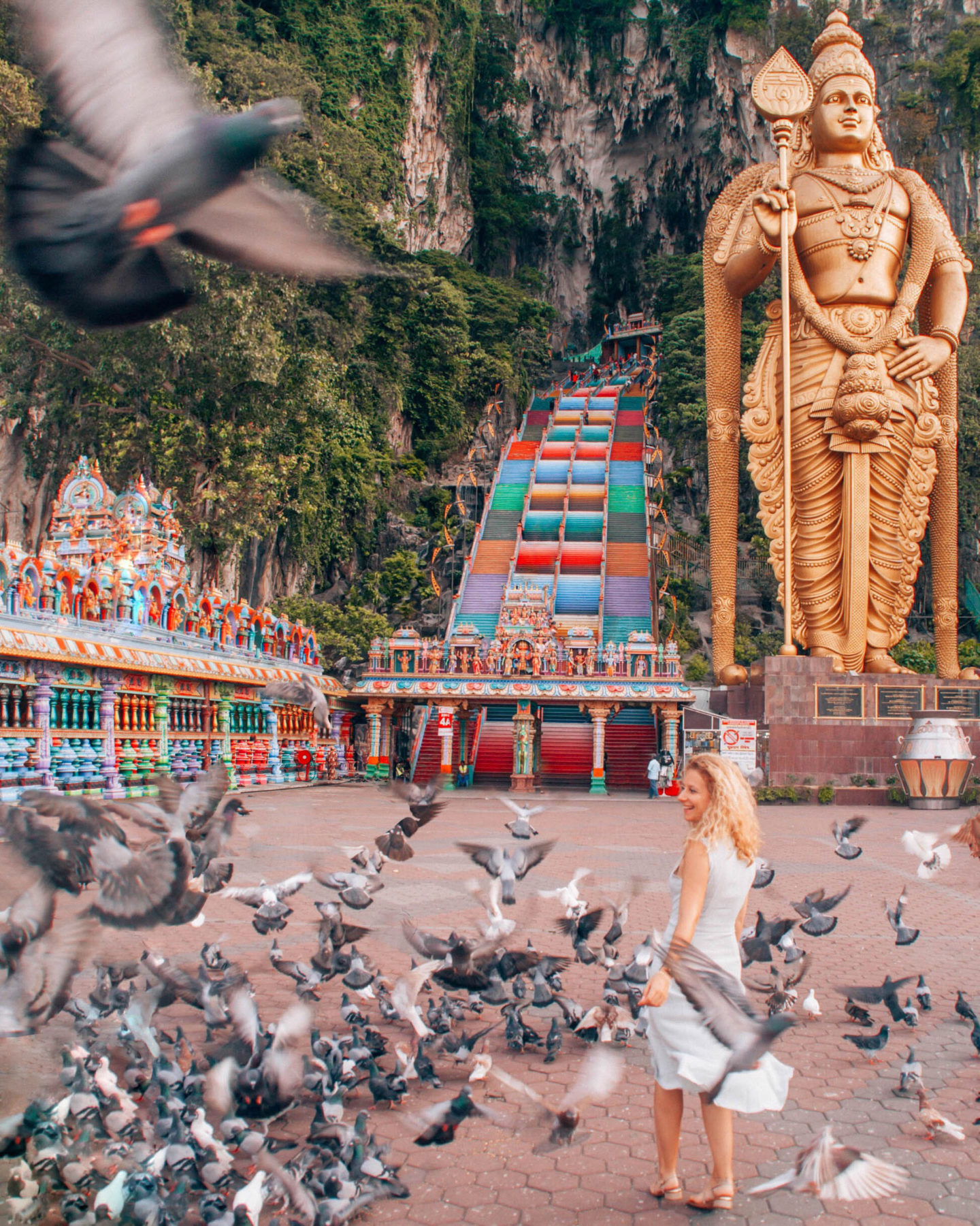 Practical information:
Free entrance – the only thing you might pay, if you have a car, is the parking fee of 10 MYR (around 2€). You may also want to make a small donation to help preserve this national treasure.
If you come by Grab again, it will cost you around 17 to 20 MYR (4€) to come from the center/your hotel. The caves are located in Gombak precisely, a district up north from Kuala Lumpur, but it is only a 20-minute drive away.
Open daily from 6am to 9pm – again, I really recommend to do it early in the morning, for the atmosphere, pictures and heat. Also try to avoid coming in the weekend if you can, as the local devotees will be there too.
Both genders need to cover their knees in order to visit the temples: put on long pants or a maxi dress/skirt. No shorts, jeans or leggings allowed. Seeing the shoulders can be accepted in Hindu traditions but it's always better if your top is not a bustier for instance. You can always take a light scarf with you just in case.
6. Independence Square (Dataran Merdeka)
Once done with the Caves, which might take you around 1-2 hours, it's time to go back to the center! As you can presume, the Independence Square, also known as Dataran Merdeka in local language, is where the Malaysian independence was declared on 31 August 1957. The flagpole on which the Malaysian flag replaced the Union Jack this day is one of the tallest in the world, 95 meters high. During the British-rule era, the square was used as a Padang ("field" in malay), a cricket green for the Selangor Club in front of it.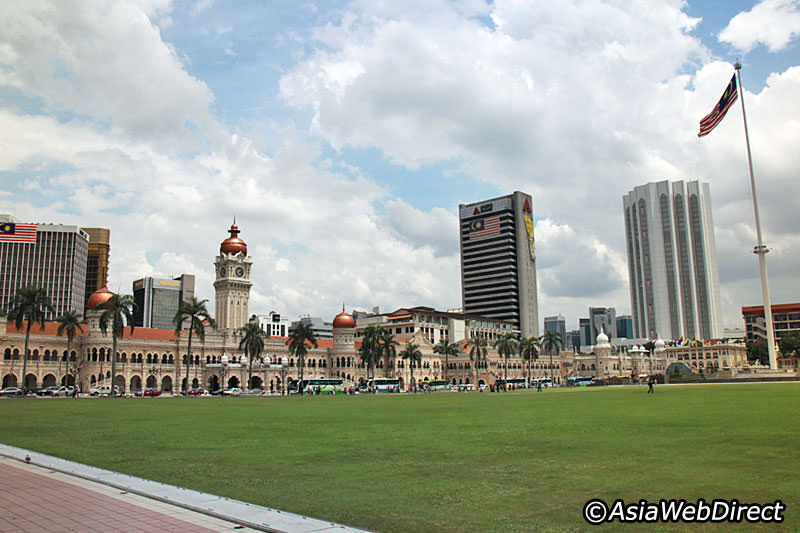 If this place is an absolute must-see in Kuala Lumpur, it is because it embodies most of the Malaysian heritage. All around the square, the numerous colonial buildings, structures and icons dating back to more than a century symbolize the country's history.

You will find explanatory signs in front of most of the monuments, to help you understand the historical events. There is a lot of new interesting facts to learn so I definitely recommend you to take some time to wander around! And if you want to do more than just admiring the exterior buildings, you can also visit the inside for free, from what I understood. Some formal guided tours are available too, either to book online or maybe by asking at the tourist center information location too.
The most famous of them all, and probably the first you will notice when arriving on site due to its beautiful architecure, is Sultan Abdul Samad Building. It was originally built to serve as the offices of the British colonial administration; then it housed the superior Malaysian courts before they all moved, most of them to Putrajaya (more about that later below). Now, it houses both the Ministry of Communications and Multimedia, and the Ministry of Tourism and Culture of Malaysia.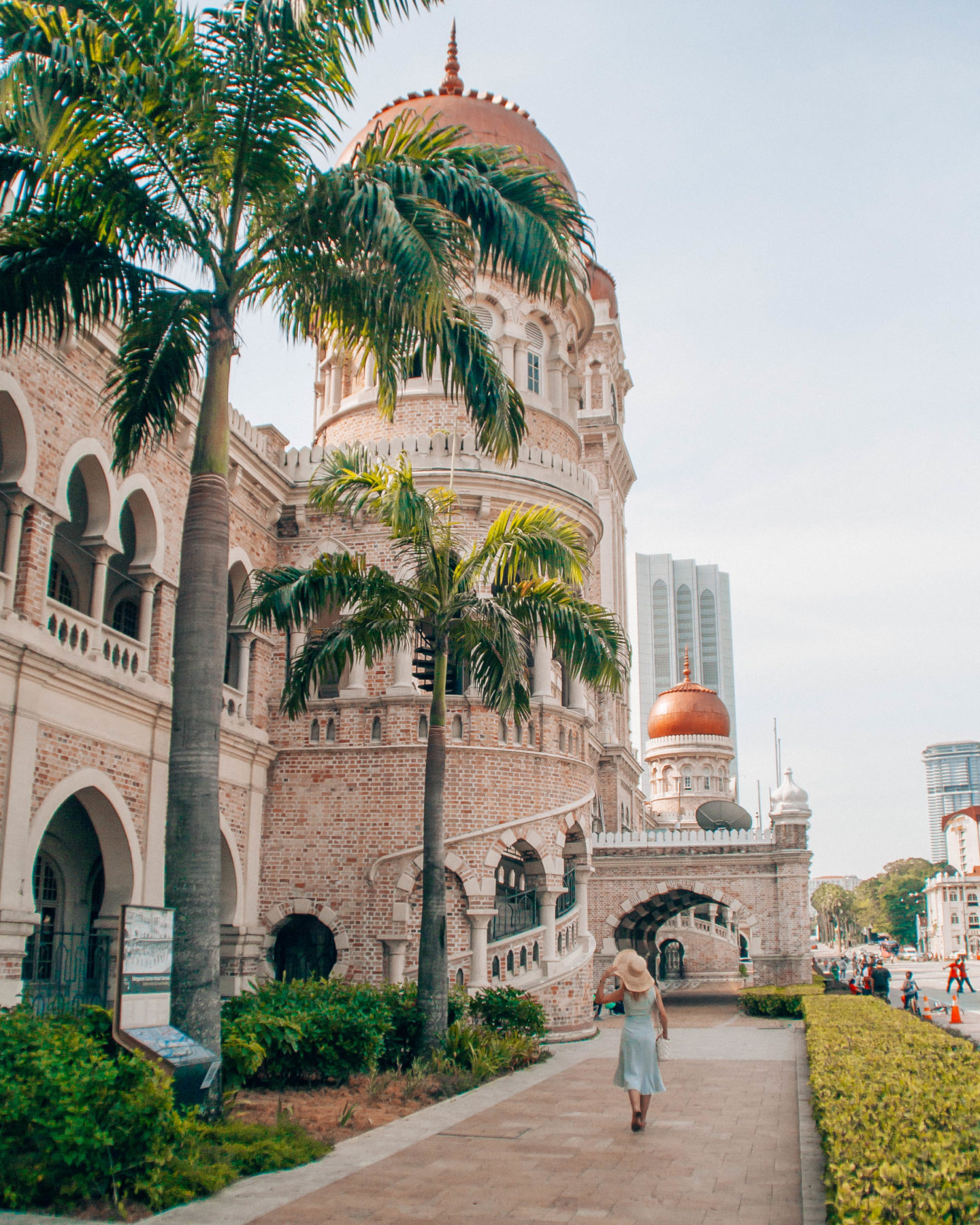 Practical information:
Free access – as it is an outside square, you can also go whenever you want. It was pedestrian only when we went, on a Sunday, I don't know if it is always like this.
It will cost you around 17 to 20 MYR (4€) to come by Grab from the Batu Caves. If you don't respect this itinerary, and come from the center directly, it will be a lot less obviously.
No need to wear a specific attire.
7. Masjid Jamek
Right behind Sultan Abdul Samad Building, you will find a small bridge on the left. Cross it, and you will arrive to Masjid Jamek, the most ancient mosque of the city. It is not the National Mosque anymore, since Masjid Negara took this status in 1965, but its architecture is really worth the visit.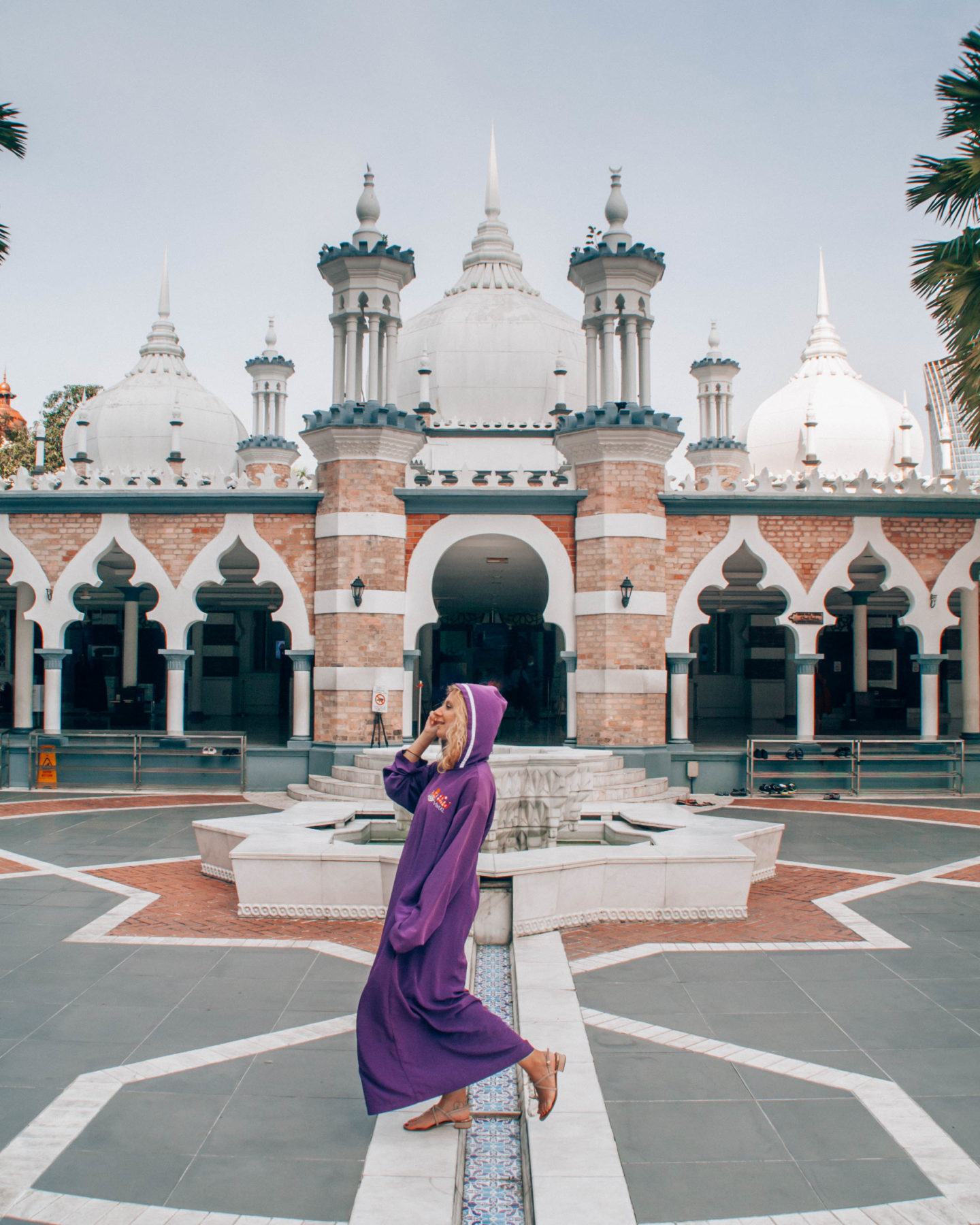 Practical information:
Free entrance. You can make a small donation if you want to support the preservation of the mosque.
Open to non-muslim visitors daily, except on Fridays, outside prayer times – usually from 8.30am to 12.30 & from 2.30 to 4.30pm. In this itinerary I recommend you to make it your last morning visit!
They will give you the above purple robe if your outfit is not fitting the muslim rules, as always.
If you have enough time, there are many other places that you can visit in the area, like the National Mosque in question or the Islamic Arts Museum of Malaysia, both less than 5-minutes away by foot. They are featured as part of the most popular Kuala Lumpur attractions too! You can also have lunch in Chinatown, and especially in Petaling Street Market, as they are right behind this historical center.
8. Menara Kuala Lumpur – KL Tower
After a well-deserved lunch and break, it is time for another wow moment! Head towards Menara Kuala Lumpur, or KL Tower, for the best view on the city ever!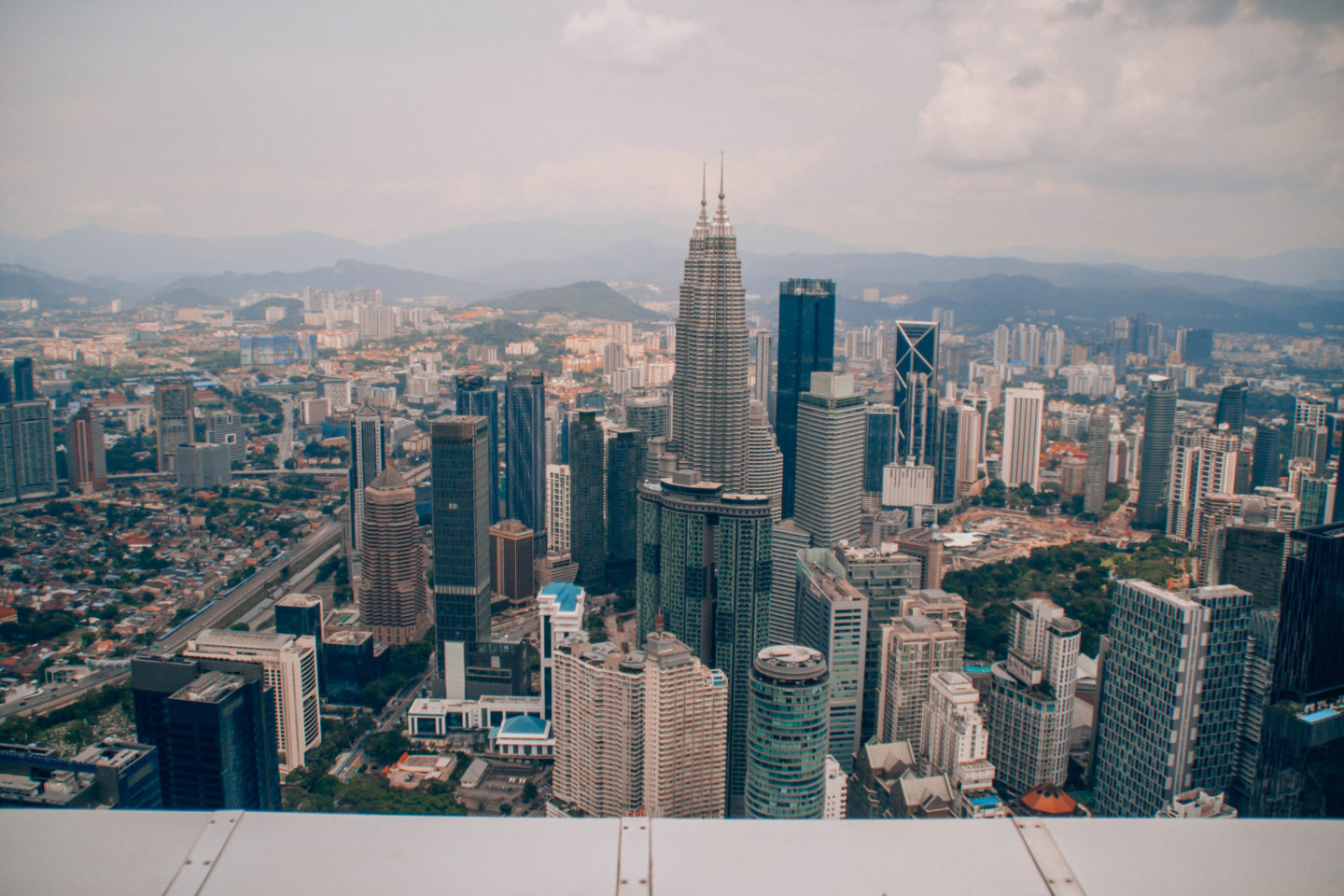 With a total height of 421 meters (with antenna), this communications building is the 7th tallest freestanding tower in the world. The panoramic platform you can go up to is way higher than the Petronas Twin Tower's Skybridge ; 276 meters from the ground instead of 170! This is why we chose to go there instead. And in plus of being on a 100-meters higher viewing deck, you will get to actually have the Petronas in that view. As the safety fence is made out of glass, you will also be able to take amazing pictures!
Three different viewing points can be found on the upper floors: the indoor Observation Deck, the outdoor Sky Deck, and the Sky Box, which is a glass box that extends from the Sky Deck.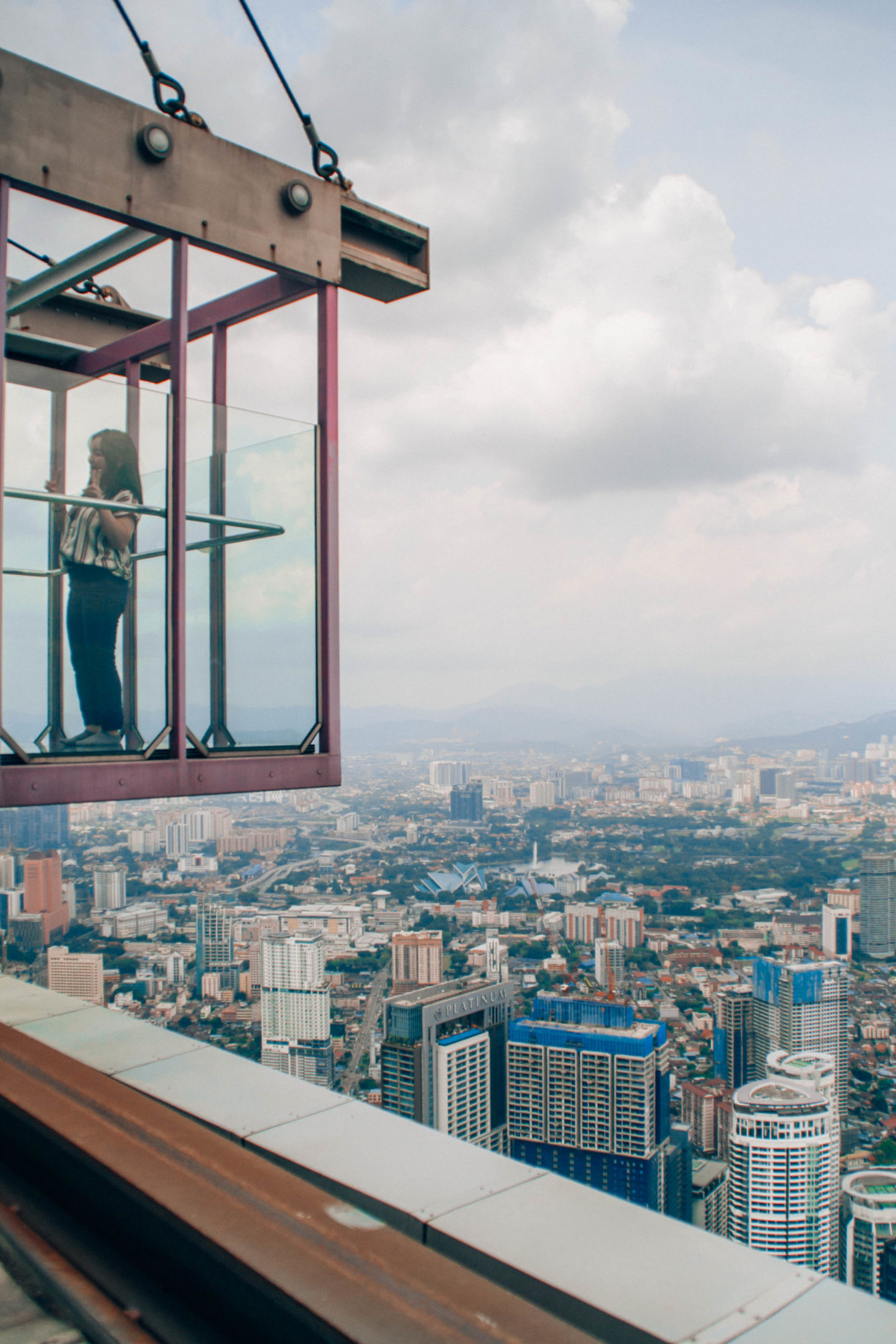 The Sky Box
It is a very great spot to take pictures in, and the tower staff understood it well. Indeed, a ticketing queue system has been put into place, so that people don't enter the box all together. It can be a bit long, depending on the number of people waiting their turn, but at least you are insured to have a clean photo! You will just need to be quite quick and efficient once it is your turn, as each person is allocated around 1.30 to 2 minutes inside maximum (but maybe it depends if it is peak hour or not). Someone from the staff is also here to help you taking pictures if needed.
However if you're afraid of heights, this glass cube is not for you, as it culminates 300m above the ground on top of the KL Tower!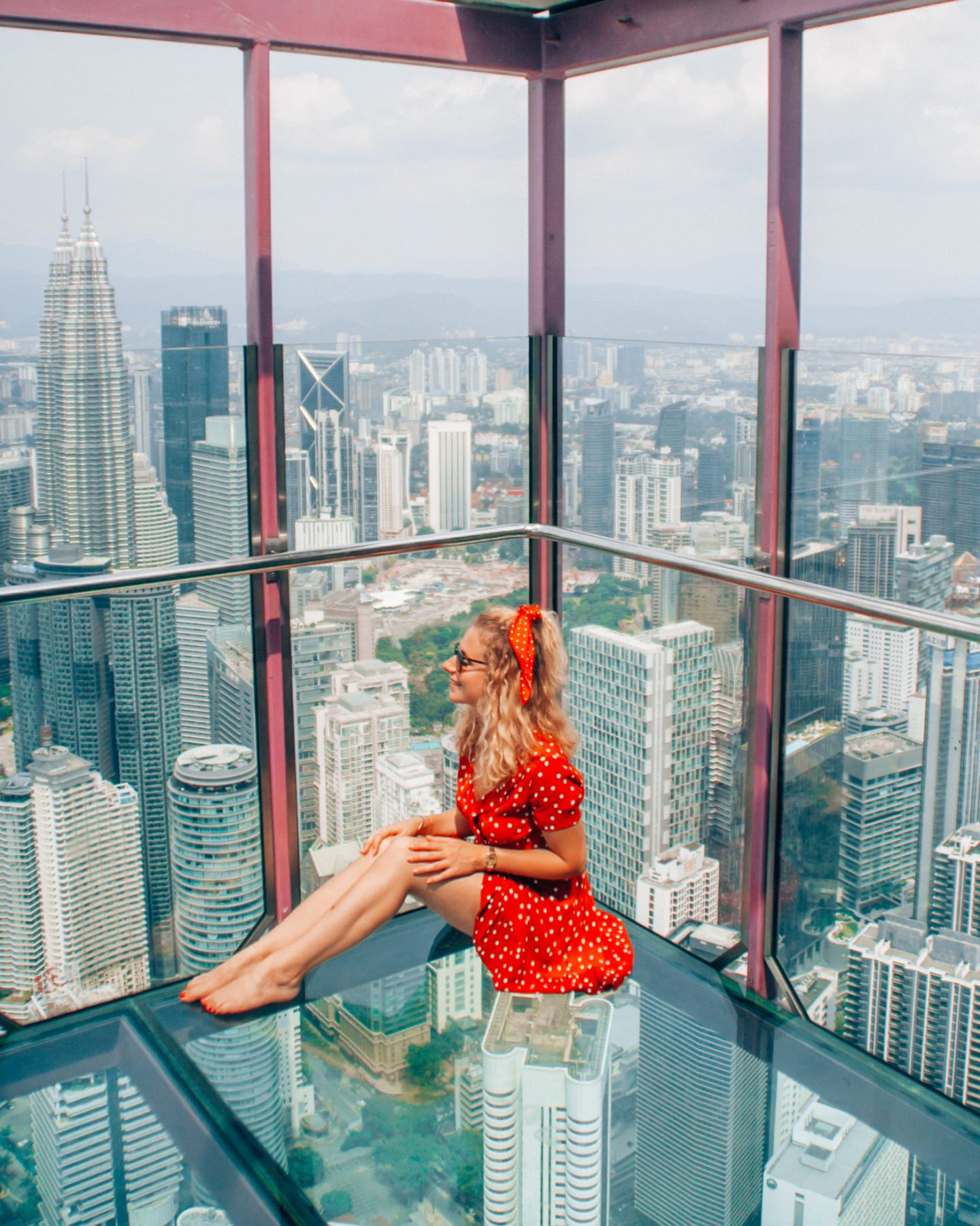 Practical information:
If you follow this itinerary order quite scrupulously, this is the only activity you will have to pay for. It is not a very cheap one, but it compensates all the free others! The price depends on the options you select: it is 49 MYR (10,5€) for the Observation Deck only, and 99 MYR (21€) for the whole Sky Deck package (including Observation Deck, Sky Deck and Sky Box). Those are the prices from the official website & on-site machines, but if you can book in advance, I know that Klook offers better deals.
From your hotel or the center, it will cost you around 9-10 MYR by Grab.
Open everyday from 9am to 10pm.
If you have a bigger budget, you can also treat yourself with a lunch or dinner in Atmosphere 360, the revolving restaurant of the tower! It starts at 76 MYR per person for an afternoon tea, which enables to stay for a complete 360° tourview (around 2h). I have heard that they also offer a great choice of both local and international dishes! But make sure to book in advance for dinners I think.
9. KLCC Park
Day 2 in Malaysian's capital is almost getting to its end, but there's still at least one essential spot to go to in the center: KLCC Park.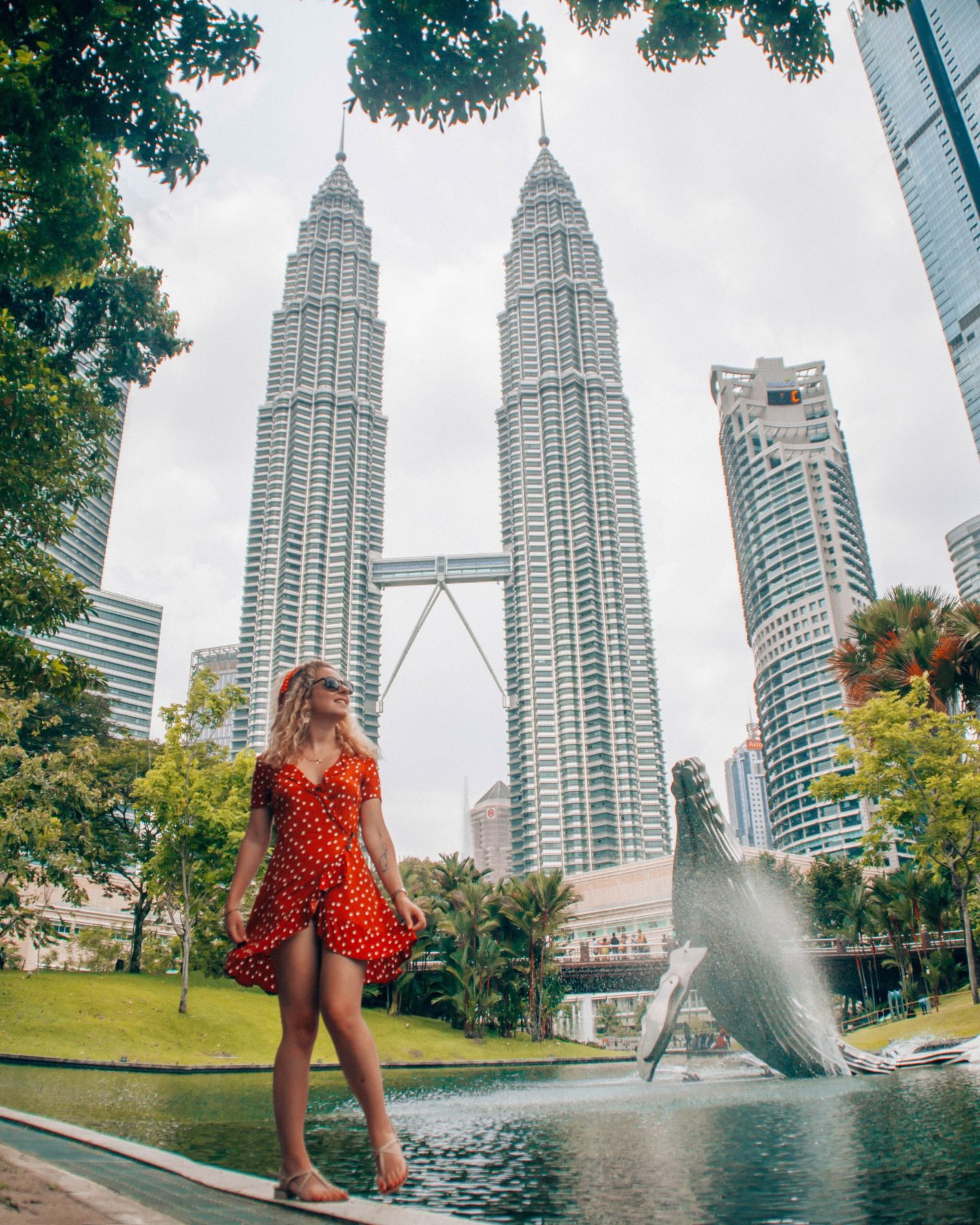 Actually, KLCC acronym stands for Kuala Lumpur City Center and many other things can be done in the area as you know. But if you have a tight schedule like we did, then prioritise this 50-acre garden surrounding the Petronas for your last visit in the center, and last view of the Twin Towers! Additionally to getting another different angle on them, you will enjoy having a walk in this very nice park. It features a big children's playground, a 1.3km jogging track, some benches, sculptures, and even a public children's swimming pool.
Practical information:
Free entrance – you can enter through Suria KLCC commercial center, or on the other side near the Mandarin Oriental.
From KL Tower, it will cost you around 7-10 MYR by Grab.
Open daily from 7am to 10pm.
10. Putra Mosque
Last but not least, it is time for the last must-see of this week-end itinerary! But for that, we need to leave the city : let's go to Putra Mosque.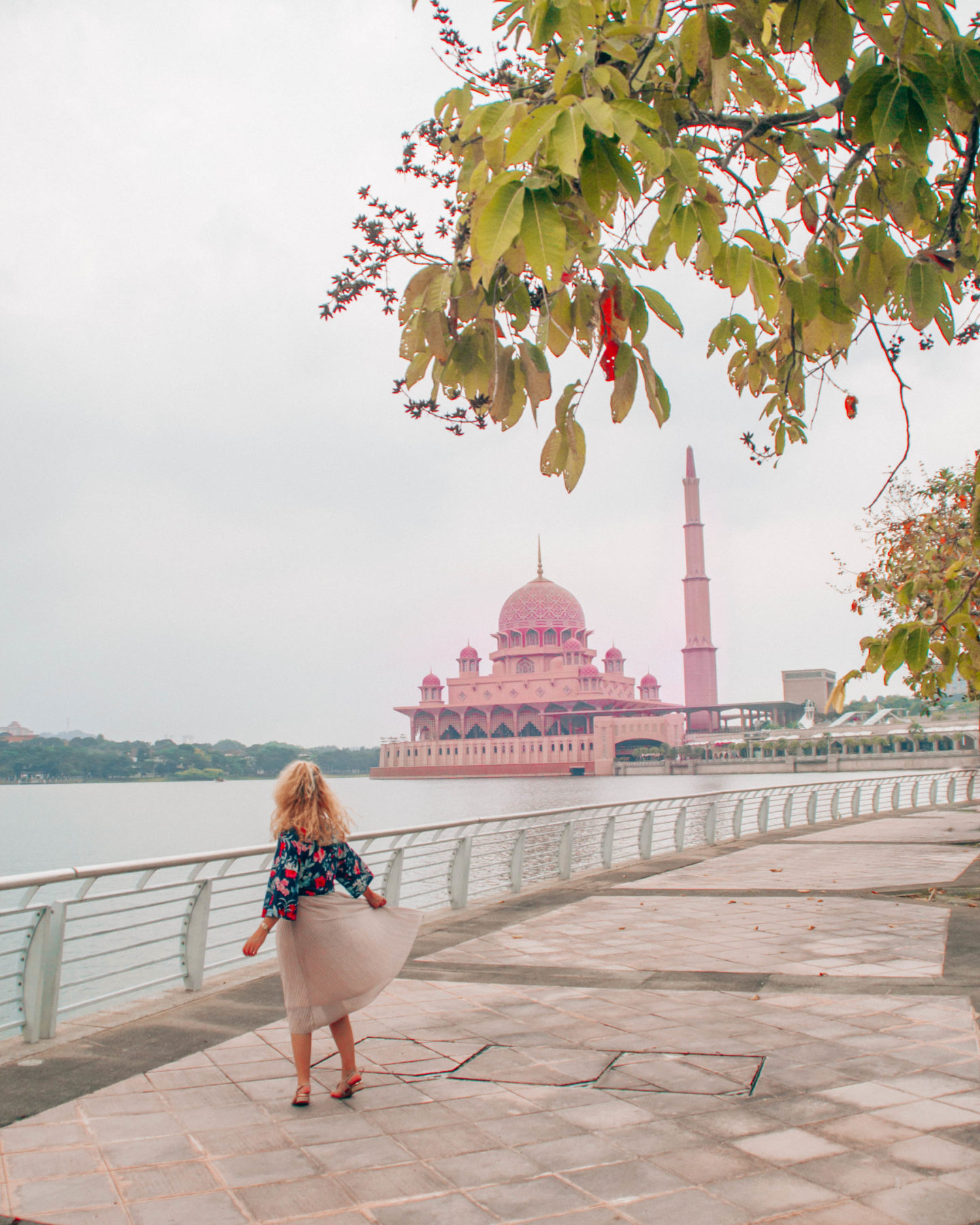 Made of rose-tinted granite, Putra Mosque is indeed located around 45min from KL center, in the new federal & administrative capital of Malaysia, Putrajaya Wilaya. The construction of the mosque only dates from 1997-1999, a participation into the development of this new government's base. Indeed, if Kuala Lumpur still is the cultural, financial and economic center of Malaysia, the headquarters of the federal governement's executive and judicial branches were relocated to Putrajaya in early 1999. However, some sections of the political bodies still remain in Kuala Lumpur.
In any case, Putrajaya clearly has it all to become a must-see city for tourists, especially as it's right in between Kuala Lumpur and the airport! Head there straight when arriving or before leaving (like here), you won't regret it!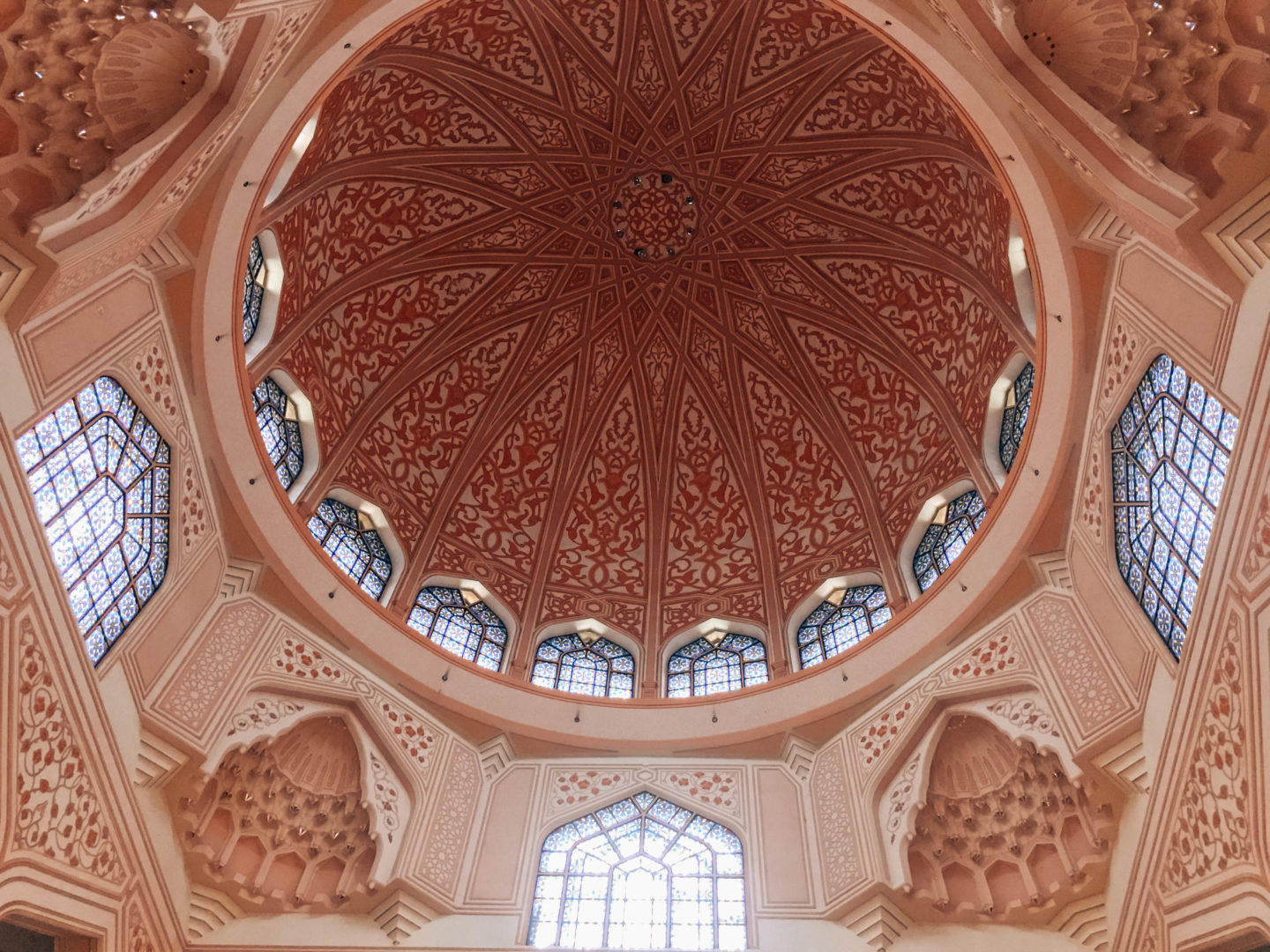 Practical information:
Free admission – you will be given a robe as always if your outfit doesn't fit the muslim requirements.
From KLCC, the Grab cost us 73 MYR (15,5€). From or to the airport, it is around 45 MYR (10€).
Open for non-worshippers outside prayer times: 9am to 12.30pm / 2 to 4pm / 5.30 to 6pm from Saturday to Thursday, and 3 to 4pm / 5.30 to 6pm on Friday. If you visit on your way to the airport (as suggested here), before an evening flight, just make sure to get there by 5.30pm maximum, so that you have enough time to both see the inside and take pictures on the outside.
If you arrive on site earlier, you can also go to Astaka Morocco! This moroccan pavilion is not far from the mosque and really deserves the attention from the pictures I have seen!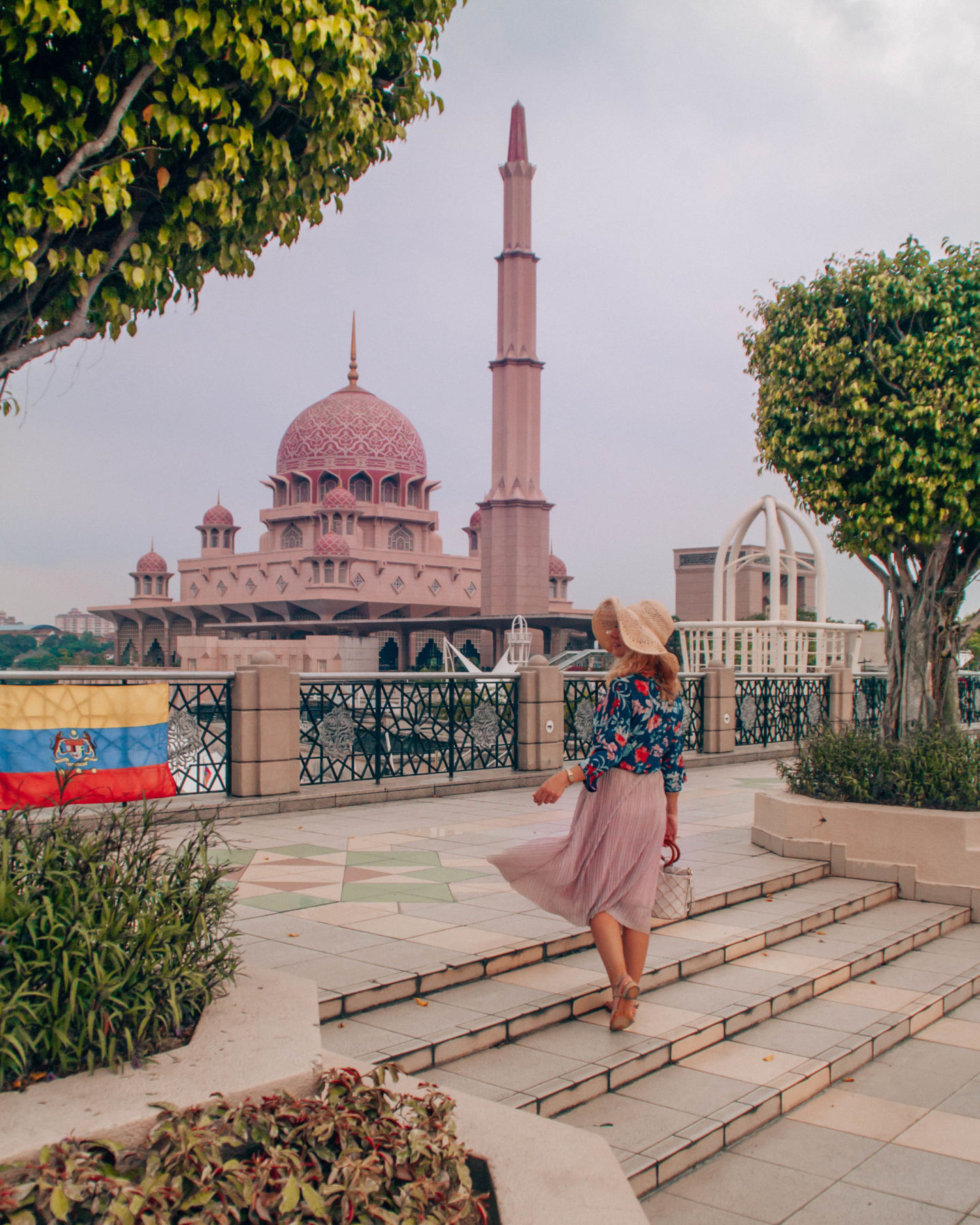 Bonuses
Spending only 48h in Kuala Lumpur is obviously a bit tight, and if you have the possibility to spend more days than 2, I would clearly recommend you to do so. On our side we might go back one day to explore more of the city! So here is a list of other things to do if you have more time:
Wander in the numerous shopping malls
Kuala Lumpur is one of the leading cities in the world for tourism (10th most-visited city in 2017), hence shopping is very developed there too. The city houses no less than 3 of the world's 10 largest shopping malls, leaving you plenty of choice if you're in a purchasing mood! Suria KLCC and Pavilion Mall KLCC for instance, both in the Bukit Bintang area, offer the fanciest brands and the most luxurious indoor decoration. You can also find a lot of restaurants or food courts inside them.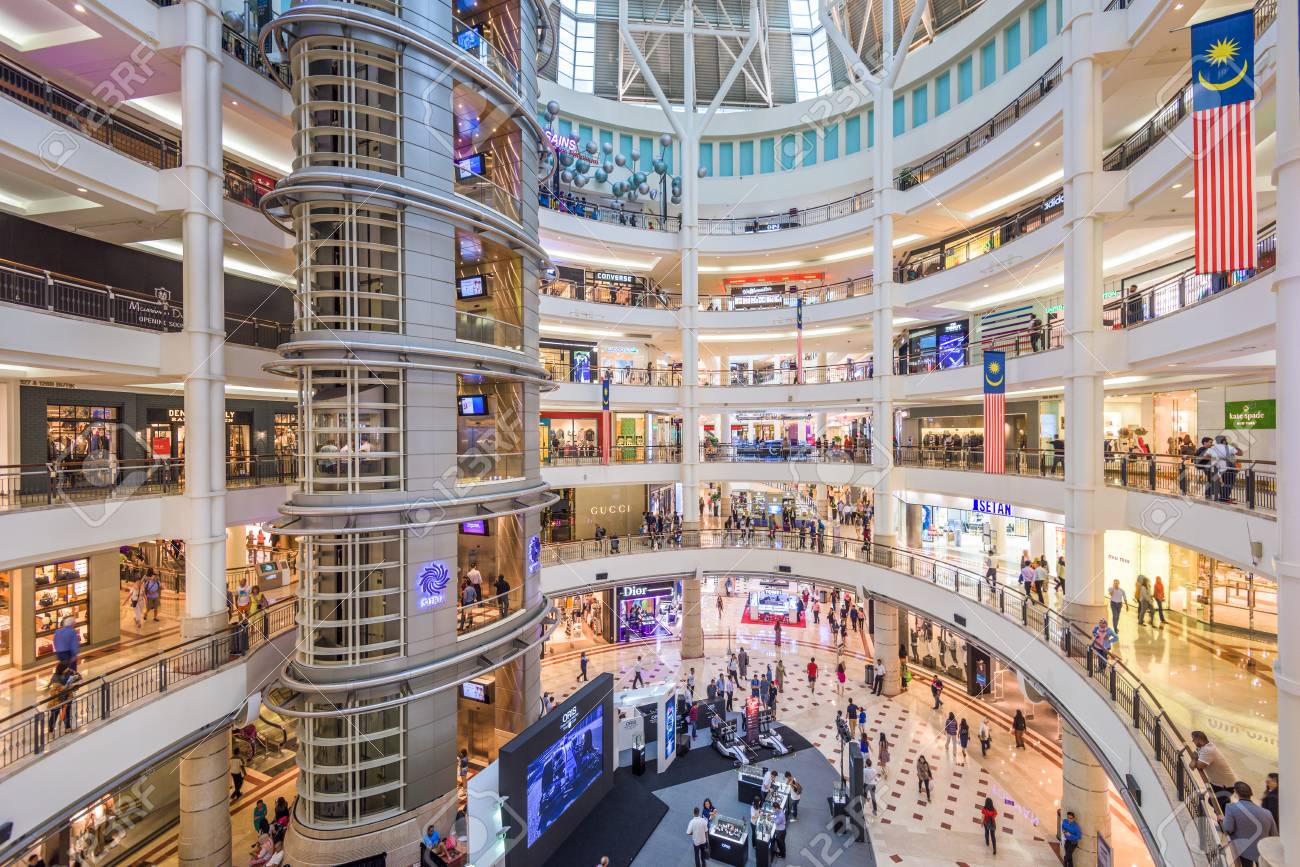 Head to the Central market (near Petaling Street) for more authentic souvenirs and crafts, and a more cultural experience. Talking about different cultures, Little India too is another nice neighborhood you can visit.
Enjoy the gastronomy
As said before, I didn't include precise lunch places to this blogpost, but I mentioned some ideas already. Overall, you will find the best street food stalls and options in Jalan Alor street, Bukit Bintang area, Tapak Street, Chinatown/Petaling Street, in the malls …
Local dishes you need to taste :
Nasi lemak
Murtabak
Blue rice
Mee goreng
Curry noodles
Fried koay teow
Hainanese chicken rice
& many many others…
If you are already used to the local food like us or want some change, you can also try a continental brunch spot called Plan B Roasters at Publika. We went there with our local friend and loved it!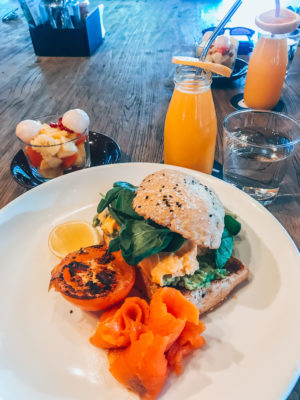 Admire KL street art
The city is absolutely full of murals and impressive street art, that you can for instance contemplate in Bukit Bintang area again, especially in Jalan Alor. For more precise addresses, consult this blogpost, or the many others you will find online.
Discover the museums
If you are more of an indoor person, you might enjoy visiting the National Museum of Malaysia or the Islamic Arts Museum of Malaysia also recommended before. I didn't have the time to look for other alternatives but I am sure you'll find plenty others online too if needed!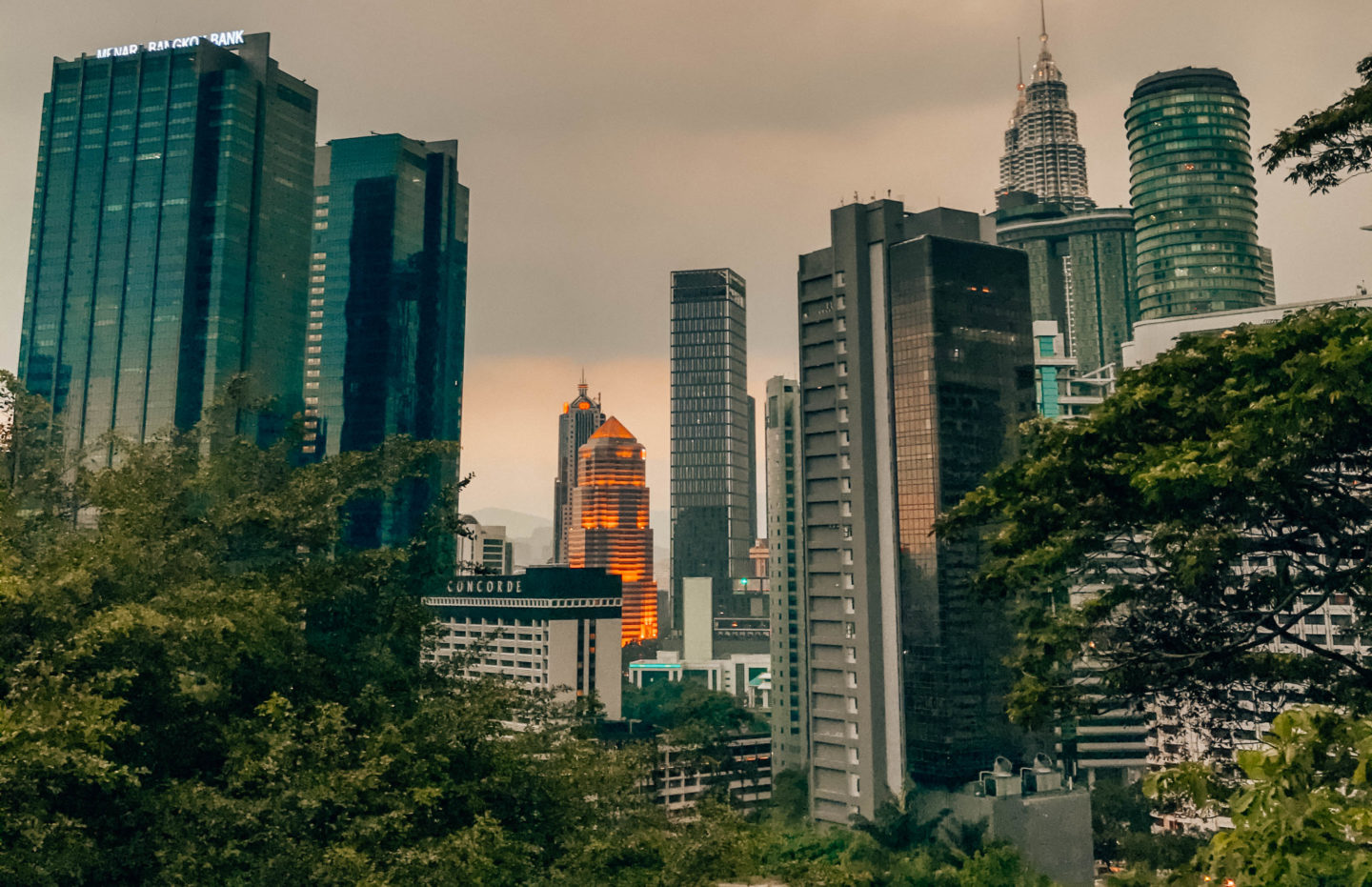 That's it for this 48h in Kuala Lumpur itinerary, I hope you found it useful! If you liked it, or if you have questions left, do not hesitate to let me know in the comments, I will answer you with pleasure. You can also contact me directly on Instagram! Let's talk very soon!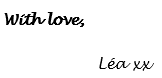 If you enjoyed this blogpost, save it on Pinterest for later! ↡