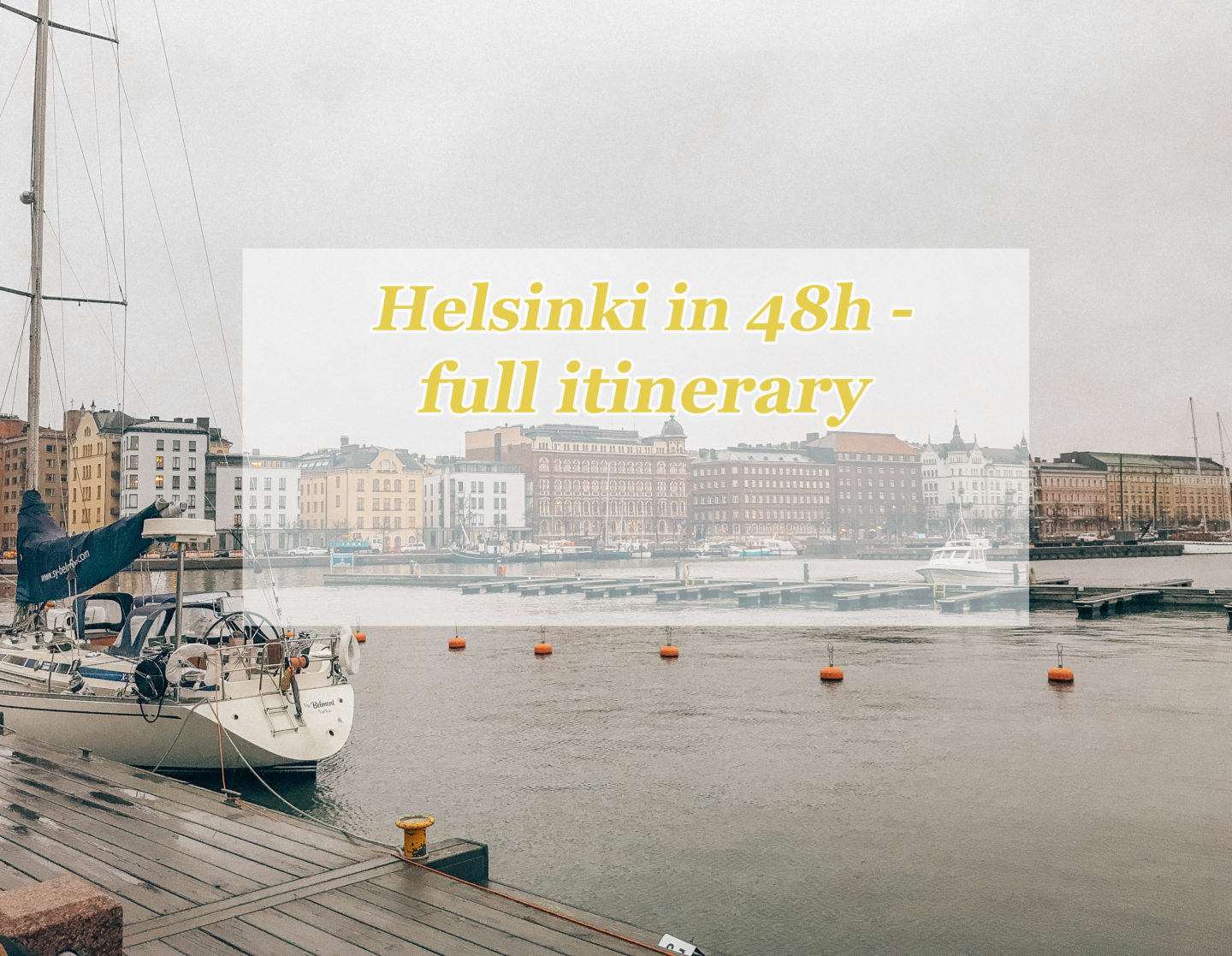 Hi everyone!
Going to Helsinki soon and looking for all the useful information? I've already listed all the must-see spots in the city in a previous article that you can find here, as well as all food addresses and tips you need here. However, this article comes as a complement to suggest you a two-day itinerary if you want to be sure to have time for everything I told you about!
Walking or not is of course up to you, but just so you know, we did everything by foot on our side, which makes this itinerary completely adapted if you plan on not taking too much public transportation as well. The aim of this all is to know how to do things one after the other in the best geographical and practical order, enabling you to save time and energy while still seeing all the spots at the best moment! Again, for the main article about the spots, pictures, practical information and all my tips, head there, be sure to read it first!
DAY 1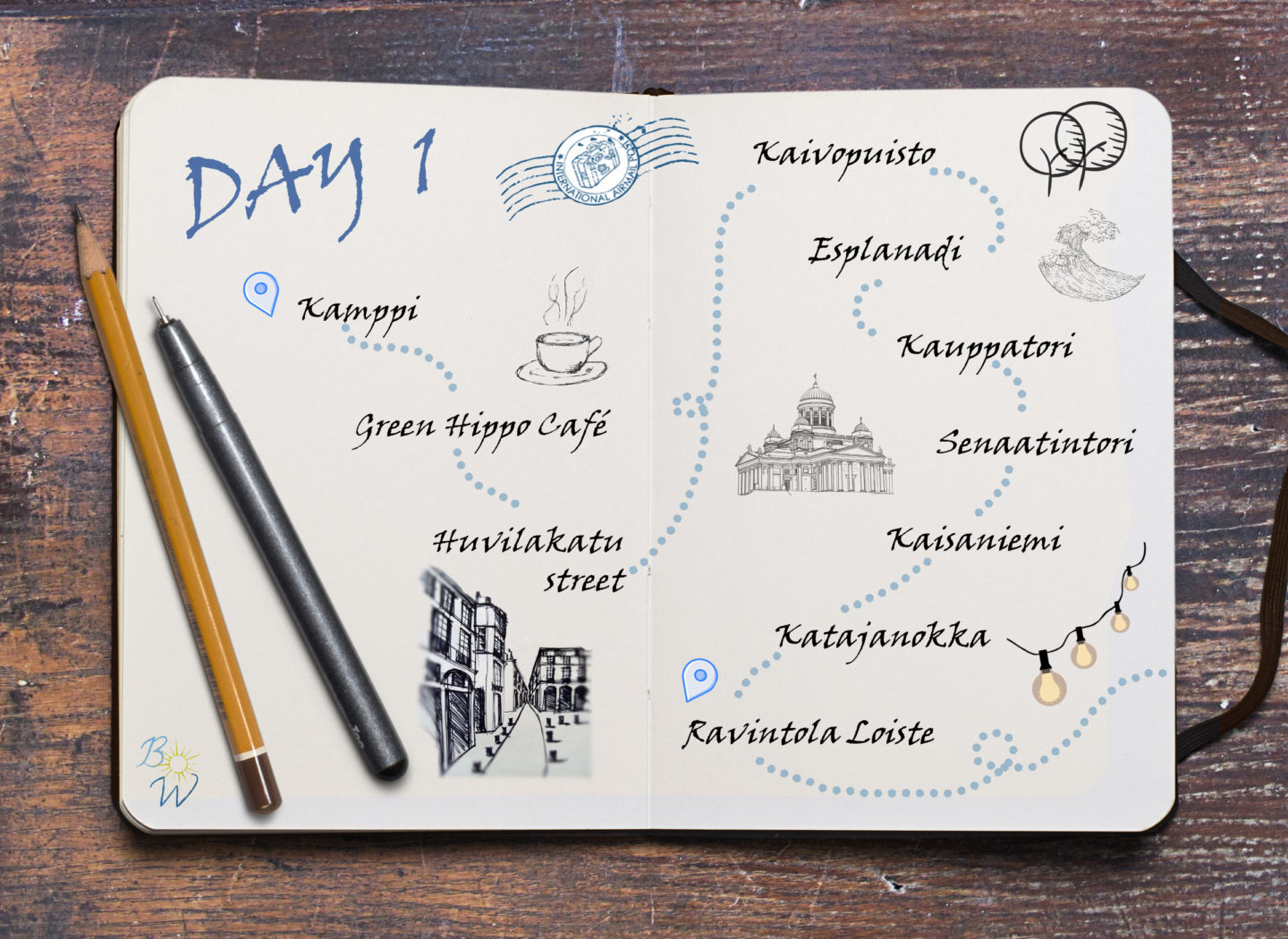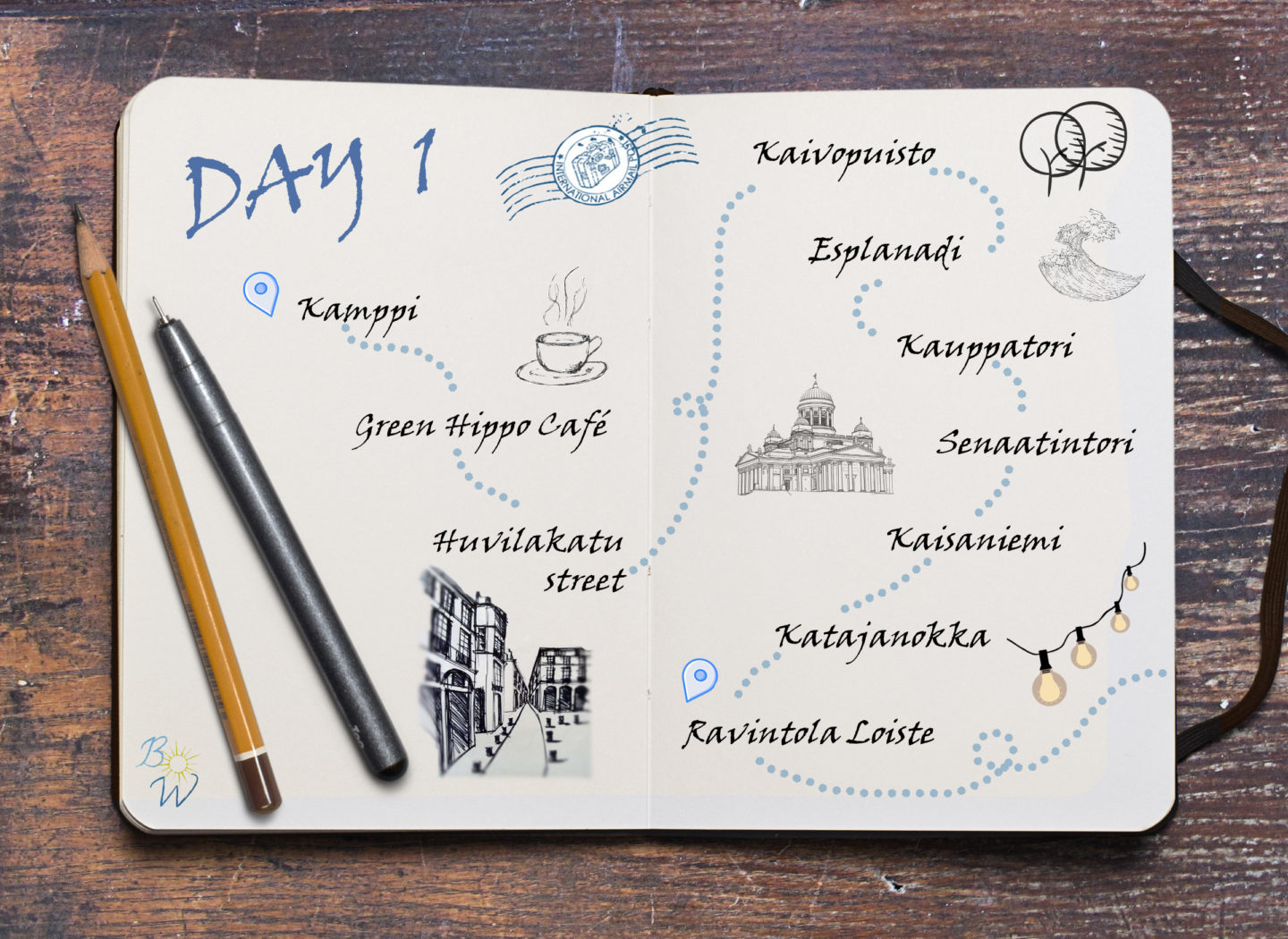 After our first night near the airport – more information about hotels and transportation here – we headed to the center of the city by train (the station is in the airport). It costs 5€ per person and it's quite quick, around 30min. You arrive directly at Helsinki's main railway station.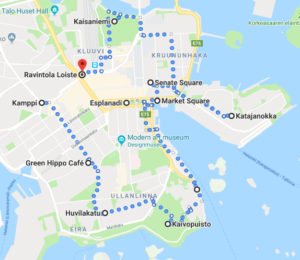 9.30am ~ 1. Kamppi
Starting by Kamppi is the easiest, as it's right next to the railway station and also the very center of the city, from which you can connect to everywhere else. By the way your hotel will probably be in this area, at least that's what I recommend (along with all my advices to prepare your trip in Helsinki). Also very practical if you have any luggage to store for the day like we did: you will find a big easy storage room in the train station. It costs 6€ per 24h, and then you're ready to explore!
10.30am ~ 2. Green Hippo Café
It's 10 or 11am, you are starving… Stop by the Green Hippo Café for the perfect brunch, enjoy the place and the food, it's on the way anyway!
12am ~ 3. Huvilakatu street
As explained in my 10 must-see spots article, it's better to go to this pretty street in the morning, when it's not too crowded. Take your best pictures there while admiring the gorgeous architecture and feeling the true inner city vibe!
12.30am ~ 4. Kaivopuisto (sea & park)
You're probably still digesting the huge brunch you had a bit earlier; why not having a walk in Kaivopuisto park, and even near the sea right after? Then you can either walk through the city or follow the coast line to join the next step. If you have enough time, the Modern art museum is on the way!
1.30pm ~ 5. Esplanadi
Back to the center, on the other side of it. From there everything is very close. For instance here, barely leaving the Esplanadi you will be at Kauppatori already.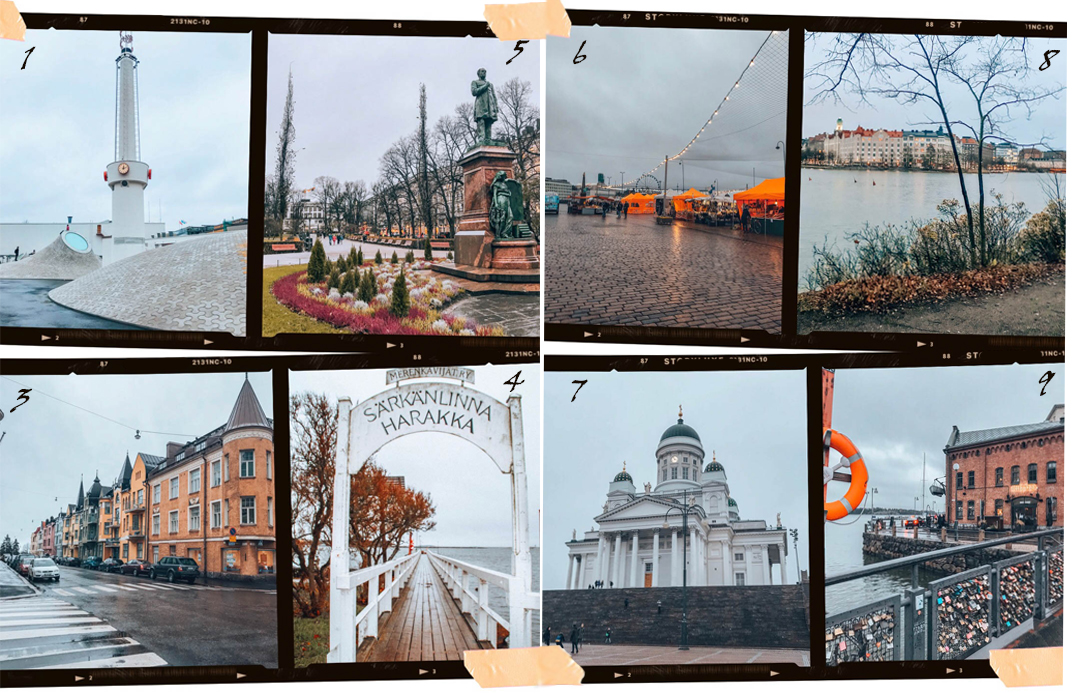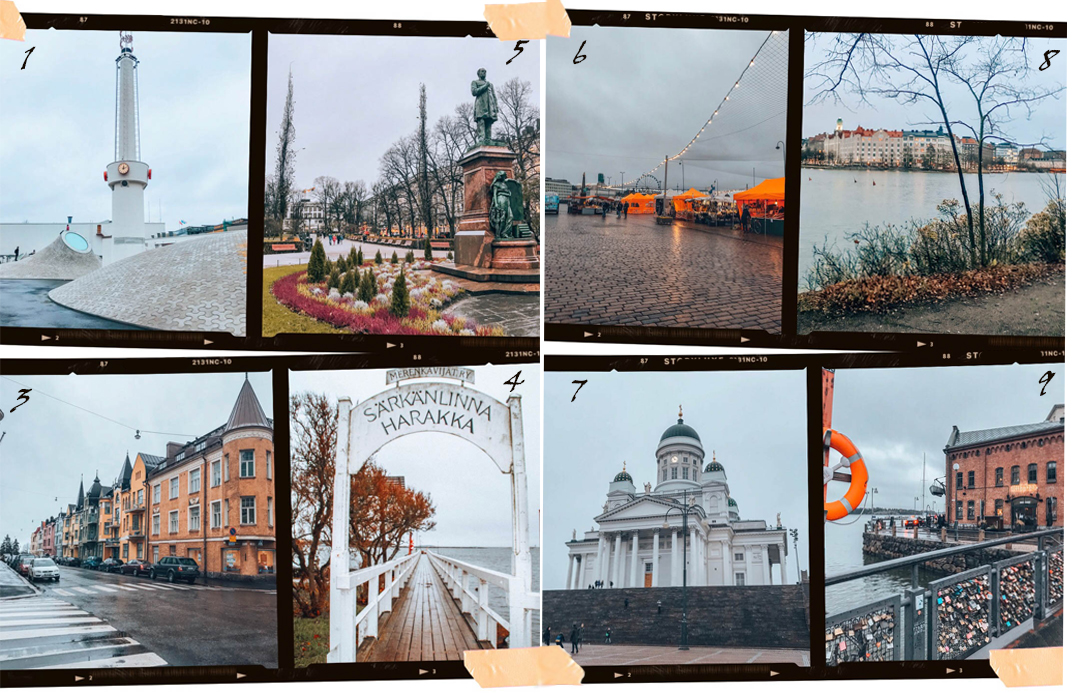 2pm ~ 6. Kauppatori (Marquet Square)
If you're hungry again, you can easily grab something local and simple to eat on this very typical market. There is also a lot of restaurants or cafes around! But even if you don't feel like eating, have a look around the square, as explained in my main article, it's really the heart of the city!
2.30pm ~ 7. Senaatintori (Senate Square)
From Kauppatori, join this place by taking Katariinankatu street. It is so pretty, and enables you to check 3 spots off of the list in barely 5 minutes! Also take some time to visit the inside of the cathedral. Really worth it.
3pm ~ 8/9. Kaisaniemi park & marina
From there, you can head a bit to the north of the city to admire this park and marina, and discover another neighborhood of Helsinki. It can be exchanged with the following point as well (Katajanokka), depending on what you want to see and in which order.
4.30pm ~ 8/9. Katajanokka
Enjoy another walk around the island, check the cathedral, and the inside market if it's still open at that moment (depending on the period of the year). If you're in the city in winter like us, the sun might be setting already!
6/7pm ~ 10. Ravintola Loiste
Yes it's still early, but you walked all day and are starving already… Head to Ravintola Loiste for the best dinner along with the best view of the city! A rewarding you deserved for this exploring day. Or maybe you're not hungry enough for now? Then take some time to explore the shops or have a drink nearby before ~ don't wait too much though, or the restaurant might be already full! Finnish people eat quite early!
DAY 2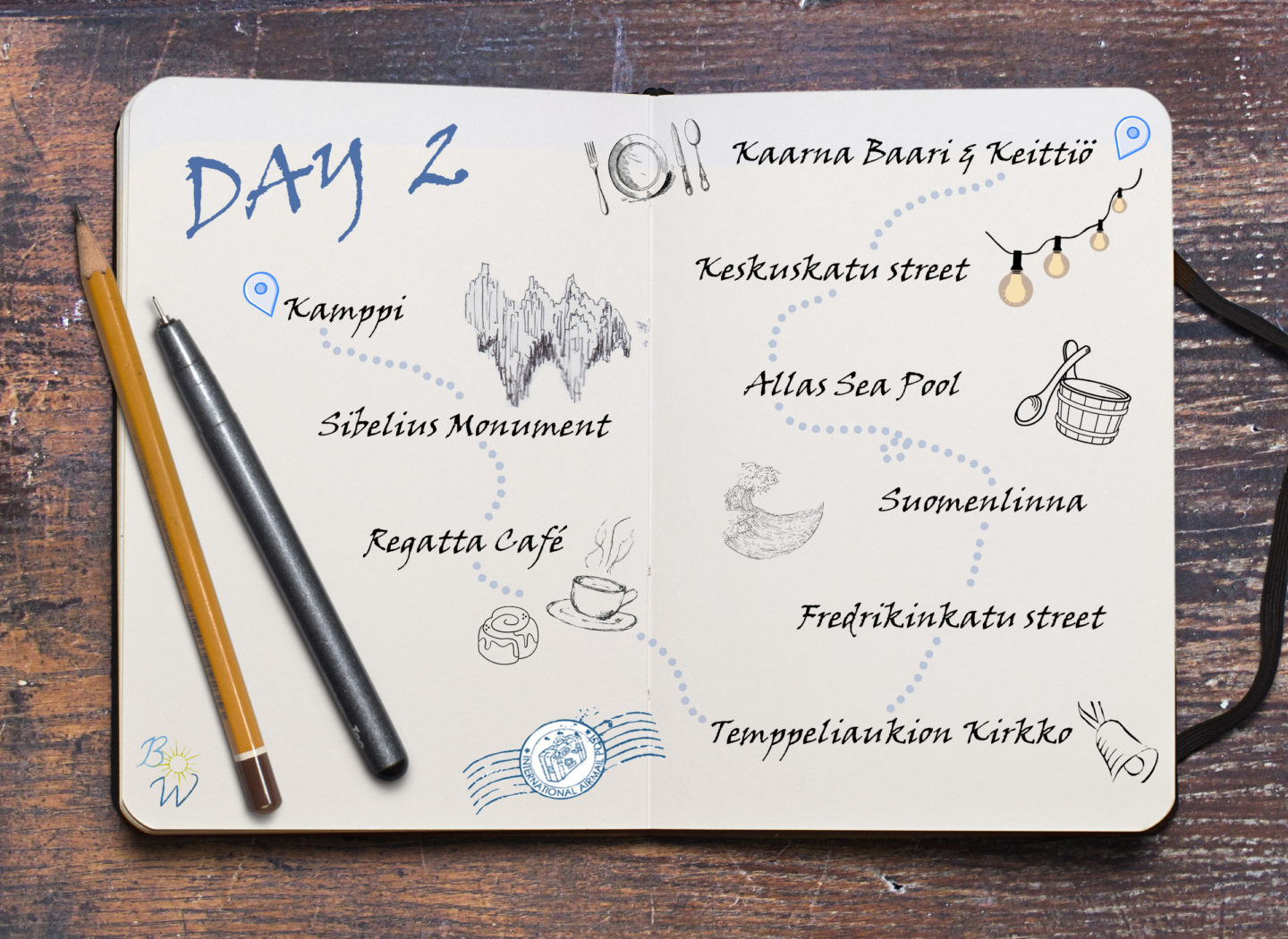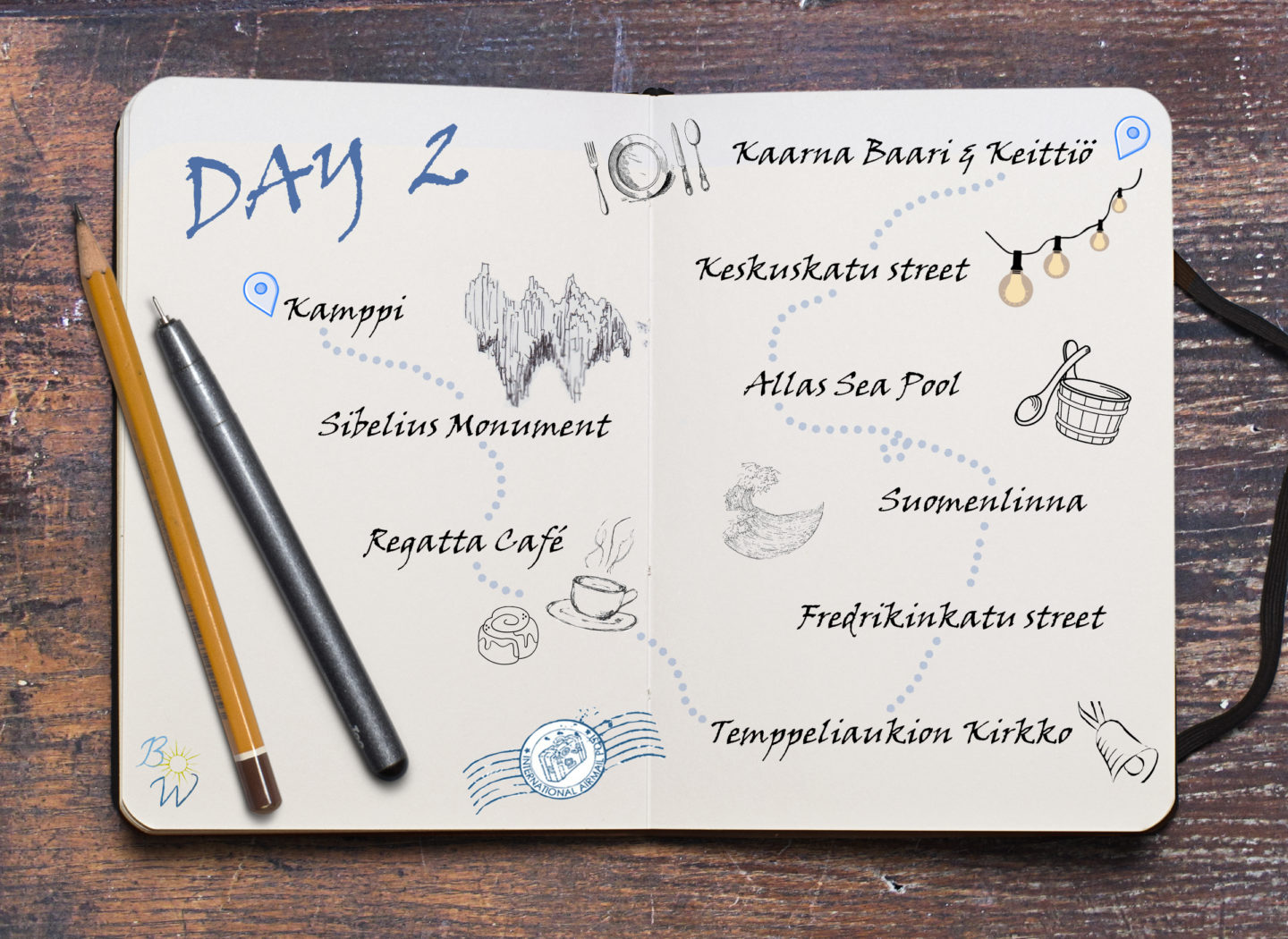 Second day in the capital of Finland! Are you ready?
9am ~ 1. Kamppi
Starting from Kamppi again for the same reasons – and if, like us, you have a flight to grab directly on the evening, leaving your bags here again for the day is perfect! Then you can take them back when it's time to go, directly before getting on the train to the airport – really the easiest solution.
9.30am ~ 2. Sibelius Monument
As explained in my main article, if you want to enjoy the Sibelius Monument (and take nice pictures) without too many people, better go in the morning! It will take you 30min from Kamppi if you go by foot, maybe that's the only part where I could actually recommend you to take a bus or a tram. We lost a bit of time on our side when we walked to it from Kamppi. Still completely doable though!
10am ~ 3. Regatta Cafe
After a tour in the park and around the monument, this is the best spot to have breakfast: trying the cinammons buns there is a must-do! Relax, look at the sea, and enjoy Finnish food in an amazing set-up.
11am ~ 4. Temppeliaukion kirkko
Time for some architecture and culture! However, careful if it's Sunday, the mass might be taking place. Be sure to check if the inside can be visited on the day you want to go (more details in this article). Enjoy the outside in any case, already so impressive!
11.30am ~ 5. Fredrikinkatu street
When leaving the church, you will be in front of this lovely street. Take a few minutes to admire the houses, it's on your way anyway!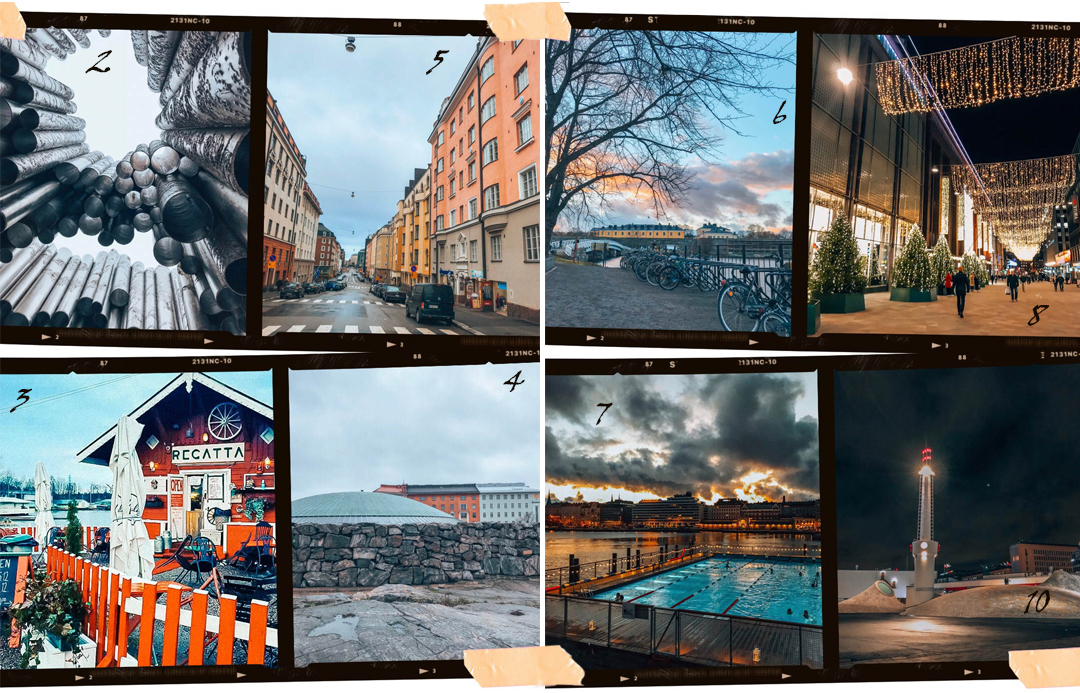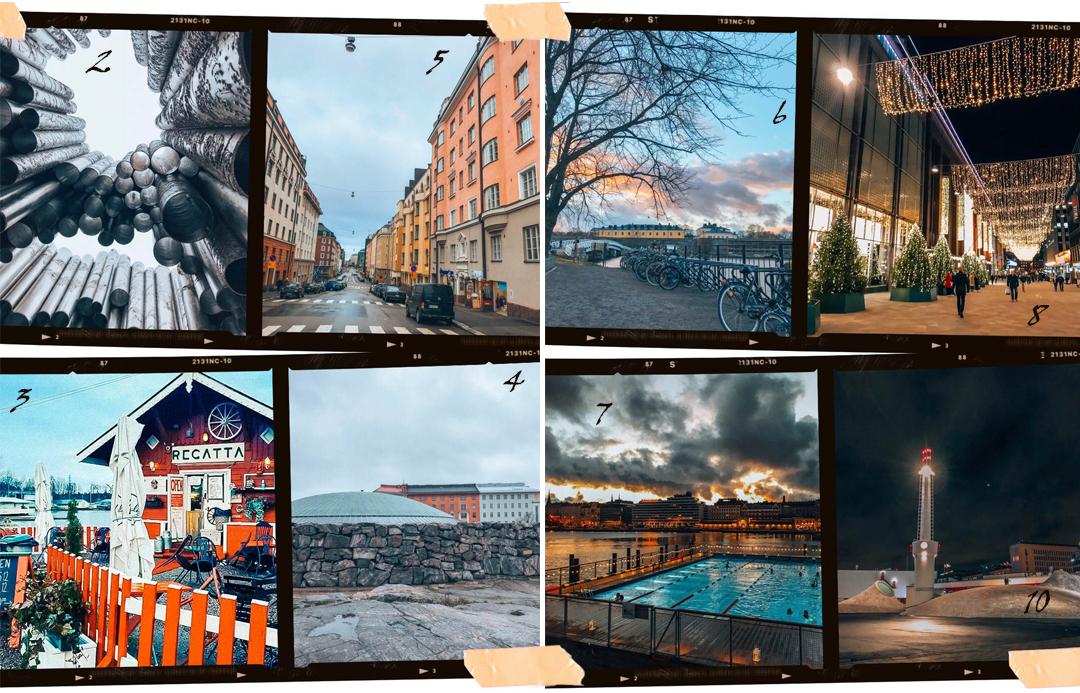 12am ~ 6. Suomenlinna
To go to Suomenlinna island, you will need to take a ferry from Kauppatori. That's where you are going now, easy. For the rest, all the information you need to know are in the article I dedicated to it here. It will also be the perfect place to eat local food, yes I know lunchtime is coming!
4.30pm ~ 7. Allas Sea Pool
Back from the island and tired of this big exploration day? Allas Sea Pool, the most famous sauna of Helsinki, is right in front of you when exiting the ferry at Kauppatori! Perfect at the end of the day to relax and best moment to enjoy the view on the sea by night. It's only waiting for you! More info in the main article as always.
7pm ~ 8. Keskuskatu street
On the way back to Kamppi area for dinner, have a look at the shops there or, if it's winter and around Christmas, even admire this place highly decorated!
7.30pm ~ 9. Kaarna Baari & Keittiö
Time for dinner. Yes for some of you it's too early but of course the hours are just indicative 🙂 relax and think about all the memories you created in the past 48h! How cool?
9pm ~ 10. Back to Kamppi
End of this 48h itinerary. If you followed all the steps listed in this article, I can guarantee you that you have enjoyed and seen most of the city, at quite a nice pace. Hope you liked it as much as I did!