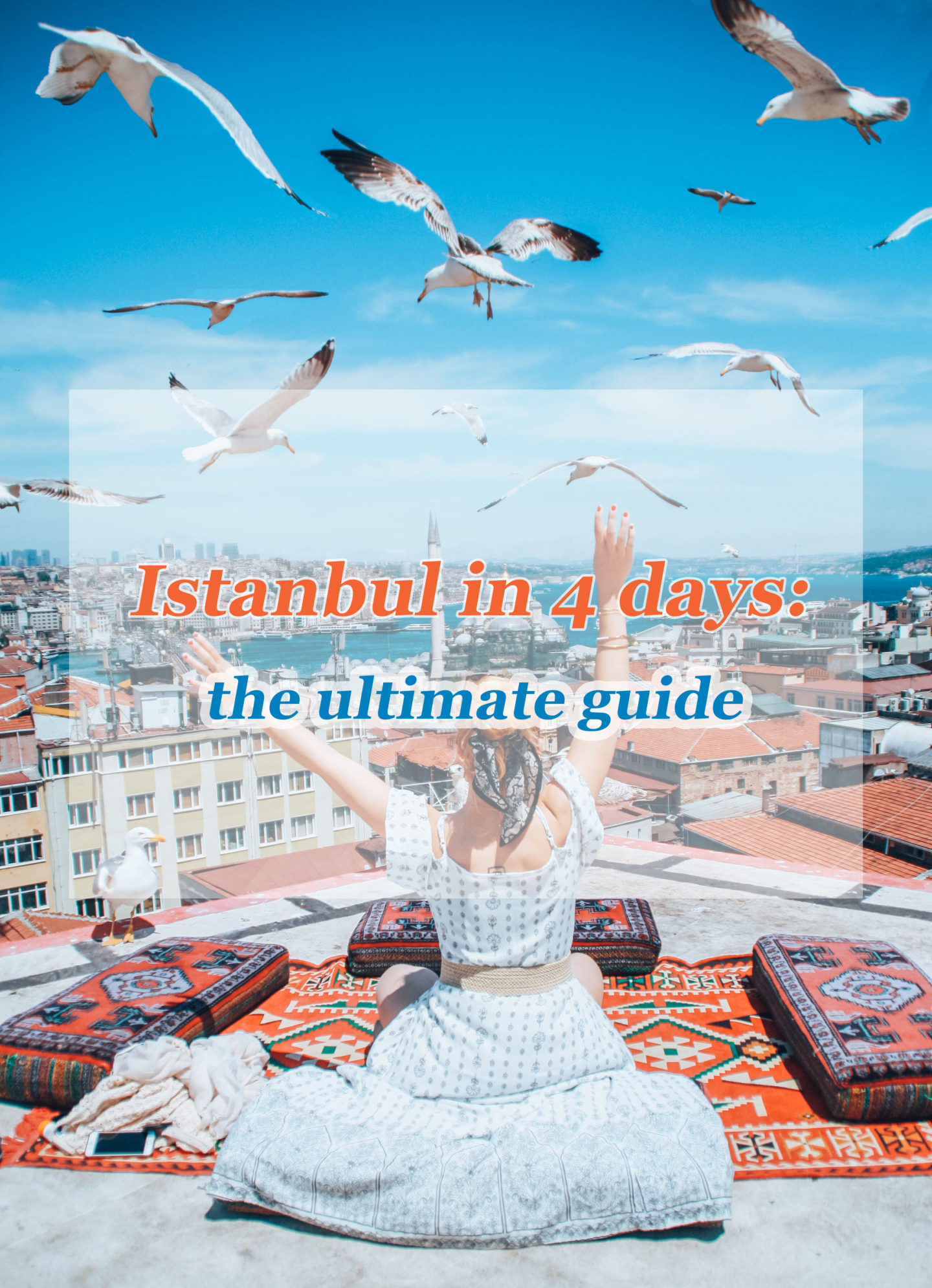 Hi everyone!
As you probably already know if you've been following me on Instagram, I traveled to Turkey in May, starting by 4 days in the biggest city of the country: Istanbul. Even if it's not the Turkish capital anymore (Ankara is now), it still stays the financial, economic and above all cultural true heart of the country. Indeed, the formerly called Constantinople has a particularly rich culture and historical patrimony, partly due to its unique location at the meeting point of Europe and Asia. Yes, it is located in both continents, crossed by the Bosphorus strait, quite extraordinary right? I cannot detail everything in this article, but if you are interested in Istanbul's history, have a look at the thousands of books or Internet articles about it. You will soon understand what I am talking about!
No wonder why I directly fell in love with this highly fascinating city. But in front of so much culture and historical background, you can easily feel lost and overwhelmed! Istanbul has enough interesting spots for at least 2 weeks, so how to select the most worthy places and know where to go, when and how? Do not worry anymore! You will find in this article the list of the 10 spots you absolutely need to go to when in the city, and an itinerary suggestion at the end as well, in order to save time and see everything in the optimal order! Tested and approved, as always.
Ready? Let's go – I am taking you to Istanbul's best spots, hidden secrets and most wonderful gems!
1. Sultanahmet Square & all the monuments composing it
The very first place you have to explore is the extremely famous Sultanahmet Square. So famous that you probably heard about it already, or even based your stay in Istanbul on the visit of it. What makes it absolutely compulsory is the fact that, in plus of being a gorgeous square with a central fountain, it actually connects the Blue Mosque and Hagia Sophia, which are the real attractions here – talking about them more below. They are basically in front of each other (I didn't realise how close they were before being there). This whole area is very lively, probably the most touristy place of all Istanbul, and definitely a must-do!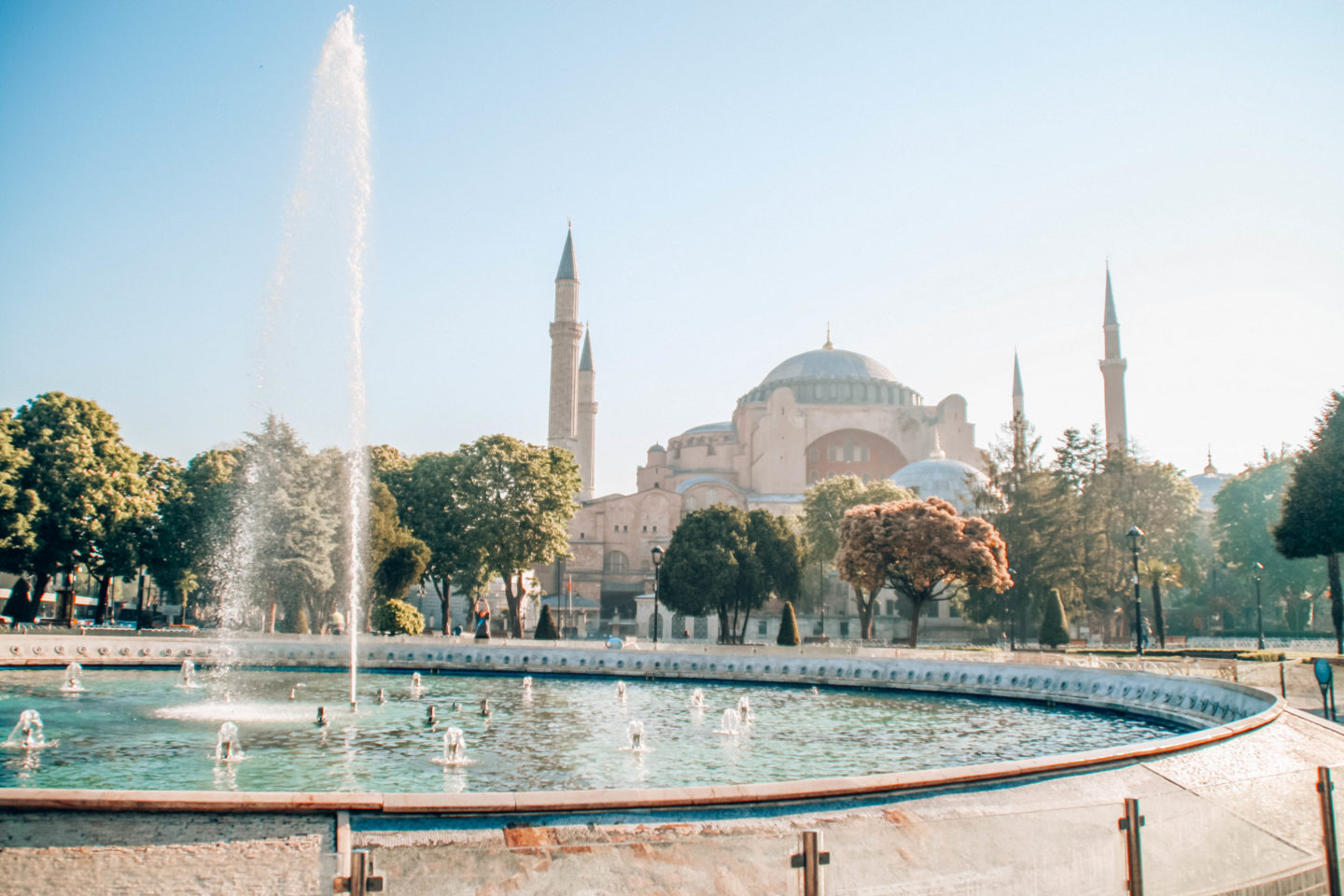 When to go?
🕒 6am – 8am
I won't be original because that's the tip I always give, but if you want to avoid the crowds, you have to be there early! Check out the sunrise time at the period of the year you will be there, and go accordingly. For us, before 8am was ok (we were there in May, and sun was rising at 6.30am). But also make sure to go there at another moment of the day to feel the atmosphere and see how lively the area is at noon or in the evening for instance! Always better to see a place at different times and notice the changes.
Practical information:
Free access – nothing closes the square so you can wander there at any time of the day or night!
You can find a lot of food trucks everywhere over the place, selling almost everything you need : breakfast pastries, lunch or dinner snacks, drinks…
The nearest tram station is called Sultanahmet – easy – on line 1. The best option though is probably to stay at least 1 or 2 nights in a hotel nearby and just go by foot from there.
> Hagia Sophia (Ayasofya Müzesi)
After admiring the square from all sides, it's time to explore the inside of the monuments composing it! Between the two big mosques, I would recommend you to start by visiting Hagia Sophia first. Indeed, it is the biggest and most ancient one, so logically the most easily crowded. Another option is of course to visit one the first day and the other the day after, as you feel – that's what we did, as I explain in the itinerary (end of this post).
A bit of history:
Hagia Sophia, which means "Holy Wisdom" (from the greek Αγία Σοφία), was built in 537. First used as the former Eastern Greek Orthodox Christian patriarchal cathedral during 916 years, it is the absolute reference in terms of Byzantine architecture and was the focal point of the Christian Church during almost a thousand years. But then, it was converted into an Ottoman imperial mosque in 1453, following the conquest of Istanbul by Fatih Sultan Mehmed the Conqueror. Four minarets were added to the structure, along with other islamic features, and a lot of relics, mosaics and christian representations therefore destroyed or plastered over. Afterwards, it remained a mosque for 482 years, until the Republic of Turkey converted it into a museum in 1935. In 2019, the president of the country said that it might be reverted to a mosque again, but nothing's sure. Is it also classified as a UNESCO World Heritage Site.
Hagia Sophia attracts almost 3.3 million visitors annually, and is, according to data released by the Turkish Culture and Tourism Ministry, Turkey's most visited tourist attraction. Before the Blue Mosque was built in 1616, it was the main mosque of Istanbul, and inspired most of the other Ottoman constructions in the city (including the Blue Mosque).
But what about the inside of it?
In accordance with its very large history and different religious status over time, the inside is very plural and absolutely breathtaking. A true combination of both Christianity and Islam, symbol of syncretism, rare enough to be completely unique and beautiful. You will be able to admire representations of both religions, and the museum part will also give you all the keys to understand its history better. It is honestly one of the most impressive and interesting places that I have ever seen, especially due to this reunion between both religions, cultures and patrimony heritages.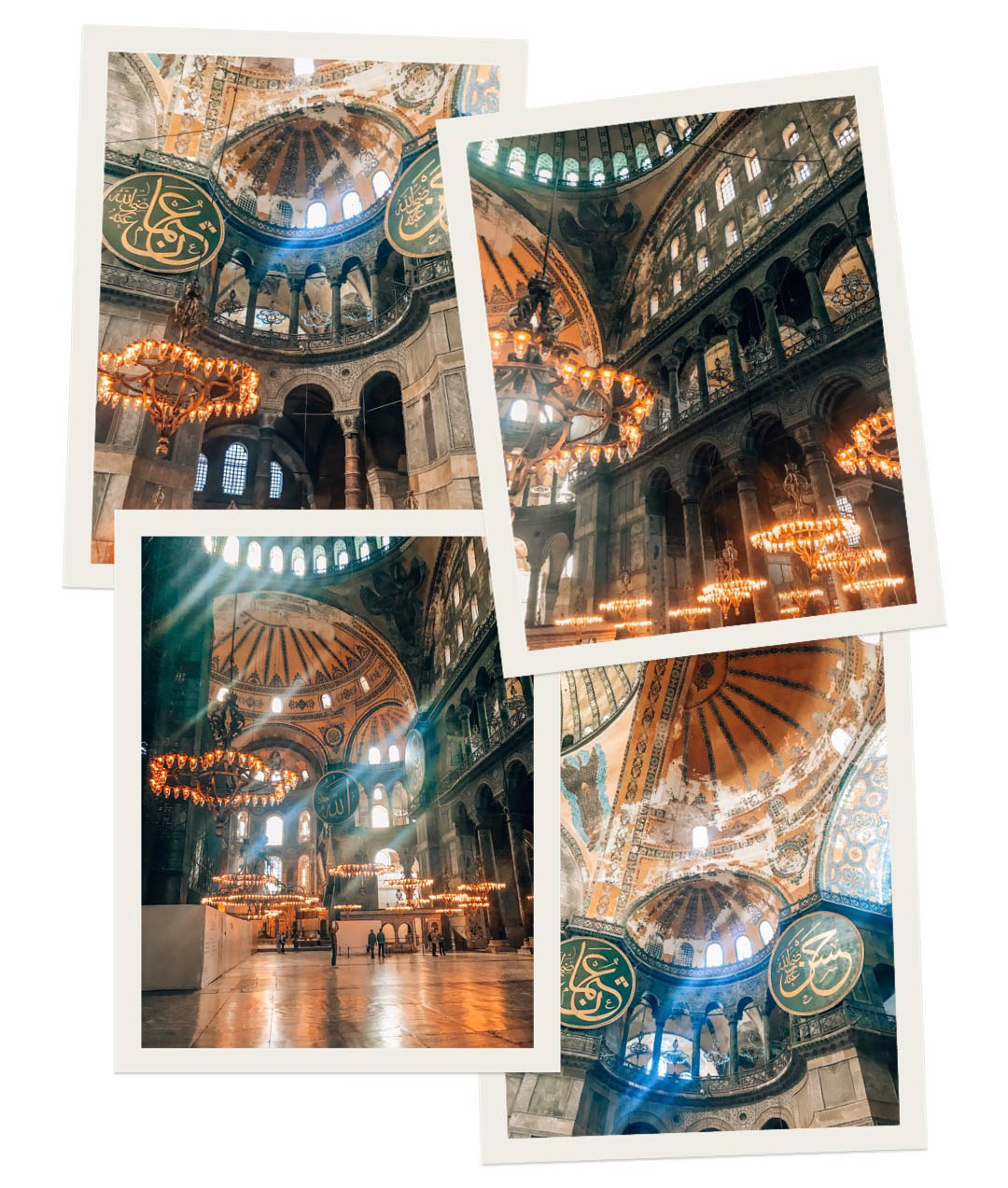 Practical information:
Entrance fee – 60 Turkish Lyra (TL) per person (around 9€ / 10.5 USD) [Free for children under 8 years old]
Open 7 days a week. From 9am to 5pm during winter (November to March), with last entry inside at 4pm / From 9am to 7pm during summer (April to October), with last entry inside at 6pm.
I would recommend you to go straight at the opening – actually, be there even 30min before (at 8.30am) if you want to be among the first people in line and enjoy a few minutes without too much crowds. At 9am they were already a hundred behind us!
The nearest tram station is the same than for the Square – still Sultanahmet on line 1.
As it is now a museum and not a religious place anymore, there is no need to cover yourself when visiting Hagia Sophia.
> Sultan I. Ahmed's Tomb
On the way to the Blue Mosque, or to leave the square, there is a more modest building with a dome. You would not especially notice it at the first look, but if you pay attention, you will actually find the tomb of Sultan I. Ahmed (Sultanahmet Türbesi), or Ahmet the 1st, along with his family. He is the one who gave his name to the whole square and to the Blue Mosque as well (more information later below).
It is not part of the most famous spots to visit in Istanbul, but it is literally on the way between the two mosques, in the middle of the square, and it gives a good idea of what most of the royal tombs look like in Turkey. It is also worth to be seen in terms of architecture – the mosaics and paintings are extremely beautiful.
Practical information:
Free access – you can go whenever you want, it is a small place but people just go one after the other so that it stays quite peaceful.
Open from 8.30am to 6.45pm every day except Mondays.
You will need to take off your shoes, cover your knees and shoulders before entering, and women also have to cover their head, most often with a scarf, as in all muslim places. Check below to have a better idea of the adequate outfit.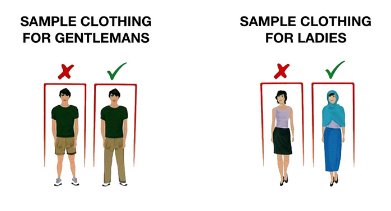 > Blue Mosque (Sultanahmet Camii)
Last but not least, it's time to explore the second mosque of the square: the famous Blue Mosque! Called Sultanahmet Camii in Turkish, it has been built between 1609 and 1616 under the reign of Sultan Ahmed I, which explains its true name (as said above). It is nicknamed as the Blue Mosque because of the blue tiles surrounding the walls of its interior design. Just have a look below and you will understand directly!
To enter as a tourist, you need to approach from the west side of the mosque, where the Hippodrome is. It is very easy to find. Unfortunately, the Blue Mosque is under renovation until the end of 2020 (from what I have seen on the Internet), so you won't be able to see every part of it if you go before. But even with the ongoing works, you can still feel how magnificent and huge it usually is. To my opinion, it is honestly not the most impressive nor beautiful of Istanbul, in particular with the current renovation, but it is still worth the visit. Its six minarets especially make it unique from the outside, which is probably why this is the most famous landmark of the city.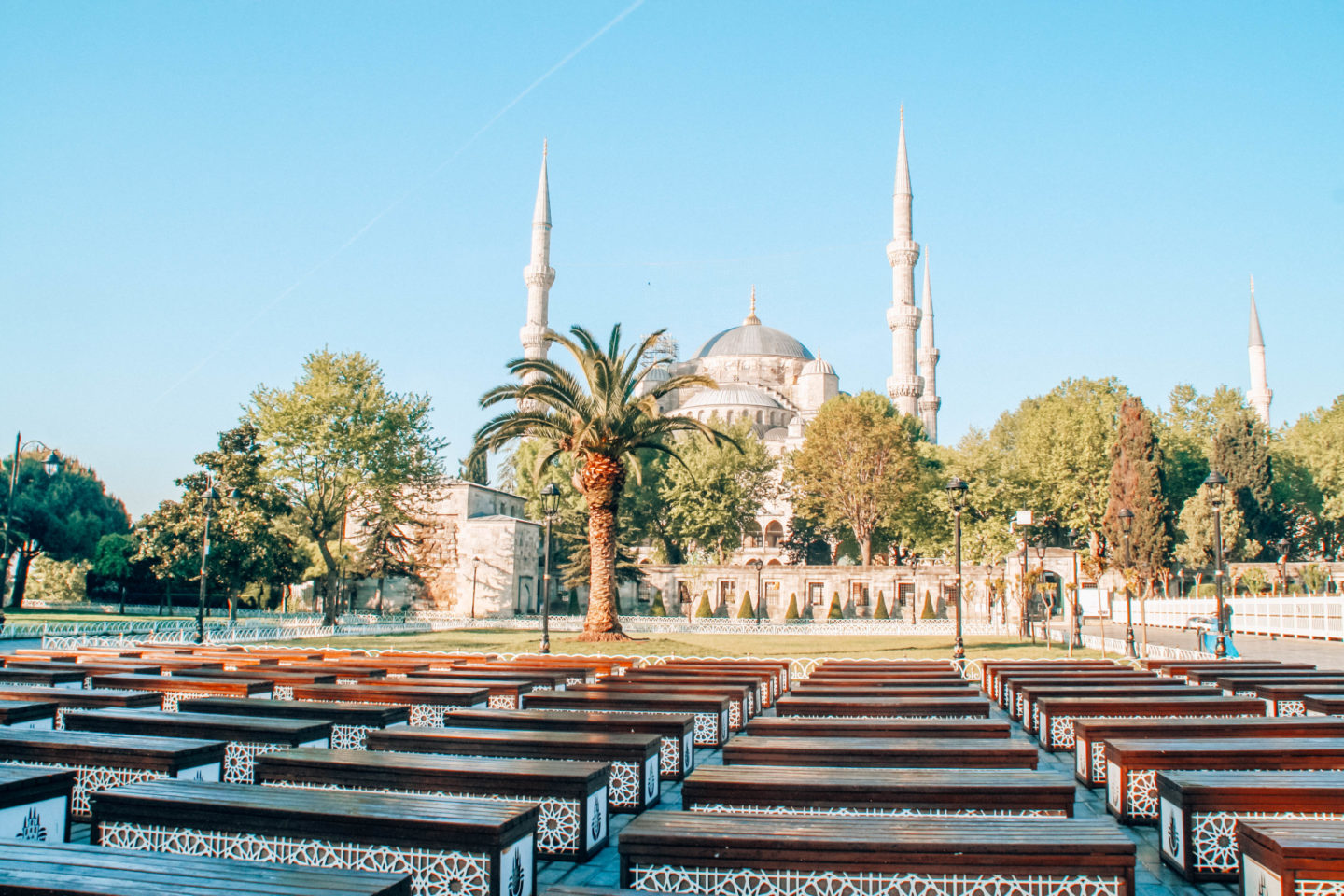 To visit the inside, be careful !
Contrarily to Hagia Sophia, the Blue Mosque is still active besides being a tourist attraction. Therefore, it is closed to non worshippers for about 90 minutes during the five daily prayers (six if you count the one before dawn). Whenever you hear the Ezan (the call to prayer) chanted from the minarets, then you know you won't be able to visit it for the next hour or so – unless you want to pray as well, which is possible, but then please note that pictures are not allowed at that moment.
Opening hours 🕒 from 8.30am to one hour before sunset
Prayers times change each day as they are calculated according to the rotation of Earth around the sun and other factors. However, to organize your visit without taking any risk, you can check this website which provides with the exact daily prayers schedule. It is in Turkish but the times are indicated clearly. Then you can go accordingly.
Especially avoid Fridays at noon as the Midday prayer is longer on this day!
​Practical information:
Free access – you might be invited to donate for the mosque but it is not compulsory at all!
I would recommend you to go in the morning between 9 and 11am, as it's the safest "visit moment" of the day regarding the prayer times. It worked perfectly for us. On Fridays, between 2 and 4pm is also a good moment.
Before stepping in, you will be asked to take off your shoes and to put them inside a plastic bag provided by the staff. As always, also cover your knees and shoulders, and hair for women. Head coverings are always available at the entrance of any religious monument! Again, I am adding a example below of an adequate outfit.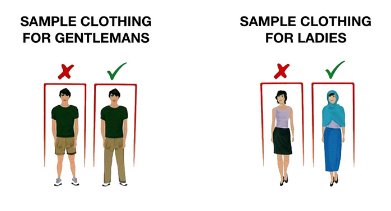 If people offer you to enter the mosque without lining up, just ignore them! Those people will mostly try to sell you something or bring you to some shopping place. Don't worry if the queue looks very long, it moves pretty fast, so stay in line!
> Seven Hills Hotel rooftop
Now that you have explored Sultanahmet Square and all of its main attractions and monuments, only one spot is missing so that you complete your full experience of this area! And this spot is .. a rooftop! Of course!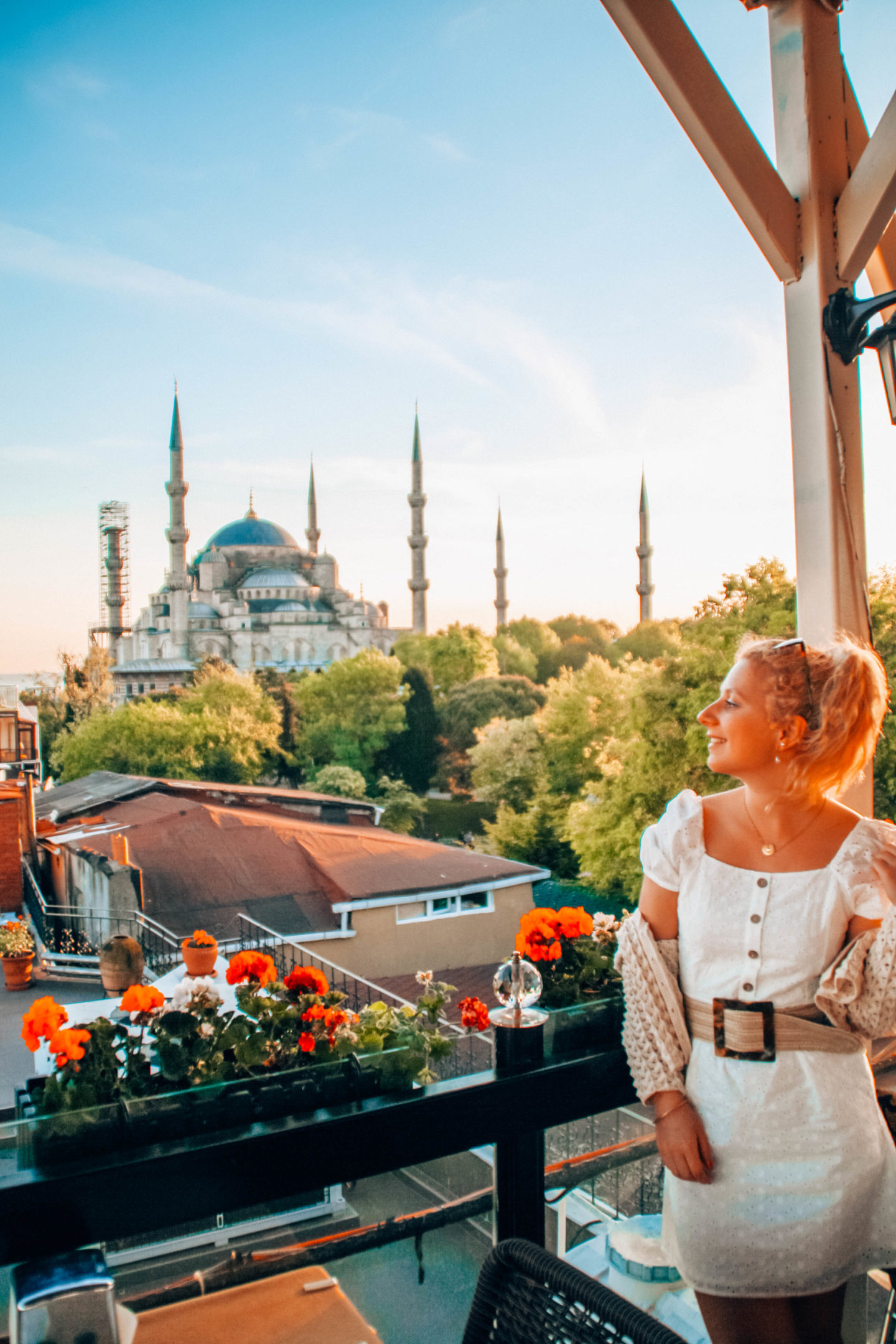 Located on top of the Seven Hills Hotel, right behind the Sultanahmet Square, this rooftop offers a 360° panorama on the Bosphorus, both Hagia Sophia and the Blue Mosque, and all the neighbourhood. It is actually a terrace restaurant, but you can have a drink only if you don't want to eat there. You can always check out their menu here. I cannot tell you how is the food as we precisely just had a glass of wine on our side, but the view is honestly worth it a thousand times anyway! One of the best city sunset views I have ever seen.
There is absolutely no need to be a client of the hotel itself to enjoy the rooftop! You can go directly at the time of the day you prefer, precise that you are coming for the rooftop restaurant and take the direct lift. Easy!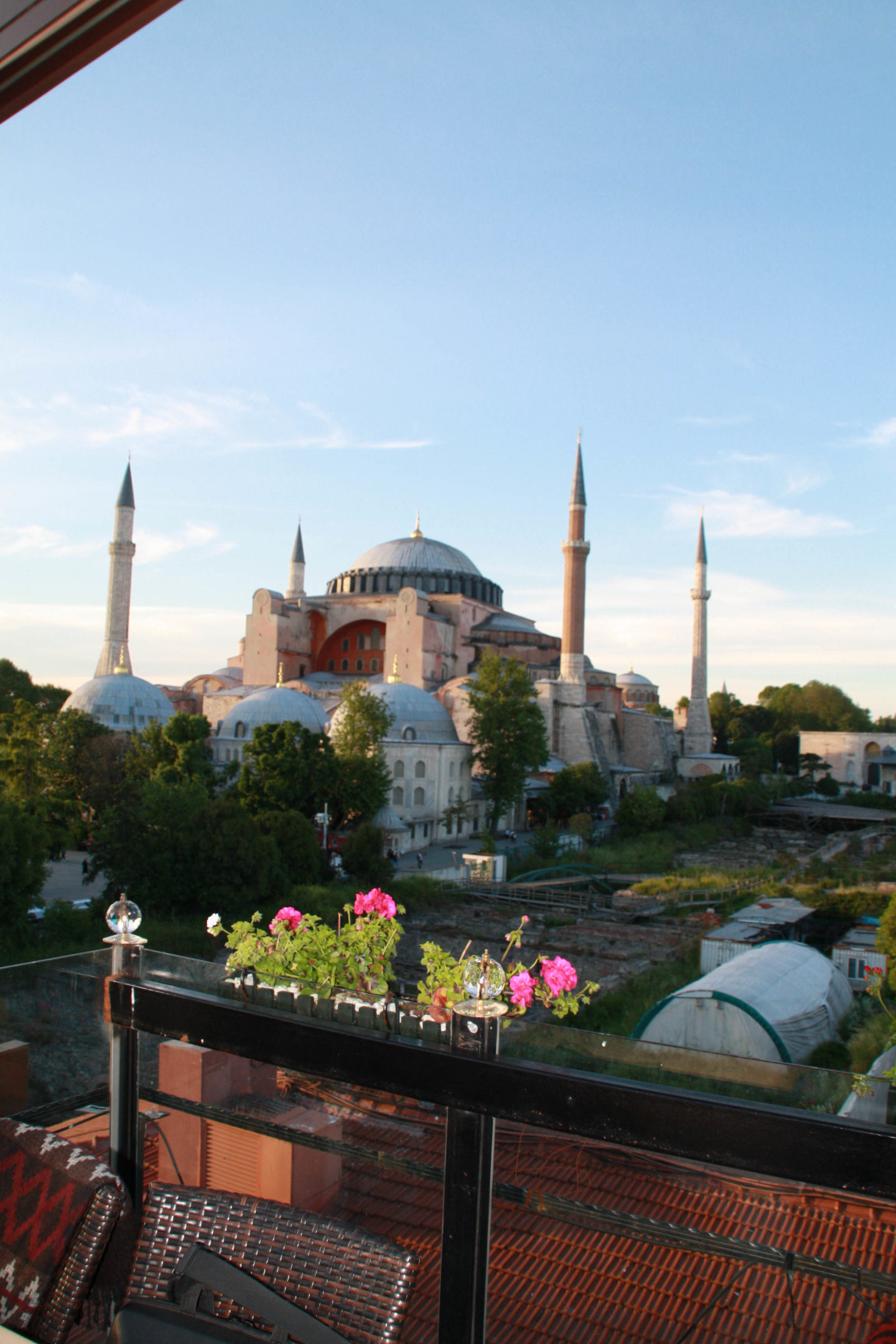 ​Practical information:
You don't need to pay first to access the rooftop but you will only be able to stay there if you actually take something – of course. I linked the menu above. For our 2 drinks, we payed 70 TL (around 11€ / 12 USD), so it's not really excessive.
The nearest tram station is the same than for the Square – still Sultanahmet on line 1.
I would recommend you to go for sunset, when the light is the prettiest there, and it is also the perfect moment for a drink or a nice dinner. Check the sunset time on your weather app and go approximately one hour before! Enjoy and thank me later 🙂
2. Kubbe Istanbul
Now that you have seen the most touristy area of Istanbul from quite all angles, it's time to explore some more hidden gems! Starting with this other rooftop, which has a much larger and more impressive view on the city: Kubbe Istanbul. You will be able to spend as much time as you like admiring the panorama while drinking unlimited cups of Turkish tea and coffee on a Turkish carpet, eating strawberries and loukoum and cuddling with some cats. Yes I know, how cool does it sound?!
And cherry on top: this place is above all famous for the huge amount of birds always flying over! Incredible? Well it's actually very simple: they are fed by Harun, the owner of the rooftop! He even calls them simply with the voice sometimes, which is quite funny and impressive to see. Harun and his partner are also absolutely adorable and welcoming, and we really enjoyed hanging out with them for a couple of hours. Another good reason to go!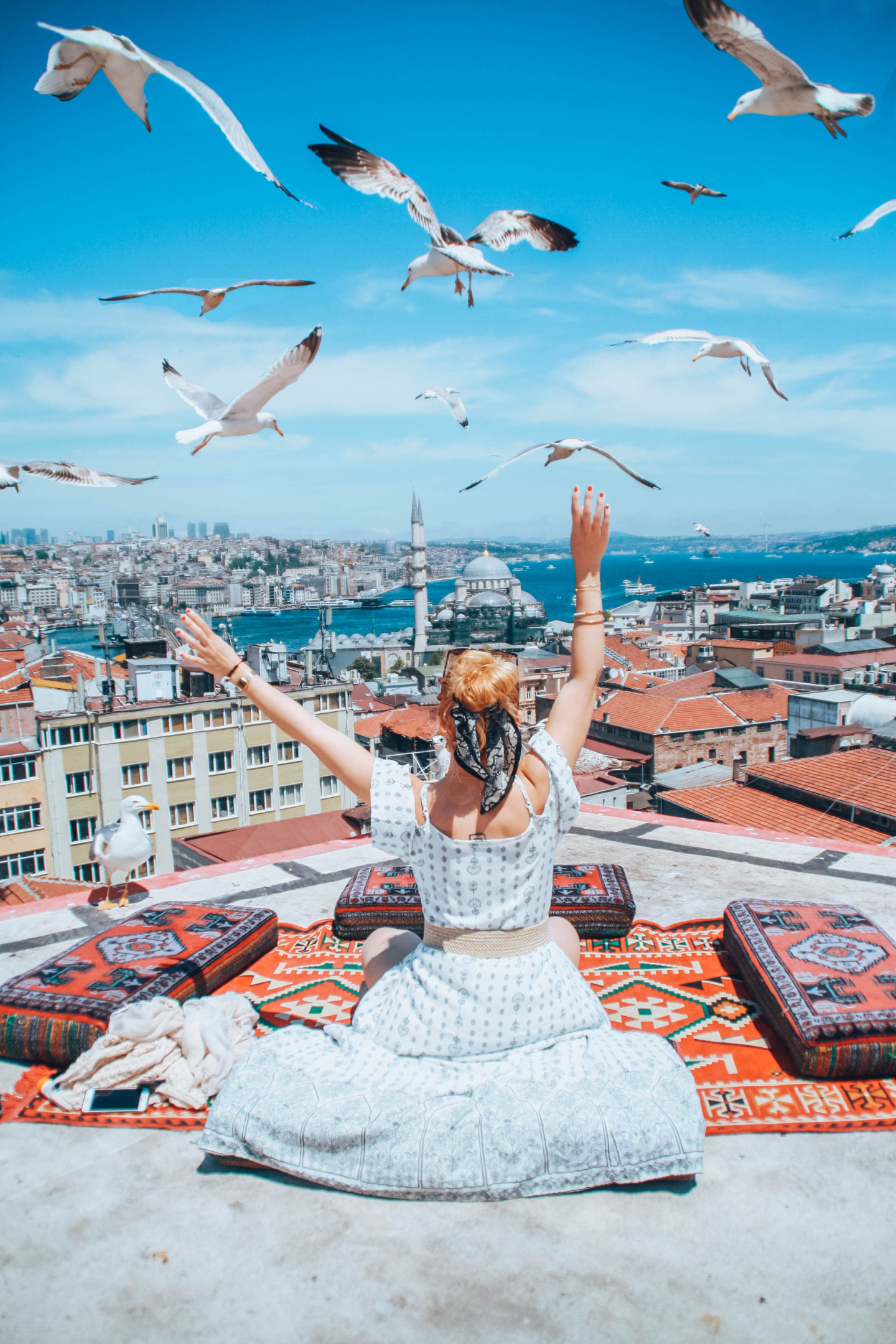 This place being relatively new and still "secret", it is not easy at all to find it, even if it is starting to become popular thanks to Instagram. It took us 2 attemps on 2 different days, one solid hour and 5 locals' approximative indications (among which only one appeared to be correct at the end) to actually succeed! So let me explain you how to reach it more easily than us.
Google Maps will actually give you the good location if you type "Kubbe Istanbul" – we thought it was wrong at first, that's why I precise it, but it is not. You can also search for "Pak Pide Pizza Salonu". After following the way indicated, you will find yourself in a tiny little street with stairs. Don't go down in the street – or follow it uphill if you are arriving from the bottom. Then turn in the kind of shady back little street that you can see below in the pictures – to the right if you are arriving from the top, to the left if you're coming from the bottom – and climb the stairs to reach the rooftop. You will not see any "official" sign, you will feel like these stairs are not leading anywhere : that's normal! If you still get lost, ask a local for "kubbe" ; it actually means "dome".
These above are the stairs you need to climb! Save those pictures so that you can look at them when you arrive there and compare!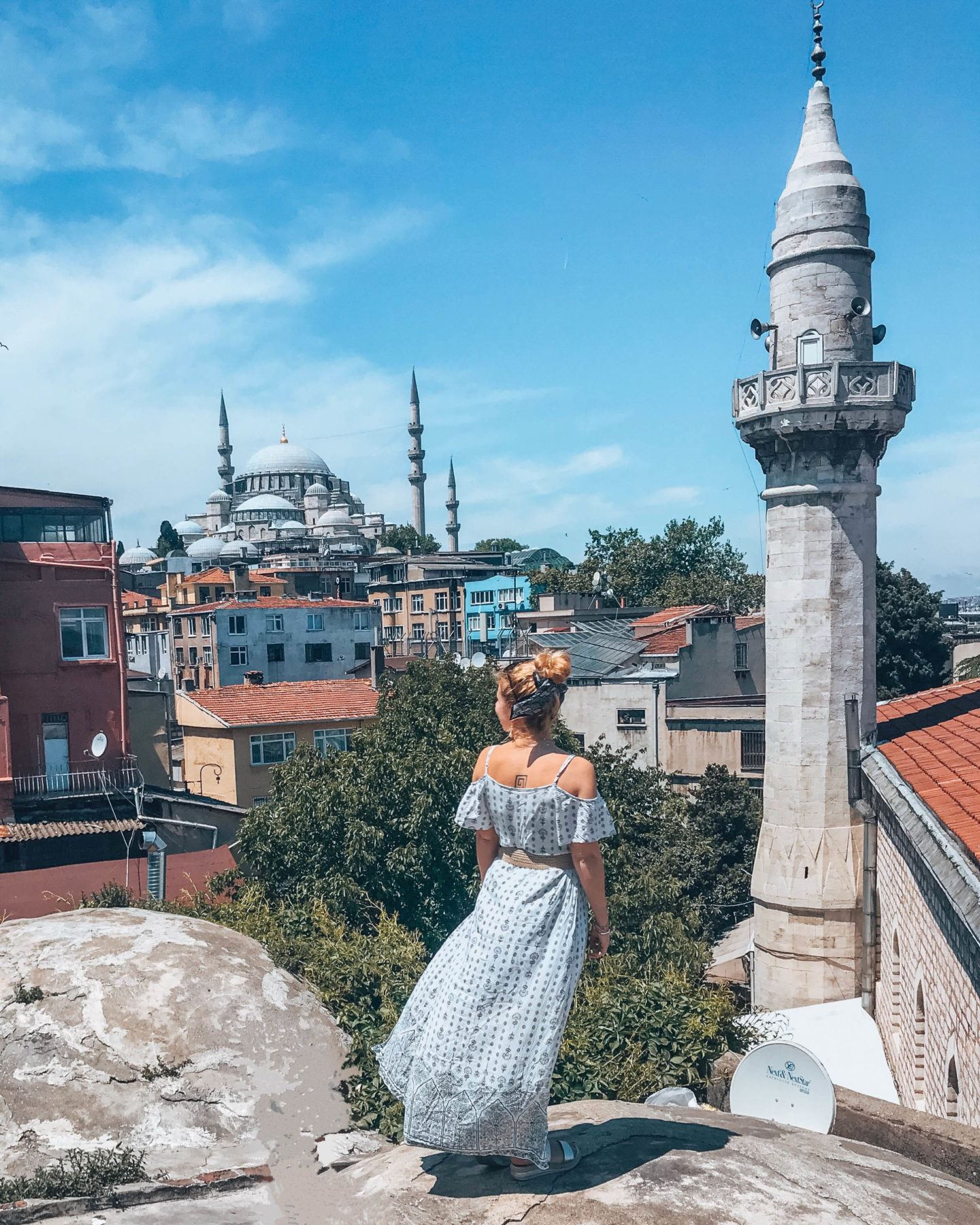 This spot is not part of the managed upper rooftop, it is right under, a bit before. You can grab a picnic and enjoy this view for free – but you won't have the birds and so on.
​Practical information:
To sit on the main rooftop and have some drinks, you will actually pay a package: 50 TL per person (7,60€ / 8.60 USD) for unlimited cups of tea/coffee/water, pictures and time. At some points you might need to move from one spot to another depending on where people want to take their pictures, but otherwise you can stay for as long as you want. At least until they start to get more famous I guess!
They also offer a drone video service if you want to leave with an extra souvenir of the place. We were charged only 25 additional TL for this because we spoke a lot with the owners but I think it normally costs 50 TL. Still quite fair to me.
No need to go early in the morning or any special moment of the day! As it's a private and "insta-friendly" place, it's easy to arrange for the pictures, so you're all fine anytime between the opening hours: from 9am to 8pm, Monday to Saturday.
The nearest tram station is Beyazıt, on line 1. You can also come by ferry if you are on the other side of town, or just by foot if you are nearer, it is only 15min away from Sultanahmet.
3. Süleymaniye Mosque
When it comes to mosques in Istanbul, most people only know about Hagia Sophia or the Blue Mosque. But if they are completely worth the fame, for all the reasons I gave you above, they are still not the most beautiful to me. Süleymaniye Mosque, on the contrary, instantly blew me away.
Built on top of one of the city's seven hills from 1550 to 1557 by the architect Sinan for Sultan Suleiman the Magnificent, it can be seen from pretty far away. Its architecture is stunning and actually forms a real complex, including a big yard, a coranic school, hammam, hospital, several tombs and patios, and so on. What impressed me above all is this magnificent inner courtyard surrounding the mosque entrance.
I definitely recommend you to take some time to explore the whole complex, not only the mosque itself. The royal tombs especially deserve your attention: inside rest the bodies of the Sultan Suleyman the Magnificent and his favorite wife. They are amazingly carved and decorated with tiles, as below. The garden surrounding the tombs is also absolutely beautiful, and of course the inside of the mosque too.
​Practical information:
As for all the mosques, the access is entirely free. As always, you will need to cover your knees and shoulders, and your hair if you are a woman. Of course taking off your shoes will be compulsory too.
The nearest metro and bus station is Vezneciler. By tram, you'll need to go down at Beyazıt or Laleli – Üniversite on line 1.
It is open daily from 9am to 6pm and will not be crowded whensoever you go. However, as all mosques again, it closes during prayer times so be careful. I give you all the info and tips about that above, in the part dedicated to the Blue Mosque.
4. Galata tower & neighborhood
Galata neighborhood is one of the trendiest in the city. Located on the other side of Galata Köprüsü, which simply means Galata Bridge, it is the first spot outside the old town of this list. Located uphill, it is mostly composed of narrow streets and stairs, so be ready to do some workout! Indeed, this area became famous at first for the Galata Tower (Galata Kulesi in Turkish), a medieval stone tower built in the 5th century on the very top of the hill, overlooking the entire city and the Bosphorus. It also used to be a prison at some point!
But the tower is not the only attraction here! You will find a lot of very cute trendy cafes, shops and restaurants around. They actually describe Galata as the hipster neighborhood of Istanbul, and we definitely saw why. It also means that it is crowded most of the time, but that's what makes the atmosphere so vibrant!
On your way to it, or back from it, make sure to also cross the bridge walking – not only by bus or car. There is a lot of things to look at on this special bridge, made of two "floors". On the upper level, locals come to fish, as shown below, and under it, on the lower floor, you will find a restaurants' alley by the water! These restaurants are very touristy and probably kind of scams (we didn't try any so I can't confirm) but it's nice to wander around and see.
​Practical information:
The tower is opened every day from 9am to 8.30pm. Considering the very long queue in front when we went, I would suggest you to go in the morning if you want to visit the inside!
The ticket costs 25 TL (3,80€ / 4.30 USD) to go on top of the tower.
The nearest metro station is Şişhane on the line 2, and it takes you to the uphill area already. By tram on the contrary, you will stop at Karaköy İstasyonu, and then need to climb all the stairs from there to Galata center. Another option is to take a funicular (starting at Karaköy in front of the tram station) and go up until Beyoğlu to avoid the steps.
5. Karaköy neighborhood
Before or after exploring Galata, you also need to wander through the streets of Karaköy, right next to it. Along the Bosphorus coast, this area mixes both industrial harbour activities and lively tiny alleys made of cafes and nightlife spots. It is a really interesting association and the best place to have a drink in the end of the afternon or evening!
Most of the cafes, restaurants and pubs are decorated with a lot of colors and details, which gives a very special vibe to this area. Furthermore, there is also a lot of murals on the streets; basically it is all filled with art! The most famous representation of it is this umbrella street. Find the exact location of it through this link.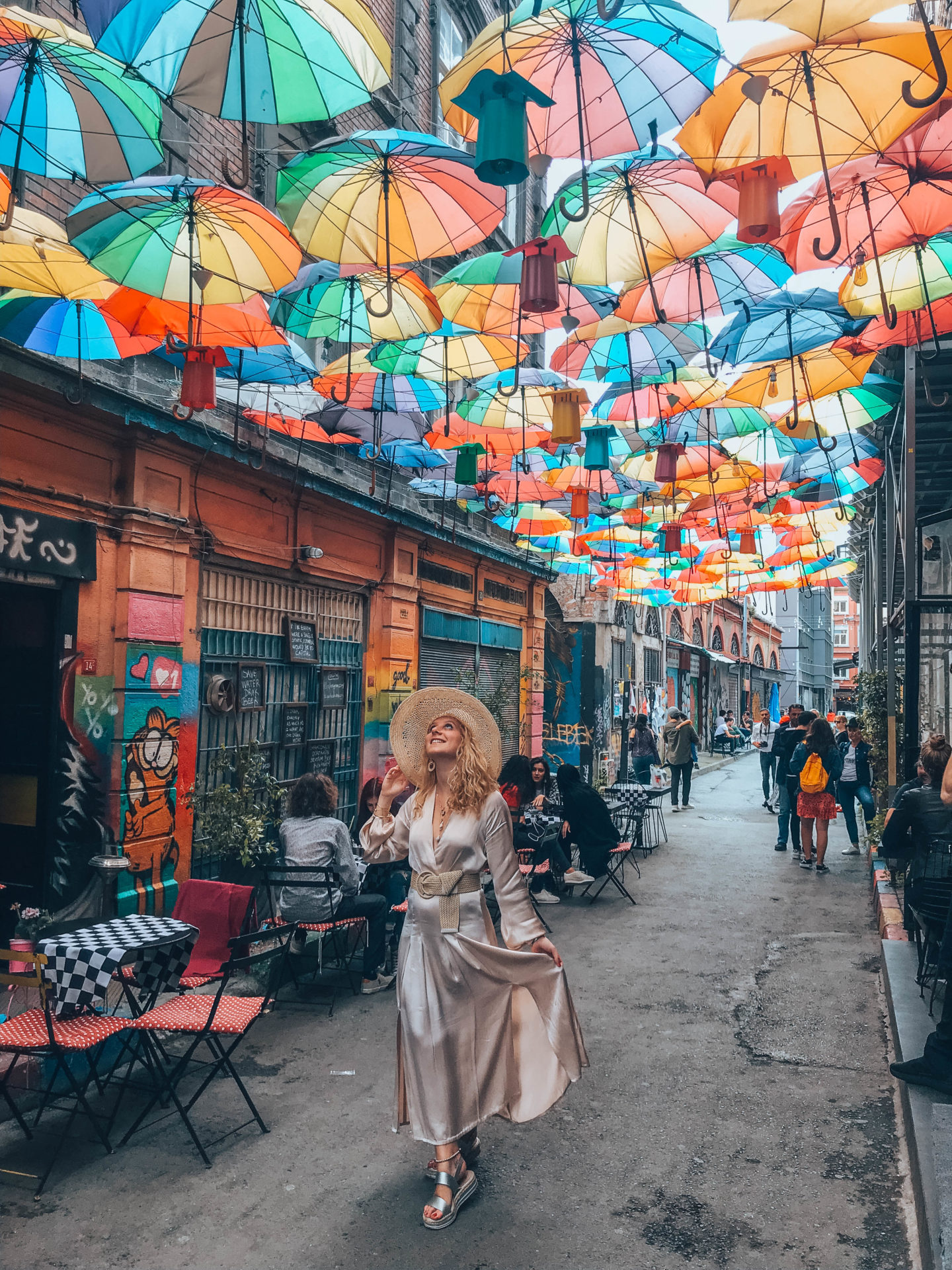 ​Practical information:
If you want to take pictures without anybody, as always you will need to go early in the morning, as the place gets pretty lively after that, especially in the evening! However, it is also very good to come feel the vibe of it during a drink at the end of the afternoon for instance.
If you go by transportation, I would recommend you to start from either Tophane or Karaköy İstasyonu tram stations, walk through all the area and then finish at the other station – depending on which one you started from, so that you avoid backtracking. The neighborhood goes from one to the other and they are both on line 1 so it is very easy.
6. Markets exploration: the Grand Bazaar of Istanbul & the Egyptian Spice Bazaar
You cannot leave Istanbul without visiting at least one bazar. There is a lot of these large indoor shopping areas, but the most famous and touristy are the Grand Bazaar (Kapalı Çarşı in Turkish) and the Egyptian Spice Bazaar (Mısır Çarşısı in Turkish). Inside them, you will find all the traditional products such as lanterns, carpets or jewelry for instance, but also typical food like spices, pastries and so on. Some vendors also offer a lot of big brands' counterfeits (shoes, bags, sunglasses, etc). But no need to buy anything if you don't want to! It is also super fun to just wander around and get lost within the labyrinth of colors, odors and cultural riches.
> The Grand Bazaar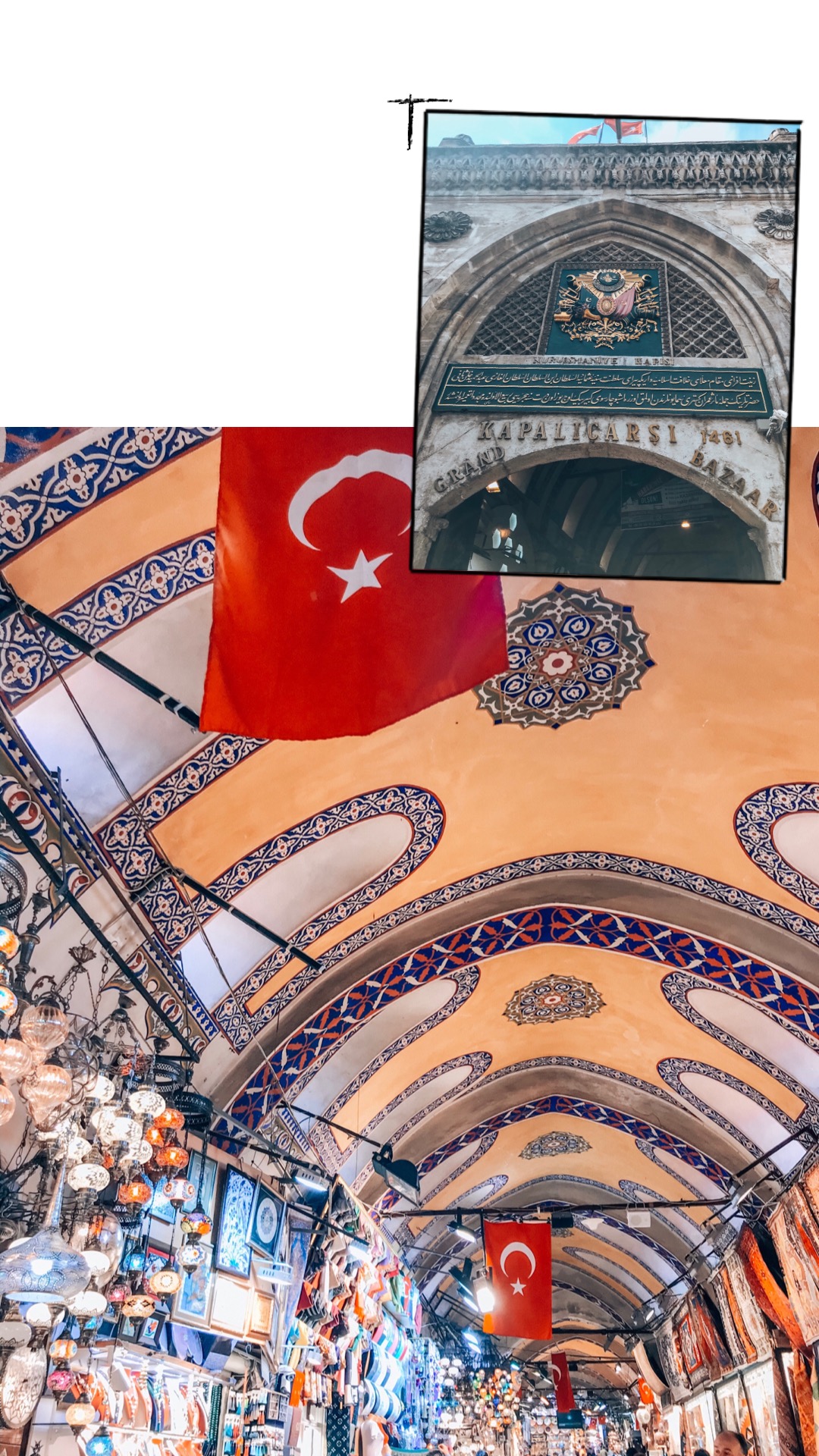 ​Practical information:
Open from 9am to 7pm everyday except Sundays.
If you plan on buying anything, get ready for a long and intense bargain. As in many countries in the Middle East, it is part of the local custom to negociate the prices; buying without bargaining will actually be taken as an offense by locals!
The nearest tram and bus station is Beyazıt.
> The Egyptian Spice Bazaar
​Practical information:
Open from 8am to 7pm from Monday to Saturday / 9.30am to 7pm on Sunday. Careful though, it closes during religious or public holidays.
This one is more specialized into spices, obviously, textile products and food in general (nuts, oils, sweets, fruits…).
The nearest tram station is Eminönü on line 1.
7. Balat neighborhood
When thinking about the former byzantin capital, most people (me included before going there) don't picture all of its aspects. Balat neighborhood for instance is one of these "non expected" unknown places that you can find in Istanbul. Even if it is getting more famous with the years passing, it is still a very hidden gem that most tourists don't visit. But this old district filled with stunning colorful wooden houses and cafes would be a pity to miss!
Balat neighborhood could be summed up as the ultimate mix between all the cultures existing in Istanbul after thousands years of history and plural heritage. You will find Jewish synagogues, Christian churches and Muslim mosques all inside the same area, along with people from all origins too. It gives a very special vibe to this part of this city, almost like suddenly leaving the country! Balat is also becoming more and more of a very hipster district, as they convert the old neglected buildings into cool cafes and design shops.
The Phanar Greek Orthodox College (left picture above), a red school overlooking the whole area, is already an attraction in itself. Unfortunately, we didn't find if and how it is possible to visit the inside. But the most iconic place stays this spot down below: the aligned pastel-painted houses of Kiremit street, more precisely at the angle of Kiremit Cd. & Usturumca Sk.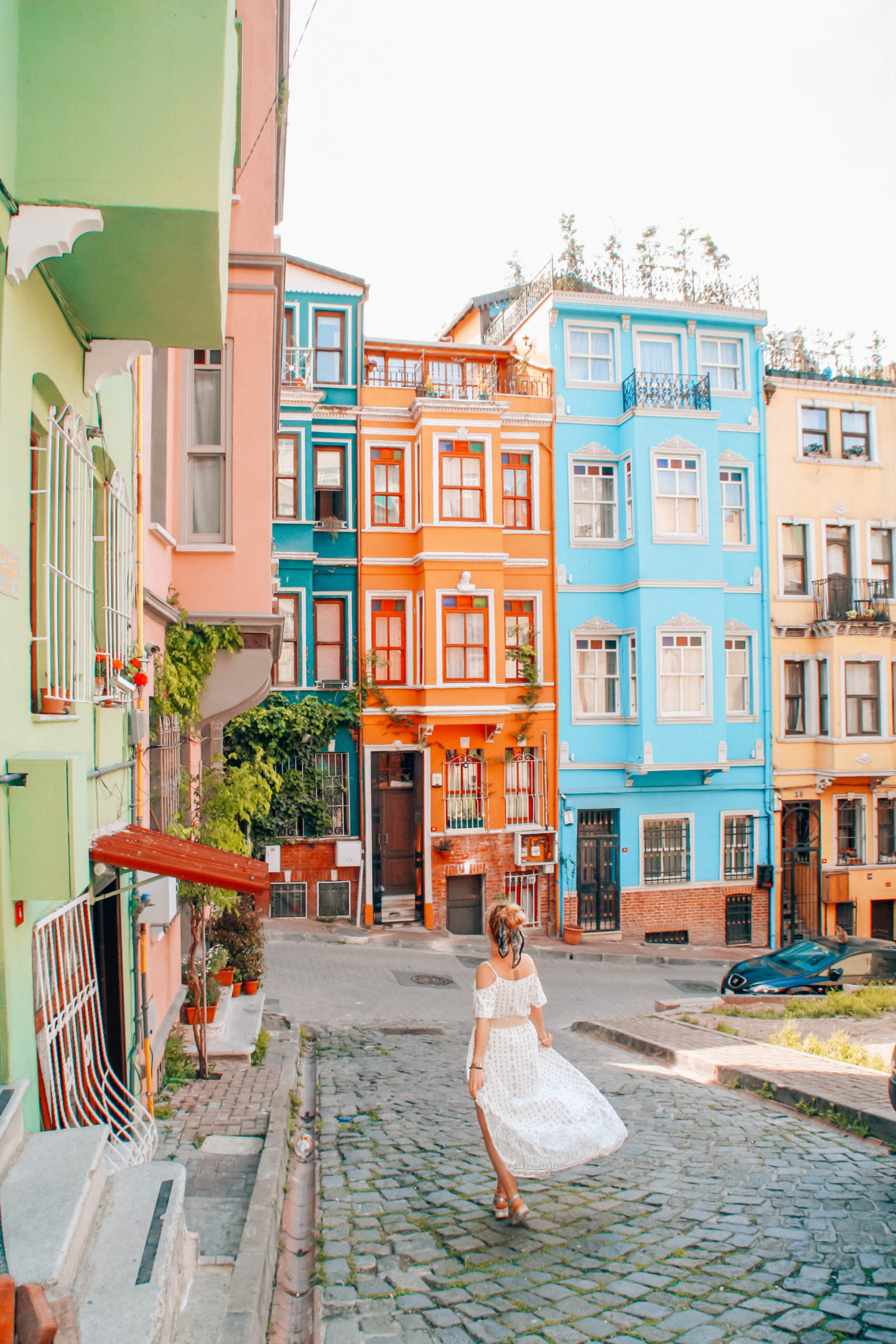 ​Practical information:
I would not recommend any specific moment to go in the day; we were there in the middle of the afternoon and it was very quiet.
The easiest way to reach Balat is by bus or ferry: the station is called Fener for both and drops you directly in front of the main street.
8. Ortaköy Mosque & neighborhood
Ortaköy, which means "middle village" in Turkish, is part of Beşiktaş district (one of the 39 municipalities in Istanbul). As its name indicates, it used to be a small village, located on the European side of the Bosphorus but slightly jutting out into the strait between Europe and Asia. Therefore logically very linked to the proximity with water, this former fishermen village is now completely included in the city but kept its special atmosphere. It might seem a bit far from the old town, but trust me, you definitely need to spend some time over there!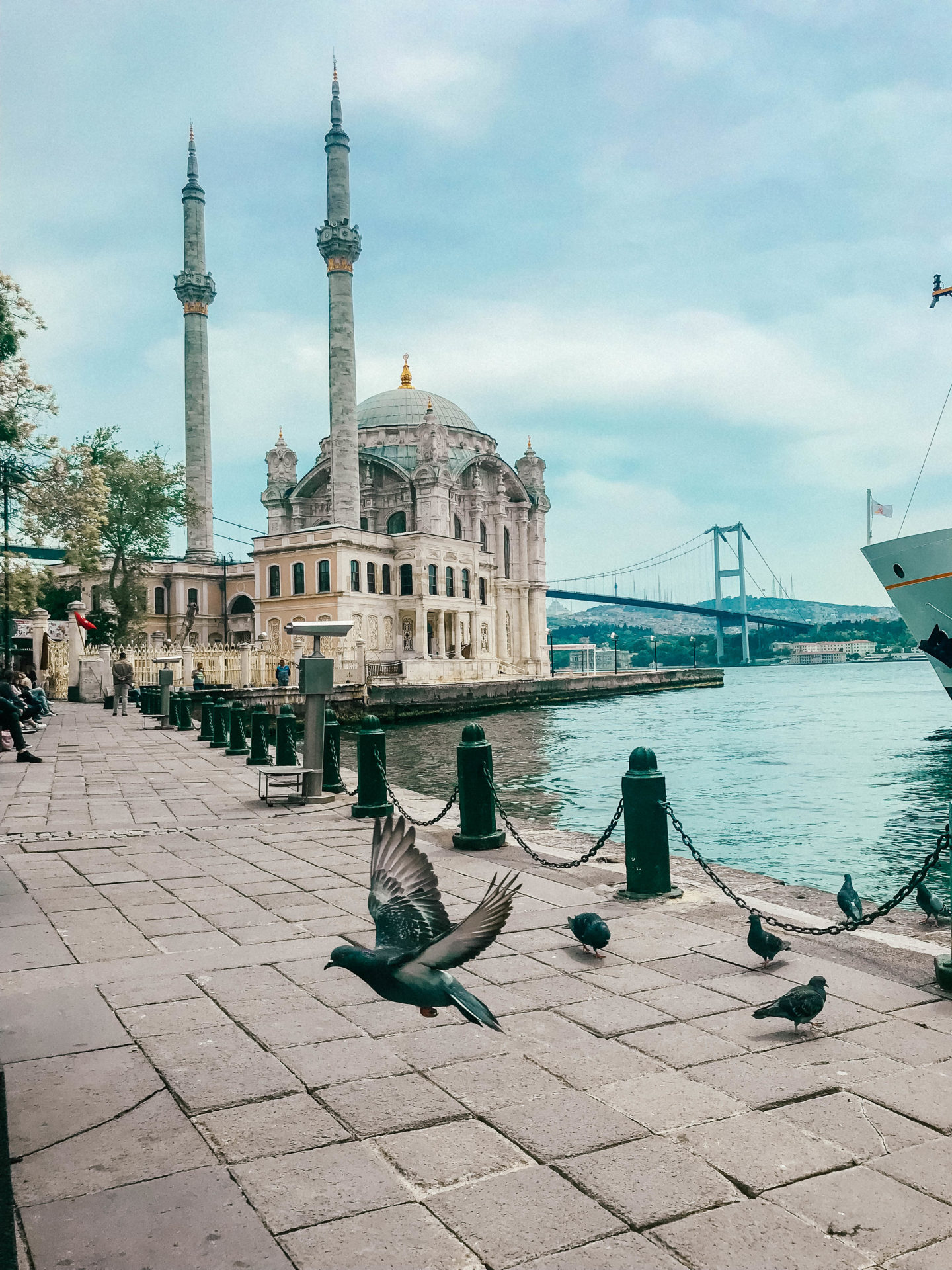 The main attraction in Ortaköy is its beautiful mosque, from its original Turkish name Mecidiye Camii, which has a lot of particularities. First, its neo-baroque style makes it very different from the other mosques in Istanbul, especially the stunning crystal chandeliers and very-detailed big glass windows decorating the inside. The outside aspect as well is quite special, and was actually inspired from the Opera Garnier in Paris, when the architects designed and built the mosque from 1854 to 1855. All these elements make the Mosque of Ortaköy very much modern and plenty of light, a true gem!
My pictures of the inside don't show the true beauty of it as there was a ceremony going on when we visited, which I didn't want to interrupt with the sound of my camera – so I shot with Iphone instead. The last picture under gives you a better representation – credits to @ayda_june for this one!
Other specificity, the Bosphorus bridge, edified between 1970 and 1973 behind the mosque now adds another modern and special touch to it. Ortaköy mosque is the only one with such an original background, and by the water, what a cherry on top! It is particularly stunning in the morning light, when the streets are still quiet, with the sound of the waves crashing on the bank and lots of birds flying around.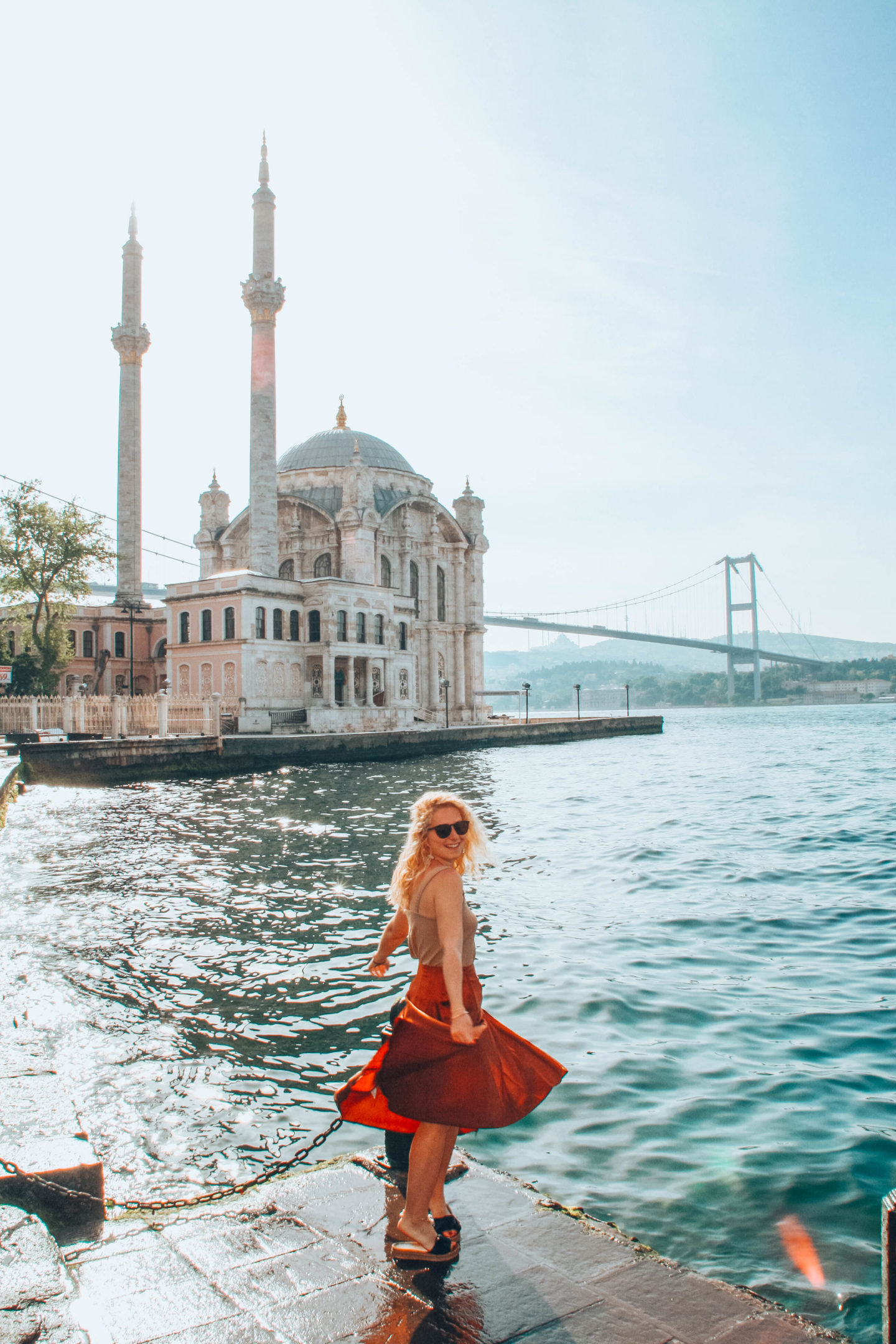 Another thing to do in Ortaköy, among others, is to try the local specialty: the Kumpir, a giant potato baked with butter and cheese in the oven and then filled with toppings of your choice. Corn, mushrooms, olives, cabbage, tomatoes, and so on, you can select whatever you prefer between dozens of ingredients and add as many as you want for the same price: 25 TL (4€).
I will dedicate another full article to Turkish food in general but could not talk about Ortaköy without mentioning this so typical and yummy meal that you will find only there and need to taste!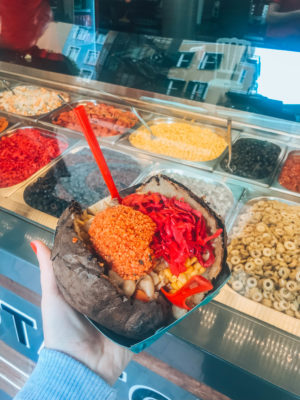 ​Practical information:
Ortaköy Mosque is open from 9am to 6pm, and free of course. As always, you will need to cover your knees, shoulders, and hair for women if you go inside. Careful again, it closes during prayers times like all the mosques (explained above).
I would recommend you to spend at least half a day in Ortaköy, preferably the morning, so that you can enjoy the calm in the first hours of the day, visit the mosque and then feel the more lively aspect of the area at noon, while savouring a delicious Kumpir by the water. It can also be a good transition between the old town and the asian side of Istanbul if you plan on exploring it too. Check the itinerary I provide at the end of the article, that's what we did and it was perfect!
Bus or taxi are the easiest to reach this area – the nearest bus station is either Kabatas Lisesi or Ortaköy. A ferry can drop you directly there as well, if you are coming from the asian side for instance. If you prefer to take the tram, you can go down at Kabataş, which is the terminus of the line 1, very near the Dolmabahçe Palace. But then you will need to walk straight during a good 35min to reach Ortaköy center.
9. Dolmabahçe Palace
On the same boulevard than Ortaköy, following the Bosphorus coast, you will find Dolmabahçe Palace. Built between 1842 and 1853, by the same architects than the Mosque of Ortaköy, it was home to the last Ottoman sultans from then and administrative center of the late Ottoman Empire until 1922. Then the abolition of caliphate was signed, and the palace property entered the national heritage of the new Turkish Republic. It is now a museum showing you the gardens, the inside decoration left how it was, and explaining you how were living the sultans back in the days. So interesting to learn everything about their culture and lifestyle!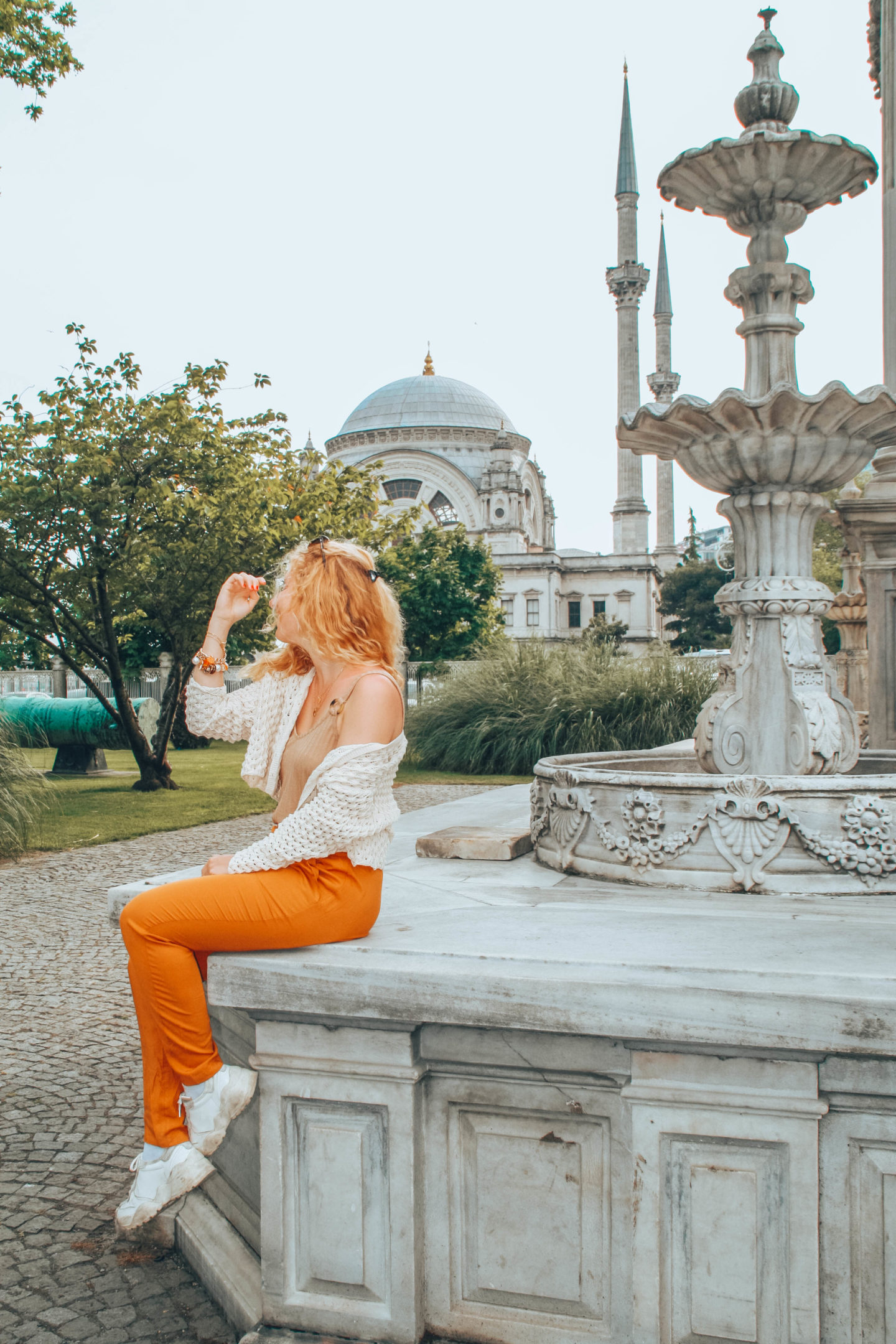 Dolma-bahçe in Turkish means "filled garden". This name comes from the fact that the existing imperial gardens have been made by encroaching on the Bosphorus at first, basically by "filling" a cove, and then the palace was built in the middle of these beautiful gardens. Its whole surface area covers 45,000 squared meters with 285 rooms, 44 halls, 6 hammams and 68 washrooms, in 3 distinctive parts: the men-only quarters, the ceremonial rooms and lastly the Harem and apartments of the Sultan's family.
Symbol of modern luxury, the palace is simply beautiful from inside and out. Its construction cost five million Ottoman gold pounds, the equivalent of 35 tons of gold, of which fourteen tons were used as gold leaf to decorate the ceilings of the palace. I think it sums up pretty well how luxurious and magnificent it is inside! By the way, to enter you will have to cover your shoes with some "plastic bags" with an elastic, given by the staff directly.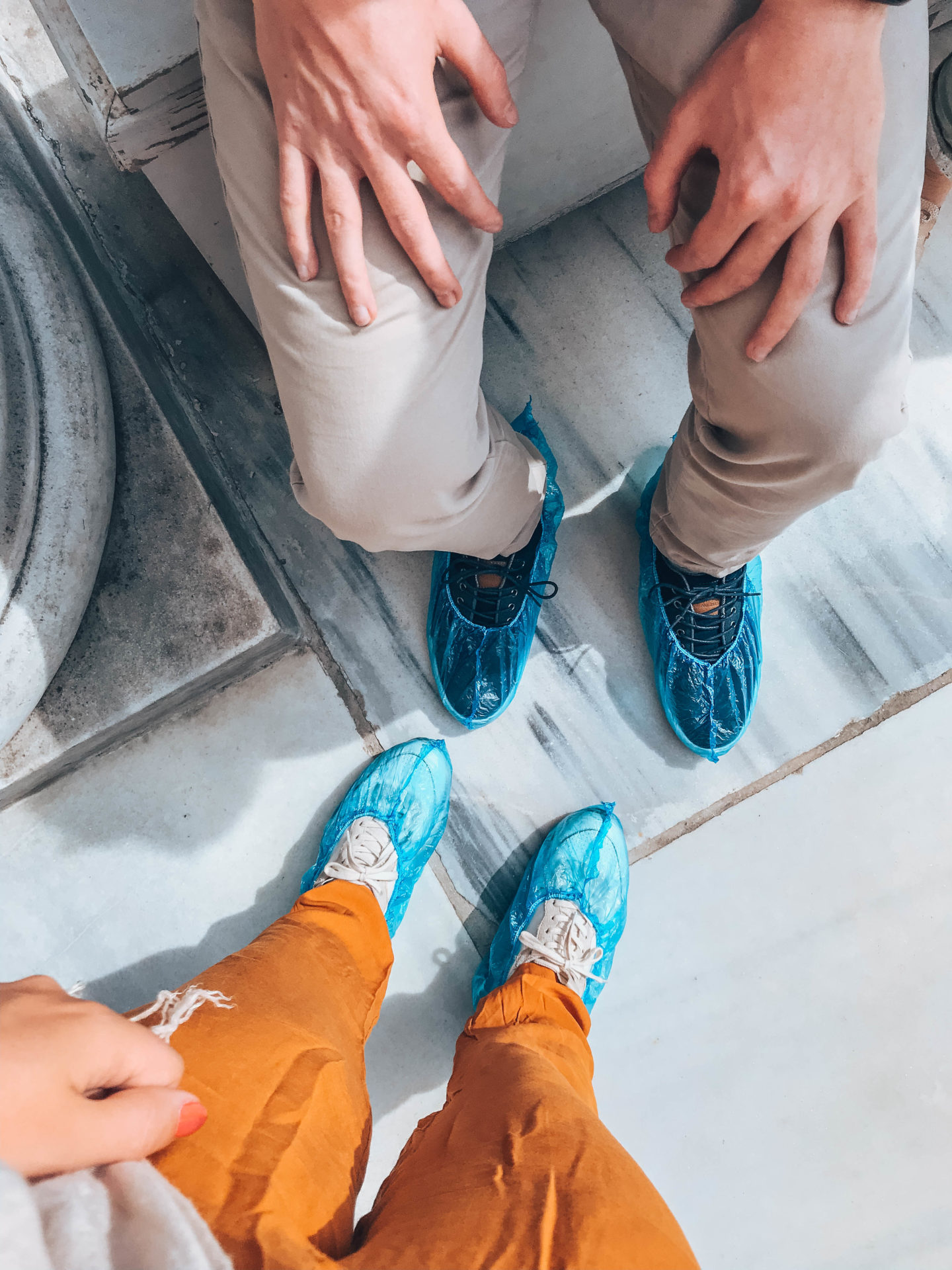 However, it is absolutely forbidden to take pictures inside the palace while you are visiting it. I still took a few quick snaps with my phone (shhh don't tell anyone) because I wanted to give you an idea of what it looks like but be sure that it is way more impressive and beautiful in real than what you can see here. Oh and please don't report me – oupsi – it was all for you 🙂
This candlestick above is the largest Bohemian crystal chandelier in the world, and sits in the middle of the grand ceremonial salon. It has 750 bulbs and weighs 4.5 tons! By the way, Dolmabahçe Palace owns the largest collection of crystal chandeliers from Bohemia and Baccarat in the world, along with a famous and monumental Baccarat crystal balustrade staircase. Without mentioning the hundred of very precious Turkish carpets specially made for this place, and on and on… No wonder why it is the biggest and most luxurious palace of all Turkey!
But the outside is already pretty impressive by itself! Especially thanks to the numerous doors/gates like these ones leading to the beautiful gardens or facing the sea.
​Practical information:
Open from 9am to 4pm, Tuesday to Sunday / Closed on Mondays. Avoid the middle of the day to visit; both opening or closing times are better moments. If you want to go in the afternoon, be careful though: they stop selling tickets at 3pm, and you won't be able to see all the parts of the palace if you go after 2.30pm.
There are different ticket options: the regular palace visit is 60 TL per person (9€ / 10.5 USD) and the Harem Section entrance only costs 40 TL. If you want to see everything, there is a all-included combined ticket for Palace, Harem and Clock Museum for 90 TL (14€ / 16 USD). If you plan on taking this one, be sure to arrive before 2/2.30pm otherwise you will not have enough time and they will refuse to sell it.
The nearest tram station is Kabataş istasyonu, terminus of the line 1. You can also go down at Beşiktaş if you come by bus or ferry.
Be sure to explore Beşiktaş neighborhood after your visit of the palace: it is a very lively area, ideal to eat or have a drink after a long day wandering around Istanbul.
10. Çamlıca Camii
Last but not least, Çamlıca Camii (or Camisi) is a place you absolutely cannot miss. It is the only spot of this list located on the Asian part of Istanbul, although you will very probably see it from the European side anyway. Yes it is that huge!
By taking the Bosphorus Bridge, you will first cross the strait and pass from Europe to Asia. Once you are there, you cannot not see it. Located on the eponymous hill and also highest point of the city, Çamlıca hill (Büyük Çamlıca in Turkish), itself in Usküdar area, this stunning mosque overlooks the entire city. It is also brand new, as it opened on the 3rd of May 2019! We were there barely 10 days after the opening, and the only tourists by the way, so we felt very lucky to witness all the locals visiting it as well and taking even more pictures than us, all mesmerized in front of so much beauty. A very unique moment in a very unique place!
Indeed, the Grand Çamlıca Mosque of Istanbul thus just became Turkey's biggest place of worship, in plus of being the new landmark of the city. If all the ancient mosques I told you about above in this article are all full of charm, authenticity and history, none of them equals this one in terms of beauty, modernity and greatness. It is truly MAGNIFICENT and MONUMENTAL, especially in the inside. Not any picture can do justice to it but it is one of the most impressive places I have ever seen, and definitely the most wonderful mosque of all Istanbul to my opinion.
It mixes both old and new architecture, although its exterior is still designed in the tradition of old Turkish mosques. It is also full of veiled symbolism that the public can only learn from its designers, like six minarets representing the six articles of the faith, and a lot of other symbols in every corner – that I won't add here because I don't want to bother you!
The most impressive is actually the quantity and quality of details in the decoration, for instance the marble arch marking the entrance to the courtyard with verses from the Quran inscribed on it, or the incredibly huge, detailed and beautiful blue central dome.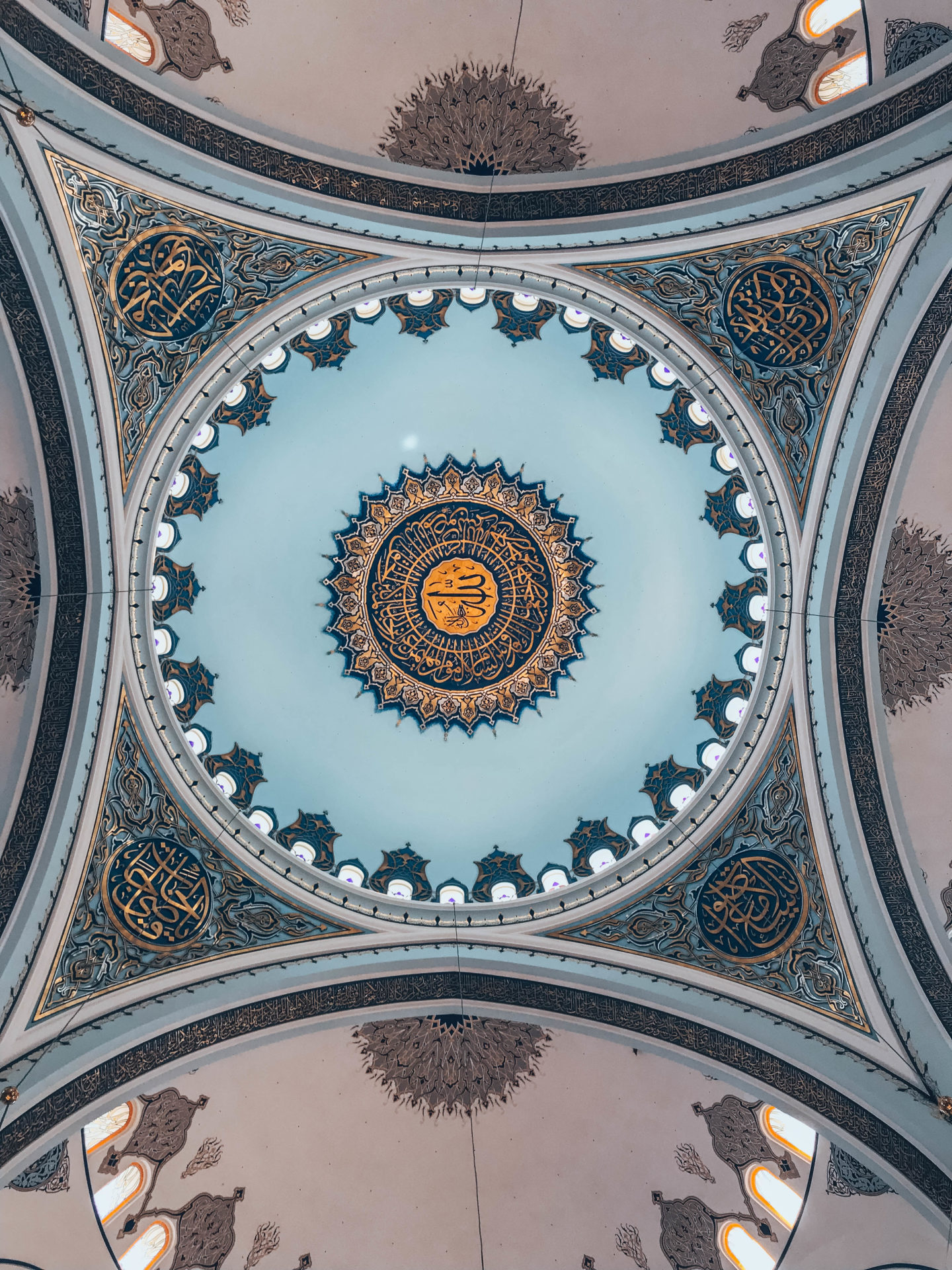 Not only a mosque, but a real modern complex!
Indeed, it is also more than a mosque, as it is provided with additional facilities, such as an 11,000-square-meter museum, a 3,500-square-meter art gallery, eight workshops for artists, a library, a conference hall with a capacity of 1,000 people and a large parking lot that can hold 3,500 vehicles. Can you imagine?? The mosque's interior has a capacity of hosting 25,000 people but in total, 63,000 people can pray at the same time with the inclusion of the spacious courtyard.
And speaking of the courtyard, if the most mind-blowing is the inside, the outside of the mosque is still stunning as well, as you can see on the pictures below.
A short walk from the mosque, on the esplanade, will also gift you with a magnificent view of the Bosphorus on the outskirts of Çamlıca Hill. What makes it super special too is that it has been built in the middle of a 90-acre piece of land covered with greenery (as the first photo above shows), to make it closer to nature, unlike other mosques in the city that are stuck amid the concrete jungle.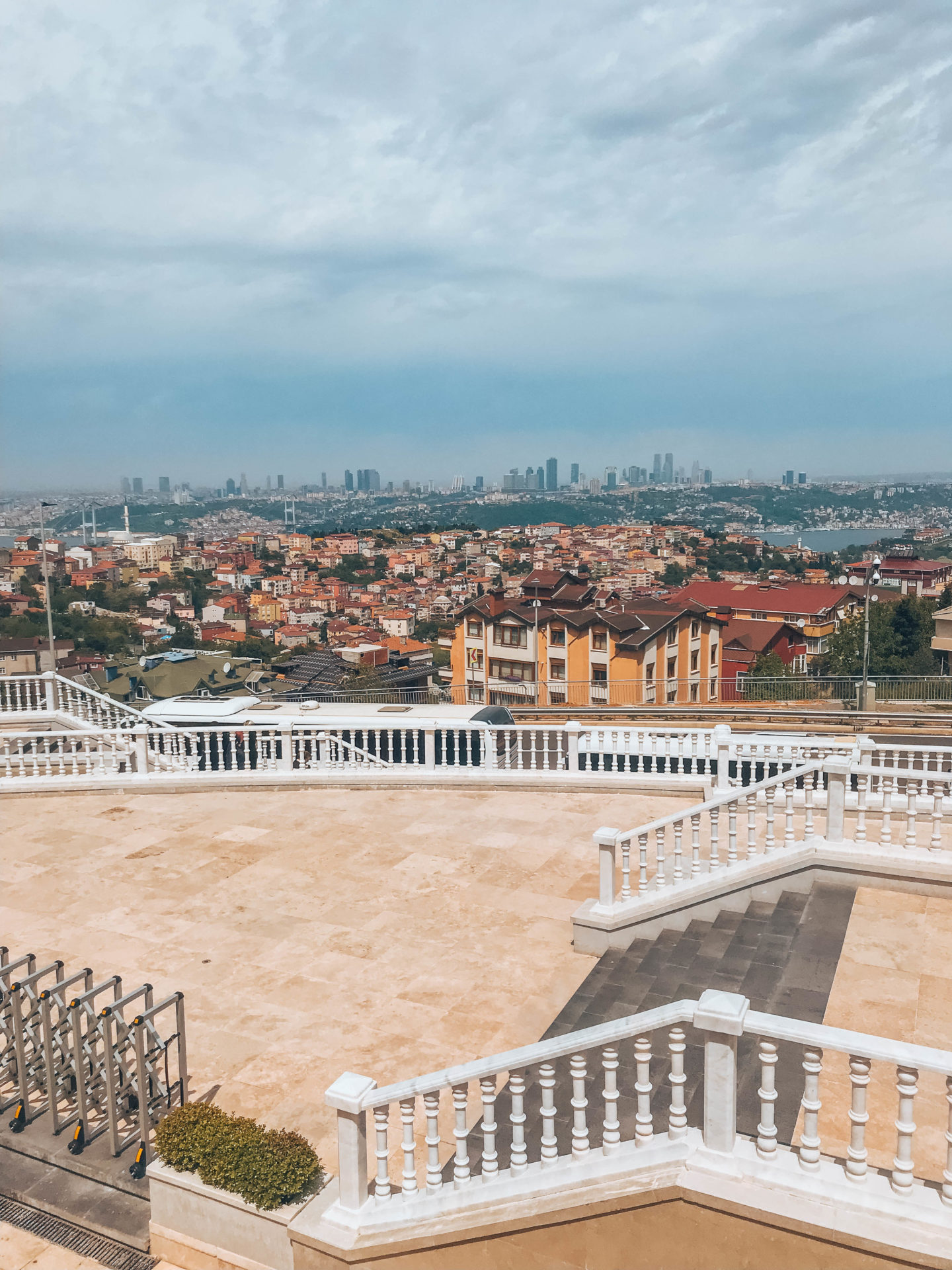 To sum up, I totally fell in love with this place and absolutely recommend you to visit it when in Istanbul! It will also be the good occasion to go to the Asian side of the city at least a couple of hours, and then come back to Europe by taking a simple bridge! A complete experience!
​Practical information:
I couldn't find the precise opening hours, probably because it is brand new, but I am sure Google will add them very soon. If you don't want to take any risk, go after 9am and before 4pm, it will most probably be open at that time anyway.
Free entrance of course – and the rules are the same than for all mosques, as explained many times above for each of them!
The nearest metro station is Kısıklı, on line 5. Otherwise, coming by taxi was the easiest for us but it depends where you are before of course!
If you have enough time, explore Usküdar area a bit more, or even another one nearby! The Asian side of Istanbul is actually way bigger than the European (which is already huge), so even if most of the tourists attractions are located in Europe, you will definitely find some gems to explore here too.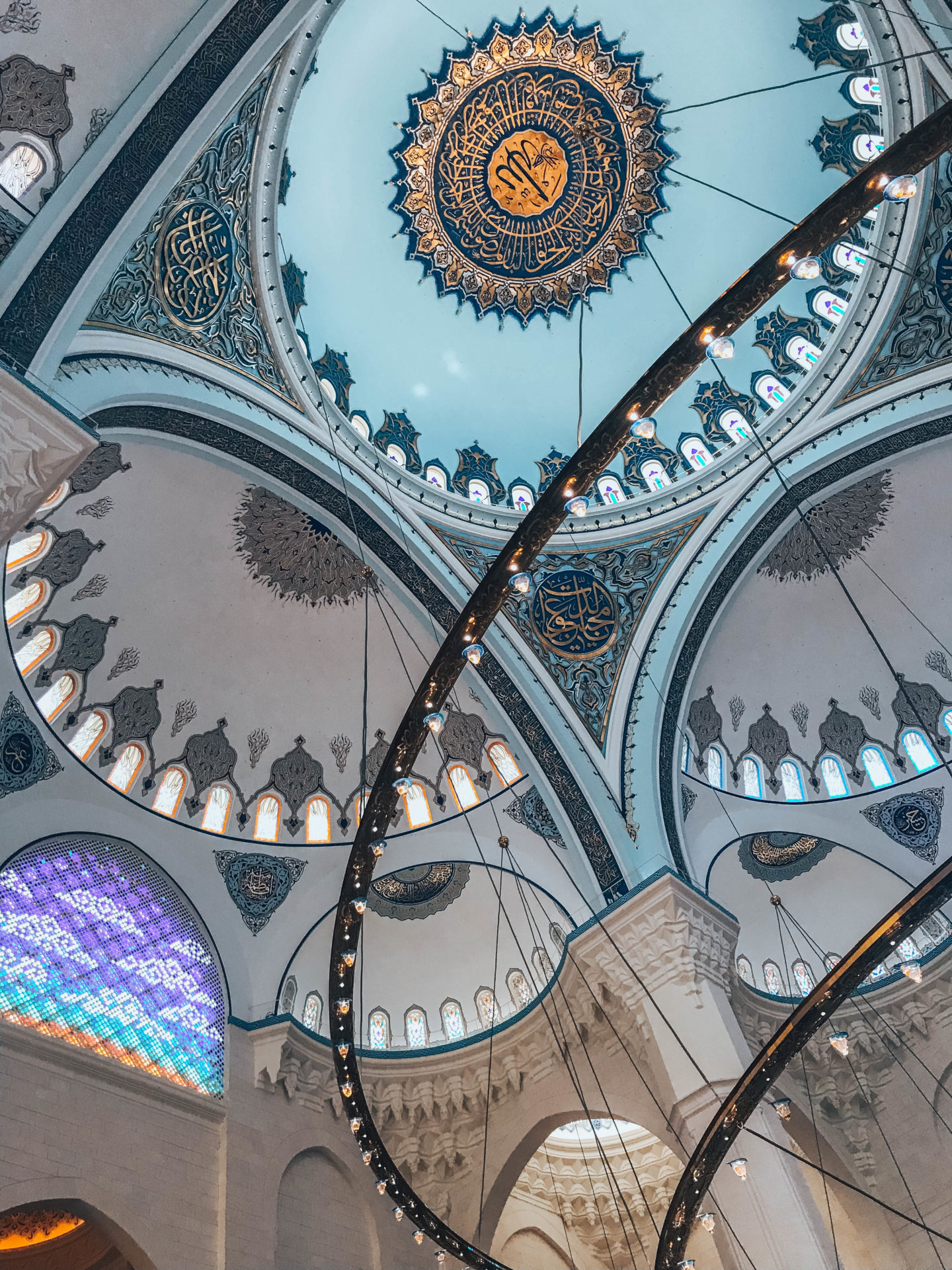 —
BONUS : If you have enough time, make sure to visit Topkapi Palace in addition to these 10 spots. We were unfortunately not able to go there on our side but from what I have seen and been told, it is a true gem and really worth it!
—-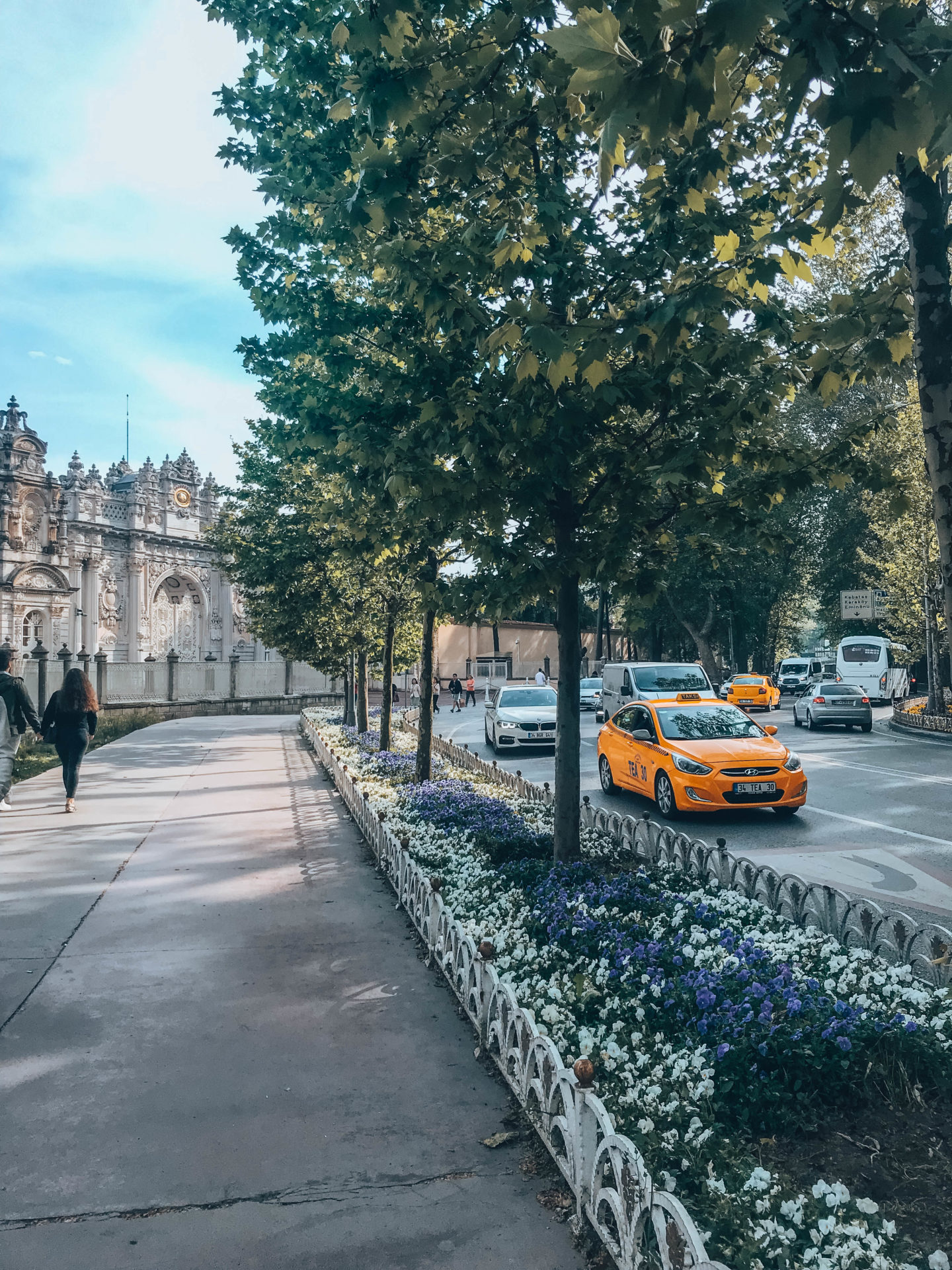 That's it for my list of the 10 must-see spots in Istanbul ! If you visit all or almost all of them, be sure that your days in the Turkish city will be full and intense!
"Ok, great, but in which order should I do all of this?"
You will find below one itinerary scheme per day; the recommended timetable is associated to each place in the practical information part of each above, and correspond to the program proposed here. It is only on 3 days and not 4, as a change of plan is not rare when you travel, so at least you will have one spare day as margin and/or to explore more, have a chill day and enjoy the shops for instance! This is the itinerary I recommend from my experience on site, but of course it's up to you and also depends on where you are based in the city.
DAY 1 – Get into the culture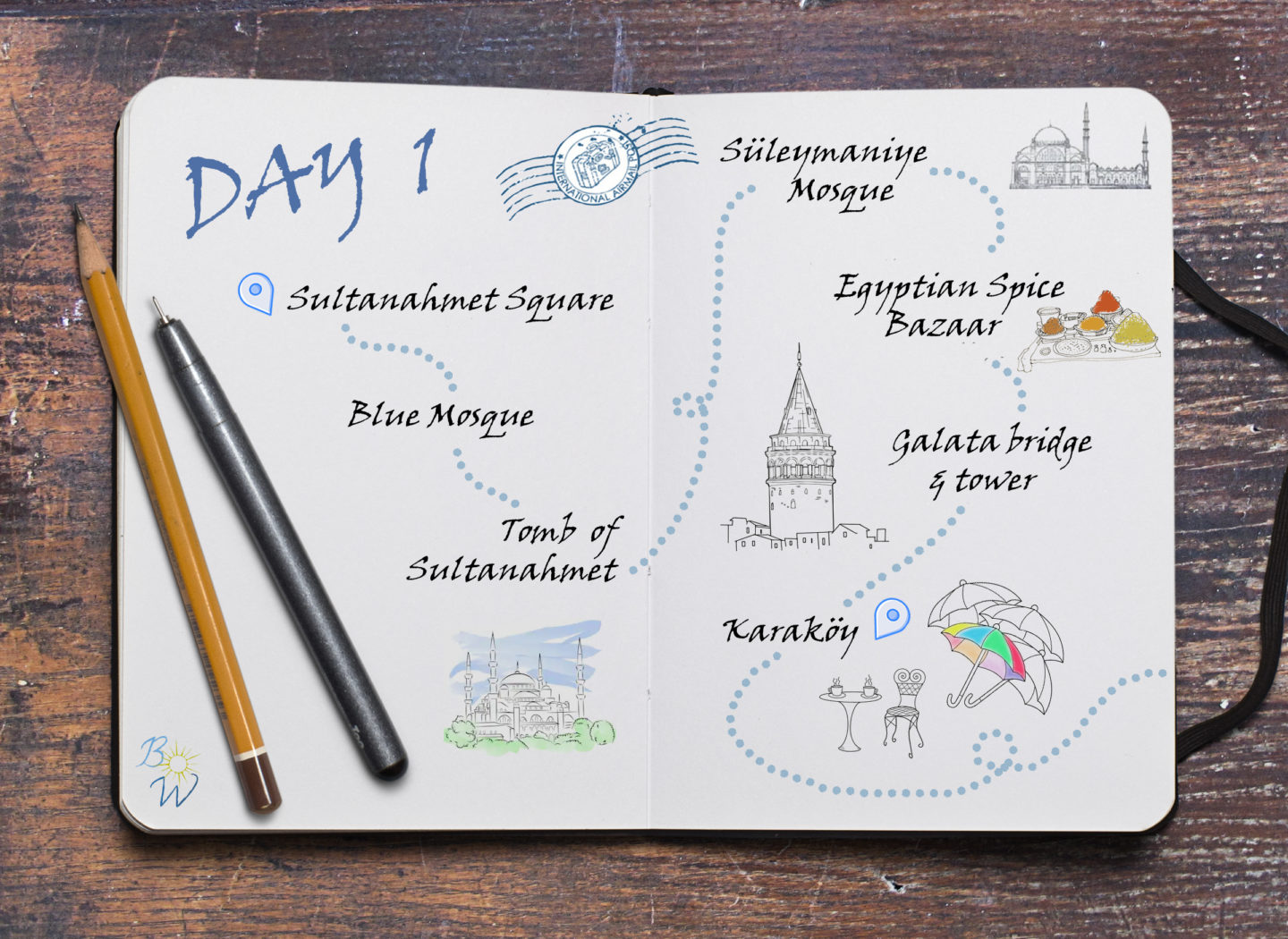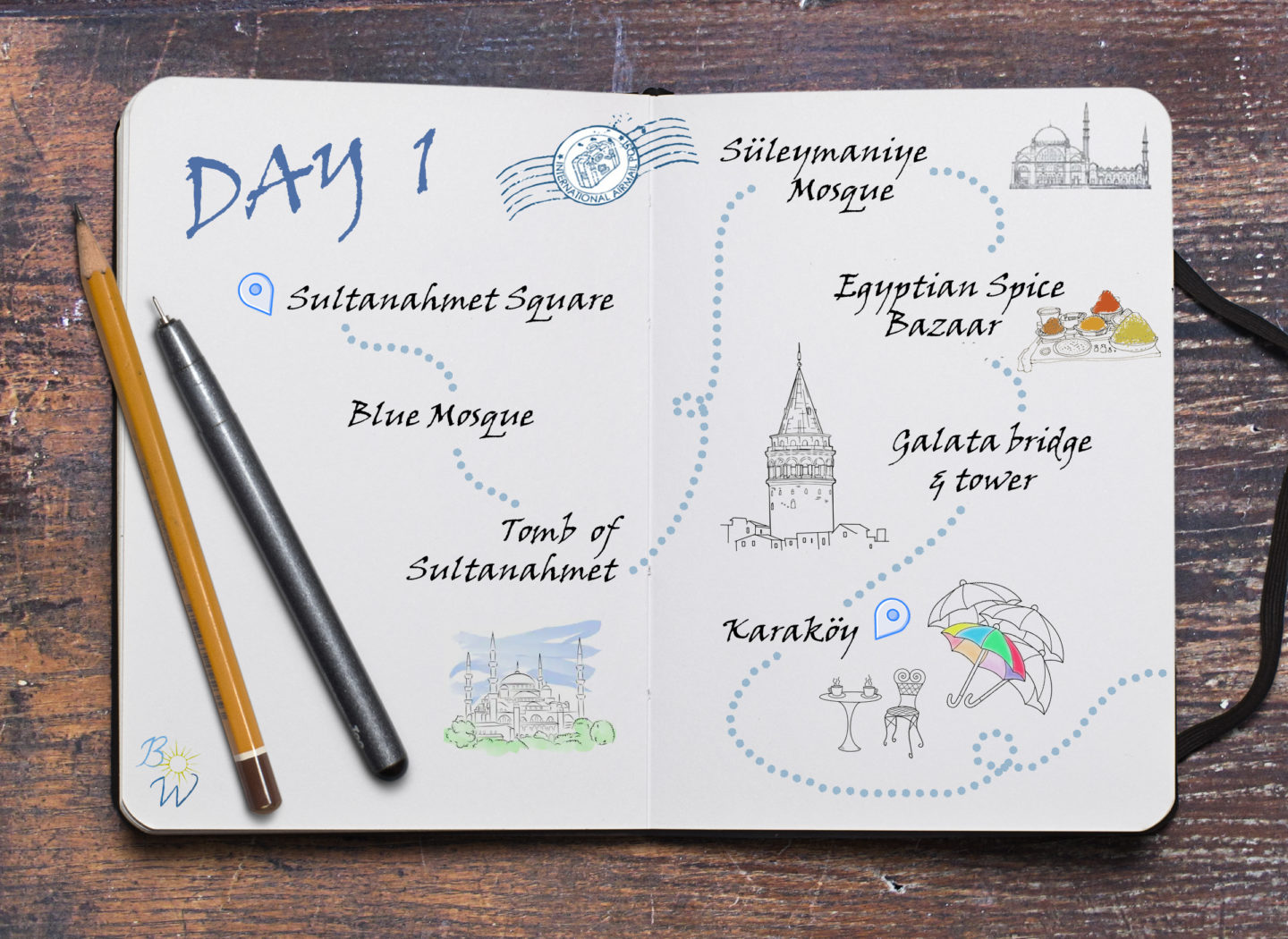 DAY 2 – Be blown away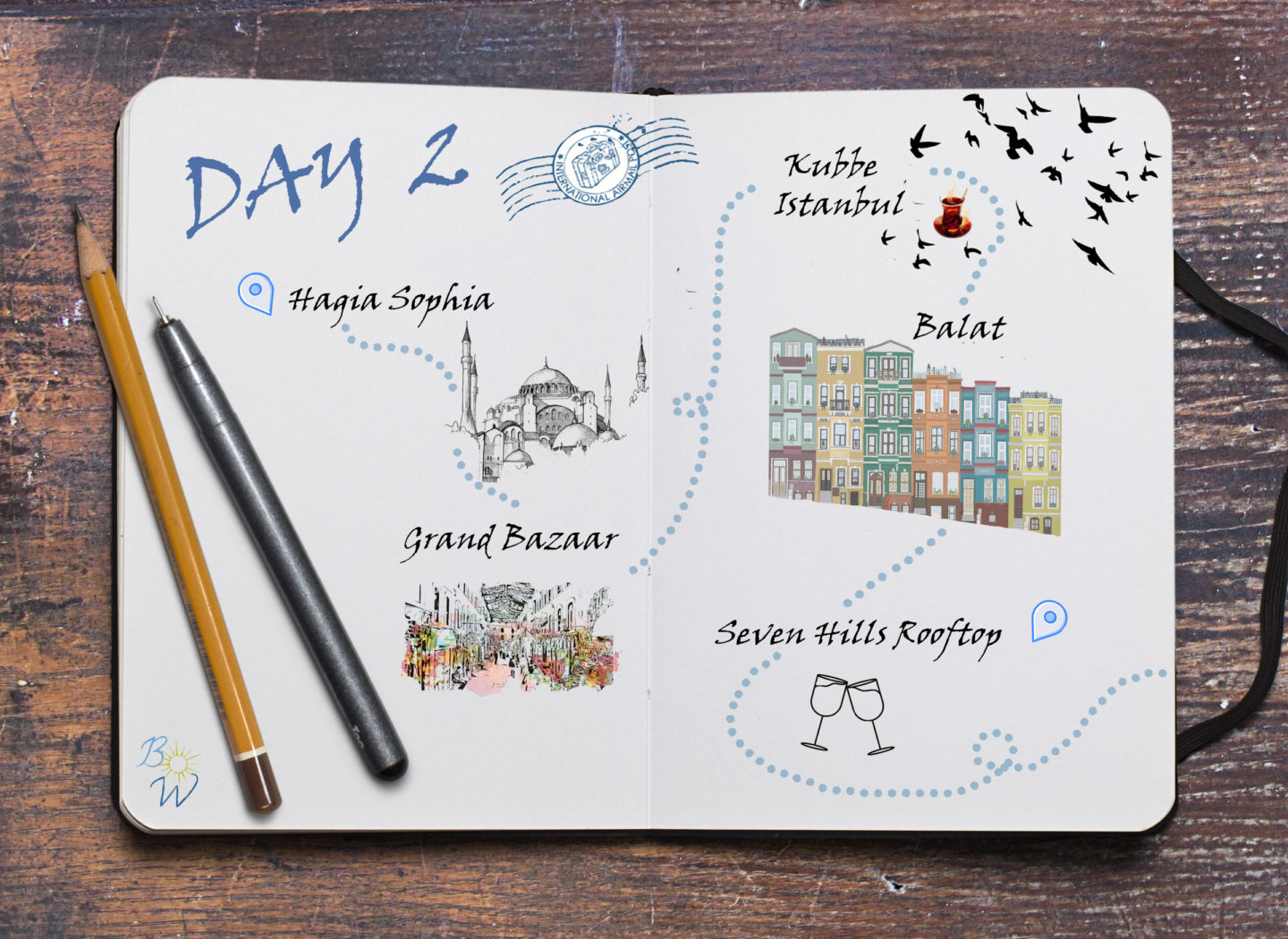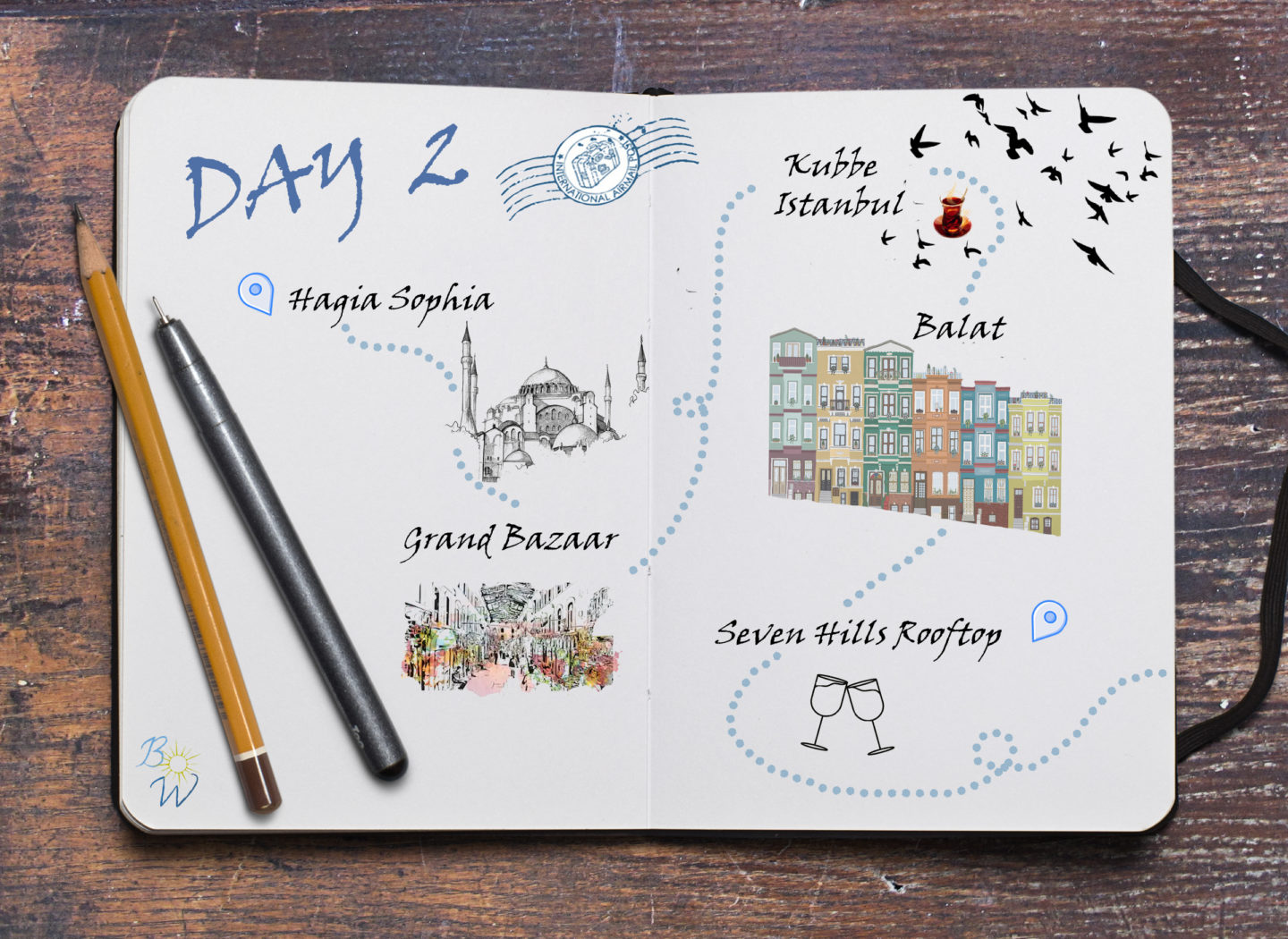 DAY 3 – Explore more secluded gems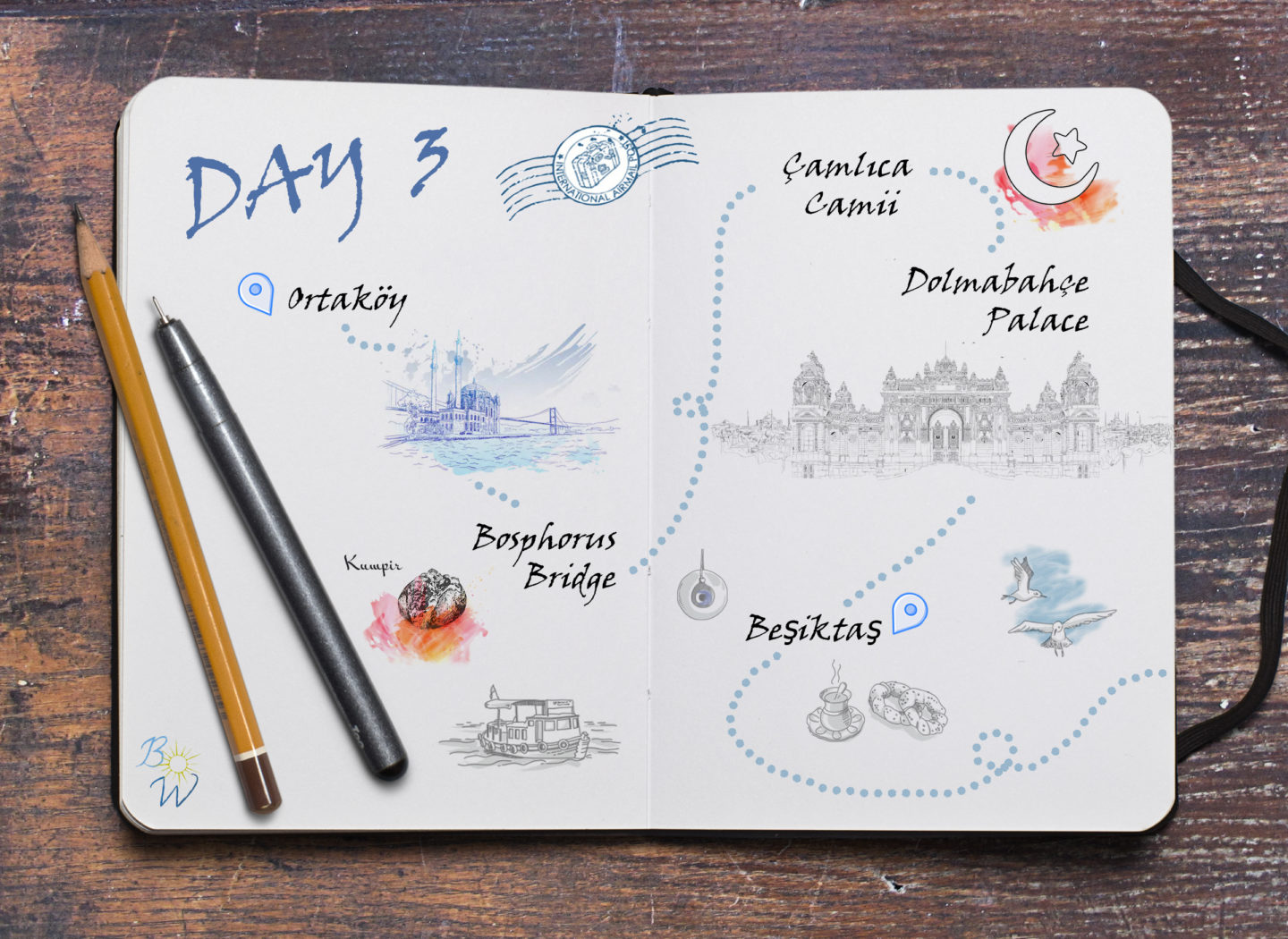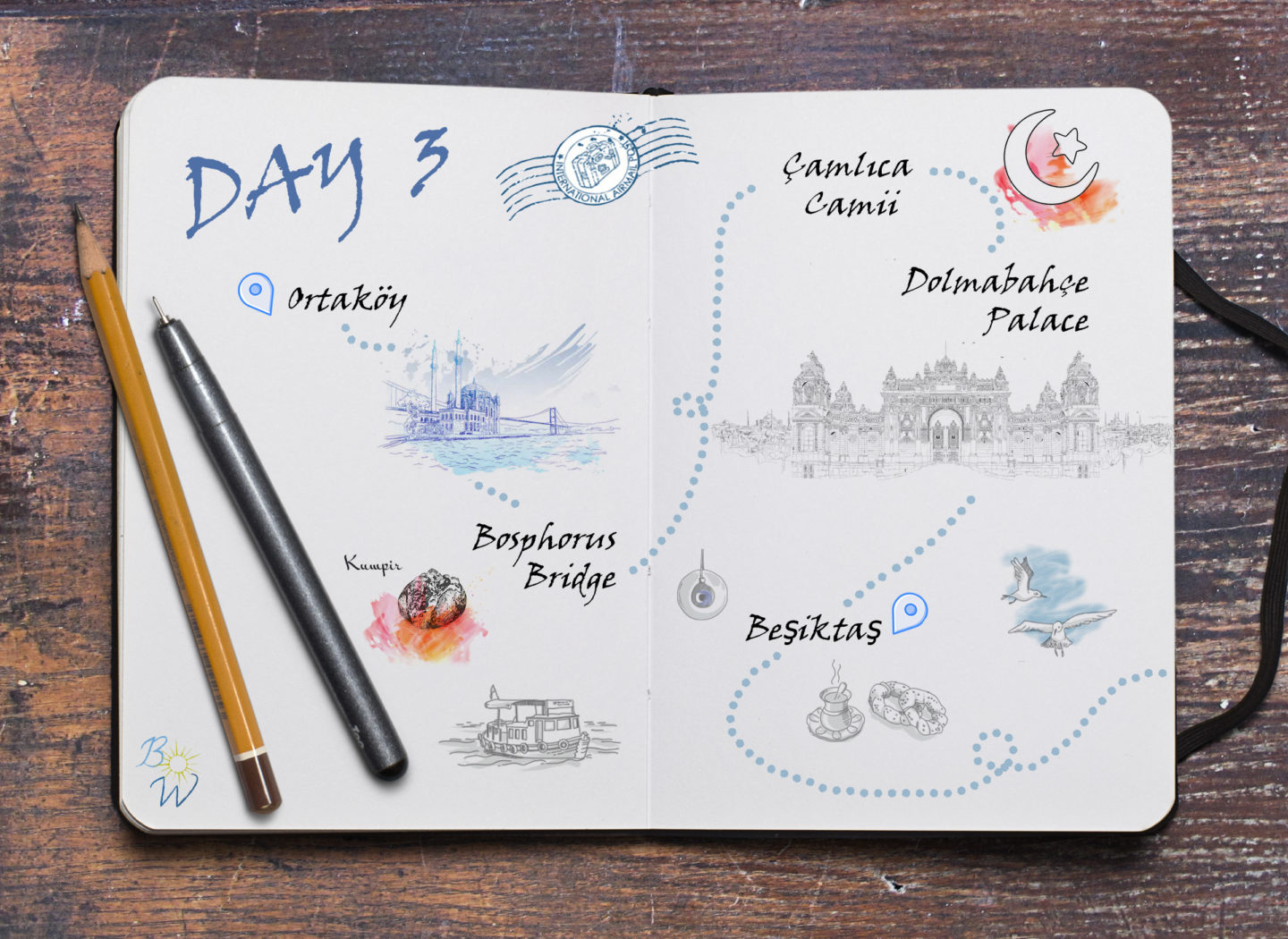 I hope this article was useful and learnt you a lot about Istanbul or even made you want to go! Make sure to tag me or send me a message if you use my advices for your next trip in Turkey, I would be very happy to follow along your adventures. In the meantime, I will see you on Instagram or in another blogpost!