If there is one country in Europe where most people would go back again and again if they could (apart from France of course – nope this is clearly not objective), it is most probably Italy! It is indeed one of the most popular destinations worldwide, and no wonder why: delicious food, incredible panoramas, stunning architecture and art inherited from one of the most powerful civilization ever… & the list goes on! Tuscany, as a central region on the country, definitely gathers all of them, and more. But it is also way more peaceful (until now) than the famous cities or coastlines, as it is hidden in the calm and picturesque countryside. Another amazing reason, if needed, to explore the area! Here we go, let me give you all the tips you need for a successful 3-day road trip around Tuscany.
Save this on Pinterest for later! ↡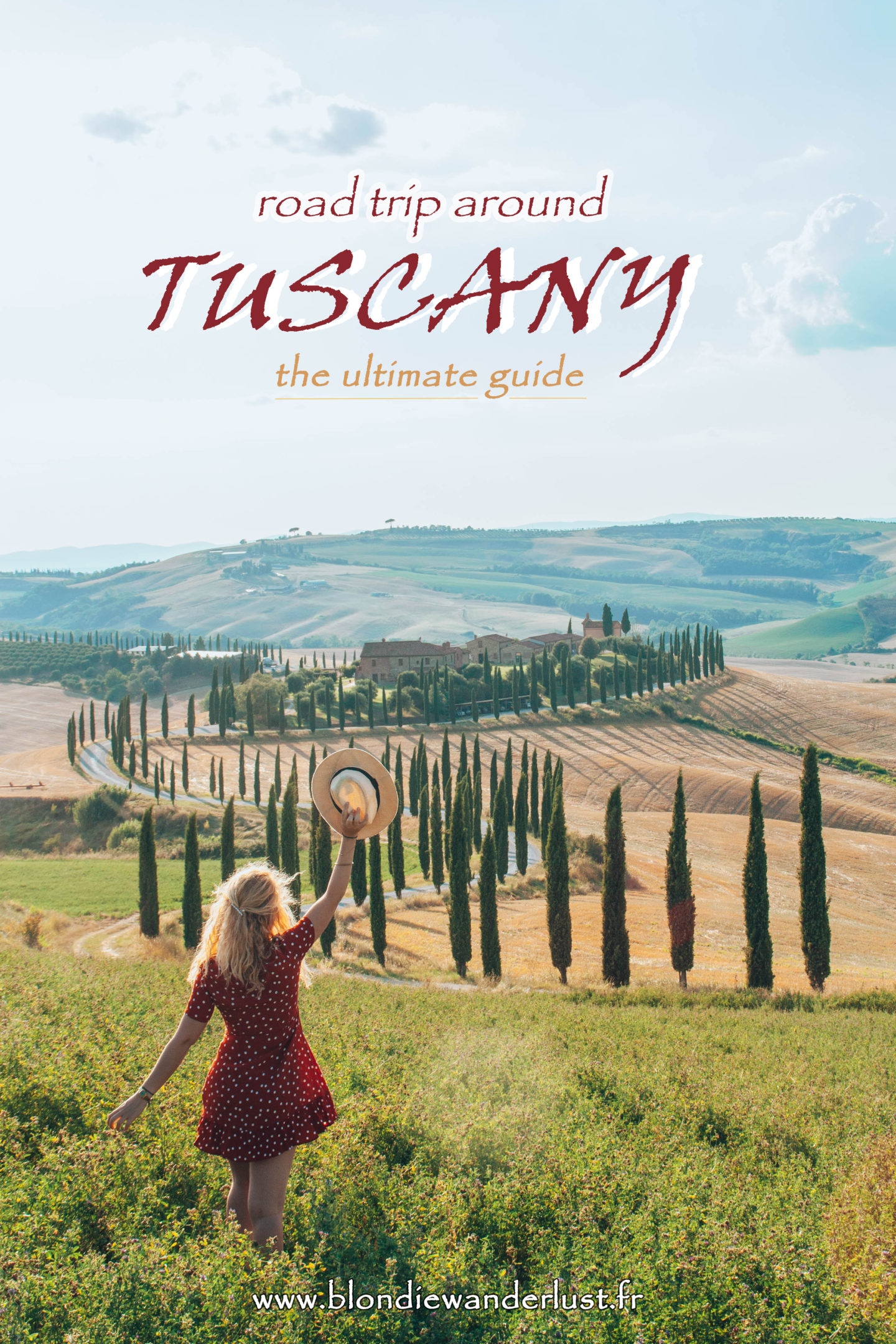 Driving along its rolling hills and curvy roads, passing by medieval villages and infinite vineyards, will probably be one of the most scenic moments you have ever experienced. Of course, you will first need a car for this! The region being less visited, the trains are very limited, and having a car is a must-do anyway to explore properly. If you don't come with your own, I would recommend you to rent one in advance. My two favorites comparators are Autoescape and Carigami. They allow you to find the best deal and secure it for later. Also be sure to ask the rental company beforehand if you need an international driving license in case you are not European. Once done, take your dream car and be ready to hit the road!
.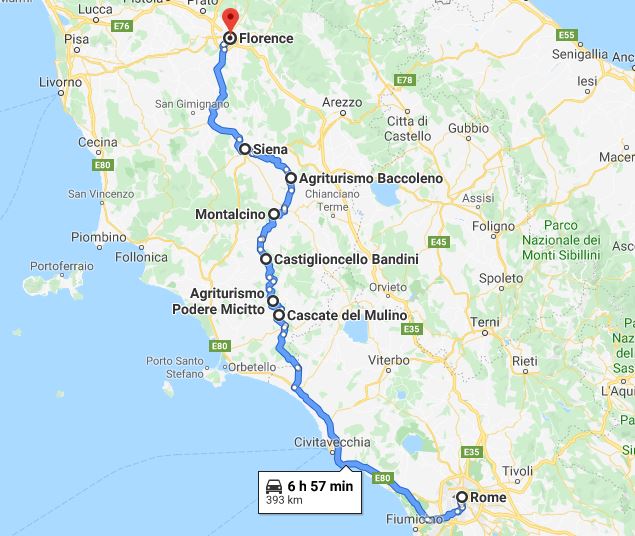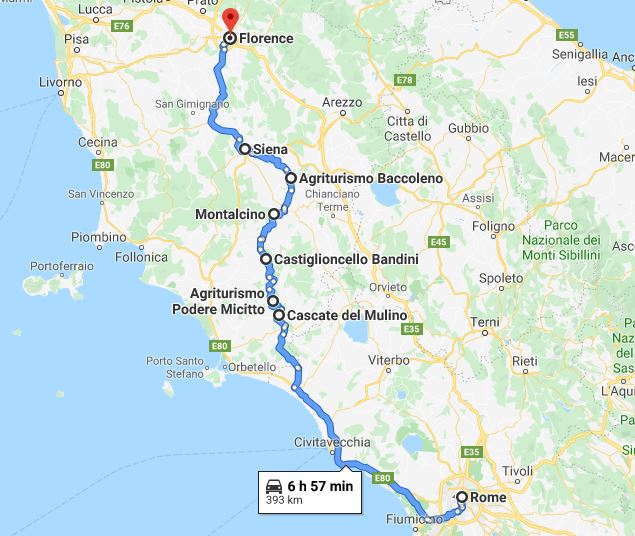 DAY 1
Depending on the duration of your stay in Italy, and on the city you were before, try to plan your trip accordingly. Indeed, it is a good occasion to combine many different Italian cities and areas. The best option is to depart from Rome and drive towards Florence, or the opposite way, and spend several days in each city before & after the road trip. Tuscany itself will only take you 2 full days; maybe 3 if you want to take your time. Also, of course, this itinerary is completely indicative and flexible, depending on what you want to see.
1. Start from Rome
We decided to start this trip from Rome and end it in Florence as the flights were cheaper that way. We spent 2 days in the Italian capital (all my tips about Rome will be posted soon) before taking our rental car. Don't bother to keep the car with you in big cities, it will get more complicated and more expensive. Start the rent on the day you leave the city. You can even select the precise time to save money. For us, it was at the end of the afternoon after a big day in Rome and it cost us 126,14€ in total for 48h (booked in advance). Then it was time to start driving!
As it was late in the afternoon, we witnessed a wonderful sunset on the way. But it also means that we drove by night the second half of the route, which I don't recommend if you take the same direction! If the first part is almost exclusively on highway, the second is not that easy (unfortunately for us, the contrary would have been way better). Once you enter Tuscany area, the roads get trickier, very narrow and hilly. Be careful with the car, ignore the locals who might drive way too fast and prefer daytime riding. Thus you should make it safe and sound to the first step of this Tuscany road trip: Saturnia.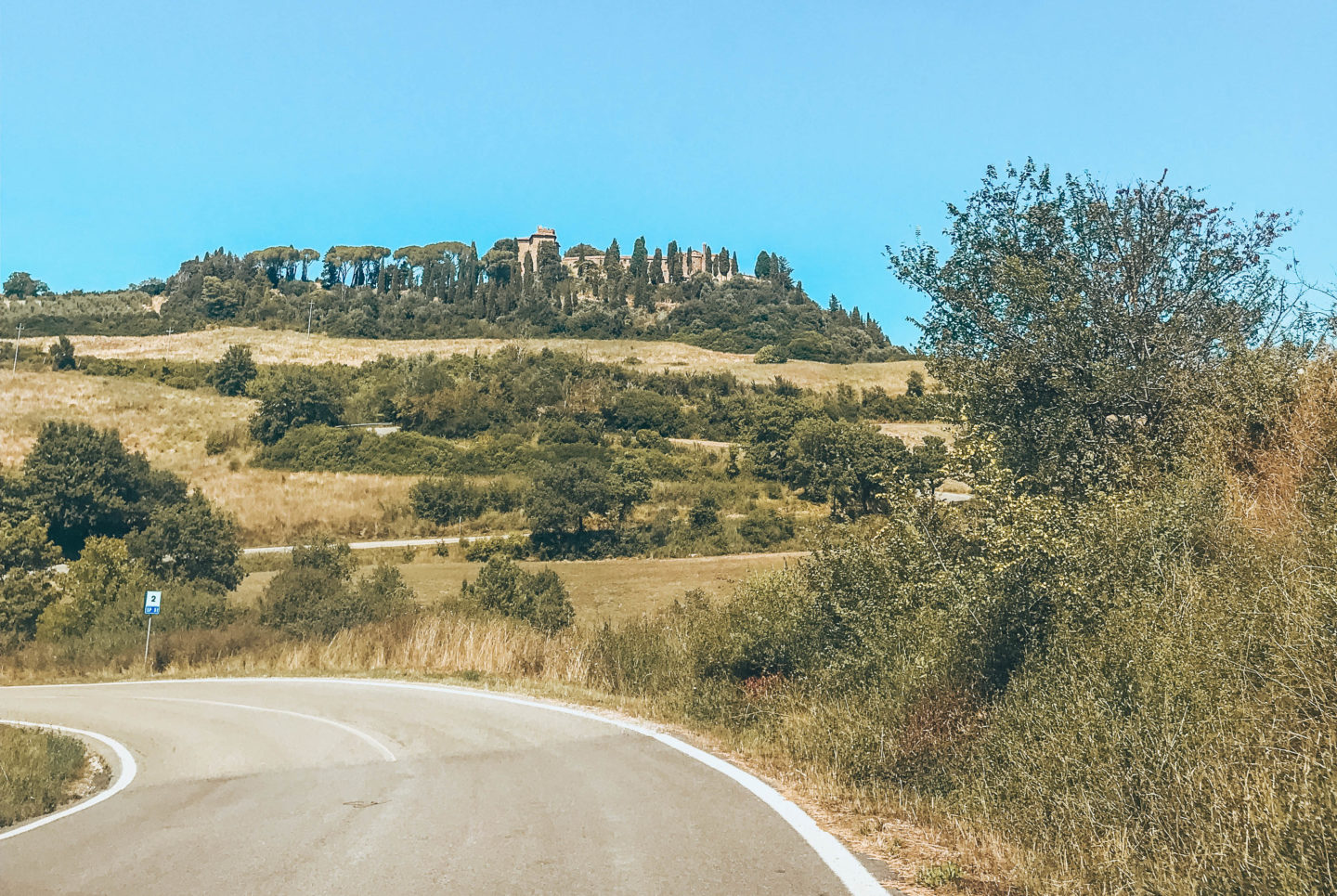 2. First night: sleep in Saturnia or around
Rome to Saturnia is a 2,5 hours drive. The first reason to sleep around this city is to be on site already for the next morning (keep reading!), but feel free to explore already on day 1 if you have time. You will be in the middle of the hills, surrounded by tiny little towns like Usi, Poggio Capanne, Poggio Murella, Montemerano… You can stay in any of those. Before the night falls, discover their little streets and have dinner in one of the small picturesque restaurants.
The accommodation we chose for our first night in Tuscany was not a random one: we opted for an Agriturismo! "Agriturismo" in Italian means "farm holiday cottage", the typical Tuscan place to stay in the countryside or in the mountains. They usually were big farms that locals turned into guest houses – some can host barely 4 people while the bigger ones became luxurious hotels. Ours was a small secluded one named Agriturismo Podere Micitto and located in Usi. It is kind of hard to reach by car, but it makes it even more charming!
If you want to have a complete experience in the cutest and most typical Tuscan agriturismo, I entirely recommend this place. It is lost in the middle of the mountains and woods, in complete nature, with a big garden and the loveliest rooms with terraces. You might want to book it in advance as they offer only 3 or 4 rooms. On our side, we payed 58,50€ for the night. Book it through my Booking.com link to enjoy a €15 refund off your stay! Double interest in using this link is that Booking.com provides a free cancellation option: very practical when you have to book so much in advance, in case your plans had to change.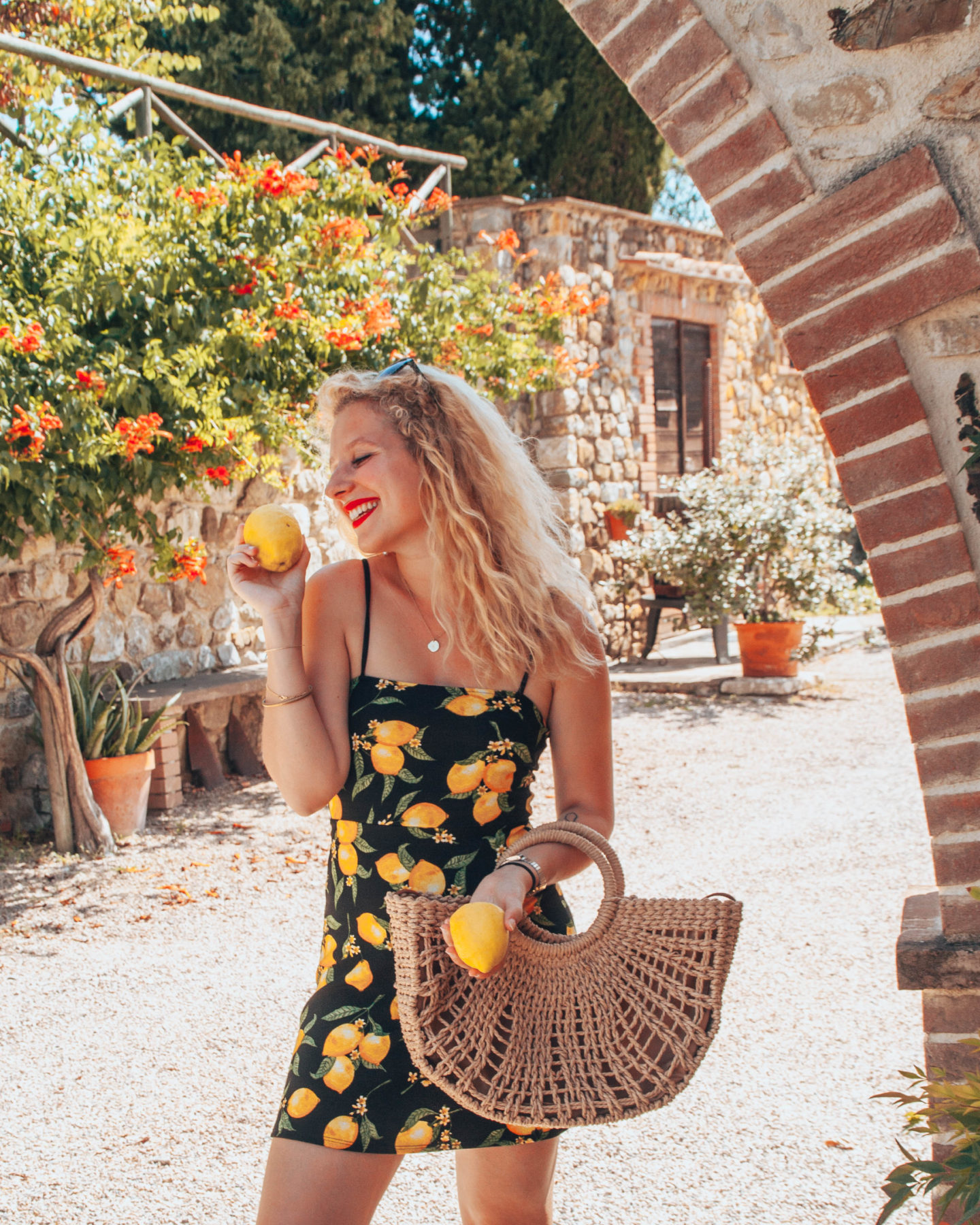 DAY 2
After a lovely typical night, it's time to start exploring Tuscany for real! And the very first place you need to head to is… Le Cascate del Mulino de Saturnia.
1. Wake up in Le Cascate del Mulino
If you are on Instagram, you probably know this place already. It started to become very famous on the platform in 2019, hence more and more crowded in summer. This place is one of the reasons why you should go to Tuscany off-season – talking more about this at the end of this blogpost.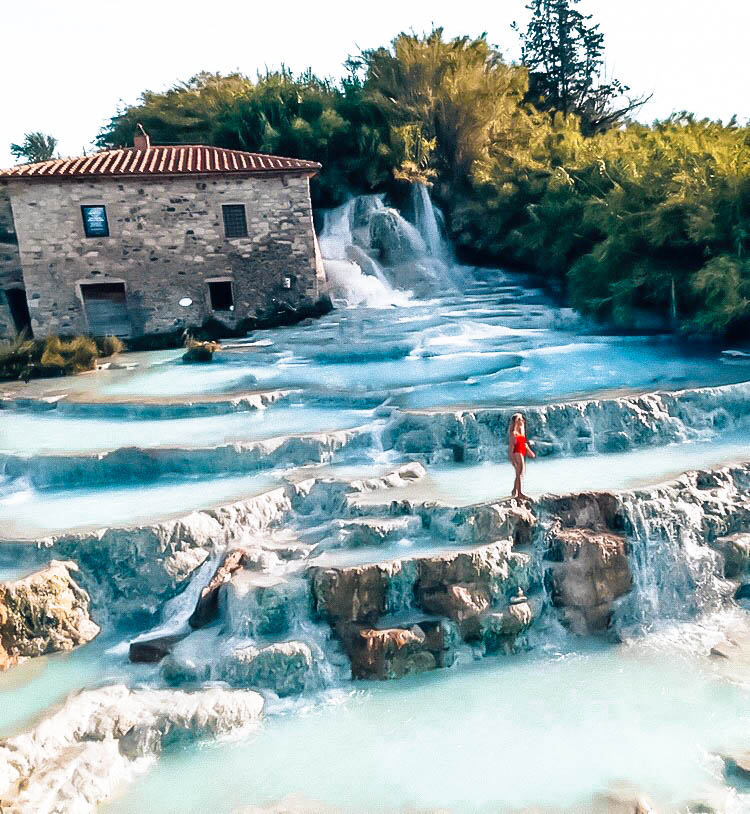 But it doesn't mean it is not worth the visit! If you're looking for a one of a kind relaxing experience, you have to go to Le Cascate del Mulino, also known as Saturnia Hot Springs. Be careful, it is not the same place than the spa resort called "Terme di Saturnia". Heated by the nearby volcano, the water of those natural termal baths is around 37 Celsius degrees (99F) all year round! It also has a lot of therapeutic properties.
To get pictures and dip in this stunning waterfall without anyone, of course you need to be there at dawn. Watching the sun rising while bathing in the warm silk blue water basins is the perfect way to start your day, especially when you woke up at 5am! And last but not least, this place is FREE and open 24/7 every day! Can you believe it?
There is no gate or barriers to enter, it is left as natural gem until now – maybe it will change if it keeps on getting so popular. The only facility is a on-site parking lot right in front of the place, which is free and open all the time too. If you don't go there at sunrise and/or are close enough, I would recommend to walk though, the parking gets very crowded during the day. But if you are an early bird, it is very practical!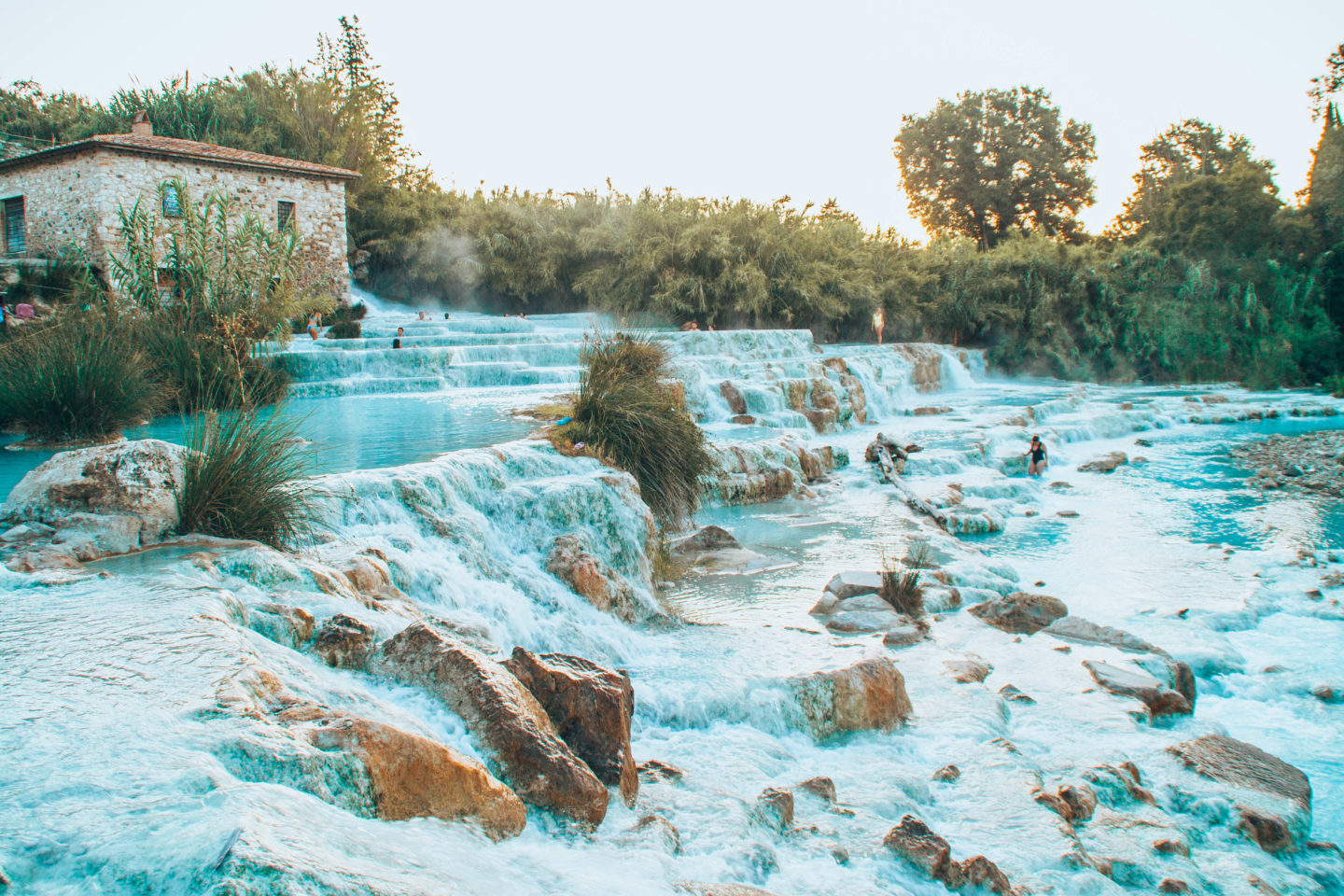 Practical information:
As this place is free, no changing room nor surveillance are provided. You will be enjoying the water at your own risk, even with kids. Don't worry though, it is not deep at all. Also be sure to arrive with your bathing suit on already, or to change in the car beforehand.
Do not bring too many belongings ; your items will be left alongside the basins among others', again, without surveillance. Keep a frequent eye on them.
The ground is rocky in most of the area: you might want to bring a pair of flipflops or water shoes.
As in every natural thermal place, the springs are highly concentrated in sulphur, which always causes a sort of "rotten eggs" smell. But I didn't find it very strong compared to other places I have been to. You can bring an old towel and swimsuit if you want to avoid taking any risk of damage though.
Photography gear tips
You can use a regular camera as we did if you are extra careful. Same for your drone if you have one – most of the stunning shots from this place are taken from the air. However, you can still manage to get good pictures with a phone in a water-resistant case or a GoPro if you prefer to opt for a waterproof gear. You can also use a waterproof dry bag to secure your items if you want to enjoy the baths without worrying.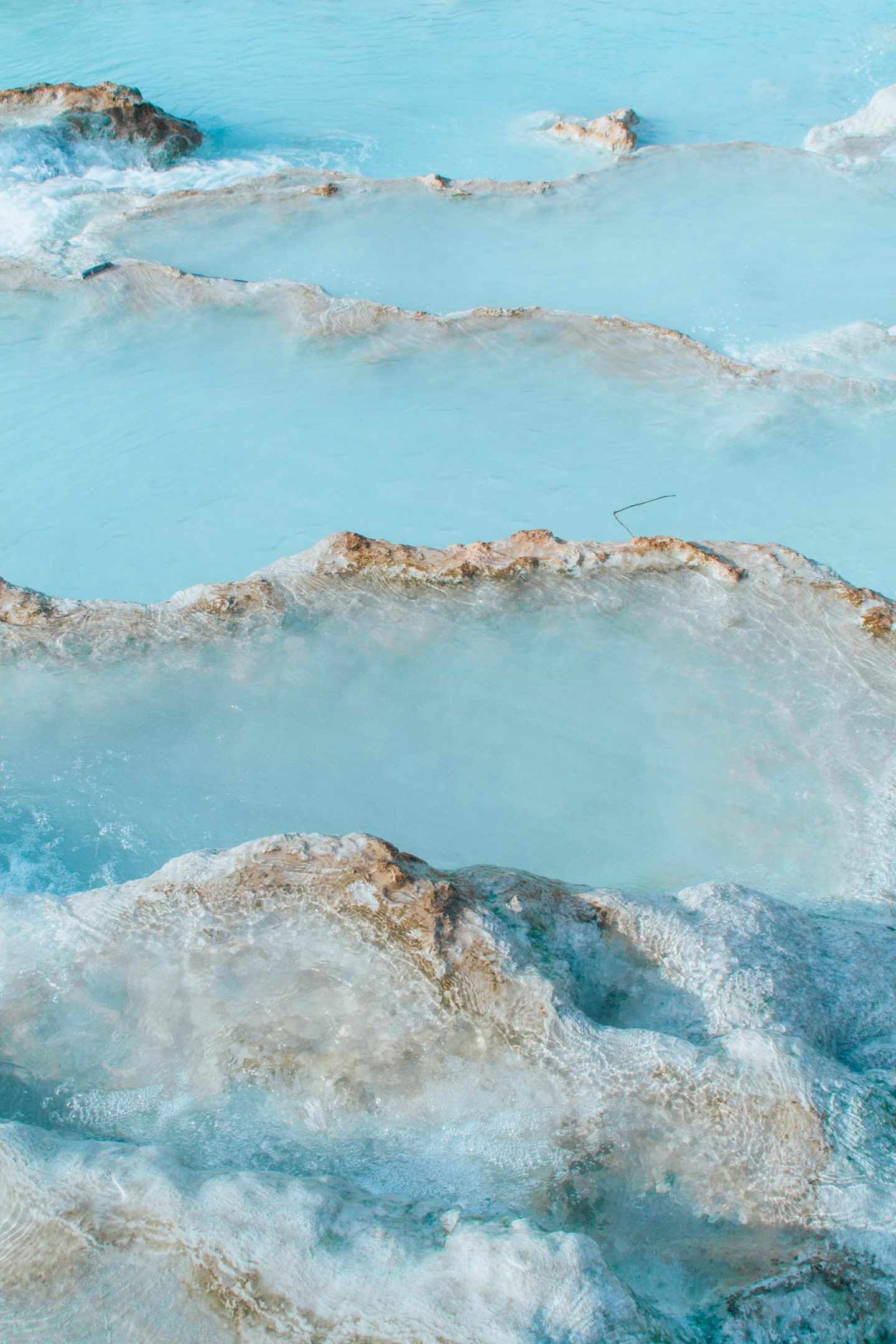 2. Enjoy a typical breakfast in an Agriturismo
After several hours bathing in the warm waterfall, time to be back to our charming cottage. If you stay in an agriturismo too, or in any other type of accomodation, you have to enjoy a local Italian breakfast!
Lemons especially are a symbol of the region. They are so delicious! Be sure to taste them under every form: juice, ice cream, liquor, cakes…
3. Get lost on the scenic roads & head to Val d'Orcia
Now that your belly and heart are full, you can hit the road again. Once more, there is no better way to discover Tuscany than by driving through its hills and along its pines! This is how you will truly experience the countryside vibe of this area. The secret is to get lost (or almost) from one village to another. Head to the north, in the direction of Siena & the Val d'Orcia – unless you took this itinerary in the reverse way of course.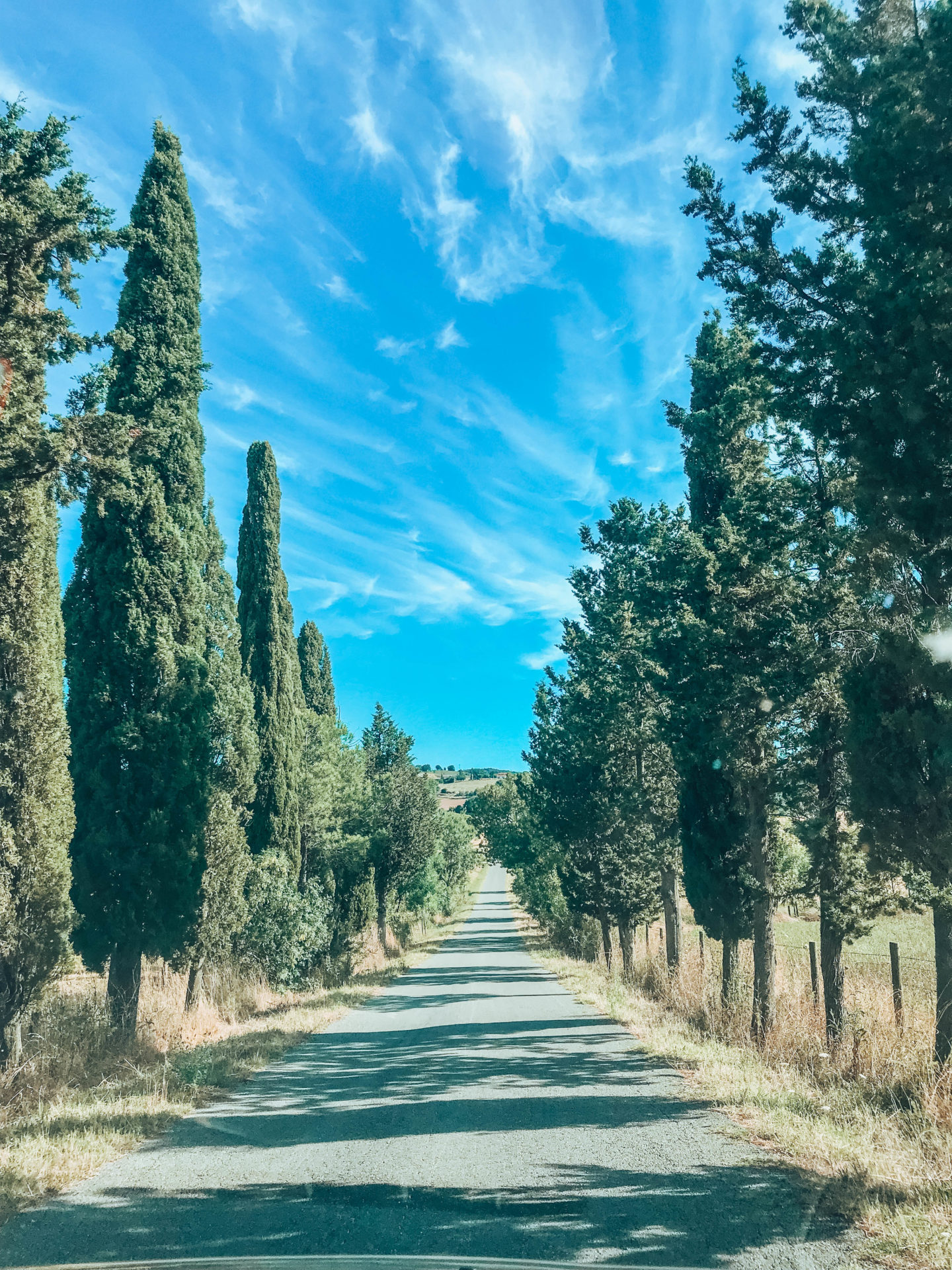 For instance, we made a stop for lunch in Castiglioncello Bandini, a very tiny village lost in the mountains. There is no real attraction there but it is so typical that it made the perfect stop on our way. We managed to find a restaurant open and had a wonderful meal. However, if you plan on doing the same, plan to have cash on you absolutely. We did not and it made the end of our lunch quite complicated, as the nearest cash machine is not very near! But apart from that we really loved the food and the village.
Then hop back into the car and hit the road again! We didn't have the time on our side but if you want to add another local experience to your list, there is something else you can do in this area… Wine tasting! The region is full of vineyards and wine producers, and most of the tourists stop in one or two of them to taste some wine and enjoy the Tuscan lifestyle. But if you do so too, wait before driving again please!
4. Explore Montalcino & admire the views
Still on your way to Siena, Montalcino is definitely a must-see, and another perfect stop on the road. Spend a couple of hours in your afternoon wandering in its cute little streets and visiting its typical churches. This small and authentic fortified village also offers some of the best views we found on Tuscany's landscapes!
Indeed, the village is located quite uphill, precisely 564m above sea level. In some points, the altitude even exceeds 600m, for instance on the hill of Osticcio, but also in the passo del Lume Spento and on the hill of Civitella, at the top of which is located an Etruscan fortress. That is why the panorama you get anywhere in the village is very impressive! Park your car nearby the fortifications – it costs 1,50€ – and you will find yourself in front of an incredible view on the whole valley.
Right next to this spot, you will be able to visit the first church of Montalcino: Chiesa della Madonna del Soccorso. By the way you can enter this name in your GPS to find both the church and the viewpoint! It is not a huge religious edifice but still very lovely to see.
Then head to the city center! Be ready, to reach it you will have to face quite a slope – but a little climb will not impress you right? It definitely adds a lot to the charm of this place anyway. You will cross a lot of other churches and narrow cobbled lanes, which are simply the cutest.
As you can see on the picture above, it is also possible to have a wine tasting experience in Montalcino directly. Despite its small size, the village is indeed famous for its wine production, and especially its Brunello wine, an AOC Sangiovese frequently distinguished by international oenology.
After wandering in all those pretty streets, you will get to the fortress of the city. Have a look around, the views from it are quite exceptional too!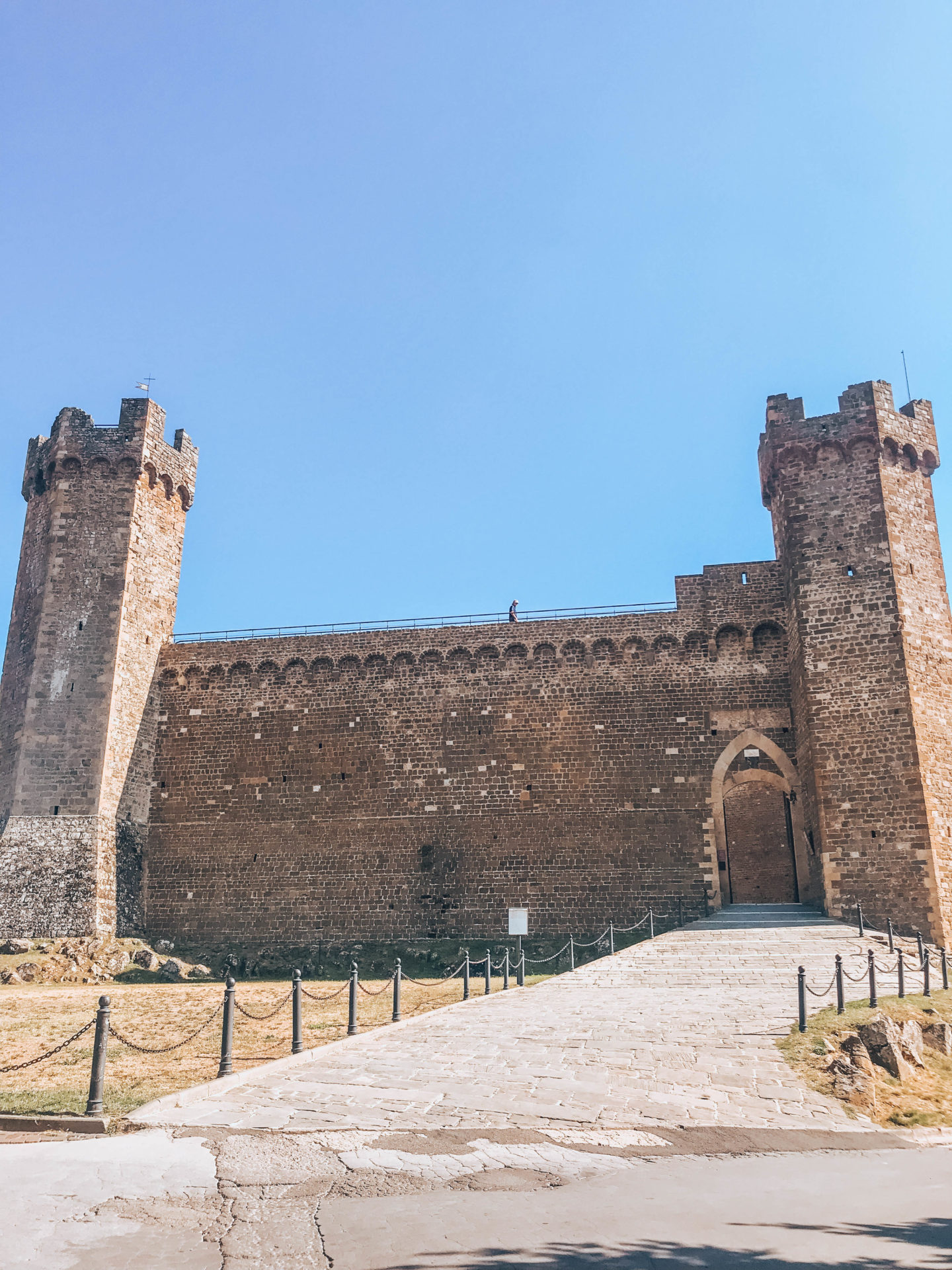 Find all the information about Montalcino Fortress here.
Last but not least, you can end your visit of the village by visiting the gorgeous cathedral, Cattedrale del Santissimo Salvatore. From there you will then be able to reach your car by another path, and you will have made quite a full turn of the old town!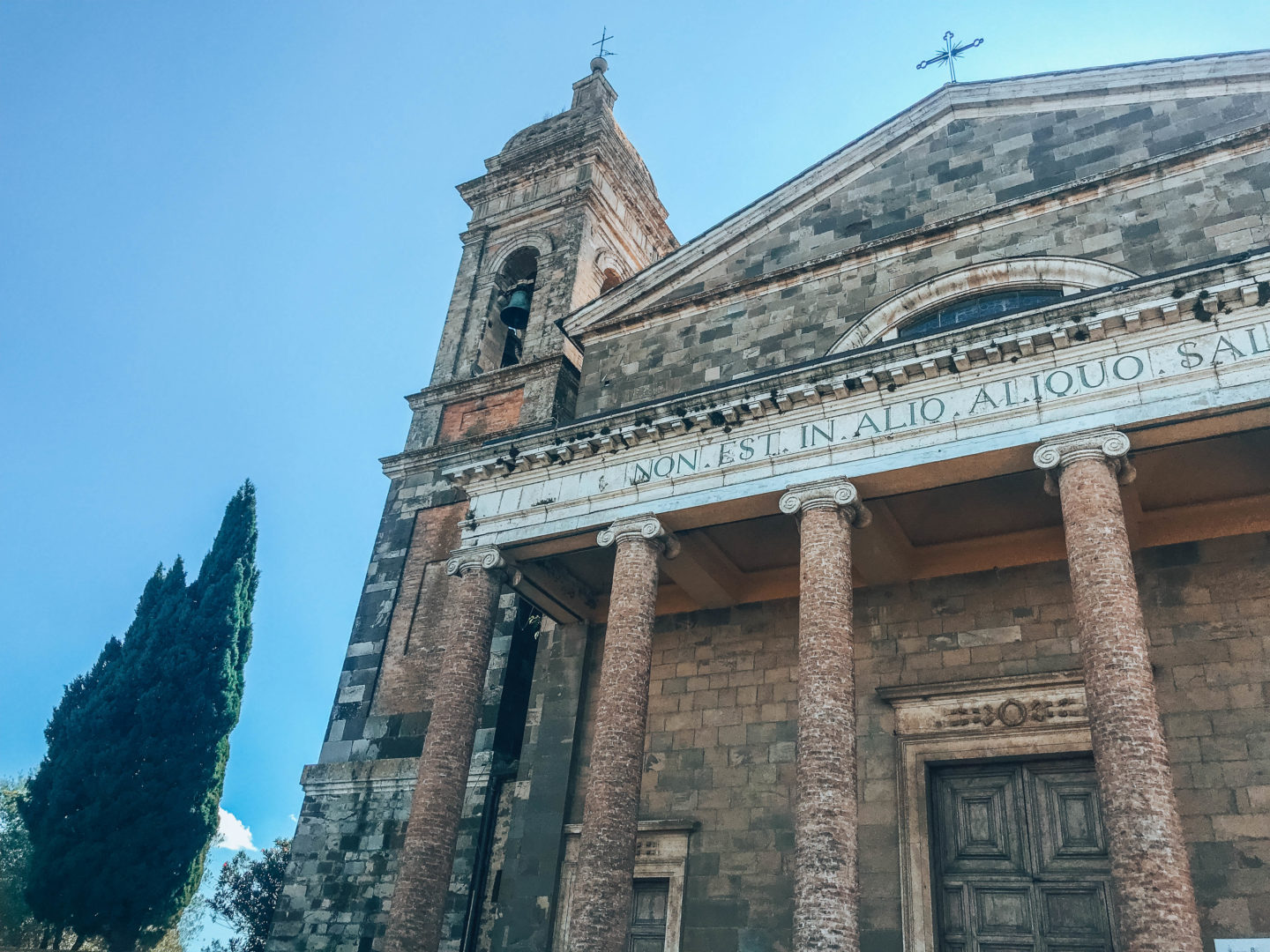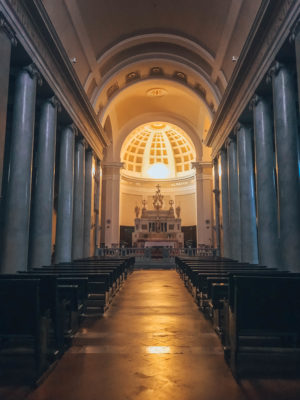 You will find many typical villages on your ride from Saturnia to Siena, so if you want to explore more, definitely add a day to this road-trip itinerary. For instance, I have heard that Montepulciano is a very lovely one too!
But if you stick to this precise route, day 2 is slowly getting to its end, and there is still two places to go to! Starting by the second very famous place of the area (after Saturnia): the Agriturismo Baccoleno.
5. Top the day off in Agriturismo Baccoleno
This spot is probably the most representative of Tuscany & Val d'Orcia! An infinity of scenic winding roads lined with pines, green everywhere, mountains at the back and the loveliest agriturismo in the middle: all the symbols of the region are here.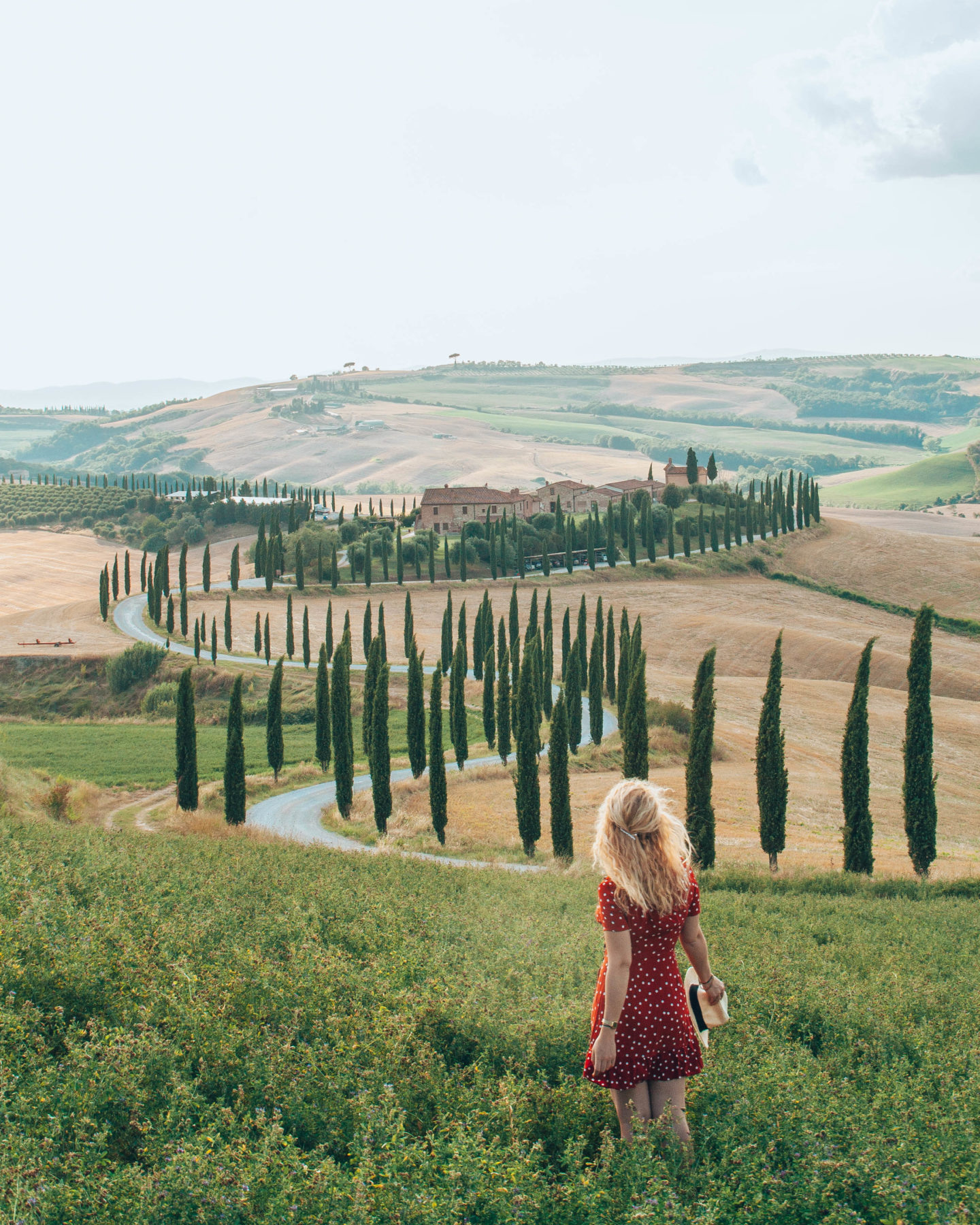 The end of the afternoon is the very ideal moment to go. It fitted perfectly into our schedule, which is why I would recommend you to follow the same order. You will have plenty of time to admire the place and take million pictures if you arrive on site around 5.30 or 6pm (of course, it depends on the season, here I am speaking of spring/summer timing).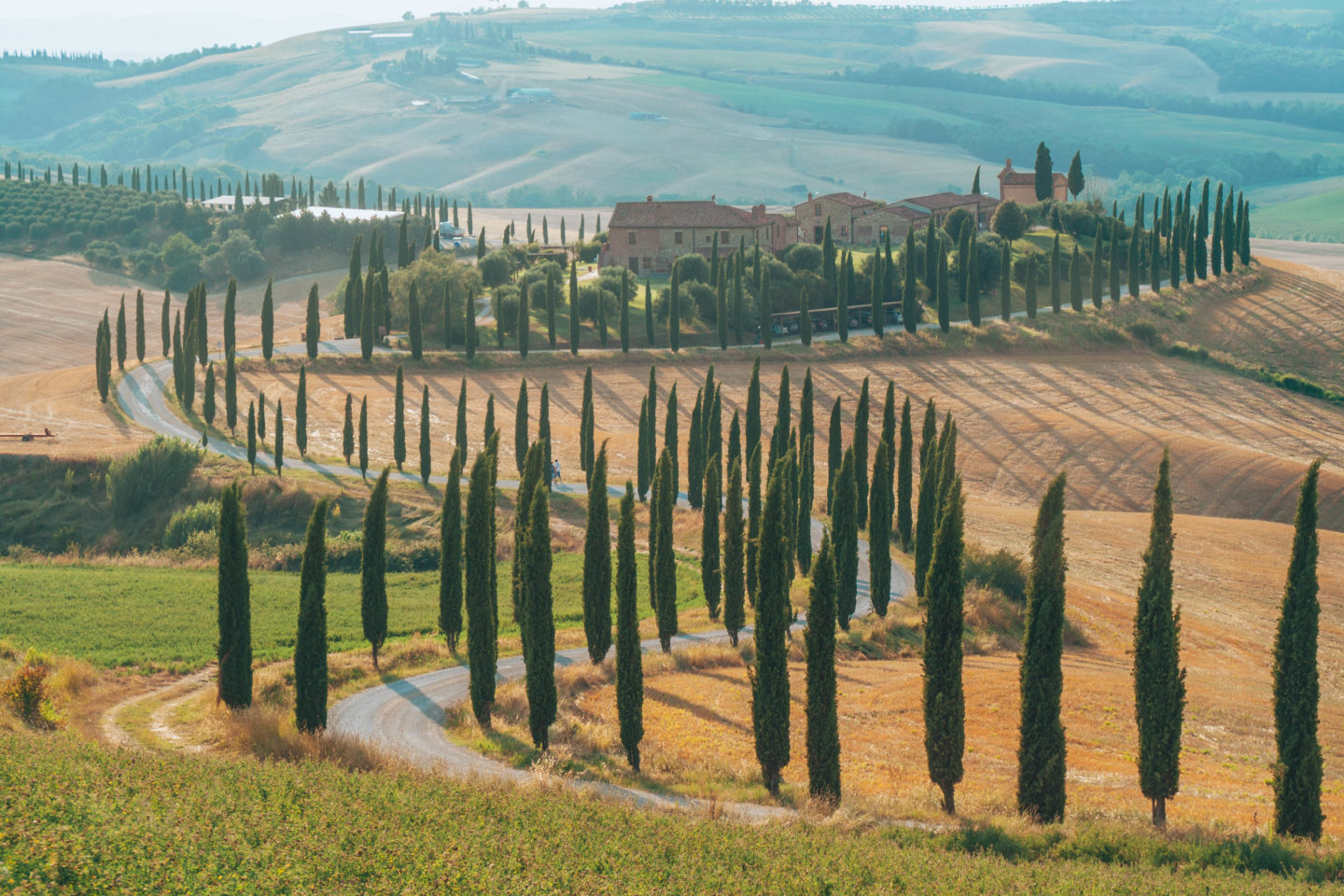 The golden hour light is absolutely perfect there! You can even wait for sunset time and admire the colors changing & the sun dying above this so pretty hotel.
Have in mind that, as any agriturismo, this place is a private property. You are not allowed to enter without being a client, which is clear straightaway at the entrance. The gates are under surveillance and will instantaneously close if you approach too much. Please respect it by parking on the side, without hindering any other potential car coming. The space is not so large but it is manageable.
To find this exact picturesque view, take the small path on the left of the gates (the access is open) and just walk for like 2 minutes. It is very easy to find, and even in the middle of August, we were actually alone during most of the time we spent there!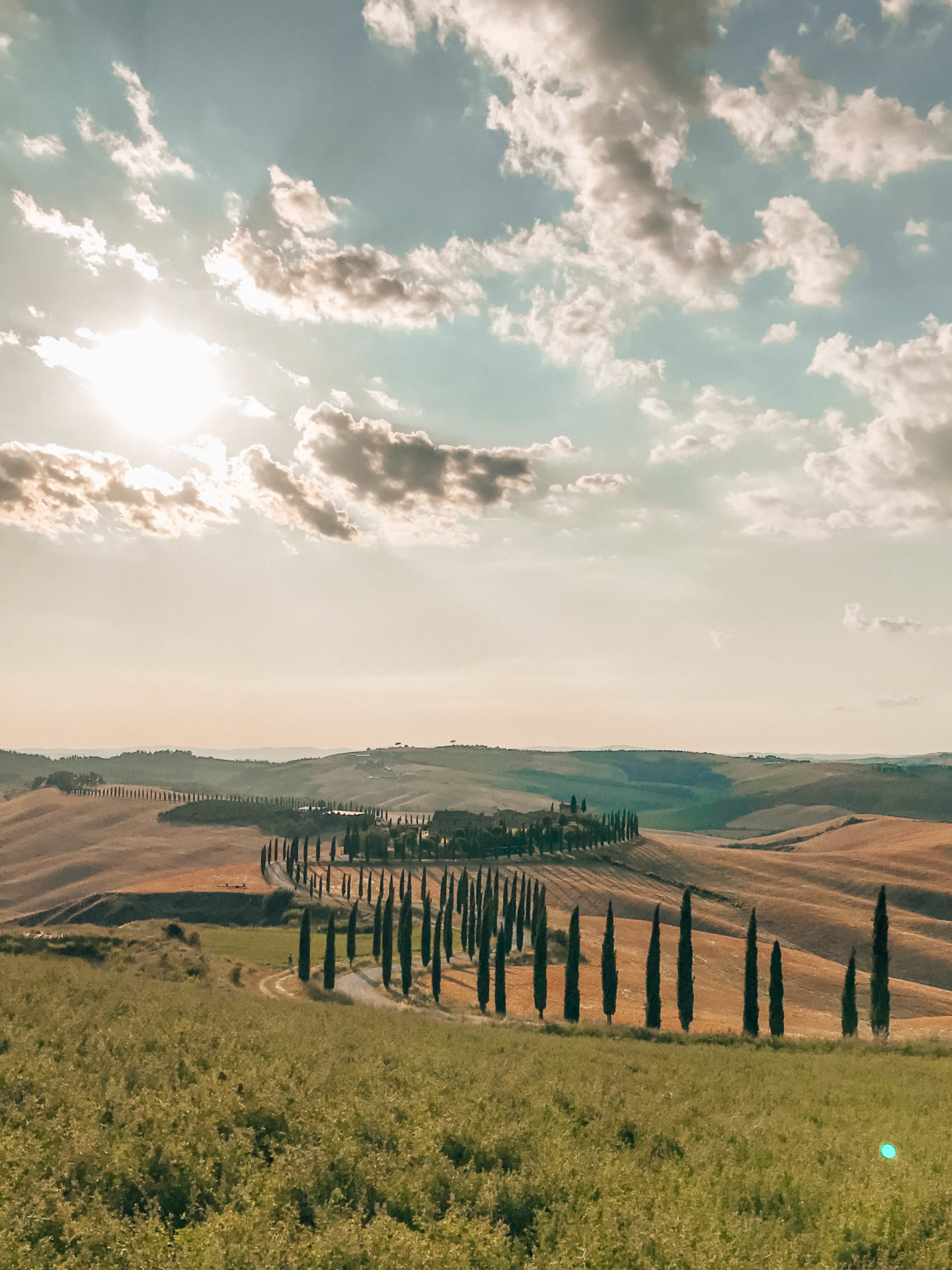 6. Finish with a lovely night in Siena
Once you definitely had your dose of Tuscan vibes after such a full day, it is time to finally reach the last stop of the day & host for the night: Siena.
If you are not too tired already, quickly explore the city in the evening and have a delicious well-deserved Italian dinner. Best way to end the day!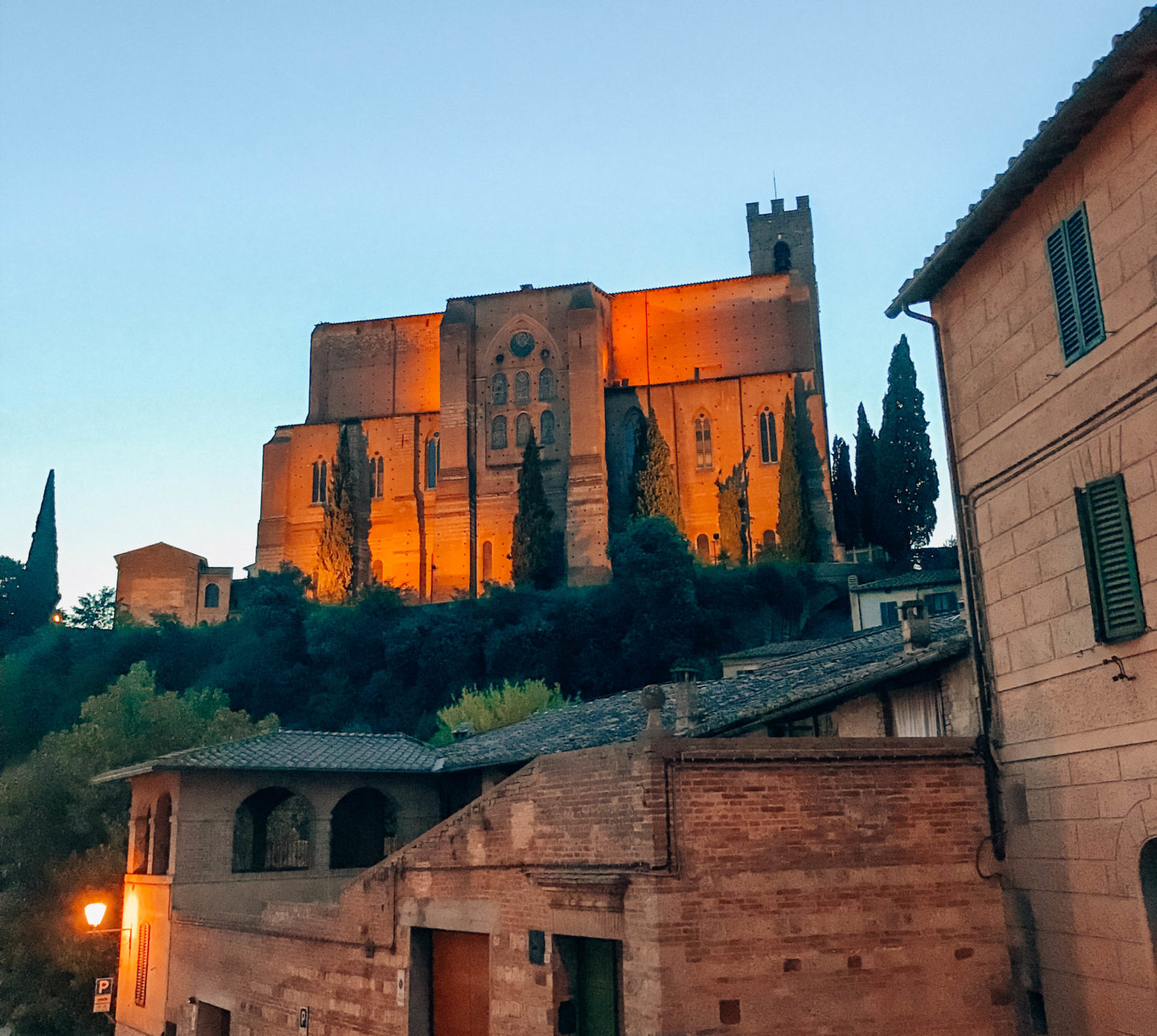 The atmosphere of Siena's old city center is particularly amazing at night, so be sure to have at least one dinner outside to feel it. For this, head directly to Piazza del Campo to find the restaurants with the best view. It is one of the most renowned medieval squares in Europe and obviously plays a prominent role in town.
We had dinner in the Ristorante Al Mangia, which is right in front of the Piazza, its tower and palace. It is definitely a tourist address but we had a good time and the vibe was very nice.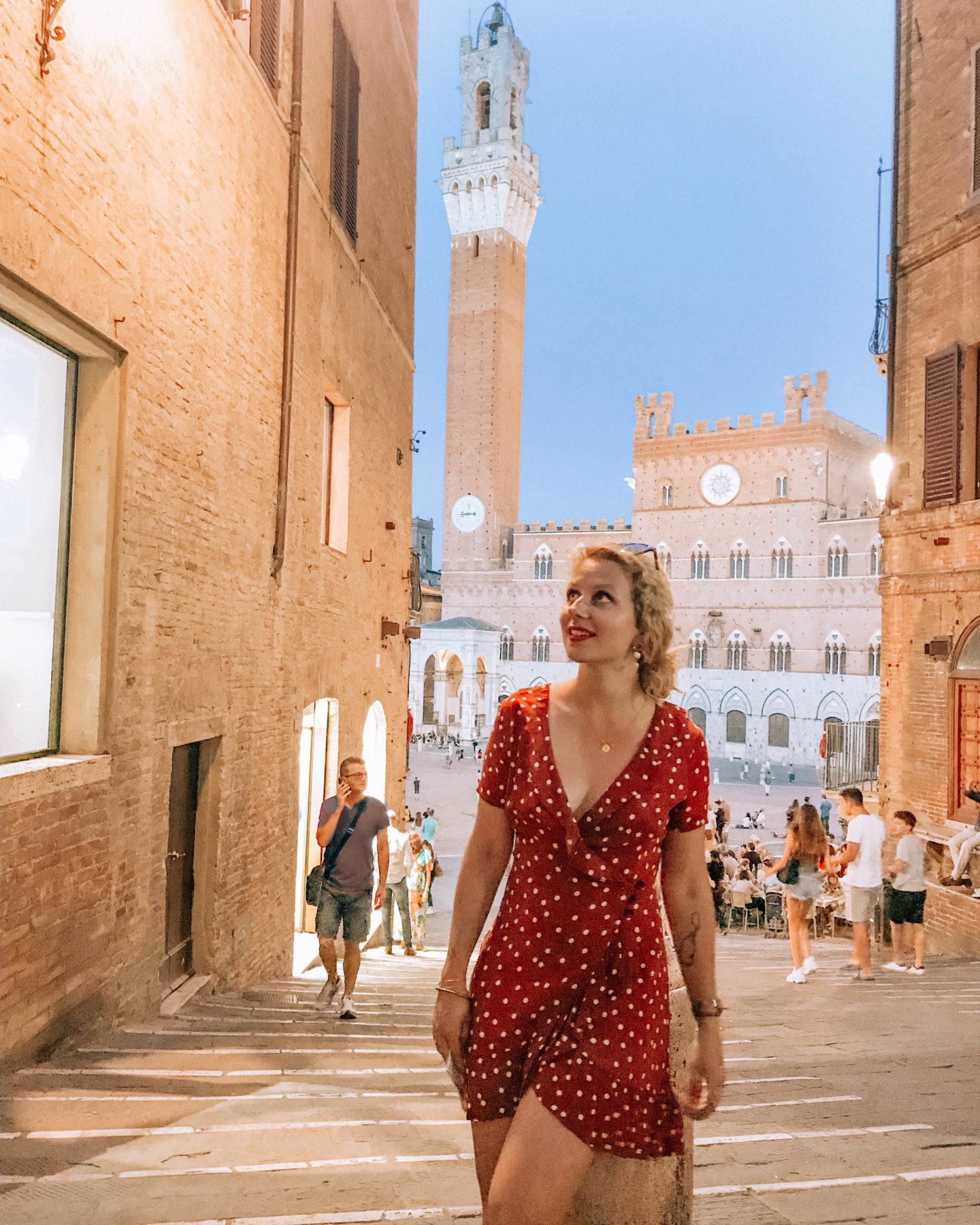 Fun fact: Twice a year each year since 1644 the city holds the Palio di Siena horse race on the edges of the square. Siena is clearly a tradition keeper. Must be so impressive to watch!
DAY 3
1. Start on a dolce vita mode
Third & last day of this road trip! After the long & full day 2, you probably needed a good night of rest. At least that was our case! So we stayed in Hotel La Colonna and it was the best choice ever…
… especially because of the pool! We spent hours chilling there, we were alone the whole time (probably because it is very hot outside in August) and enjoyed it sooo much. A true dolce vita moment. We definitely wished we could have had another night there. It also has a big parking lot behind, which is very practical and highly needed when you are road tripping. Otherwise, the center is 20 minutes away by foot, or 5 minutes away if you take the car. Don't forget to use my link if you want to book it in order to save money! The double room cost us 81,14€.
It clearly enabled us to fully relax before getting ready to explore the city again!
2. Spend the day wandering in Siena
I would recommend to dedicate at least one full day, or at the very least an entire afternoon to this incredible medieval town. Siena is very popular in the Tuscany region, and its historic center is even ranked in UNESCO sites. The town is actually even more charming than we expected. It counts more than 50 000 inhabitants, but I couldn't stop calling it "the village" as it is so lovely!
A long and free of charge escalator was installed as the city is uphill. It brings you directly from the parking lots to the city center, as cars are not allowed in the old town. You might think it is exaggerated to take the escalator, but wait until you try climbing the whole slope by yourself! Your poor legs will beg you after that. But of course it also makes some nice exercise so on our side we did both.
The main thing to do in Siena is admiring the architecture. You absolutely cannot miss the two famous Piazza del Campo (already done the night before) and, above all, Siena's cathedral: the Duomo di Siena.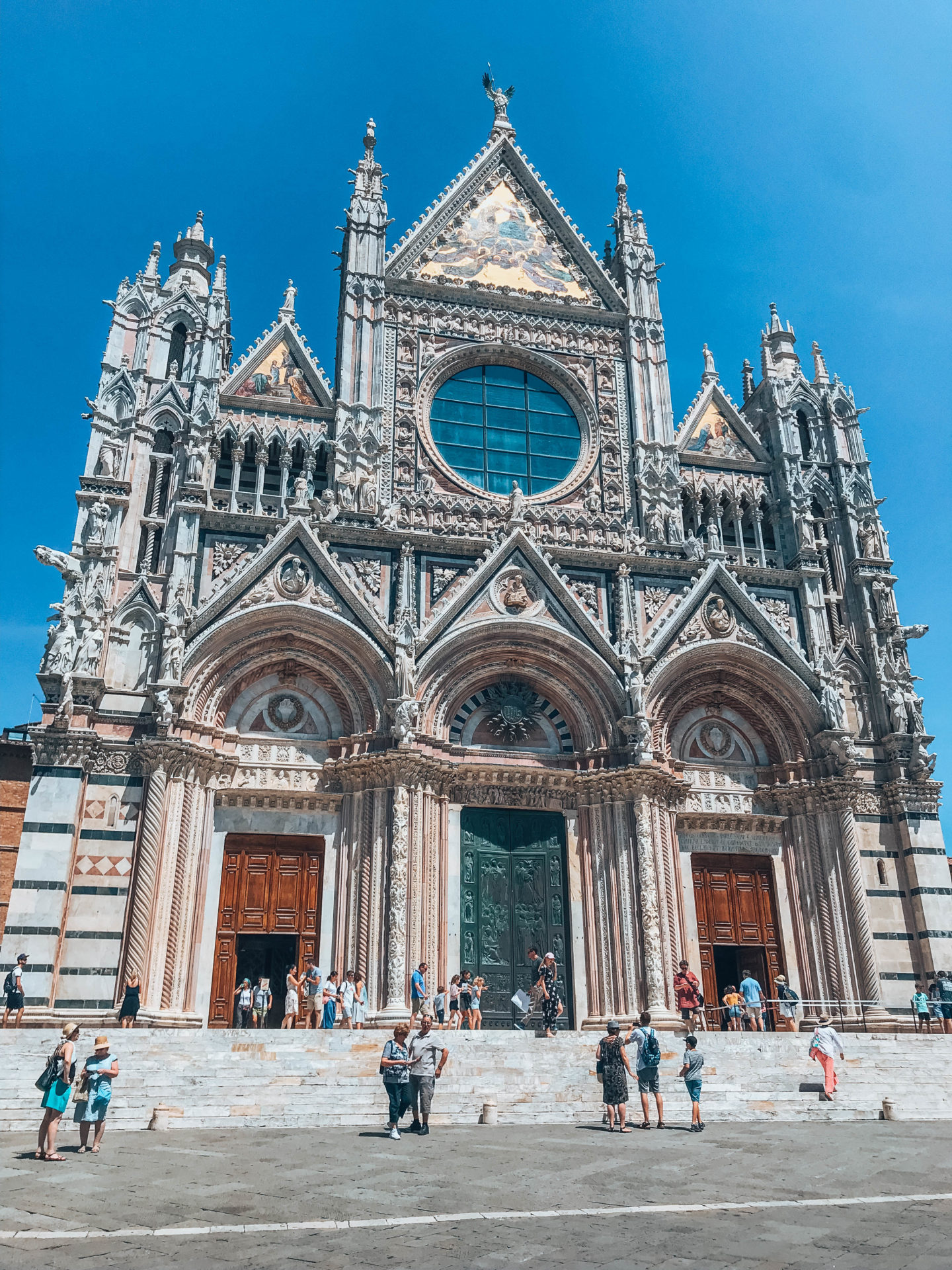 The details, ornaments and colors of the Duomo are simply breathtaking. I just could not stop staring at them under every angle.
Fun fact: the cathedral was supposed to become the largest basilica in the world when it was built, but funds ran out, then the plague hit the citizens, so the project had to be cut short.
If you want to enjoy this place without the crowds, I would definitely recommend you to come early in the morning. We were not able to do so (as explained above I decided to enjoy the hotel), but we are planning on coming back as we didn't get enough time to see everything!
To explore the inside, you have to queue and buy your tickets in the facing building. The entrance for the cathedral only costs 5€ per person. You can add a very nice paper guide explaining you everything in details for 3€ extra. But you can also visit the whole Acropoli di Siena complex if you have time. Different "pass" tickets give you access to all the roofs, domes and other monuments and museums. Their price goes from 15€ to 25€ depending on which places you select, and the ticket is valid for up to three days. Honestly I wished I have had the time to take the full package and explore all the sites!
The inside is amazing as well. As often, you have to cover your shoulders to respect the religious traditions.
After the visit, keep walking in the cobblestone streets and find a place to have lunch if you haven't eaten already. We took something on the go but I read that Osteria Cice or Osteria Permalicoa both offer delicious authentic meals. They are located right next to the duomo!
Last but not least, do no forget to eat one yummy Italian ice cream before leaving! But how could you forget right?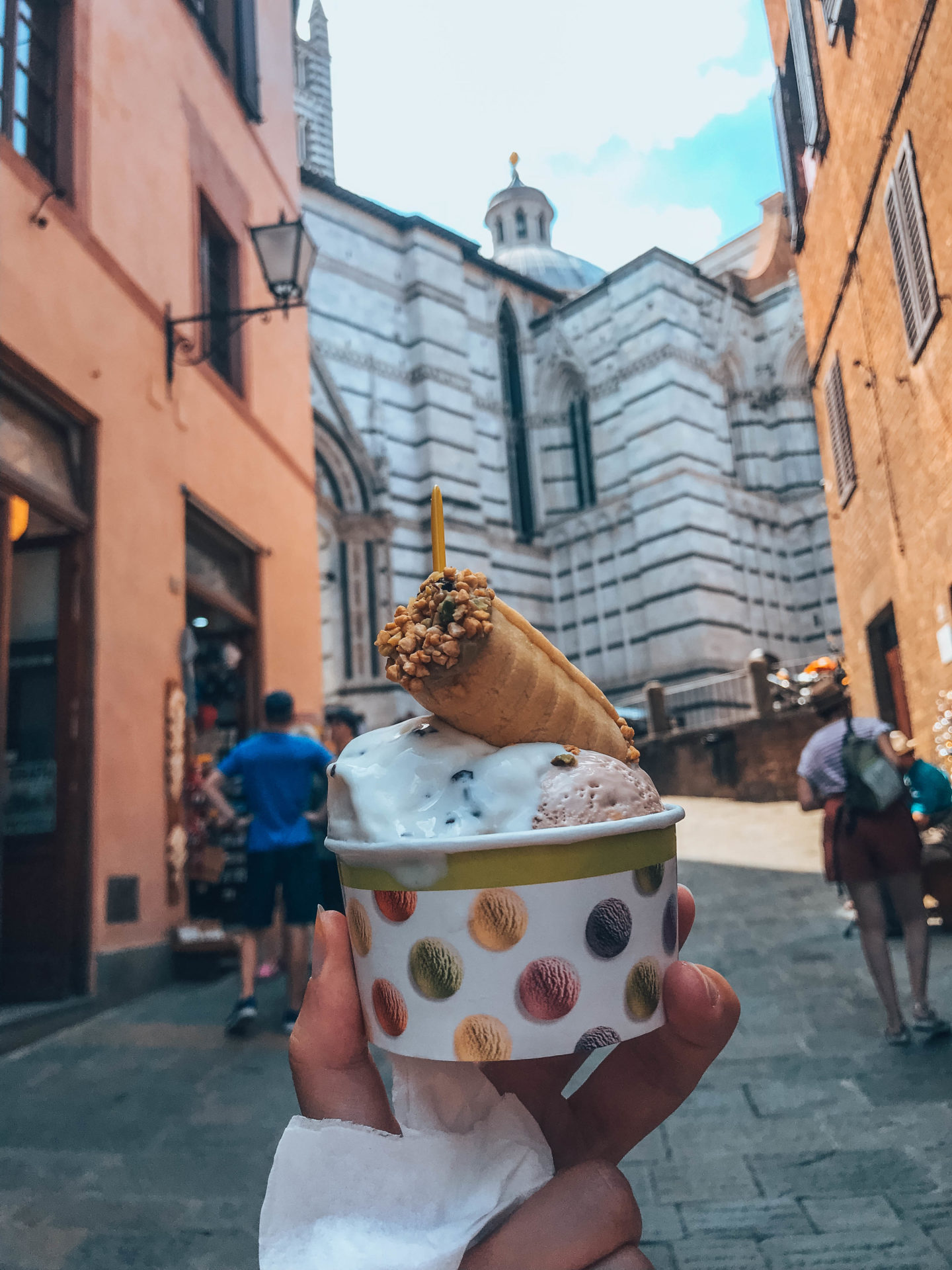 To sum up, Siena definitely deserves the stop on your Tuscany road trip, or even several days spent exploring it. If you didn't plan on seeing the whole region, you can also completely come on a day trip from Florence for instance!
3. End the trip in Florence
Indeed, Florence is only 1 hour away or so from Siena by car. It is the capital of Tuscany and, more important, an absolutely stunning city! Of course there was no better place to finish our Tuscany road trip. Just like at the start in Rome, we dropped off the car at the end of day 3 directly and then spent 2 more nights & days visiting Florence's wonderful gems (all my tips about this will be posted soon).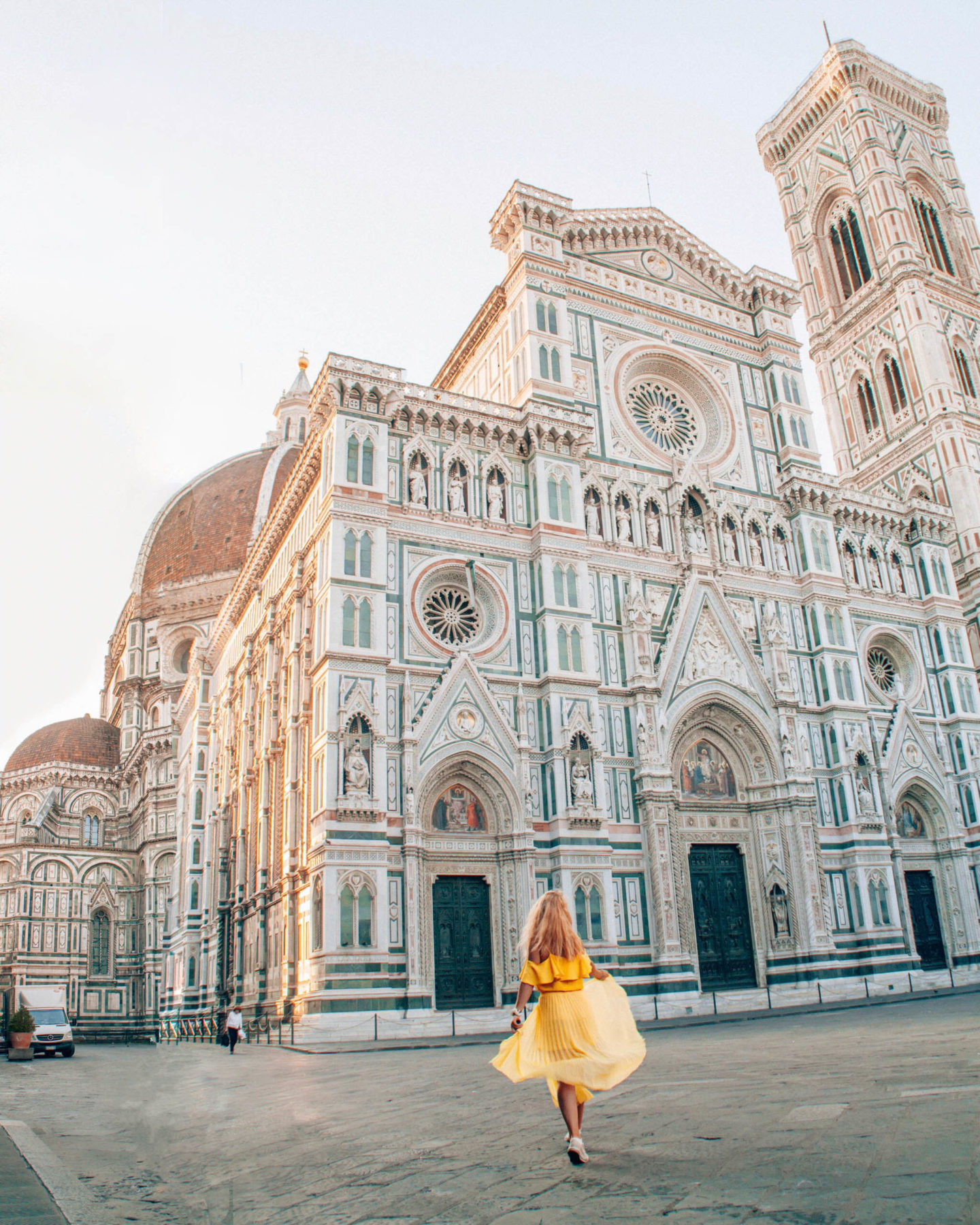 If by any chance you decided to spend more time in Siena than us, and/or are not in a rush on the road to Florence, then you should visit San Gimignano or Volterra on the way. They are knowned to be very lovely villages too.
WHEN TO GO?
As already mentioned before, the best time to visit Tuscany in general is from May to October. March and April can be great as well, and completely empty in terms of tourists, even if it will be colder.
Avoid high season if you can on the contrary (July-August), especially if you want to go to Saturnia, or you might get up at 5am to still discover the Cascate del Mulino almost full even before the sun rises. Indeed, for these hot springs in particular, the best moment is definitely spring. Regarding the crowds first, but also the water warmth! I found it way more enjoyable to bath in when it was still chilly outside in the early morning than after 8am when it was more than 25 degrees already (in August). So if I should go back, I would select a period with lower temperatures, as the baths keep you warm already.
But even in summer, this place and all the others are amazing anyway.
That's it for this road trip in Tuscany itinerary, I hope you found it useful!
If you enjoyed this blogpost, save it on Pinterest for later! ↡