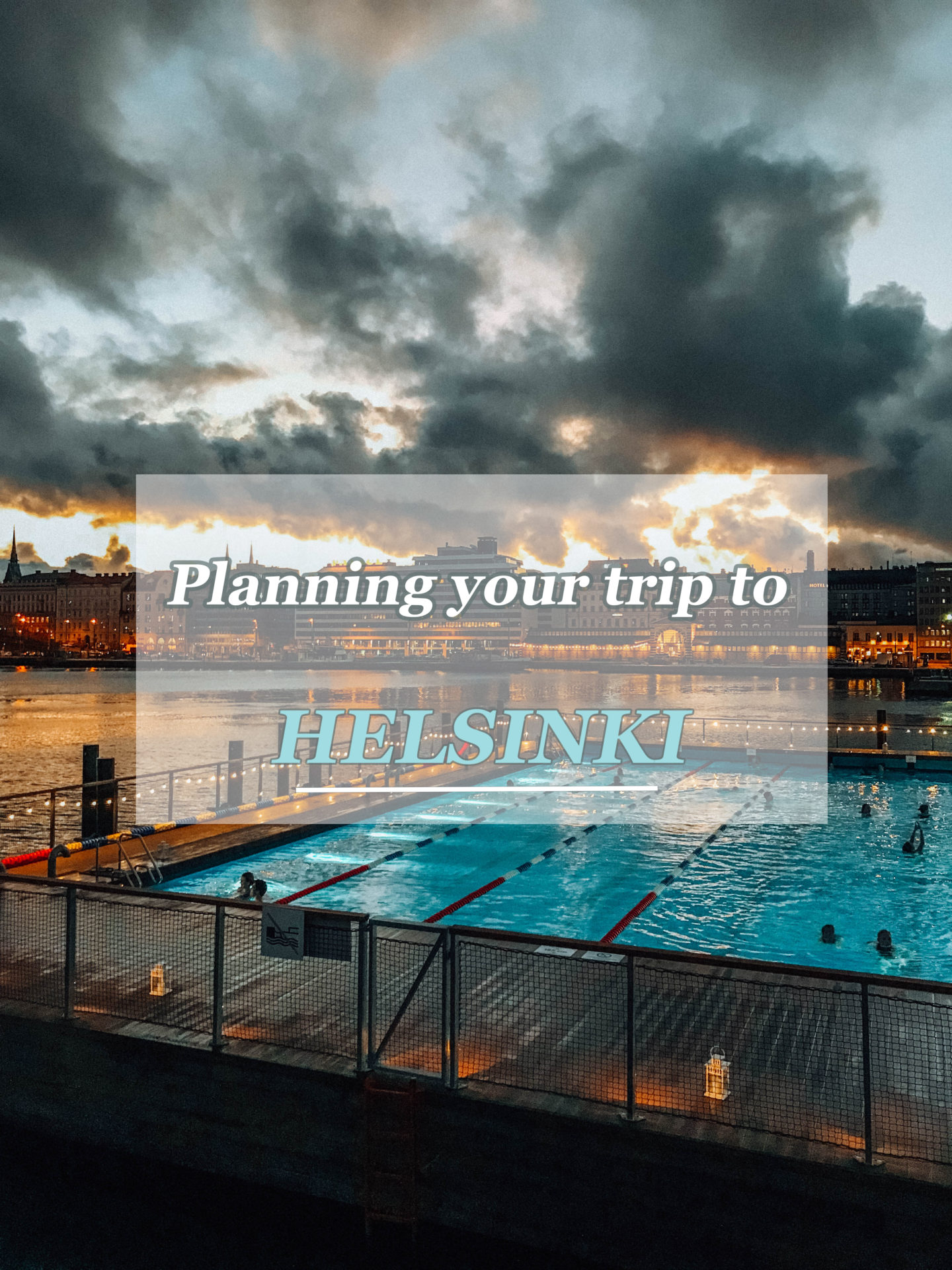 When to go?
Helsinki is full of surprises and magic in winter. We personally went there at the beginning of November, and it was already very chilly with a lot of wind and winter temperatures, which was perfect to embrace the "northern country" mood. Keep in mind that daylight goes accordingly, as in every country in the North of Europe, which means shorter days and longer nights. For us the sun was rising around 8am, declining around 3.30pm, and completely set at 4.30pm. The shortest daylight period in Helsinki is between the 15th and 31th of December, when sunrise starts around 9.30am and sunset is at 3pm. Quite a quick day! Then from January the days start to become longer again. By the way, if you plan on going to Lapland right after a quick stop in Helsinki, then February is obviously the best moment to go!

If you prefer warmer weather though, don't hesitate to go there for spring or summer, because it can get up to 25 degrees easily then. In terms of daylight again, the longest days are at the end of June, when the sun rises a few minutes before 4am and sets around 11pm! Barely 5h of night at that moment, just like often in all northern countries. However, be careful with that time of the year, as it generally gets way more crowded with tourists, and even locals, spending most of their time outside to finally enjoy all the sun they missed during winter.
As you can see, both moments have a lot of advantages but also inconvenients. Up to you! Trying both is probably the best choice 😉
How to get there?
Depending on where you come from, you can have other possibilities, but overall, taking the plane is the easiest or even only option!
PRICE
I won't lie, except if your country is very near Finland, going there won't be cheap. From Paris, we payed 275€ per person for a return ticket, considering that as usual I spent almost two days looking for the absolute best price before booking, which always makes us save a lot of money. Careful however, for once we booked at quite last minute (only two weeks prior to the trip), and it was about 100€ less for a 2-months-ahead flight. So if you book in advance and it's not too much on high season, it could cost you around 200€. As always, I would recommend you to do so – book in advance – a tip that I usually always follow but this time was special.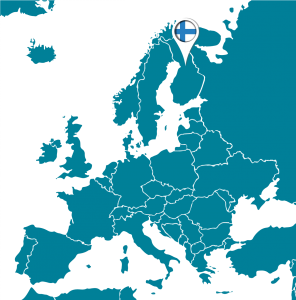 FLIGHTS
We flew to Helsinki with KLM with a 1h stop in Amsterdam (non-direct flights are also a way to save money of course) on the Thursday evening and came back on a direct one to Paris with Air France on the Sunday morning. From and to Paris, the direct flight takes around 3h. I would definitely recommend both airlines companies, it was all perfect! Otherwise, you can also fly with Norwegian Airlines, airBaltic, Scandinavian Airlines, and many others, depending on your departure city.
Where to stay?
BEFORE OR AFTER A FLIGHT
As our flight was arriving at 11pm, I decided to book our first night near the airport, because it was way more practical, and allowing us to save a lot of time and money, especially as there was no interest to go in town at that time of the night anyway – it was really only for sleeping. And we actually went back to the same hotel for our third and last night as well, for the exact same reasons, as our flight back home was departing at 6am on Sunday morning. So why bother paying way more on a fancy hotel in the center of the city, pay more in transportation to reach it and come back from it during the night each time, and also sleep way less, when you can just access in 15 min what will only be a "sleeping place" anyway?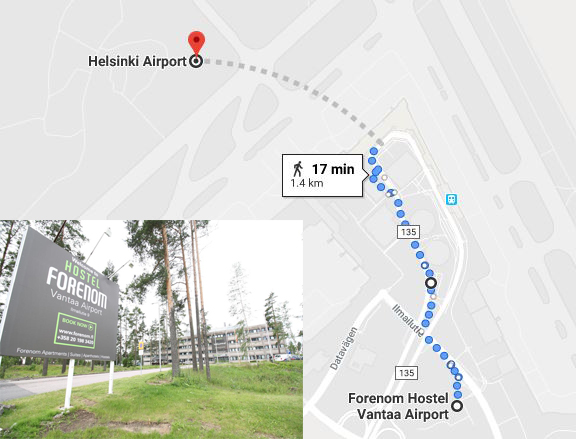 Therefore, the perfect option for us was the Forenom Hostel Vantaa Airport, that is literally 15min away (walking!) from the airport, and where you can arrive anytime, as it only works with a code system. We were only looking for a place to sleep and take a shower in, had no expectations at all, but we actually loved it – even if we are not super difficult anyway. Mainly because:
entering the room on your own is super easy at any time of the day or night
the facilities (bathroom – room) are clean, very well equipped and spacious
the beds are really comfortable
What else is needed honestly?
The pictures above show the exact 2-people room we got, and for which we payed 45€ each night, quite affordable for Finland/Helsinki. Only thing that could be a minus for you (it's not for us but once again, we are not difficult): the bathroom is shared, in a separated room. However, there is plenty of them in the building so that people don't wait or anything, and we actually never saw anyone else while we were there so it felt pretty much like it was our private bathroom. Ok, maybe it was because we were never there before 11pm or after 8am, but still.
In conclusion, a super easy, inexpensive and practical option near Helsinki airport when you arrive late and/or depart early and want to save time, money and sleep.
Do not hesitate to use my link when looking for hotels on Booking.com. It will give you 15€ of refund on your booking (directly on your credit card account after confirmation of your stay by the hotel).
IN TOWN
As you might have understood already, we are not really exigent when it comes to hotels, even if we of course like fancy beautiful luxurious options sometimes, like everybody. But when we travel it's often on a budget (also because the more you save the more you can travel, if you know what I mean 😉) and therefore the only thing that really matters to us except the price is the location.
When I asked my friend Camilla, who is a local, what was the best neighbourhood to stay in for our second (and only) night in the center, she directly said Kamppi. So, I went for Kamppi! And, of course, she was totally right: I couldn't recommend any other area in Helsinki in matter of accommodation location. You'll be near everything: metro station, fancy restaurants, lively attractions, direct train line to the airport, shops … Basically in the very center of the city as you can see below.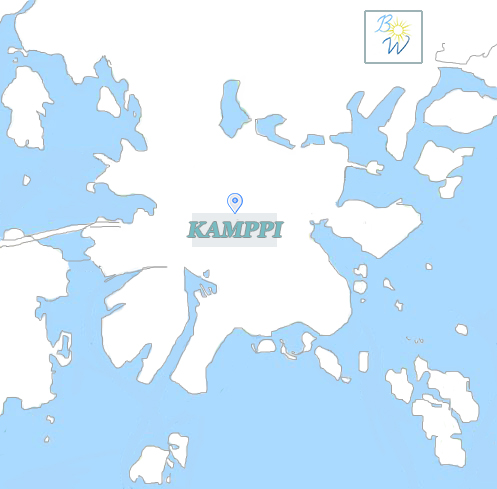 I wouldn't especially recommend the Airbnb we booked for that night in town though, it was not extraordinary, pretty basic with average equipment and it was kind of complicated to find it. Therefore, I won't include it here. But I know there is plenty of them around, along with hotels! Definitely look in Kamppi area for your stay in Helsinki.
A little anecdote that could help you not to feel surprised or disturbed once at the hotel in Finland: they usually don't make the beds, at least for average accomodation. Which means you will of course find fresh sheets and towels on the bed with pillows and duvets, but they might be folded. So you will probably need to either just install them, or even put the duvet inside its cover and so on yourself. Just another cultural habit that can be intriguing at first. Of course I didn't try all the hotels but I know it's something common!
On-site details
Finland is part of the European Union
Yes I am sure most of you know it already, but it's just for the record. It especially means that the currency is the euro (€), and that if you are a European Union citizen, you can fly there with a national identity card only, or with a passport if you prefer of course. No visa is required to enter Finland, even if you're coming from outside UE if I recall properly.
Electrical outlets
Just like in the majority of Europe, the outlets are of F type (voltage 230 V / 50 Hz frequency) in Finland. Always make sure to check on your device if it is compatible. For the record, these sockets can also be used with C and E type plugs. Of course, if you are coming from outside Europe, you might need an adapter.
Transportation
As I mentioned in my other articles about Helsinki – head there to find them all -, we personnally did almost everything on foot during our stay. The city is entirely doable without taking public transportation, at least once you are arrived in the center (e.g. from the airport). However, if you want to save time, avoid bad weather, or are tired of walking (or if you simply don't like it), there are a lot of different tram and buses lines all over the city. You might also be taking a ferry at some point, especially if you go to Suomenlinna as I recommend here !
I have listed here all the lines you might need to take to access each of the 10 must-see spots in the city. The public transport system, called HSL, allows you to transfer from one mode of transport to another with the same ticket (including the ferry), or also to purchase a daily one. Some other tickets, available on single-charge cards, enable you to travel easily and at low-cost for 1-7 days. The single ticket on its side costs 2.80€ for bus and metro, and lasts 80min. Careful, if you don't have the HSL card (which is not necessary for only 2 or 3 days in my opinion), always buy your tickets through the HSL app or from tickets machines/sales points! Otherwise, in the bus especially, it might cost you 4€ instead if you buy it from the bus driver. Last but not least, the 12-hour Suomenlinna ferry ticket costs 5€.
You can find more information on HLS website.
Time zone
Last but not least, just a reminder that Finland is on UTC+3 during summer and UTC+2 in winter (for Daylight Saving Time practices). However, as the European Parliament recently – March 2019 – voted the permanent removal of that DST procedure in all Europe, it might change very soon, and the country will decide by 2020 which time zone they prefer to remain on permanently.
Budget
You will find below the detail of our total expenses during this trip.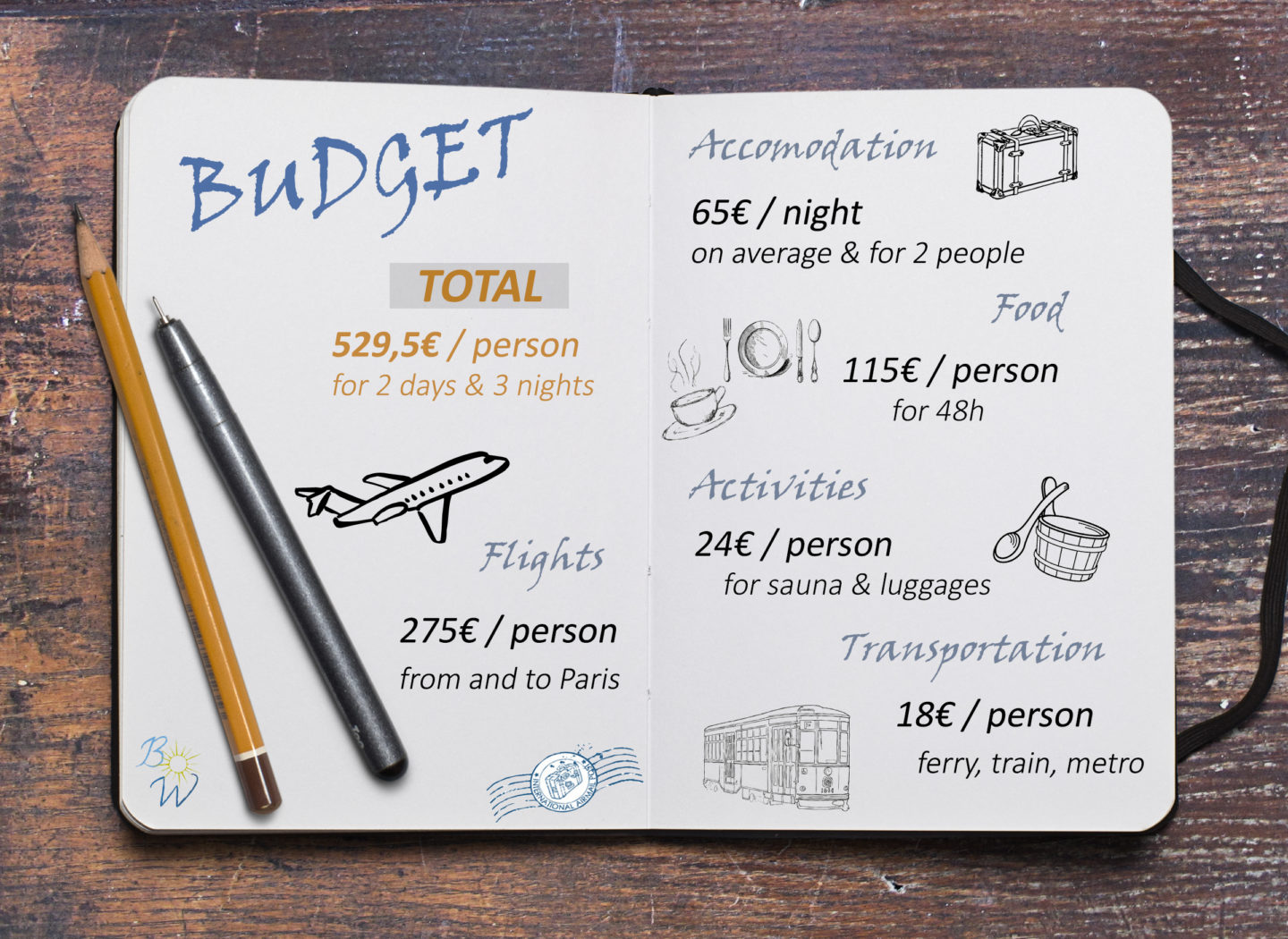 To sum up:
For the flights, count around 280€ per person (between 220€ and 350€) depending on the airline company, the chosen period and how much in advance you decide to book
The accomodation price will mainly depend on the location you choose; our budget was considerably reduced by the two nights near the airport (45€/ night each) while the night in the center alone cost 107€. In addition, that Airbnb we selected was one of the cheapest. To stay only in the heart of the city, you will have to count between 100€ and 150€ minimum per night for a mid-range accommodation.
Our food budget here includes only one brunch and one dinner on the first day, as well as a quick lunch, snacks and dinner on the second day. All the details of our meals on site are in this article. For 3 full meals a day, you will have to spend more, because restaurants in Helsinki are not what I would call affordable (as I explain in this same article). Count between 70€ and 100€ per person per day if you are not too crazy with the restaurants.
By activities here I mean only the sauna (the 1st of the 10 must-see in Helsinki) and the baggage storage room we have used (details about this in the full itinerary here). Almost all the activities are free in Helsinki, except for museums and one or two churches. Once again, I invite you to consult my other articles to find all the information by place and type of activity.
Finally, for public transportation, again it will depend on how often you take them. On our side, we took the subway only once, a return ferry trip (all rates are shown above), as well as the train connecting the airport to Helsinki main railway station in both ways, arrival and departure. The trip costs 5€ per person and lasts about 30 minutes. If you enjoy walking too when visiting a city, then you should not spend more than 20 to 25€ per person on the whole trip!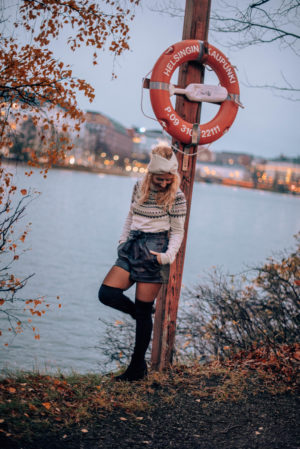 Hope you found this article helpful. Do not hesitate to email me or contact me directly on Instagram @blondiewanderlust if you have any question about Helsinki! Be sure to check the other articles for a full review, and otherwise I'll see you soon in another article!