If you are looking for amazing Autumn locations in Europe, let me tell you that you'll find them in Germany, and especially in Cologne & Düsseldorf ! Before going there on a 3-day weekend to visit some friends, I had no idea that they would hide so many autumnal gems!
Both very cosmopolitan, but not as famous as Berlin or Munich (yet?), Cologne & Düsseldorf are ideal cities to discover authentic German life, especially in Autumn. Moreover, they are super easy to explore on a weekend as they are both located in the North Rhine-Westphalia state, and separated by an easy thirty-minute train ride only. They also offer fabulous food, unique architecture, lovely cobblestone streets, aaaaand… amazing autumnal places! So, if you love this season for stunning Fall foliage, amazing city views, loads of pumpkins & moody castles, this 3-day itinerary is made for you! Just keep on reading!
If you are in a rush, save this post on Pinterest for later! ↡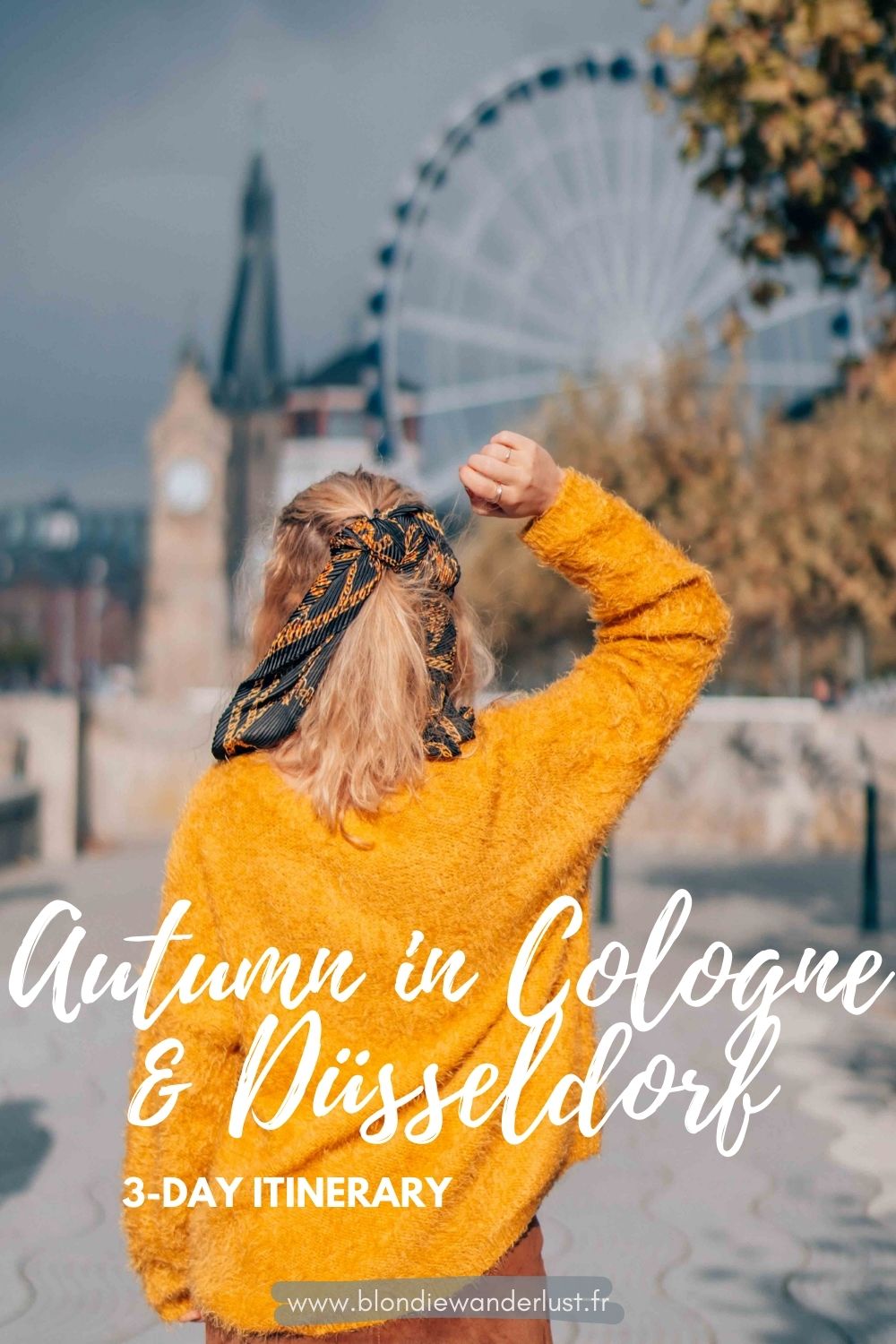 All pictures in this blogpost are edited with my own Lightroom presets. If you appreciate my editing and want to give the same look to your own photos, you can shop my presets through this link.
DAY 1: Admire Cologne
During this 3-day trip, I would suggest you to be based in Cologne, essentially for practical reasons (it's more central and you will gain time). However, if you prefer staying in Düsseldorf, that's also totally doable, as you'll see along this post.
Morning arrival in Cologne
Arrive in Cologne (Köln) as early as possible in the morning. The best is to get there by car or by train if you can, as, again, it's very central and way more practical. If you are coming from too far away and can only reach by plane, then there are chances you will actually land in Düsseldorf. If that's the case, you might want to reverse the days of this itinerary of course, and adapt the details accordingly.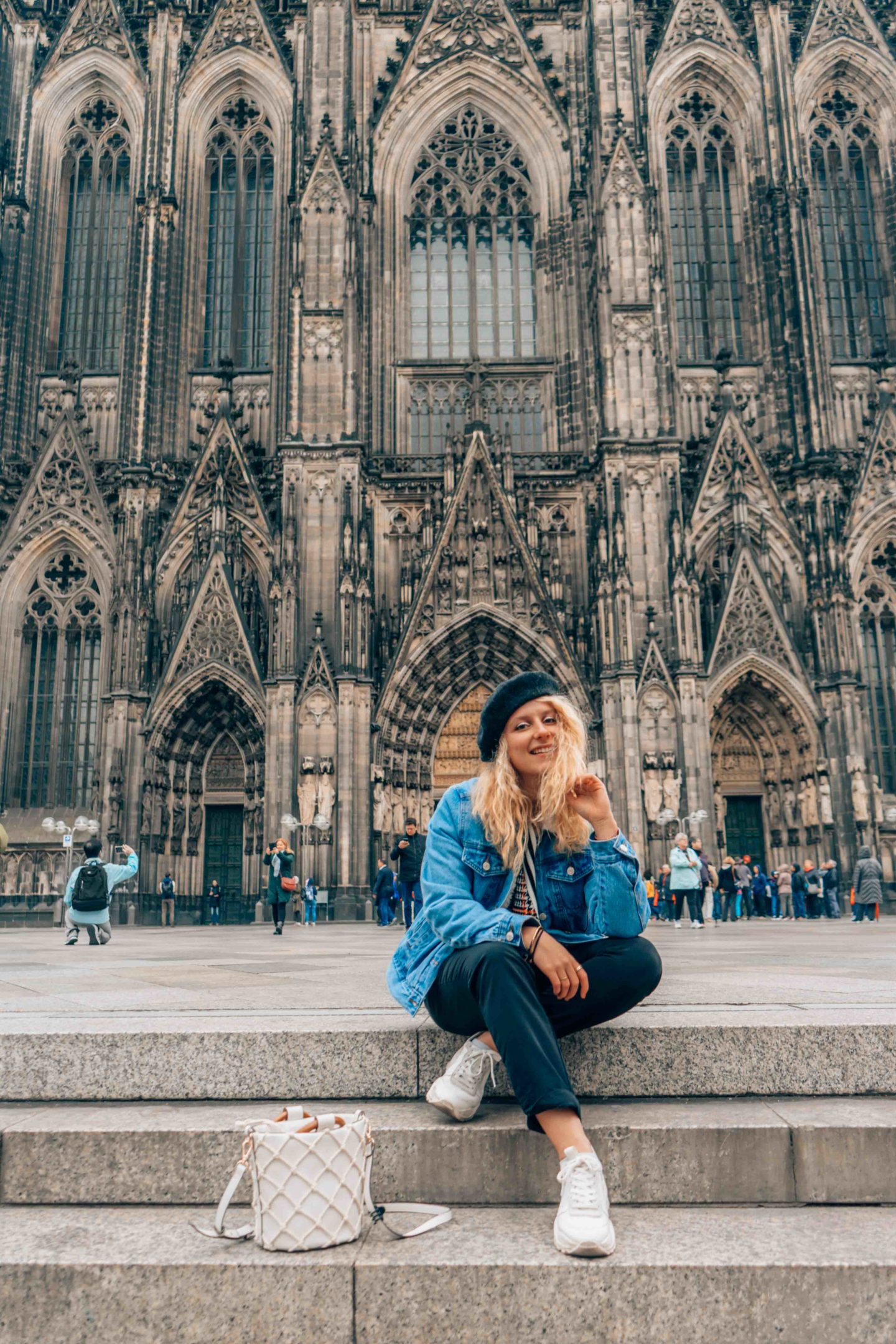 Anyway, if you park or arrive at the train station, I can only recommend you to grab a typical German pastry for breakfast on the way. You will find several bakeries inside the station, in the central hallway (search for "Le Crobag" for instance). I have been to Köln several times already, and every time I do, I never miss to buy a Nusszopf as soon as I arrive! Nusszopf is a classic German cake with hazelnut filling. It is made out of braided yeast dough and filled with almonds or hazelnuts. And trust me, it's just too good to be true!
Start by Cologne main landmark
Once exiting the train station, you'll already find yourself right in front of the very famous Cologne Cathedral. This massive UNESCO World Heritage Site is actually Germany's most visited attraction!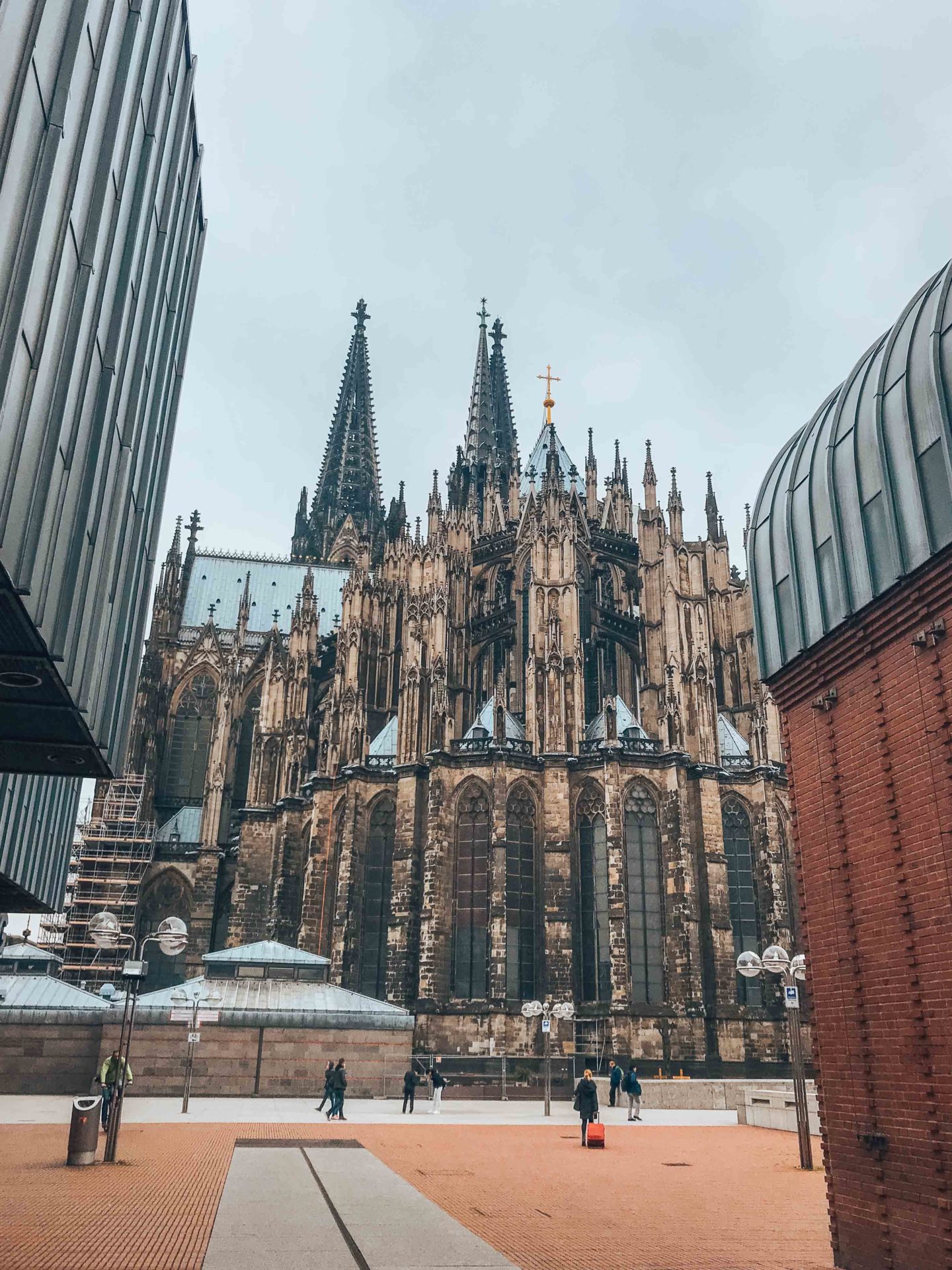 Renowned for its wonderful Gothic architecture, the Kölner Dom is also currently the tallest twin-spired cathedral in the world (157m). Its first stone was laid back in 1248, but the construction took until 1880 to be completed! It still stands as a symbol of German Catholicism and medieval heritage. Do not hesitate to visit the inside and take some time to admire the crypt, chapels, artwork and elaborate stained glass windows.
Wander in Cologne Old Town
After admiring the cathedral, head towards the Rhine and the Rheingarten (Rhine gardens) stretching along it. It's a really nice walk by the water, where people usually come to sit and chill in summer days. From there you will be able to admire two bridges: the Hohenzollernbrücke on the left and the Deutzer Brücke on your right. They basically mark the limitation of the Old Town area.
After a few steps, you will soon find on your right the Fischmarkt (Fishmarket), a very charming square with a fountain called Brunnen der Fischweiber. This iconic spot is very Instagram-worthy as it features adorable candy-colored houses, traditional Gothic architecture, and the St. Martin Romanesque church right behind.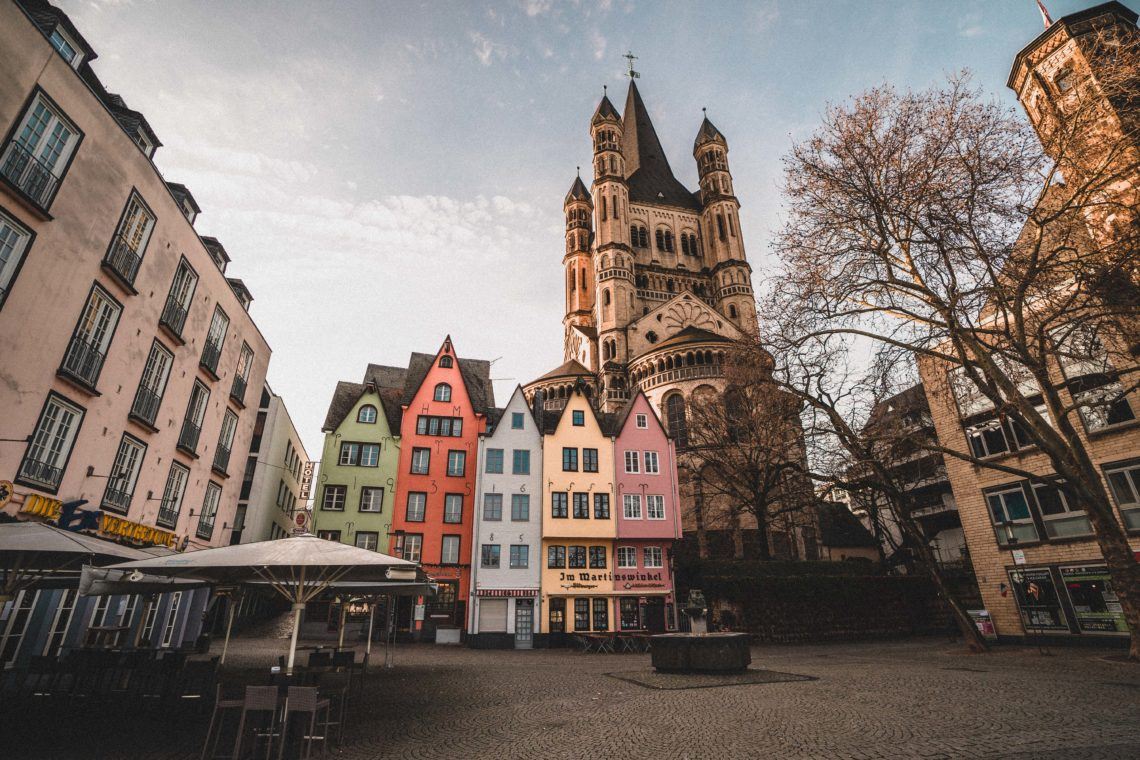 As you can guess with its name and location along the banks, this place used to be the historic city fish market, with roots dating all the way back to the 13th-century. Quite logically, most of the Old Town area lies behind it. In this neighborhood, you'll find for instance the Alter Markt (Old Market square), the Rathaus Köln (Cologne City Hall), and many museums and churches to visit. It's also obviously the perfect area to have a German beer and a local lunch after wandering through the quaint cobblestone streets.
Did you know?
Something to know about Cologne is that a big part of the city was bombed during WWII, especially in the center (90% of the old town, including the Dom). Many places were then painstakingly rebuilt to match their original medieval designs.
Photograph Cologne's urban architecture
After lunch, keep on walking along the Rhine and leave the Old Town behind you by passing next to the Deutzer Brücke. Barely 800m further away, you will find the Malakoffturm (Tower Malakoff) right in front of you. This massive neo-gothic defensive tower overlooks the entrance of the former port. At its foot is an attractive swing bridge, the Drehbrücke.
In plus of being quite instagrammable, this small bridge will give you a better idea of how old and modern architecture cohabit in Cologne. It leads to the Chocolate Museum which is highly visited. Further behind, you will get a glimpse at the striking "Kranhäuser" ("the crane houses"), another icon of the city. These three award-winning highly photogenic blocks (one residential and two hosting offices) can't really be ignored! The best view you can get on this architectural landmark is from the Severinsbrücke.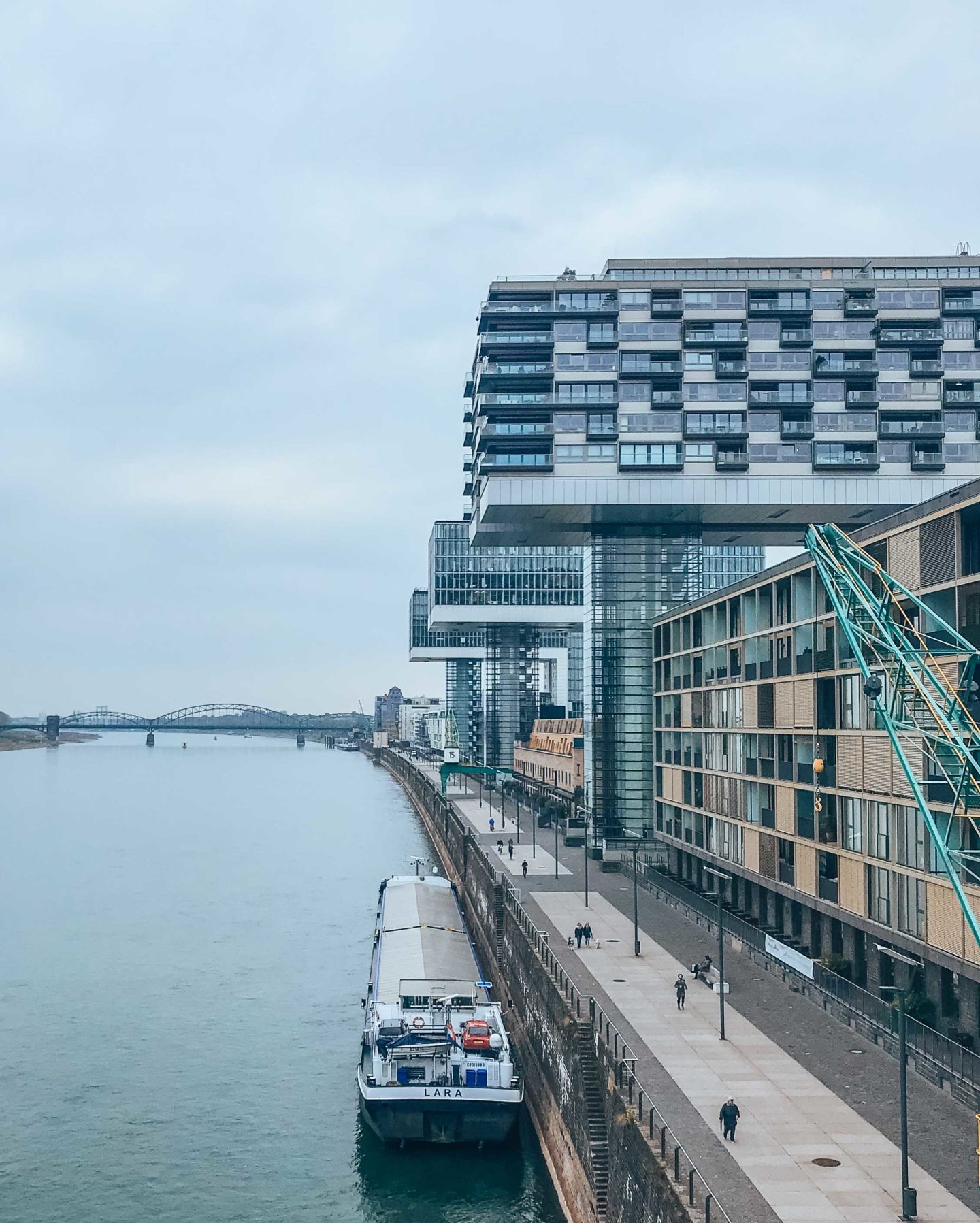 This whole area, called the Rheinauhafen, has been rehabilitated from an 1880s' commercial harbor to a dynamic business district evolving around a nice marina. Once you're done touring it, you can either walk back on your steps along the Rhein River, or take public transport from "Ubierring" to go back to the Deutzer Brücke. It will take you either 20 or 30 minutes respectively.
Cross the Deutzer Brücke & the Hohenzollernbrücke bridges for city views
After exploring the Old Town side thoroughly, it's time to cross the river and get views on the city from the other side! To do so, the KölnTriangle tower (or Triangle Turm) is the absolute best. After crossing the bridge, take a left on the Rheinboulevard along the river and you'll reach it in barely 10 minutes. In autumn, end of the afternoon is the perfect moment to go up there, as the sun sets right behind the cathedral that you'll have in front of you.
Practical information: Open Monday to Friday from 8am to 6pm / Saturdays, Sundays and public holidays from 10am to 3pm. The ticket costs 5€ for adults and is free for children under 12.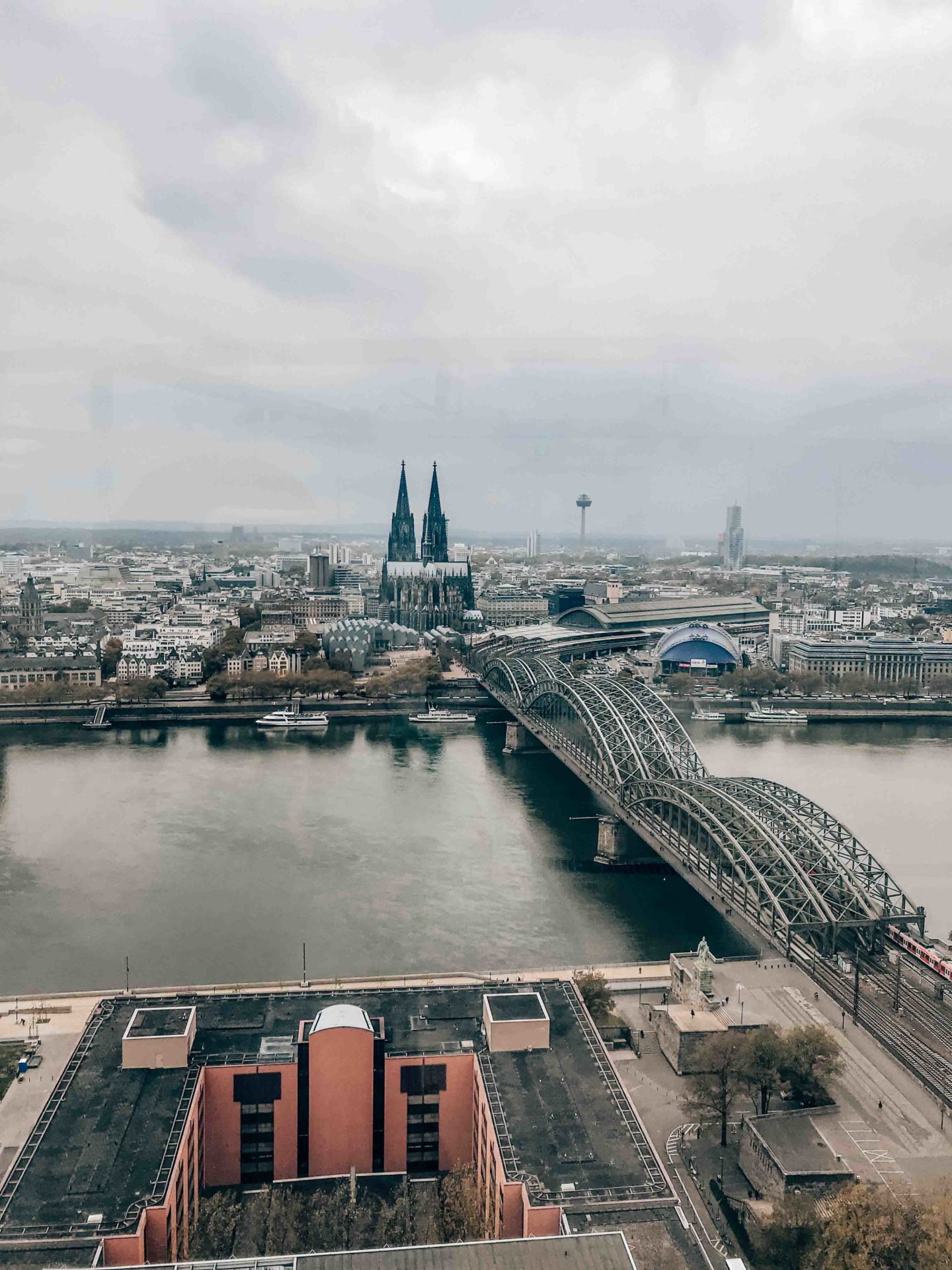 Once done admiring this stunning panorama, go back to ground floor and head to the bridge straight in front of you! The Hohenzollernbrücke (Hohenzollern Bridge in English) marks the end of this loop as it leads right back to the Dom, where you started this first day. On the way, you can add your love lock to the thousands hanging from it already, if you like. If you're lucky, you might keep on enjoying amazing sunset views from there too. Then it will be time for dinner, and you'll find plenty of possibilities in the international and diverse food scene that Cologne is!
BONUS: If you're not too tired after this exploration day, you might want to try going out in Cologne. From what I've experienced, it hides a pretty cool nightlife, as my memories from a wild night dancing at the Flanagan's can attest!
DAY 2: Discover Düsseldorf
Time for this second day of your autumnal weekend in Köln & Düsseldorf. Take a morning train from one city to the other for a lovely day trip! It will only take you 25/30 minutes with a direct or 50 minutes with an intercity train. The ticket cost me 11€ in 2018, and I don't think the price range changed much.
Start your day shopping & playing with leaves
Head to the Hofgarten, Germany's first public park, as your first stop in Düsseldorf. This lovely garden is ideal for a morning walk, especially in Fall season! The leaves are everywhere and make the place highly photogenic. Perfect if you want to practice your "Throwing leaves" photos!
After that, exit the park on the south side, and walk straight to Königsallee, the chic shopping street in town. Even if you don't want (or cannot) purchase anything in the premium & designers brands aligned here, it's a great place to soak up the affluent atmosphere and do some window shopping. This luxury boulevard will also allow you to take photos of the canal and its very elegant bridges and fountains.
Stroll there until 11am/noon, then it will be time to head to the next step.
Have lunch in Carlsplatz
The Carlsplatz local market is an absolute must-do when visiting Düsseldorf, especially in autumn. Indeed, at this period you will probably find pumpkins stalls there, just like we did. We came across this pumpkin carving spot and we actually wanted to participate, but the average age was 6 … so, sticking to pictures was the only solution 🎃
Take some time to wander from stand to stand and soak up the authentic farmers' market vibes. Moreover, you'll see that it is also the perfect place for lunch! What used to be an everyday groceries market had now turned into a real gourmet culinary destination as well. Indeed, you will find many food stalls & small restaurants, making it a real "meeting point for foodies" as my local friend Paula says. By the way, for more food addresses, head to this article she wrote cause who knows the best food places better than a local right?!
On our side, we had this incredibly delicious pizza above at Nine O Five that I totally recommend. From what I have been told, their stall at Carlsplatz had to be closed because of Covid unfortunately, but they still have their original restaurant in the city if you still want to check it out. After lunch, you can also go to the Copenhagen coffee lab & Bakery nearby if you fancy a dessert and a warm tea/coffee. Find other cafe ideas here too. 
Wander in the center and along the Rhine
From Carlsplatz area, walk towards the Burgplatz by taking Berger Street. Once again, this cobblestone street lined with shops and restaurants will give you a great glimpse into the local life. You will soon pass by the Markplatz (Market square) on your left, where the trades used to happen from the 15th century until moving to Carlsplatz in 1910. It's also where the Old Town Hall is. Walk a little bit further and you'll be on the Burgplatz.
Probably one of the most symbolic places of the city, the Burgplatz was named for the castle that stood there beside the Rhine until the end of the 19th century. Only a few vestiges of it are left on the square, the Schlossturm tower. Inside, there is now a museum about Düsseldorf's naval trading & inland shipping history. On this square, you will also find the Wheel of vision, a big wheel attraction adding a lot of fun to that historic place. It also works really great as a photo background!
From the Burgplatz, you will directly find yourself along the Rhine, on the Rheinuferpromenade. In summer, many people take a stroll there, sitting & having a beer on the Rheintreppe steps. While walking on this waterfront, you will get wonderful views on the city skyline and bridges: the Oberkasseler Brücke on the right, and the Rheinkniebrücke on the left. Behind this one, your eye can't miss the futurist Rheinturm (Rhine tower) either.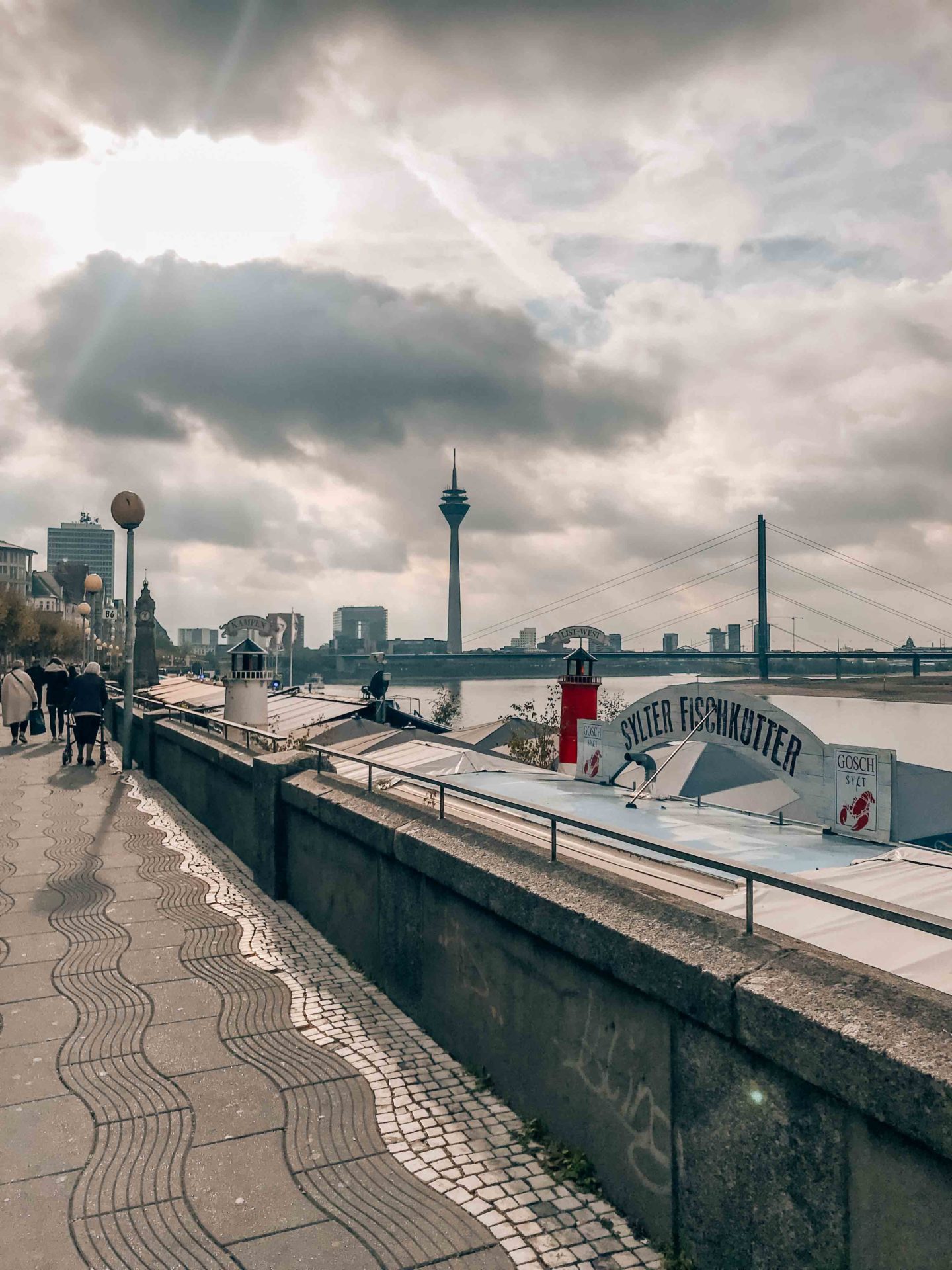 If you want to visit this communications tower, which is also the tallest building in Düsseldorf (240 metres), it will cost you 9€ for the observation deck. It also holds a revolving restaurant at 170m to enjoy the great panorama while eating.
Head to the Media Harbor district
In any case, walk along the Rhine all the way until you pass the Rheinturm, and even further. At the southern end of the promenade, you are now entering the Media Harbor District (MedienHafen). Right behind the tower, you should soon find the Neuer Zollhof residential buildings, designed by Frank Gehry. Among the 3, it's really the central building's stainless-steel facade that stands out. The outer two are simpler, in white plaster and red brick respectively.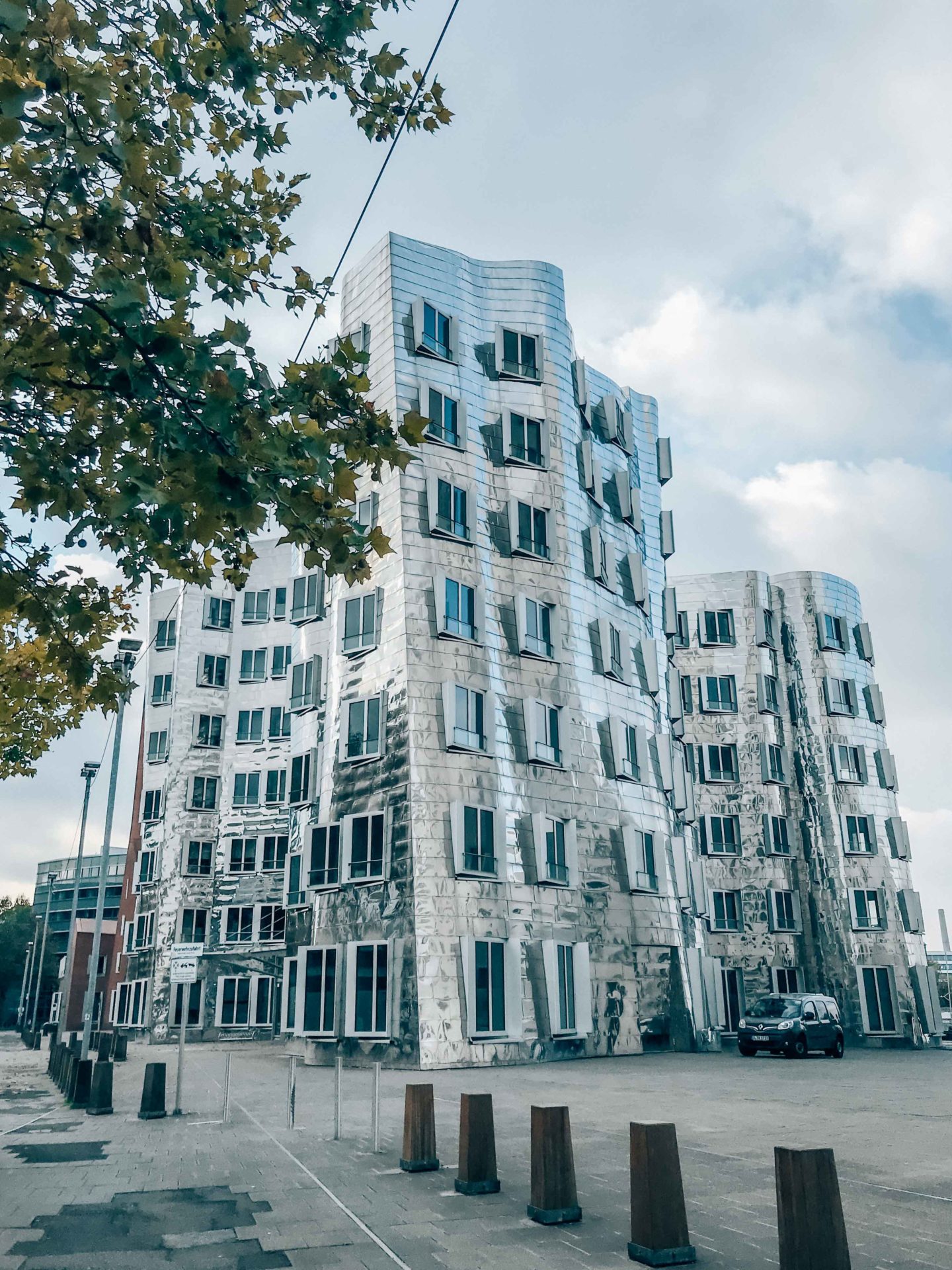 This unique architectural landmark is part of the redeveloped port of Düsseldorf (in the same type of initiative than Cologne). Indeed, since the 1990s, Düsseldorf's docks have been transformed into a contemporary office district for fashion brands and media firms, but it also contains restaurants, bars and a cinema. To see more of it, cross the Brücke Im Medienhafen (MediaHafen Bridge) which offers great views on the whole area.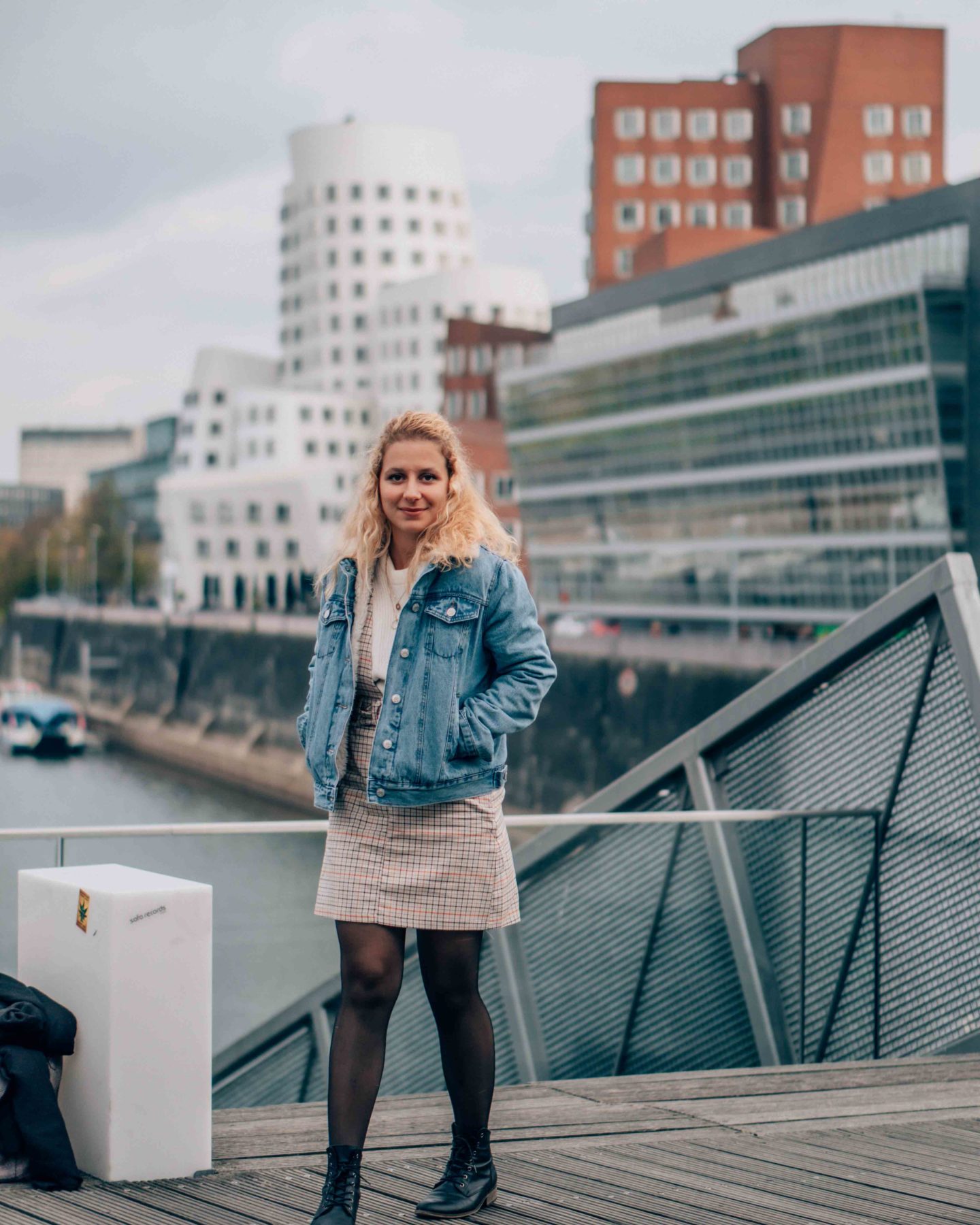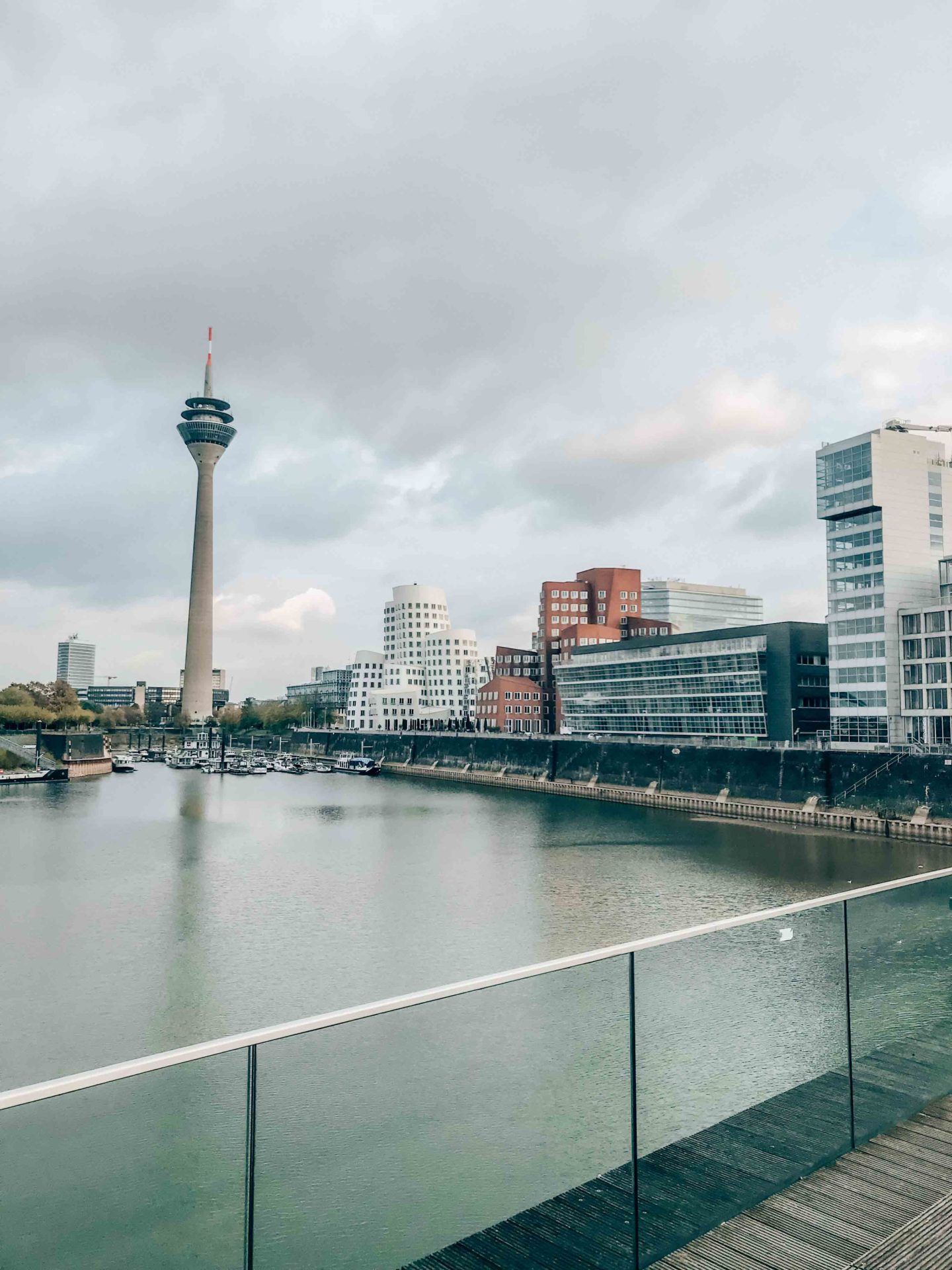 Take photos and/or have a drink there
On the other side of it, you will see the very modern Pebble's. Looking like a silver shiny spaceship, this bar-restaurant in front of the Hyatt Regency Hotel overlooks most of the landmarks mentioned above, due to its position on a headland. You can even spot the twisted spire of the St. Lambertus-Basilika in the Altstadt (Old town) on the horizon. Taking photos with this view or on the steps works really well!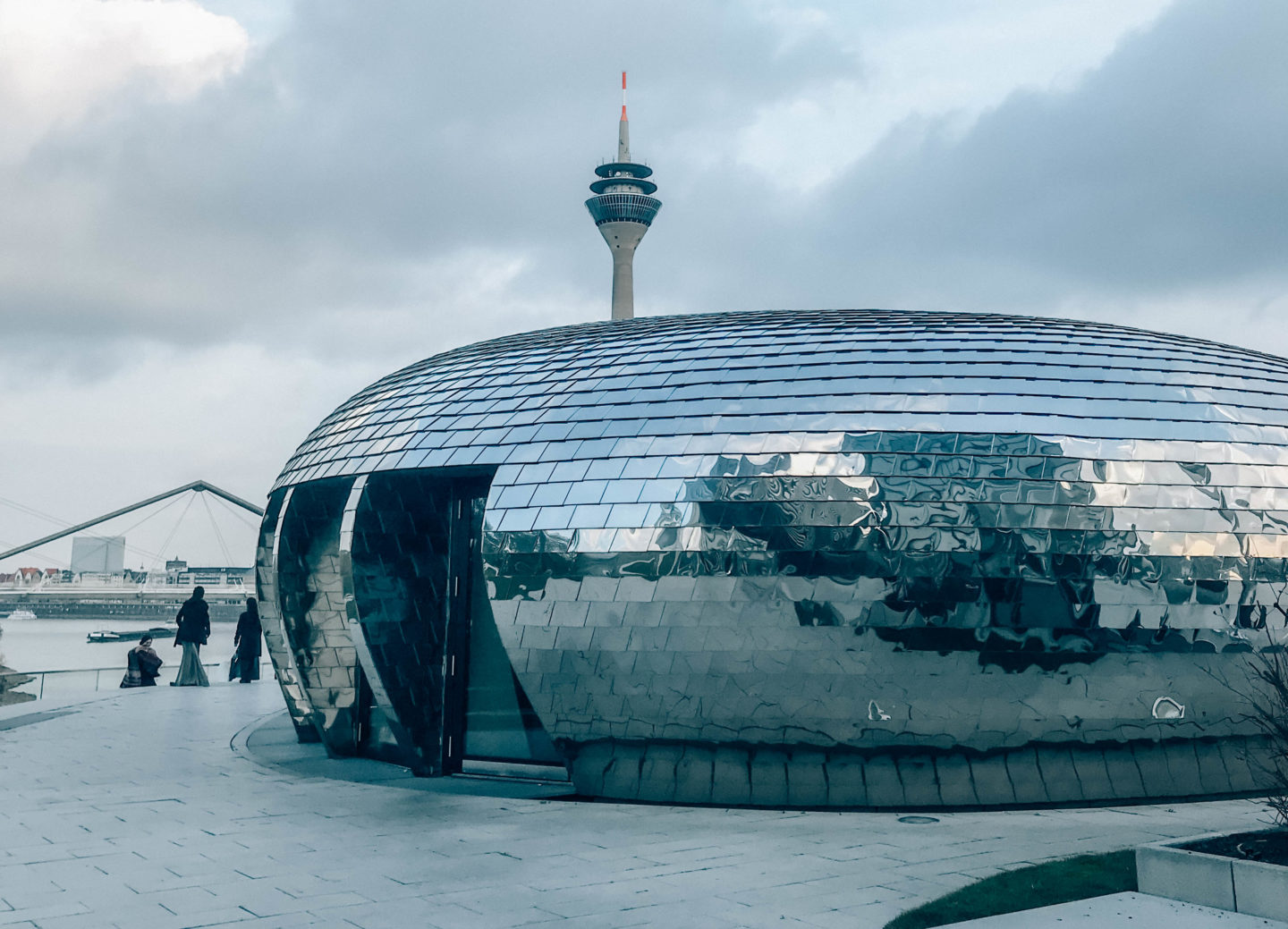 Not far from there, we also found the "Lido Bistro" which is quite photogenic too with its vintage vibes.
If you still have time after all this, the Parliament, the Dreischeibenhaus or the Schauspielhaus (theatre) are other architecture icons that you can admire in the city.
That's where this second-day tour of Düsseldorf ends! As the night comes, you can either choose to go back to Cologne straight away or have dinner here. Düsseldorf is highly famous for its Japanese food especially, but it also offers many great options from all over the world. Moreover, if you have time (or if you stay in Düsseldorf), you need to wander through the Aldstadt by night. It's the world's longest bar with 200 separate establishments!
DAY 3: Autumnal exploration trips from Cologne
Now that you explored both cities, it's time to focus on the other main aspect of this trip: chasing the Fall goodies! You will need a car for that, so if you didn't come with yours or rented one, try to find a taxi for the day (but it's far from being the easiest). If you are not interested by those places, then as you've seen above, a 48h weekend can be enough to explore Cologne & Düsseldorf. But you would be missing real gems, starting by Burg Eltz!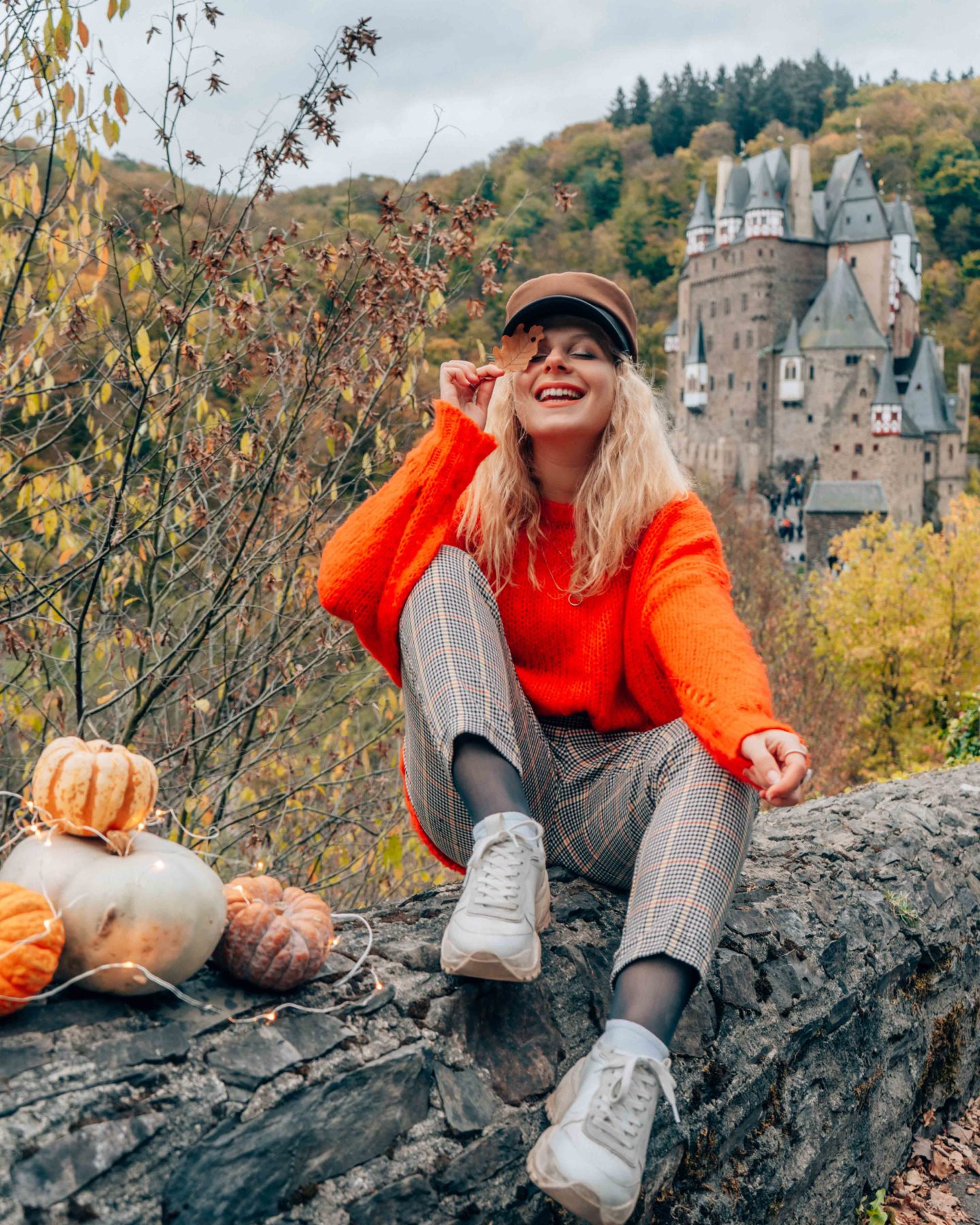 Dreamy morning in Burg Eltz
Burg Eltz is one of the most iconic and impressive castles in Germany, and with good reason. Worthy of a fairytale, it is nestled in the hills bordering the Moselle Valley, perched at the top of a rocky promontory overlooking the river, and surrounded by a huge forest. Since it got built, it always remained in the possession of one same family, which is quite extraordinary for castles! This magical place is a must destination for every autumn lover, as the foliage around is all yellow and orange in this season.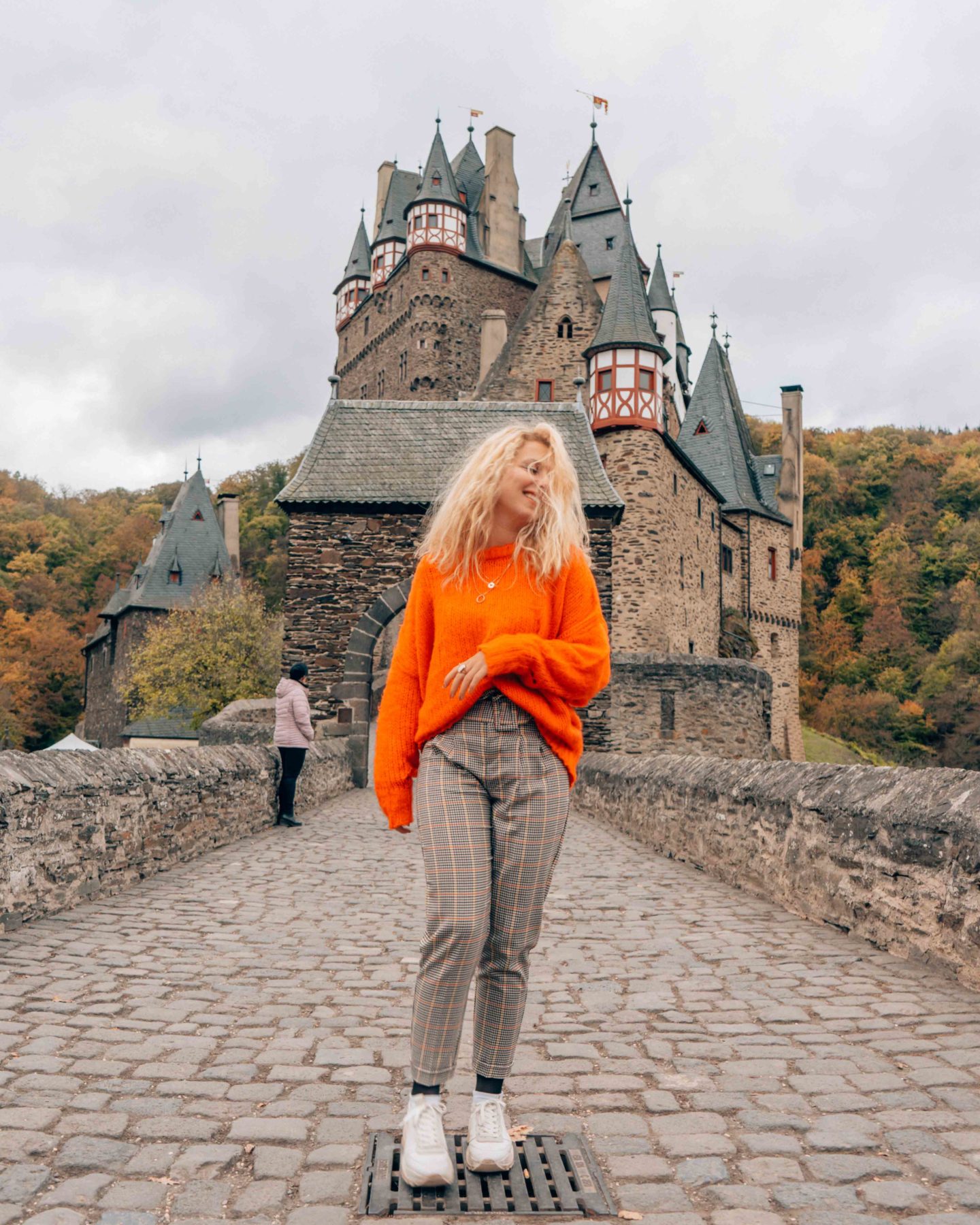 As always, make sure to arrive early to beat the crowds if you can. From Cologne, the trip will take around 1h30 by car, and from Düsseldorf, approximately 2 hours. To reach Burg Eltz itself, the best is to park in the parking lot next to the little chapel. From there, you can either use a shuttle bus or walk to the castle directly. There is one regular road (taken by the shuttle), or a hiking route through the forest. I recommend you to take the hiking route if you can, for some breathtaking views and enchanted forest vibes. It's not a difficult walk, just a bit longer (count around 20 minutes).
If you don't have a car and no possibility of renting one or using a taxi, then you will have to skip this place and try to go to the next one only.
A pumpkin paradise afternoon in Erlebnisbauernhof Gertrudenhof
Contrarily to Burg Eltz, it is indeed possible to go to Erlebnisbauernhof Gertrudenhof from Cologne without a car, even if it's not the easiest. The closest tram station is Hürth-Hermülheim, but from there you will still have to walk quite a bit. So, if you can, once again I'd definitely recommend going by car. It takes barely 25 minutes from Cologne, and 50 minutes from Düsseldorf.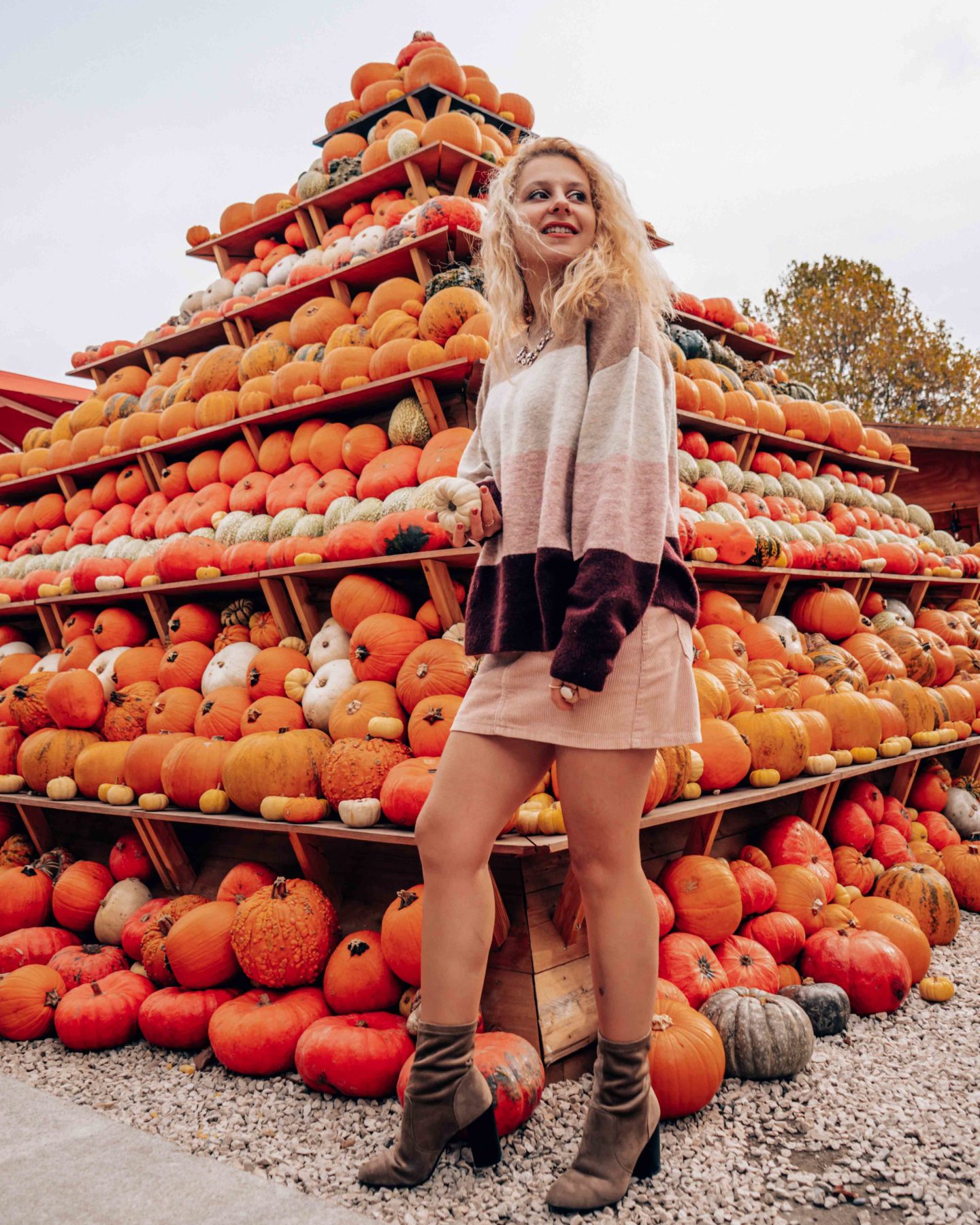 This place got quite instafamous over the past few years, but it does deserve it! Every Fall, the Gertrudenhof "adventure farm" builds a stunning pyramid of pumpkins and turns into a true paradise for autumn lovers & photographers. It's clearly the best place to take iconic photos, but be careful of when you go, as it usually gets quite crowded!
There, you will also find literally everything pumpkin-style during this time of the year: actual pumpkins of course, but also pumpkin oil, pumpkin champagne, pumpkin spice latte, pumpkin pancakes (they're delicious!), and so on and on.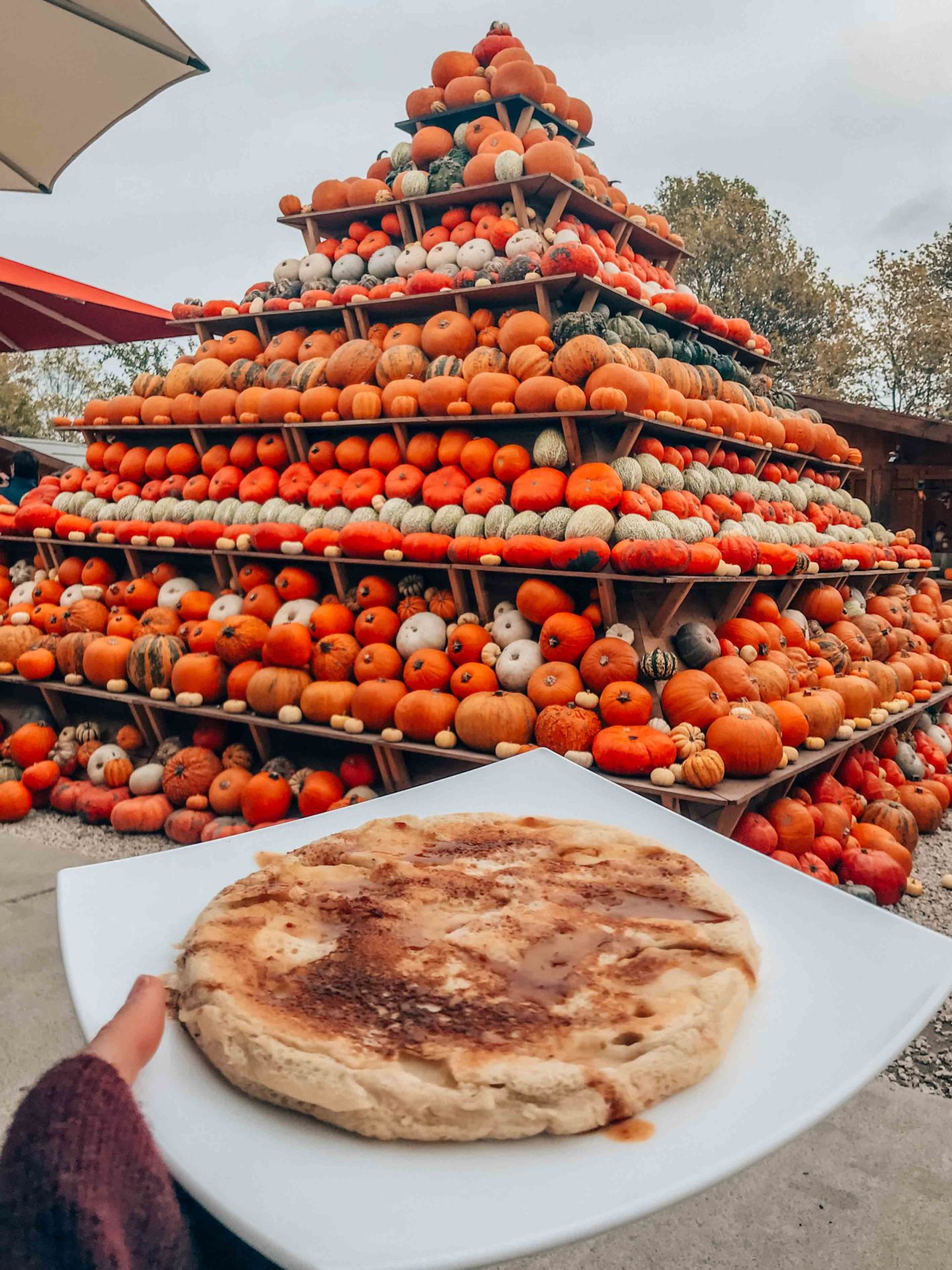 And that's it!
It's already the end of your autumnal adventures in this part of Germany! After this third-day excursion outside town, you can safely say you've explored the best Fall attractions in the area! Time to get back to Cologne (or Düsseldorf if you were based there) and then return home. If you are on a trip around Europe or already planning your next trip after this one, you might also want to check my blogposts about Belgium or Finland! They are perfect destinations for Autumn/Winter too.
In any case, I hope this blogpost was useful to you. Do not hesitate to ask me any question you'd still have left in the comments below, and to tell me if exploring Cologne & Düsseldorf during Autumn season is now on your bucket list! In the meantime, you can also contact me directly on Instagram, I will answer you with pleasure.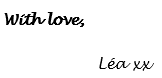 If you enjoyed this blogpost, save it on Pinterest for later! ↡