Even though Singapore is only a very small red dot on the world map, this island city-state is probably the place where I have seen the most photo-worthy locations until now. At the moment (October 2020), when searching #singapore on Instagram, you'll actually find yourself overwhelmed with more than 39 million results! So yes, let's say that coming up with a list of only 15 instagrammable spots was not an easy task; which is why it mostly includes the most famous must-see places in town, along with a few of my personal favorites!
If you are in a rush, save this post on Pinterest for later! ↡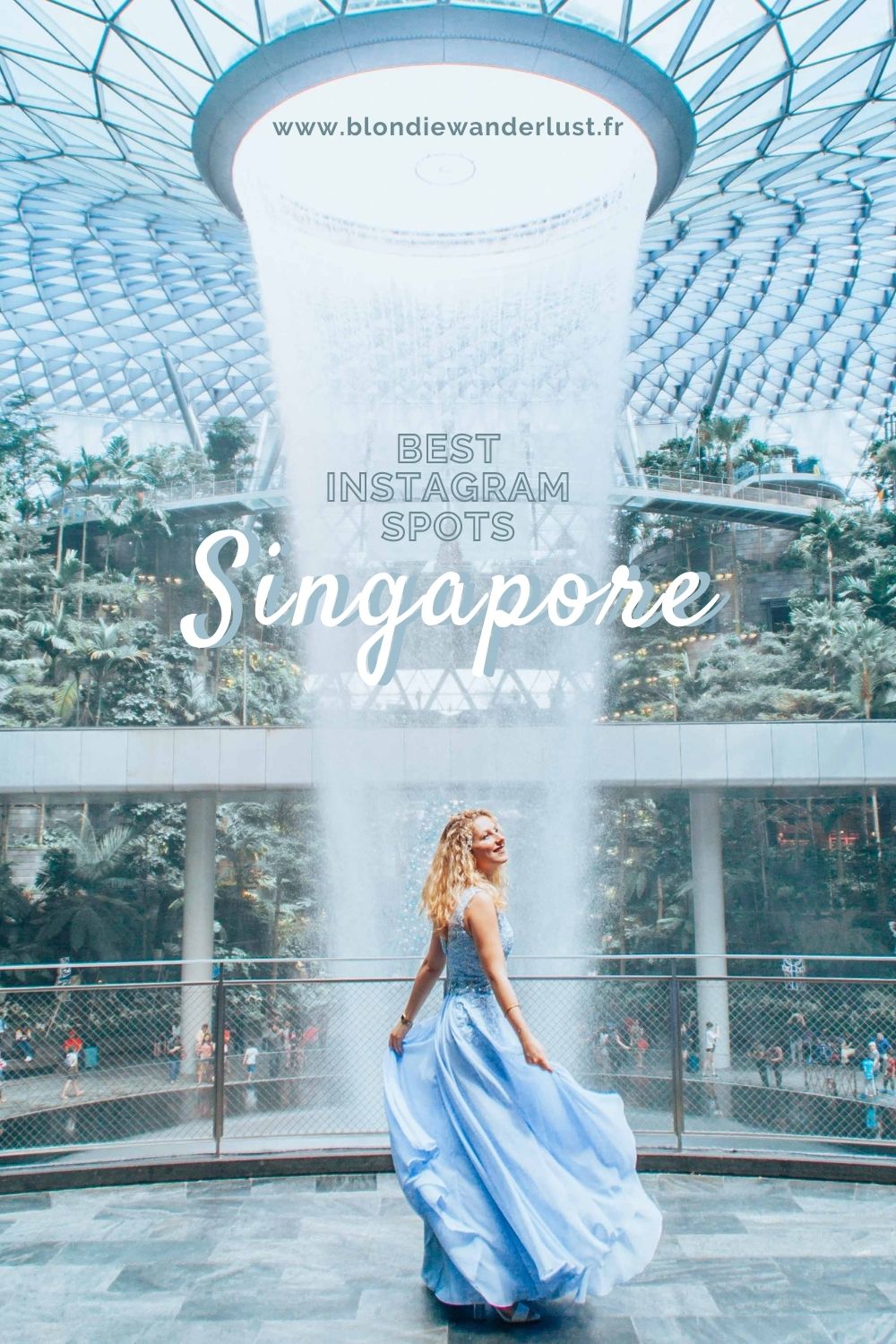 Mixing tradition with modernity, colors with concrete, the vibrant metropolis at the crossroads of Asia hides many scenic gems. At the image of Singapore, this list of the most instagrammable spots is then very diverse, with a place for every taste. Keep on reading and I am sure you'll find yourself obsessed with at least one among them all!
General photo tip:
In Singapore, the weather is particularly hot & humid. With that in mind, I strongly advise you to take photos early in the morning or late in the afternoon if you don't want to burn posing under the tropical sun and look inelegantly sweaty on all the pictures. It will also enable you to explore these instagrammable spots without the usual crowds of tourists, especially if you go in the morning, as they can be pretty packed during the rest of the day. Last but not least, as you surely know if you are into photography, the light will be far better during the soft morning or before-sunset golden hours. So, for all these reasons, avoid the harsh midday sun as much as possible when shooting outside!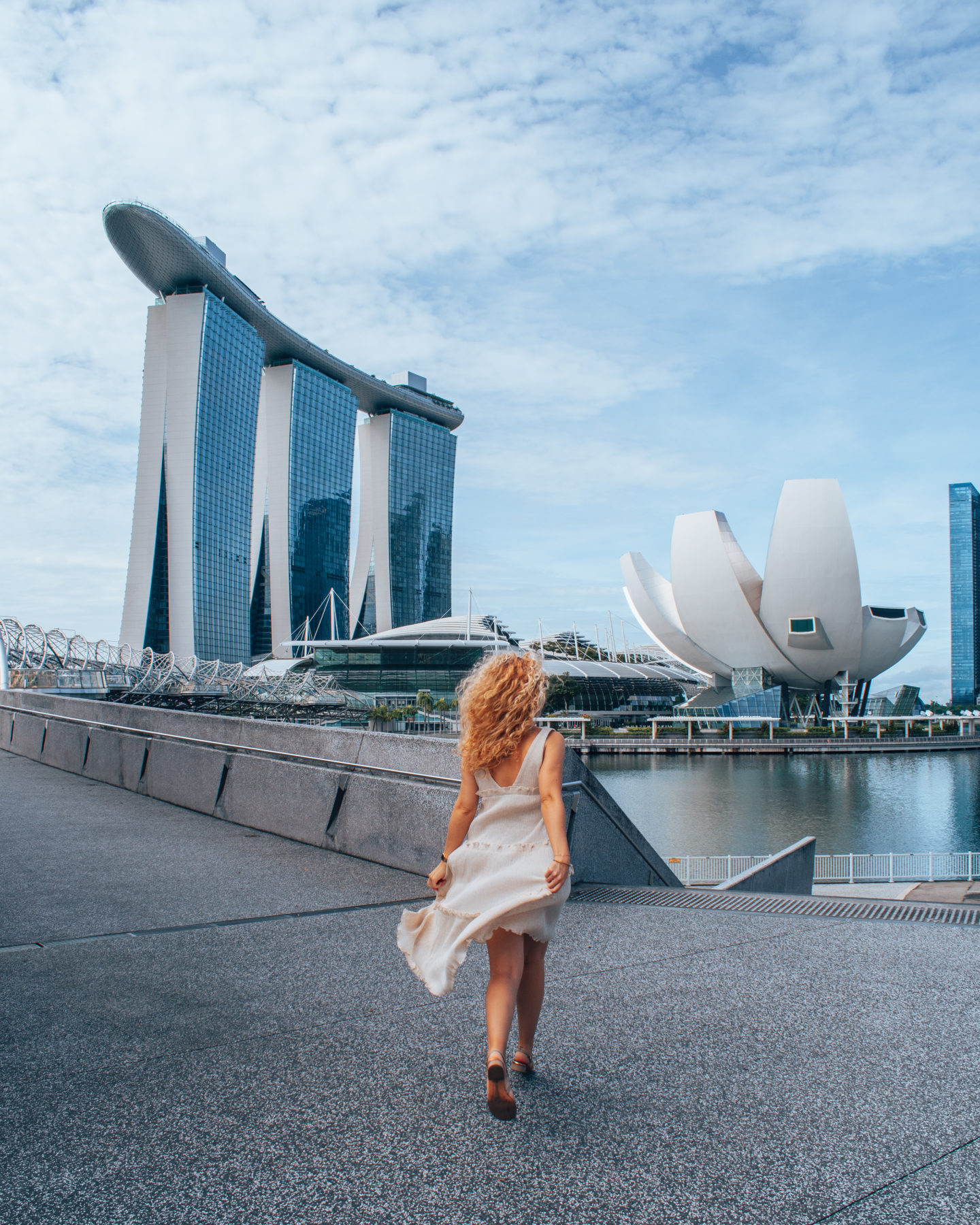 1. Marina Bay
Yes, this is clearly the most obvious spot in this list, but could I really start by another one?
Indeed, Marina Bay has become the most emblematic place of Singapore, as it gathers both the world-famous Marina Bay Sands hotel & its iconic boat-shaped rooftop infinity pool on one side, and the Merlion, official symbol of the city, on the other. In between, your eyes will also fall on the massive Art Science Museum, but let's keep this one for later.
When arriving on Marina Bay, the photos options are countless, as each side offers a different view. Here's a few of my favorite angles:
Photo tip:
From top left to bottom right, here are the exact locations of the instagrammable spots above:
very beginning of the Helix Bridge (next to the Youth Olympic Park)
Esplanade Outdoor Theatre
Dream sign, near the Promontory
Esplanade Walk, near The Float @ Marina Bay
You can also book a stay in the Marina Bay Sands hotel itself, if you have the budget for it and want to get a shot inside the incredible pool. But it's also possible to just have a drink on top at sunset – to my opinion, the bar Cé la Vie is the best for that.
Next to the Marina Bay Sands (on the left side when being in front), you will find the second spot of this list of the most instagrammable spots in Singapore: the Helix Bridge.
2. Helix Bridge
Linking Marina Centre with Marina South by crossing the bay, the Helix Bridge is a truly unique piece of architecture, and my personal favorite among all other instagrammable spots in Singapore. Every time I walk on it, I keep on getting impressed by its spiral shape, remarkable materials, and the four viewing platforms located all along it to get strategic stunning views on the skyline and the bay.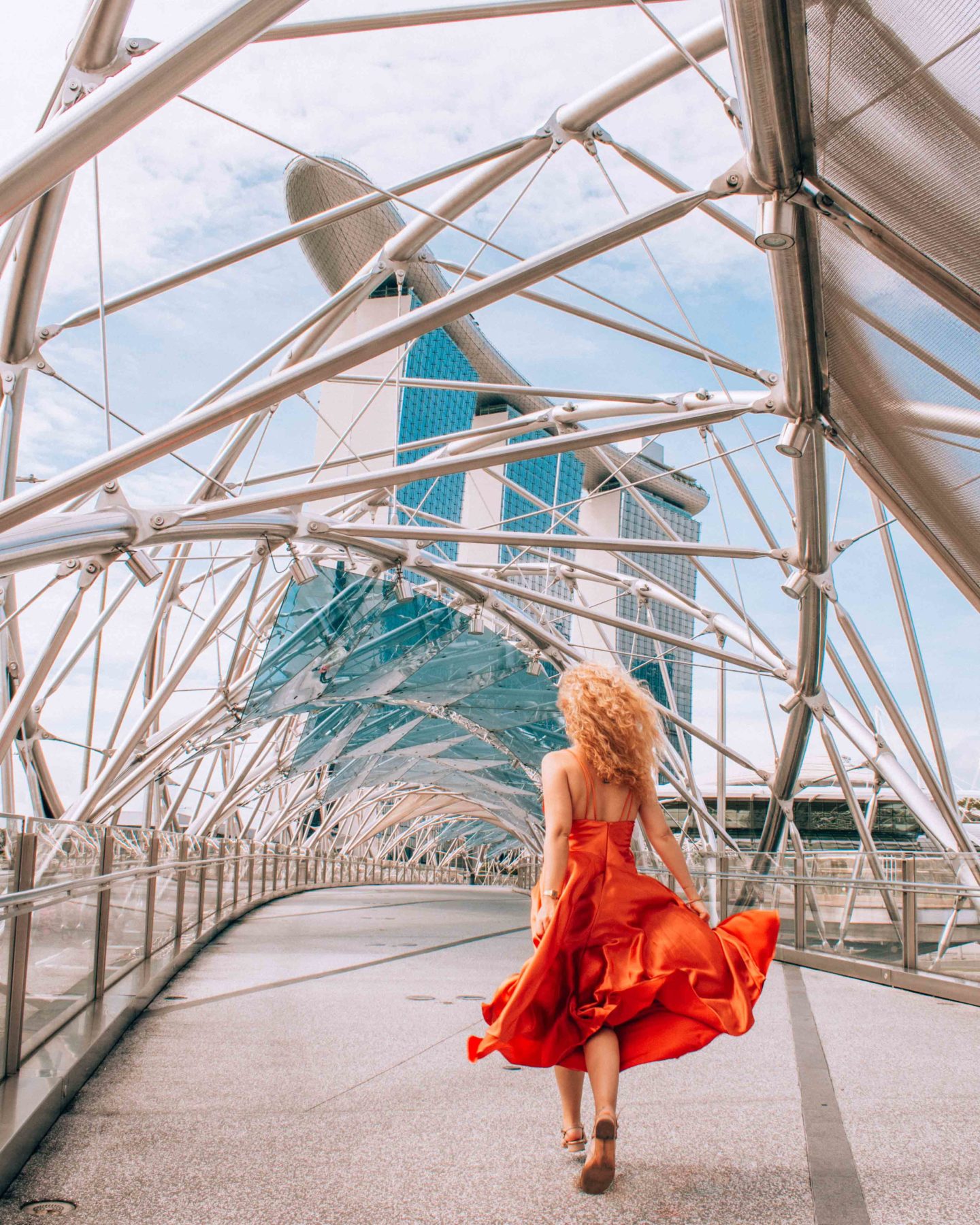 This double-helix structure is illuminated at night to create even more of a visual experience to the visitors. By the way, the colored letters c, g, a and t that you will see by pairs on the floor represent cytosine, guanine, adenine and thymine, the four bases of DNA, to wink at the DNA-like design of the bridge. To me, it embodies perfectly the modernity of Singapore, and offers endless possibilities for photography as well.
Photo t

ip:
To capture the iconic architecture of the bridge, make sure to vary and/or lower your angles! Also, this place is always quite crowded as it's the most common pathway to reach Marina Bay Sands, so go early in the morning or very late at night. It's also an amazing spot for sunset views over the Bay, even though it will be packed for sure at that moment.
3. Art Science Museum
At the end of the bridge, you will arrive in front of the ArtScience Museum. Just one glance at its futuristic architecture is enough to make you turn your camera on and start shooting. Designed in order to reminisce a lotus flower, it is also referred to as "The Welcoming Hand of Singapore", because of its ten extensions looking like fingers.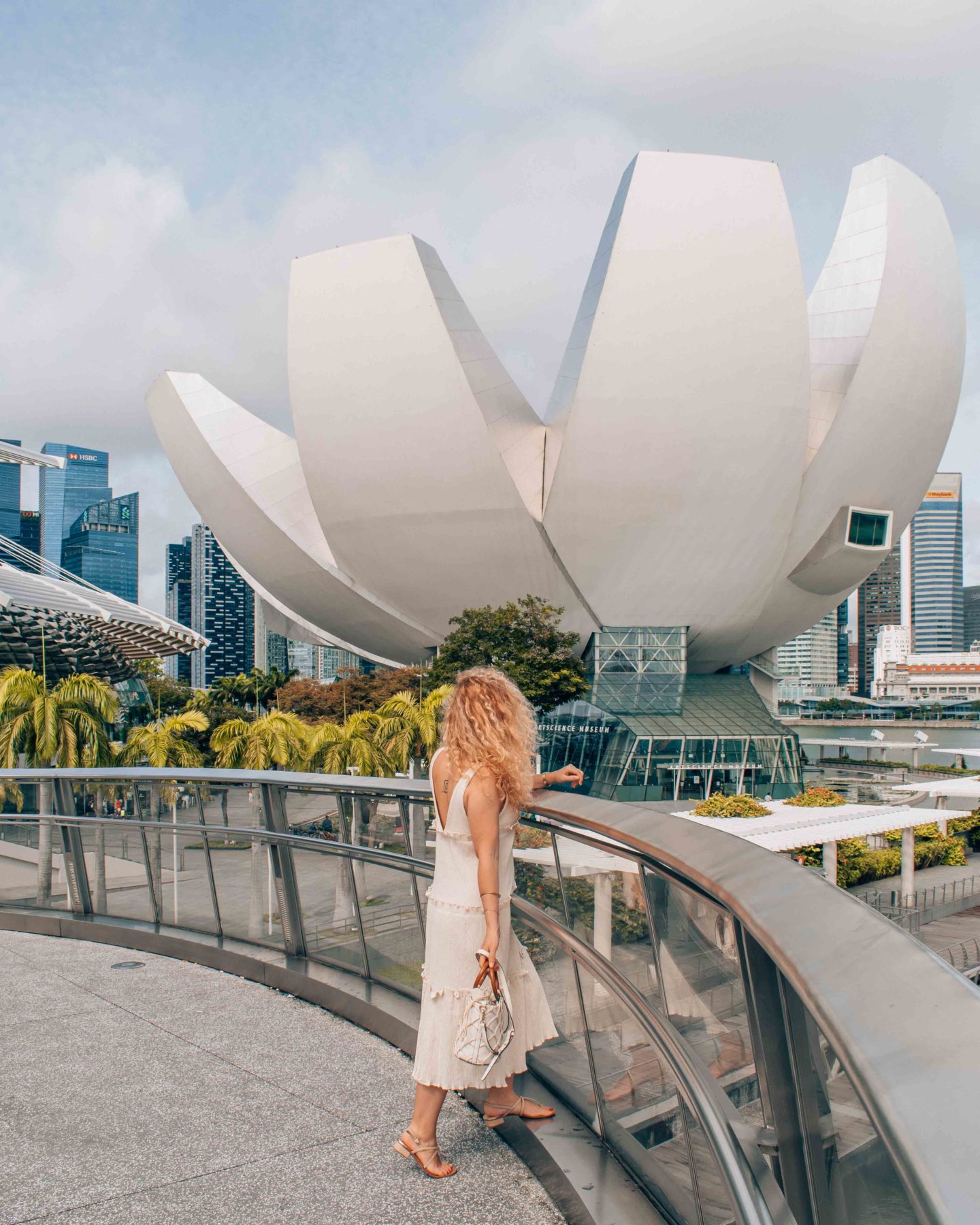 Make sure to walk around it, as once again, there is a ton of options to capture its beauty. For instance, the water lilies floating on the surrounding water bodies can add a lot of poetry to your photos.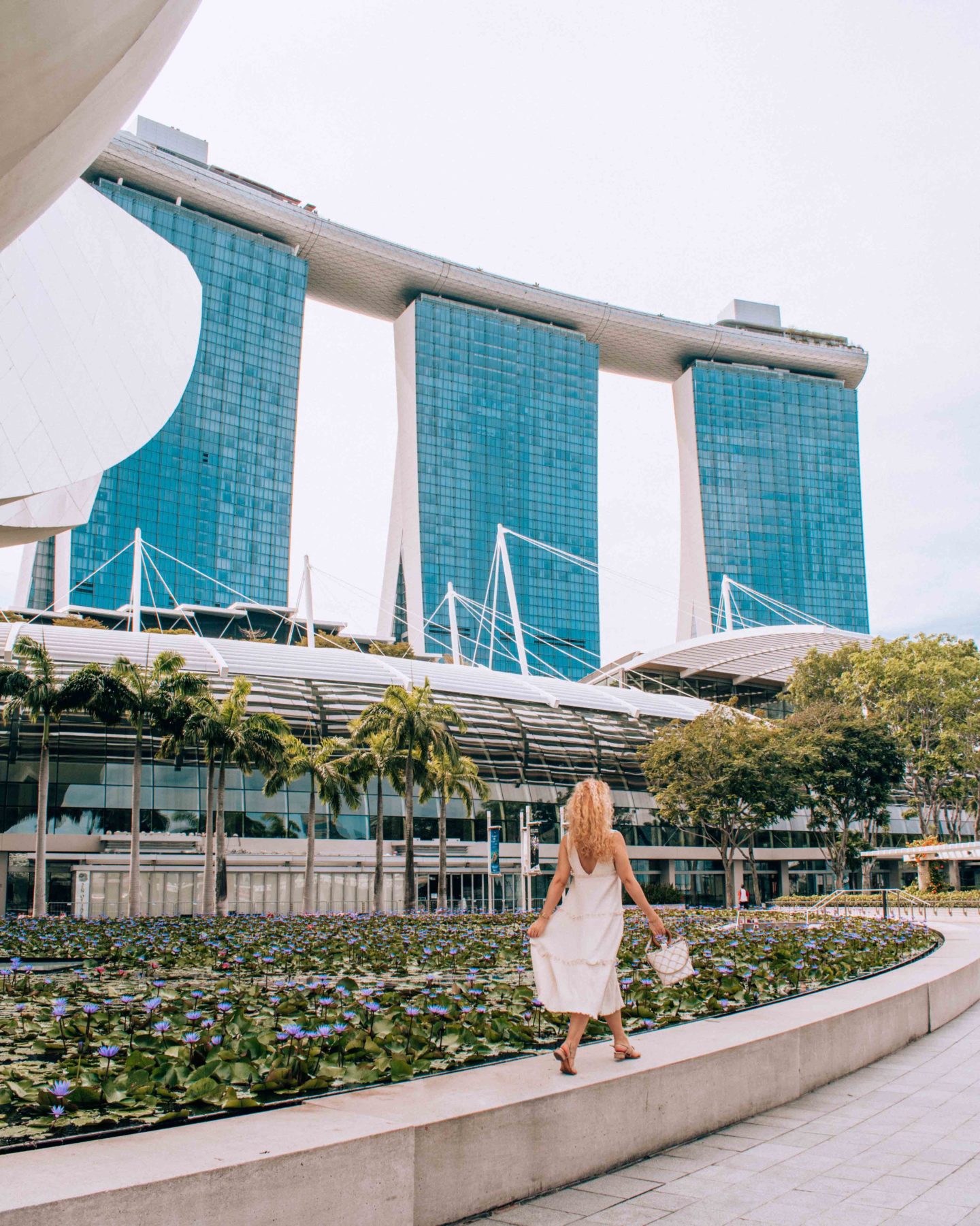 But that's not it! Apart from its impressive outside, the museum also holds many various and interesting exhibitions, including a very insta-worthy one: the teamLab Borderless Future World Exhibition. This interactive digital universe features 16 sound and light installations that will delight everyone from children to photographers. The entrance ticket costs $19 SGD/person (around 12€). More information here.
Photo tip:
The light being quite minimal inside Future World, shooting with a tripod and/or a camera + lenses doing ok with low-light is recommended for quality pictures. That being said, I managed to get some nice shots with a phone too once, but that will take more time. Which can get tricky if you go in the middle of the day when the exhibition gets very busy. As always, avoid peak times as much as possible, especially during the weekend.
4. Gardens by the Bay
The next spot in this list of the most instagrammable spots in Singapore is probably the one you have heard about the most. Another monumental piece of futuristic architecture, and arguably the most spectacular, the Gardens by the Bay are indubitably a photographer's paradise. Quintessence of Singapore's soul by mixing the nature with modern buildings, they conceal many of the best photo locations in town. To see them all, it will probably take you a full day, so let's recap them one by one:
> The Supertree Grove
Looking like they were taken right out of the famous movie Avatar, the Supertrees at the center of the Gardens are beautiful by both day and night. At sunrise, you can get to the highest viewpoints and photograph them from afar without anyone else in sight.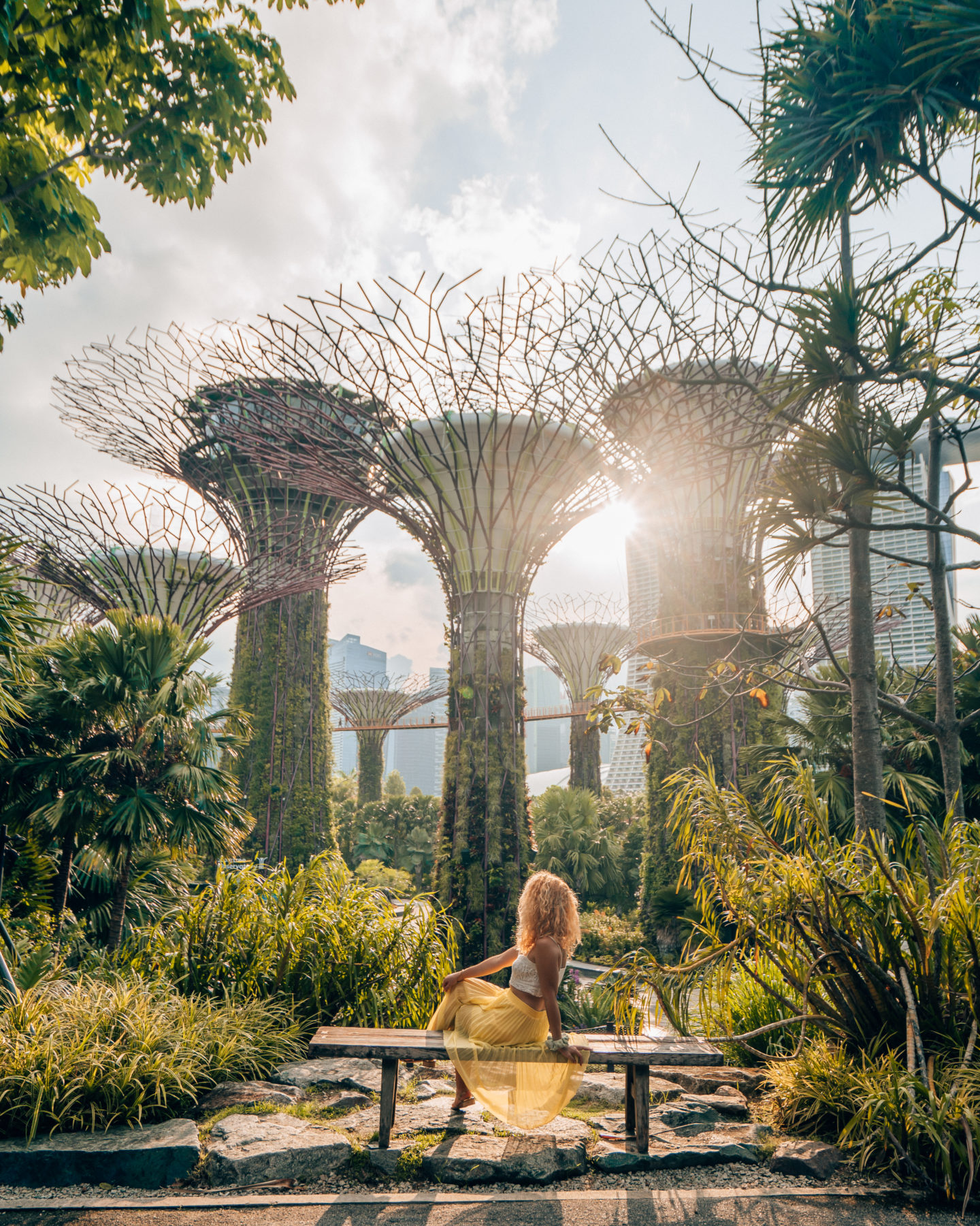 Later, when the night settles, you can also capture these iconic giants all lit up. At dusk, their colors completely change! Twice every evening, at 7.45 & 8.45pm, they even come alive with a spectacular light and sound show called the Garden Rhapsody, that is entirely free to watch. You might want to get closer for that and shoot from a lower angle in order to avoid the crowds. Tip from a local: after trying all the locations to watch the show, my favorite stays from under the trees, completely laying down on the ground and looking up at the magic happening above you. It feels like an animated sky!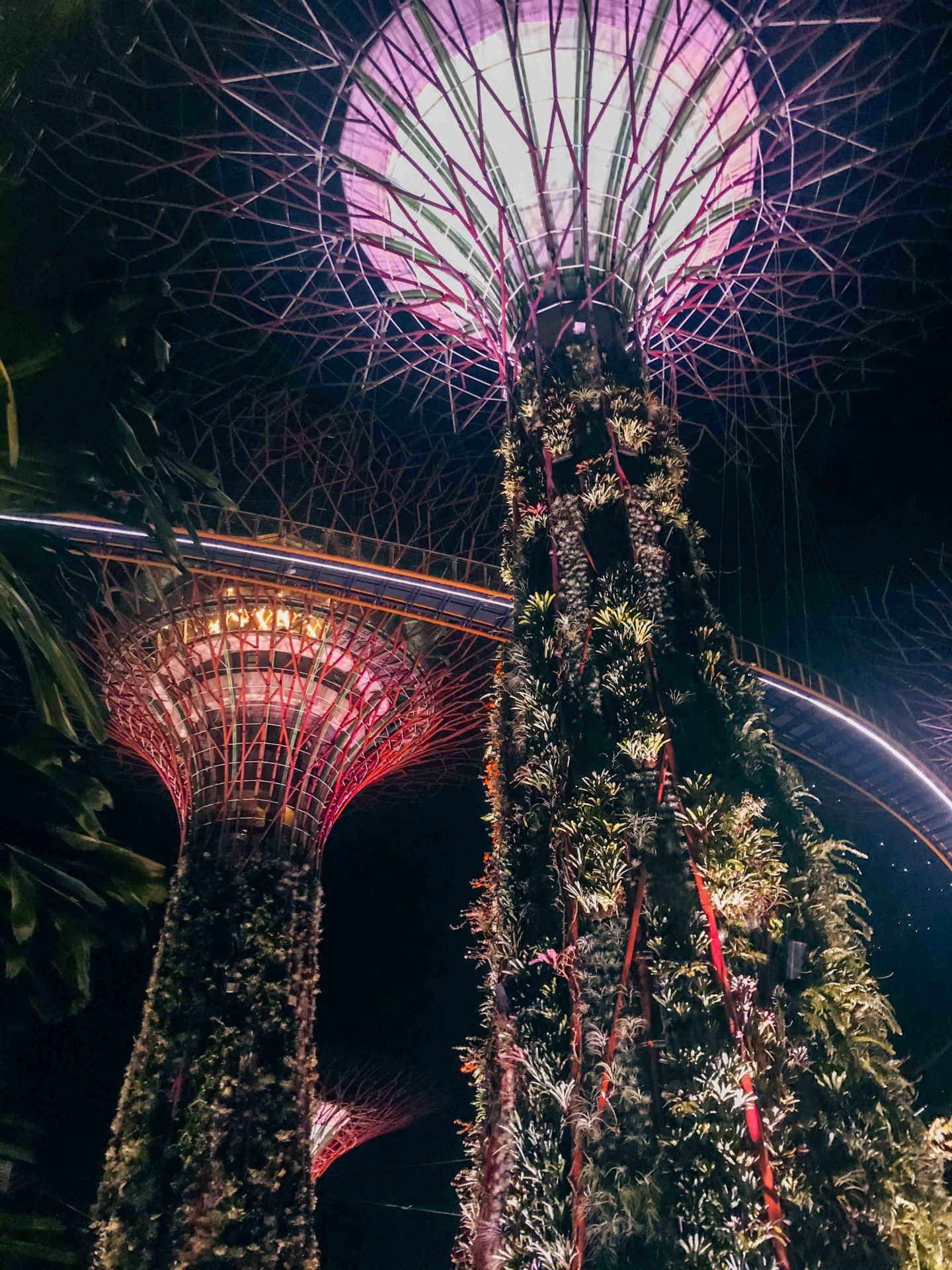 Last but not least, you can also shoot the Supertree Grove from a third perspective by going up on the arcing 128-meter long OCBC Skyway. This scenic aerial walkway costs $8 SGD/person and provides great panoramic views over the city skyline and the gardens, 22 meters above the ground. Last admission is at 8.30pm, for the second and last show.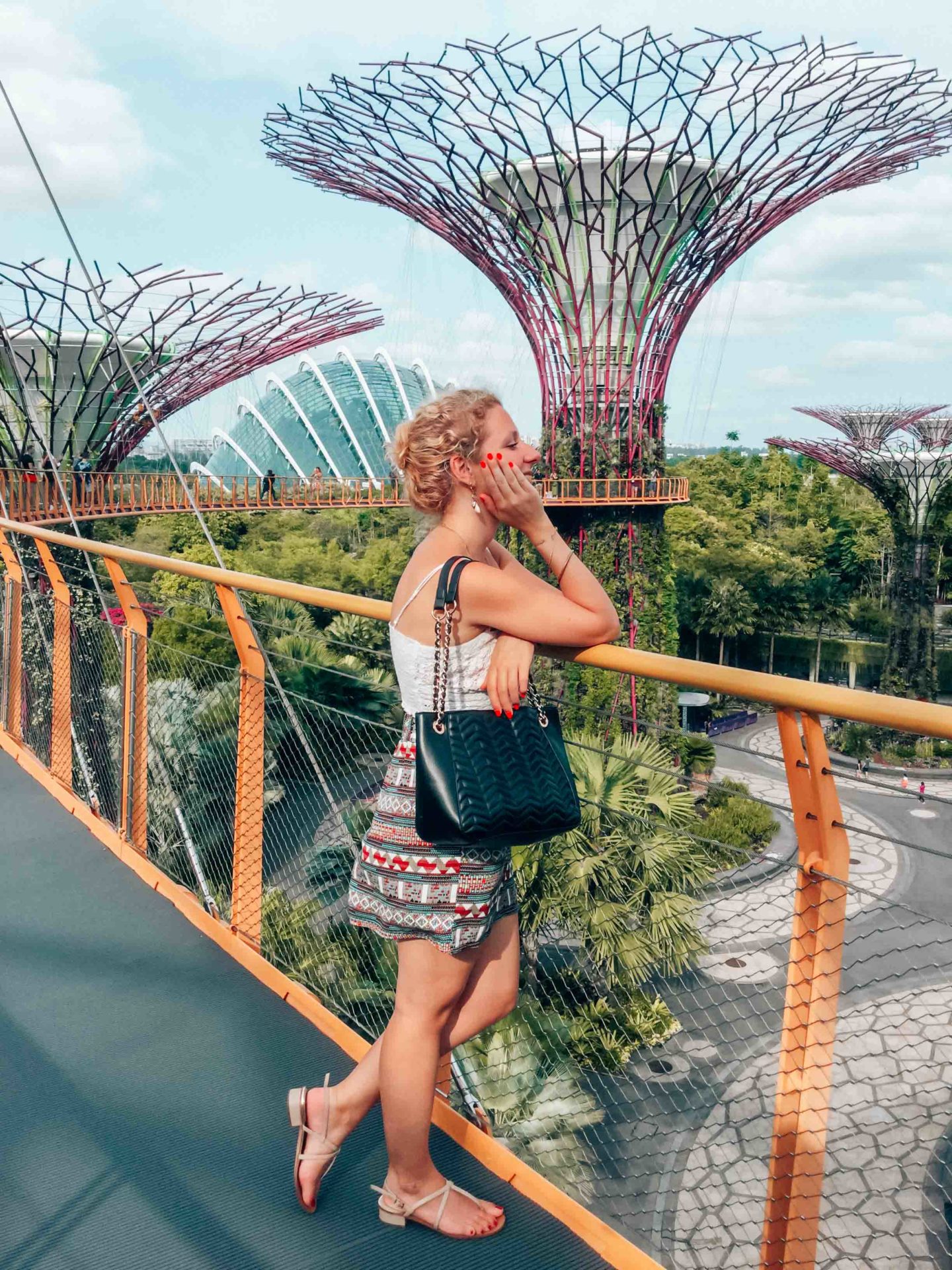 I will probably write an itinerary combining this place and all the others in an upcoming separate blogpost. Until then, find more information here.
> The Cloud Forest
A few hundreds of meters from there, you will find the two Conservatories. The one on the right is the Cloud Forest: start there! Reproducing the conditions and vegetation of tropical highlands, this mist-filled dreamy place hosts the former tallest indoor waterfall in the world. Yes, "former", because Singapore surpassed its own record recently, as you will see a bit later in this list! Nonetheless, the Falls have lost none of their splendor with their 35-m height!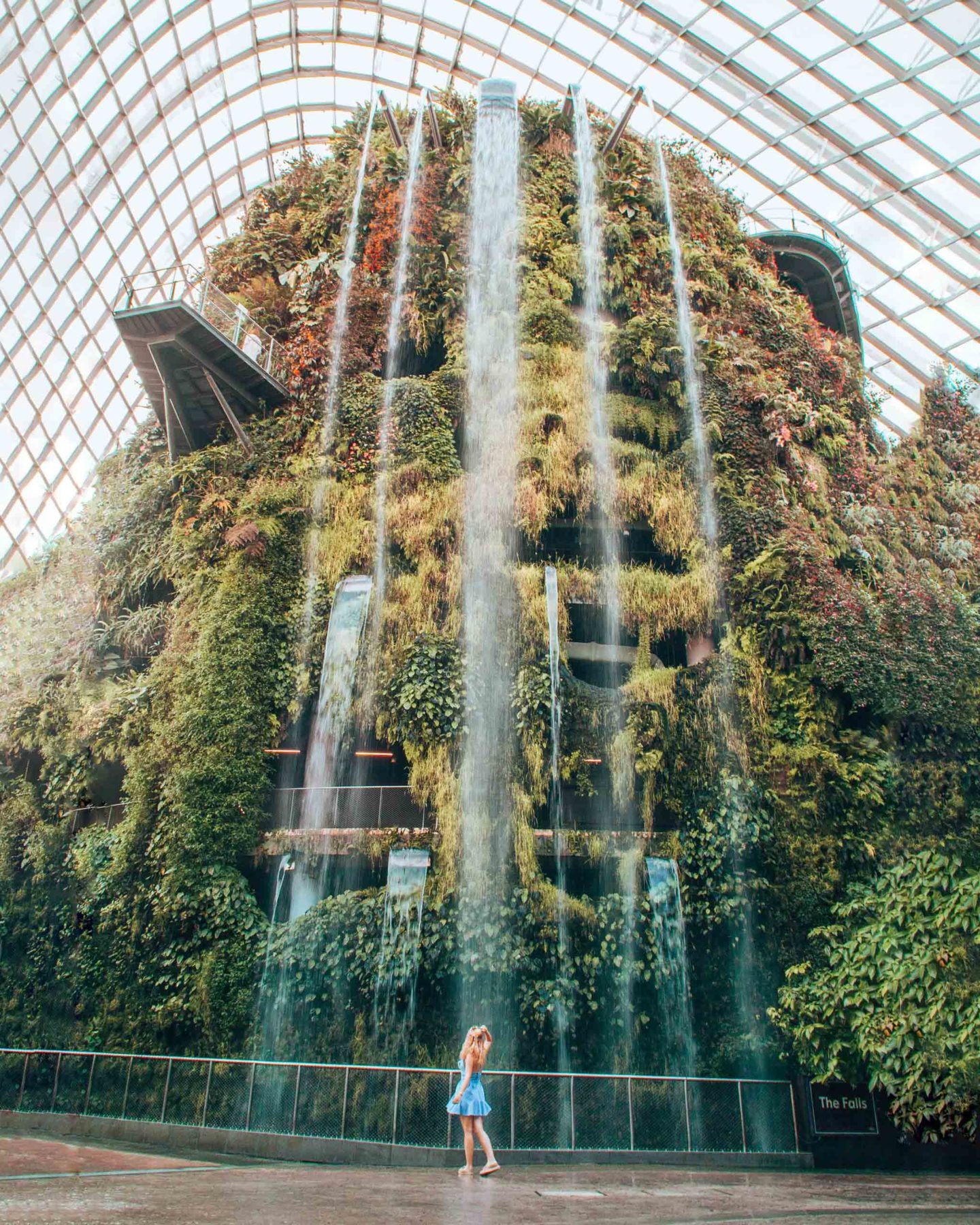 Photo tip:
Try to bring a wide-angle lens if you can, otherwise you won't be able to get the whole waterfall easily in the photo. Additionally, there is many more instagrammable spots you can photograph once you visit the whole place. It's up to you to get creative!
The only small downside of this place is its price: $20/person (12,50€) for one conservatory, $28 (18€) for both (combined ticket). I would recommend you to take that combined ticket in order to also visit the Flower Dome for only 8 additional SGD. This second conservatory is usually very nicely decorated according to the local events or the seasons, even though it doesn't produce the same wow effect than the Cloud Forest. Find some pictures of it on my Instagram feed !
> Water Lily Pond Viewpoint
Not as famous than the previous ones, this specific location is less easy to find inside the gardens, but it is absolutely perfect at sunset. To get there, you need to pass the Conservatories on your left, and go straight in direction of the Sun Pavilion & Far East Organization Children's Garden. March along the pond until its end where you'll find that specific rock. How amazing is that reflection in the water?!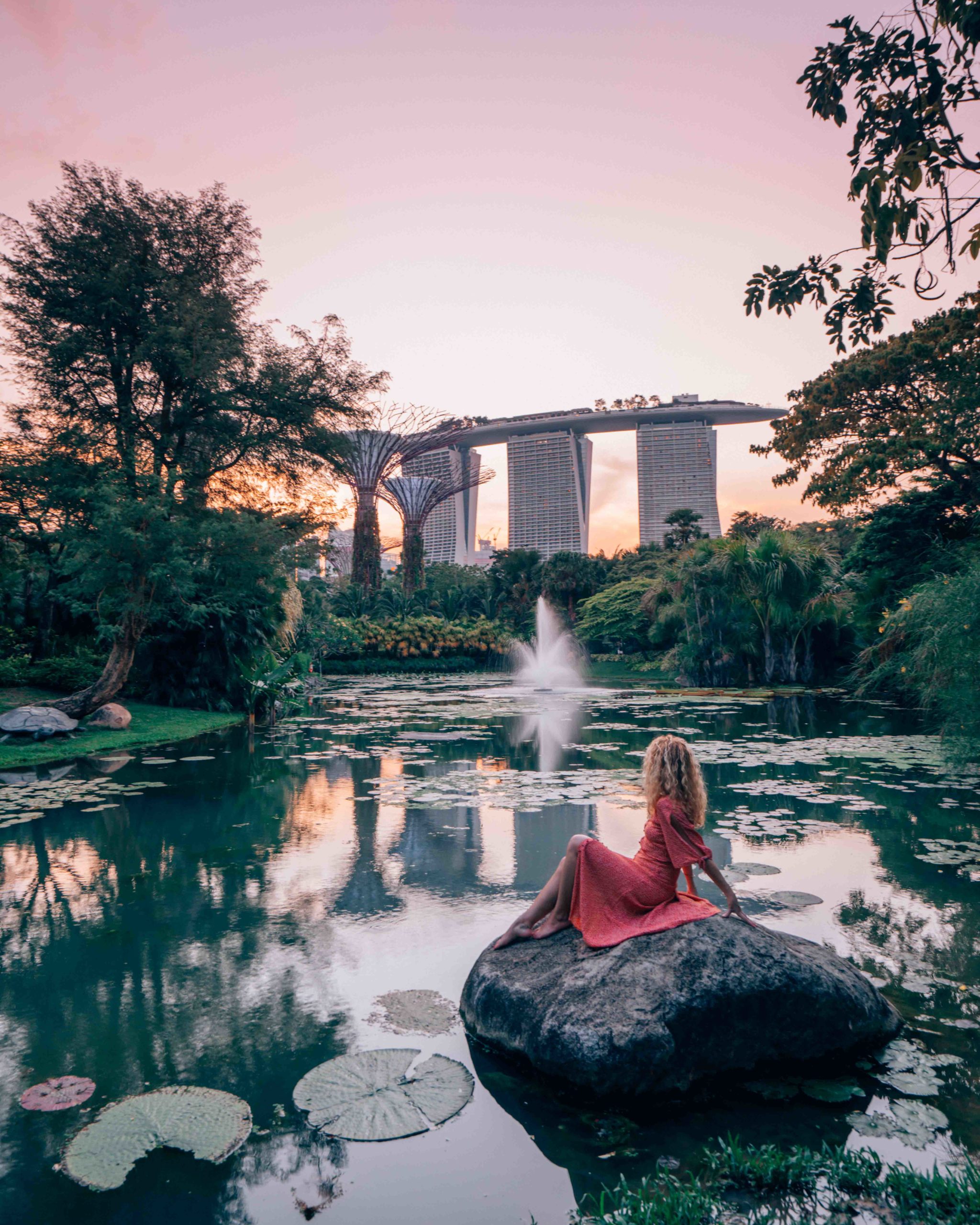 Photo tip:
Before going, I read about people who said they needed to enter in the water to access this rock and that it was quite difficult. Actually, my experience was very different from that! I was able to reach it super easily, with only a quick jump from the bank. Maybe it changes depending on the seasons though. I was there in March in case that information can help.
> View on the Marina Bay Sands from the back
If you are not too tired of the Gardens yet, there is one last photo location you can go to before leaving, on the northwestern corner of the Dragonfly Lake (near the MBS entrance). There you will get a wonderful view on the Marina Bay Sands from the back, which works both at day and night.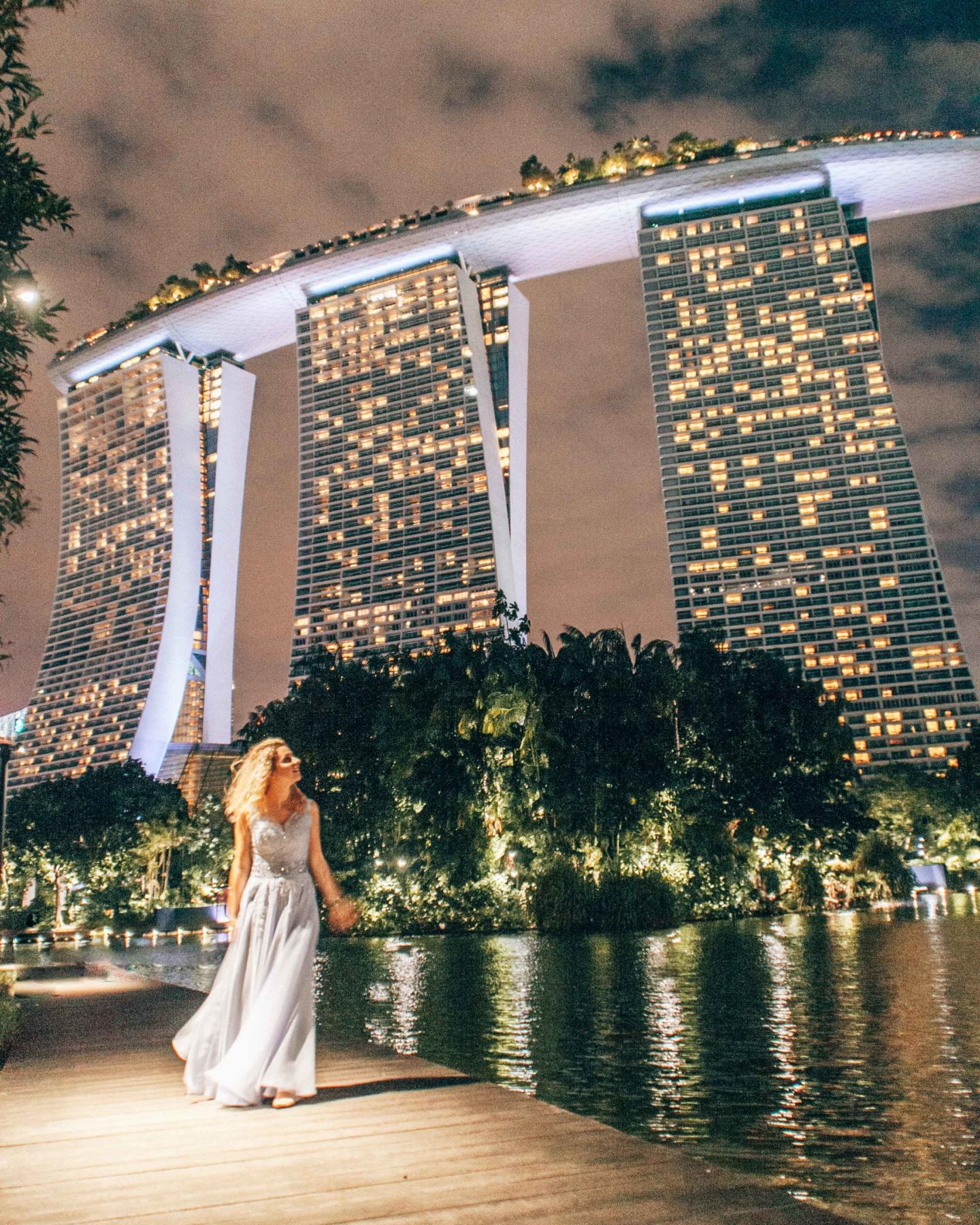 5. Changi's Jewel Rain Vortex
The fifth among 15 in this list of instagrammable spots will probably be either the first or the last one you see in Singapore. As I was telling you just above, the Cloud Forest isn't the tallest indoor waterfall in the world anymore… Indeed, Changi's Jewel Rain Vortex holds this record now!! And you will find this 40-meters high absolute wonder in quite a surprising place: the airport!
Both super modern and very green, the HSBC Rain Vortex is at the image of Singapore again. The country's atmosphere is summed up for you as soon as you arrive, and you can only fall in love with it straight away! I think it's very smart as it creates the most wonderful first impression or last memory of the city for the visitors – or both if you see it after you land and also before you hop on the plane again at the end of your stay!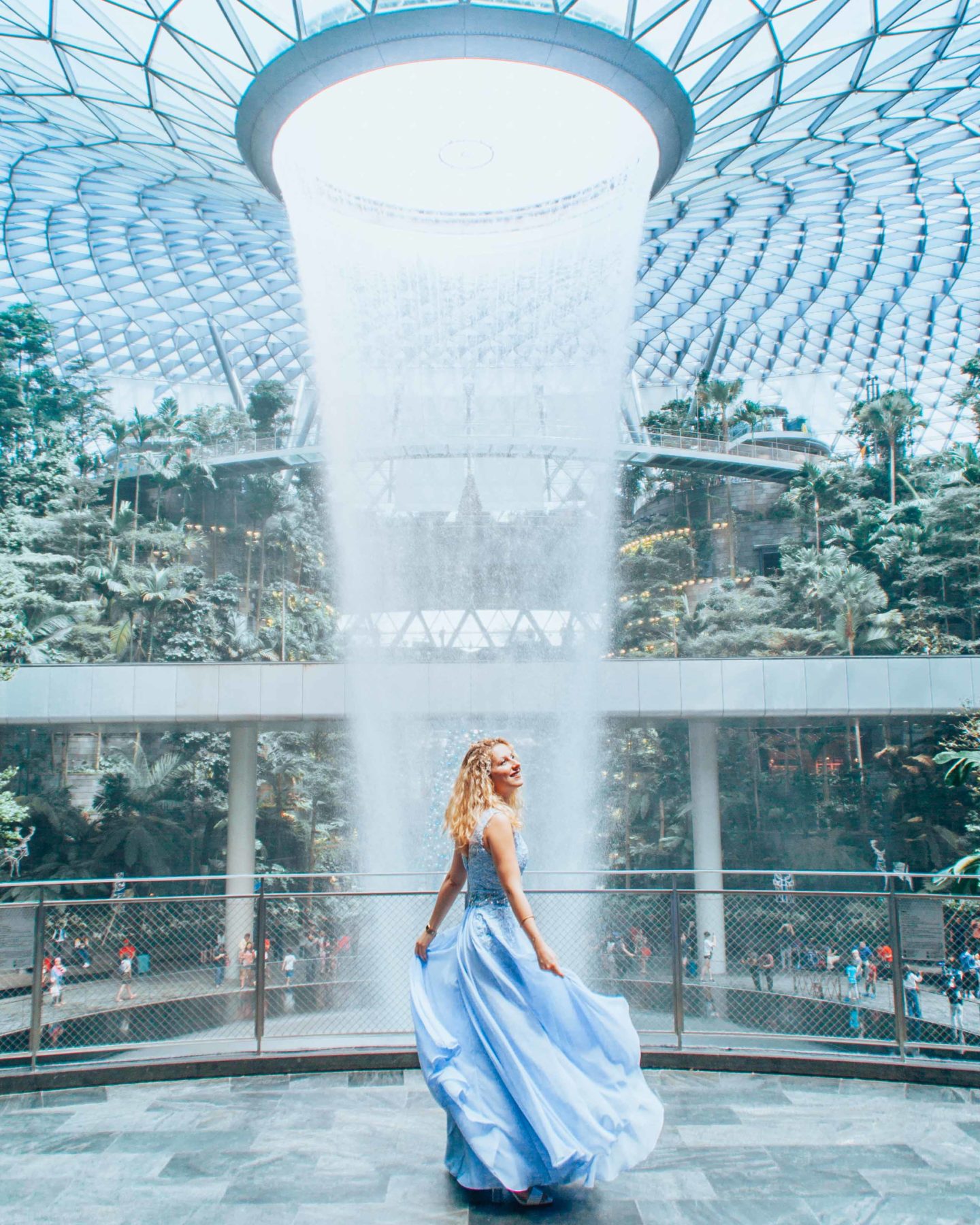 But you're not forced to take your pictures there only before or after a flight if that's not convenient to you. You can actually come anytime, as you do not need a boarding pass to visit the Jewel complex in Singapore's Changi Airport, where this waterfall is located.
Photo tip:
The precise location above is a platform at the escalator between level 2 & level 3 of Jewel. To reach it, look for the Adidas shop (L2) or Sanook Kitchen (L3), which are both right next to the platform in question. If you arrived by the main entrance, it's at the complete opposite side of the waterfall, straight in front of you.
Last but not least, it's entirely free to visit! Just make sure to go within the opening hours, when the water is pouring, between 10am and 10pm. By day, you'll be mesmerized by the sunlight playing with the cascade spray and creating rainbows; by night, the magical Light-and-sound show projected on the water turned to a screen will amaze you like nothing else! This dazzling spectacle lasts around 5 minutes and occurs every day at 7.30, 8.30 and 9.30pm.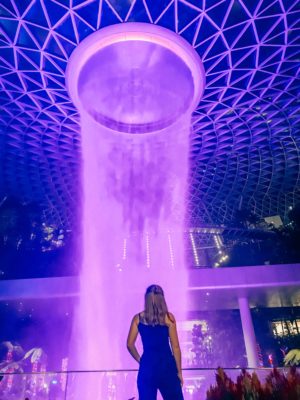 6. Old Hill Street Police Station
Back to the city center now, for a building that became quite insta-famous the past years! This very photogenic facade indeed features 927 rainbow-colored windows. But as lovely and colorful it can be, the Old Hill Street Police Station actually used to be a prison once. It was indeed Singapore's first jail, where the Kenpeitai (Japanese military force) held, and probably tortured, prisoners during Japanese occupation (1942-1945). It reverted to its first function of police station after the war. Nowadays, it hosts the Ministry of Communications and Information, and the Ministry of Culture, Community and Youth. Which makes way more sense with all the colors its outside look displays now!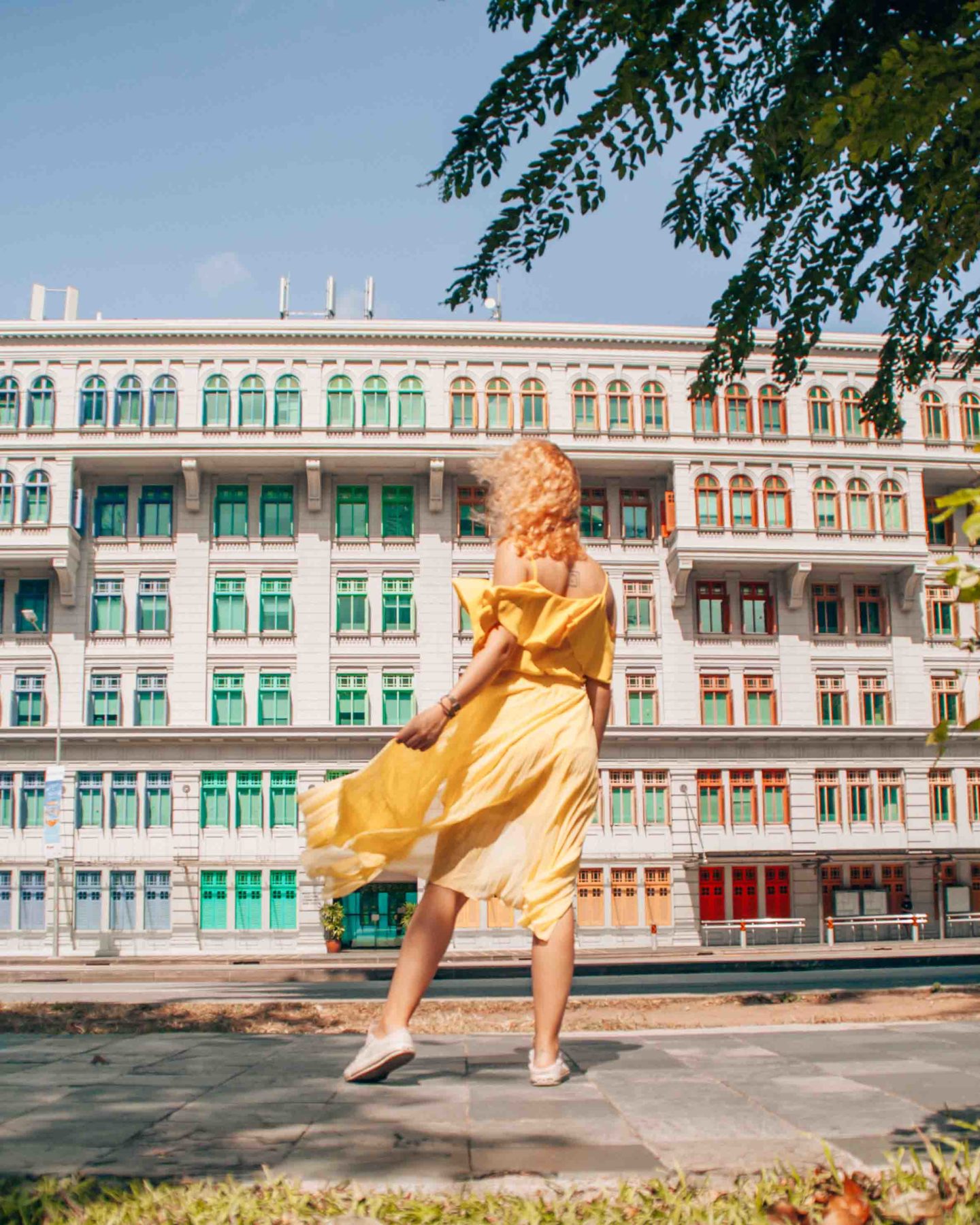 Photo tip:
To get a clean shot of this place, stand on the opposite side of the avenue & just wait for the red lights to sync up. Then you have to be quick during the 10-second pause you'll get! Vehicles usually move fast, but for an empty road, preferably go in the morning and in the weekend – more cars circulate here during the weekdays' working hours. That's what we did and it took us barely 5 minutes to snap pictures without traffic! You can also stand on the separating "traffic island" in the middle of the road but be careful with the cars of course.
7. Fort Canning Park Spiral Staircase
Right behind the Old Hill Street Police Station, you'll find Fort Canning Park. Which leads to the next instagrammable spots on this list: the Spiral Staircase! And even if it is hidden in an underground tunnel leading to the park, it's not really a secret spot anymore. People are usually waiting in line to take a picture here, especially on weekends. So, my only advice for you is to go on a weekday and/or be patient! Don't bother arriving too early though, you need the sun to be quite up for this effect on the trees.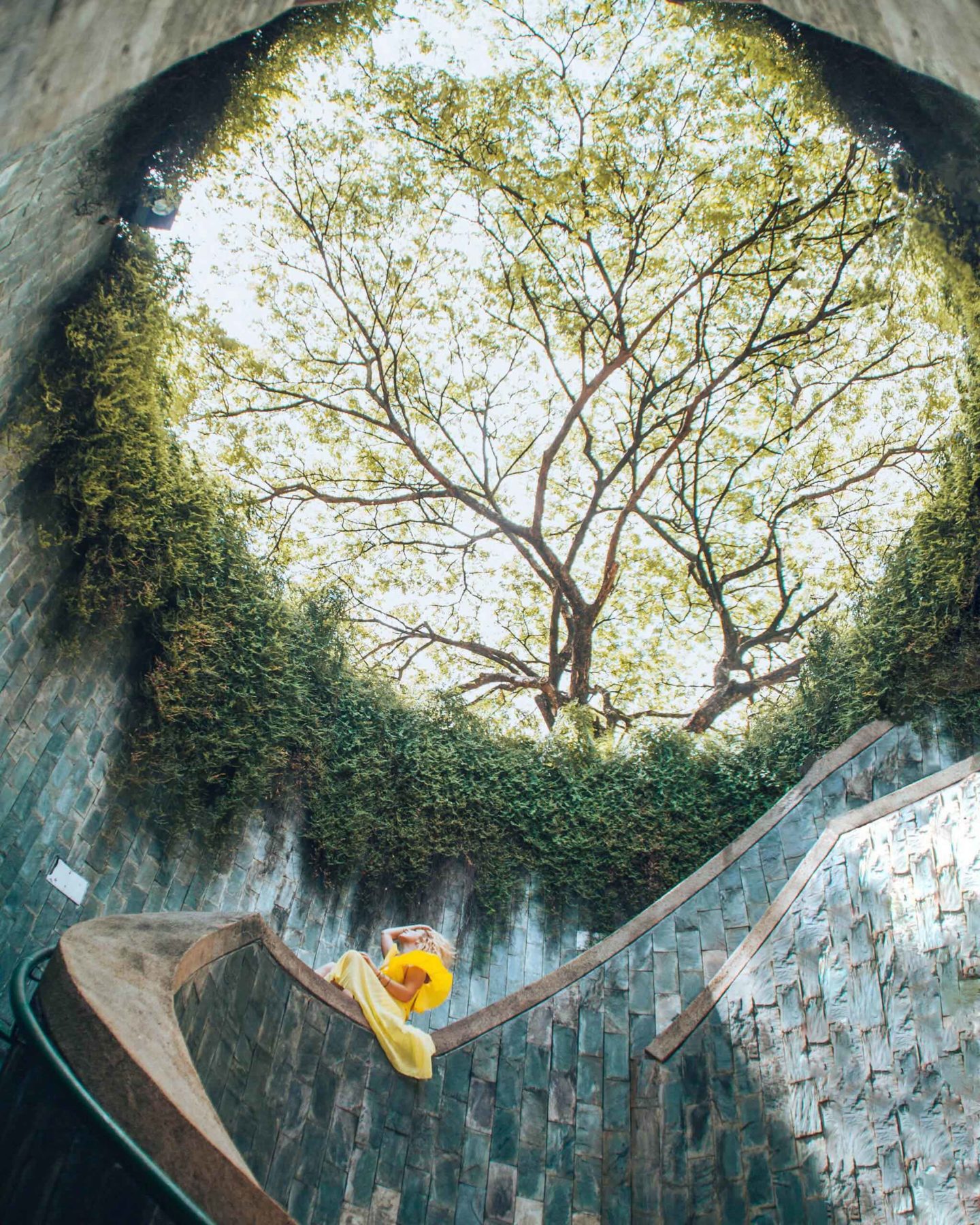 Photo tip:
To achieve this frame, you will absolutely need a wide-angle lens, and/or a photographer who accepts to basically lay on the ground *inserts laughing emoji*. It can be really tricky to capture the whole spot, so make sure to bring the right equipment if you can.
8. Tan Teng Niah, Little India
What I probably love the most in Singapore is how colorful and diverse it is. And talk about colors here! Look no further if you want a flashing pop of rainbow on your Instagram feed. This exact spot in Little India is actually a Chinese villa dating from 1900 called Tan Teng Niah. Go there early or be prepared to queue for a picture in front, as it is one of the most photographed instagrammable spots in the city!
Photo tip:
You can find many different angles to play with though, so make sure to explore the whole area and move your camera a lot. For instance, I found some plants under a stall and decided to use them as a framing on the right photo above. Every side of the building looks different as well.
9. Peranakan Houses in Koon Seng Road
You might have seen this spot several times on the gram already, as it started trending quite recently. The Peranakan shophouses located along Koon Seng Road in Joo Chiat/Katong neighborhood are indeed very aesthetically-pleasing! Painted in various pretty pastel colors and ornated with traditional floral or geometric tiles, they are a real heritage of Peranakan culture.
Photo tip:
This street clearly has many photography possibilities, but don't forget that above all, some people live in those houses. Please make sure to not disturb them – for instance don't move their bins as I've seen other people do – and be respectful. It might be busy when you go, but luckily the street has multiple houses on both sides, so chances are there will be a framing where you can get a photo without anyone in it.
10. Masjid Sultan in Arab Street
The very colorful and vibrant Arab Street being entirely pedestrian, it is very easy to find many different angles to capture the star of the show, the magnificent Masjid Sultan. My personal favorite is from quite afar, including the shops and palm trees as well for a very lively look. However, having no cars also means that you need to be ok with having people behind you in the photo. It's one of the only locations in Singapore where I have never been able to shoot without a bit of crowds. But I think it fits the atmosphere of the place perfectly!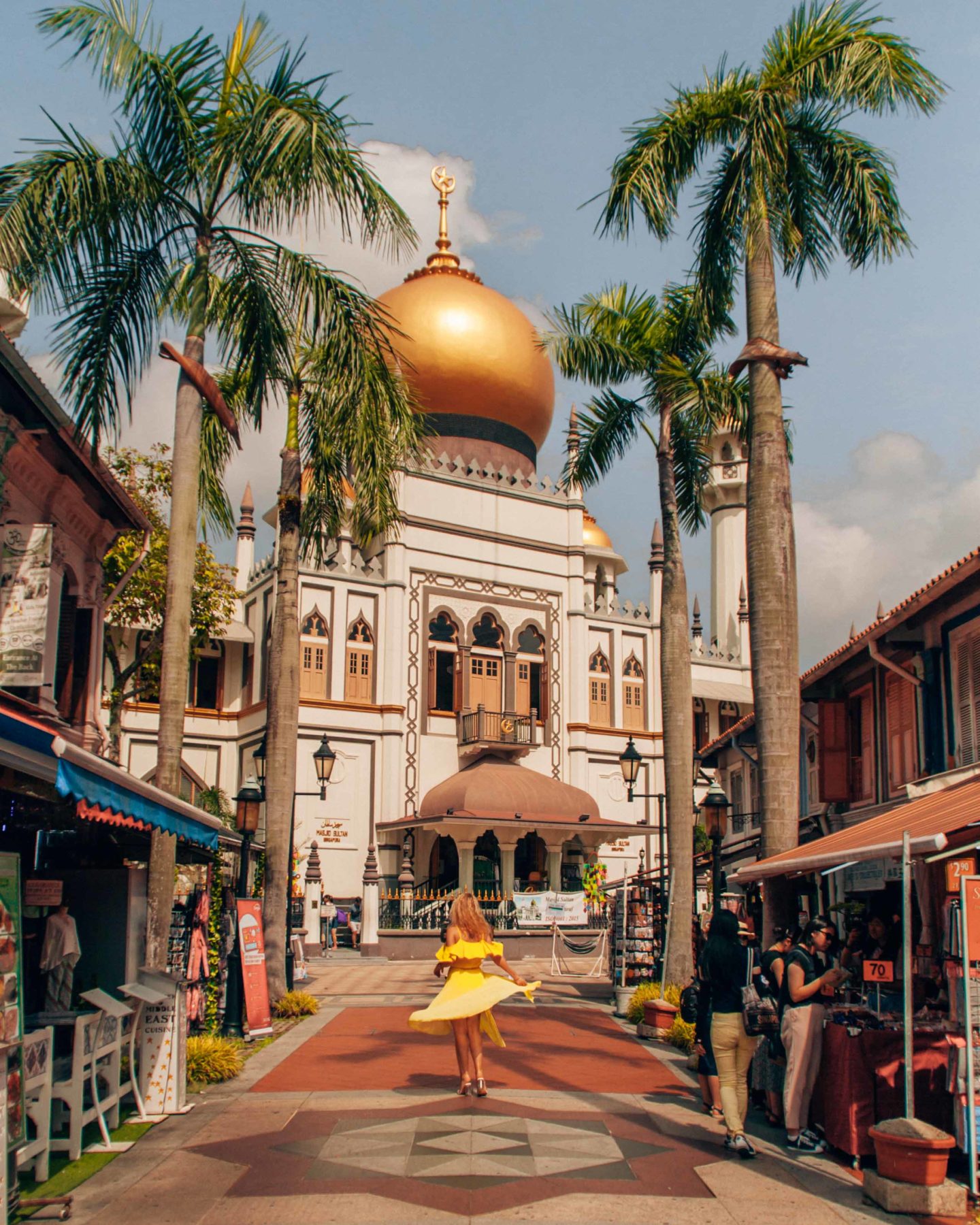 Photo tip:
You can also frame the Masjid Sultan with the archway on the left of it. For a close-up but still symmetrical picture, you will need a very wide-angle lens; otherwise, one last idea here can be using a telescope lens from the other side of the street to visually bring the mosque closer.
11. Chinatown
After the Indian and Arab quarters featured above, let's head to Chinatown, the last big ethnic neighborhood in Singapore. And as always, full of the most instagrammable spots!
> Mohamed Ali Lane mural
This vivid & colorful mural, located on Mohamed Ali Lane, gives a glimpse into a local daily life scene back in the 1980s; when very distinct families could still sometimes live together, regardless of race, language or religion, in the same Singaporean shophouses.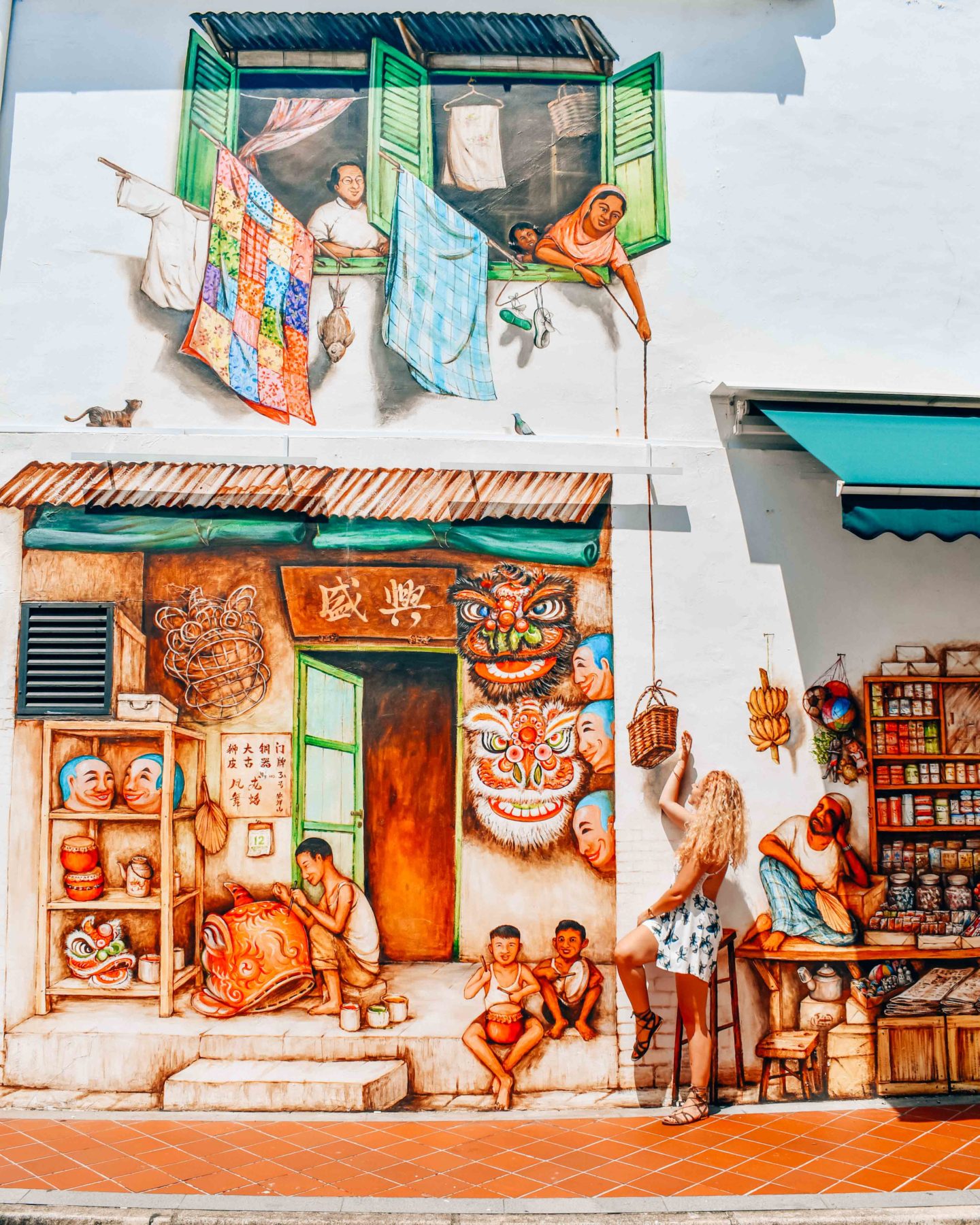 Photo tip:
The picture is quite easy to take, as the photographer only has to be on the other side of the street to get a full view on the wall. Nonetheless, your body position can be hard to find and to hold if you want to blend in like me. It wasn't the most comfortable to be honest! Otherwise, you will find plenty of other murals of this type in all this neighborhood.
> Buddha Tooth Relic Temple
Not very far from the mural, you can't miss the Buddha Tooth Relic Temple. Designed in the Tang dynasty style, this very impressive red temple is at the very heart of Chinatown. Therefore, unless you visit very early in the morning, it will probably be pretty difficult to get a shot without anyone on it. Apart from this, all sides are beautiful, so make sure to walk around both inside and outside first to find your favorite camera angle!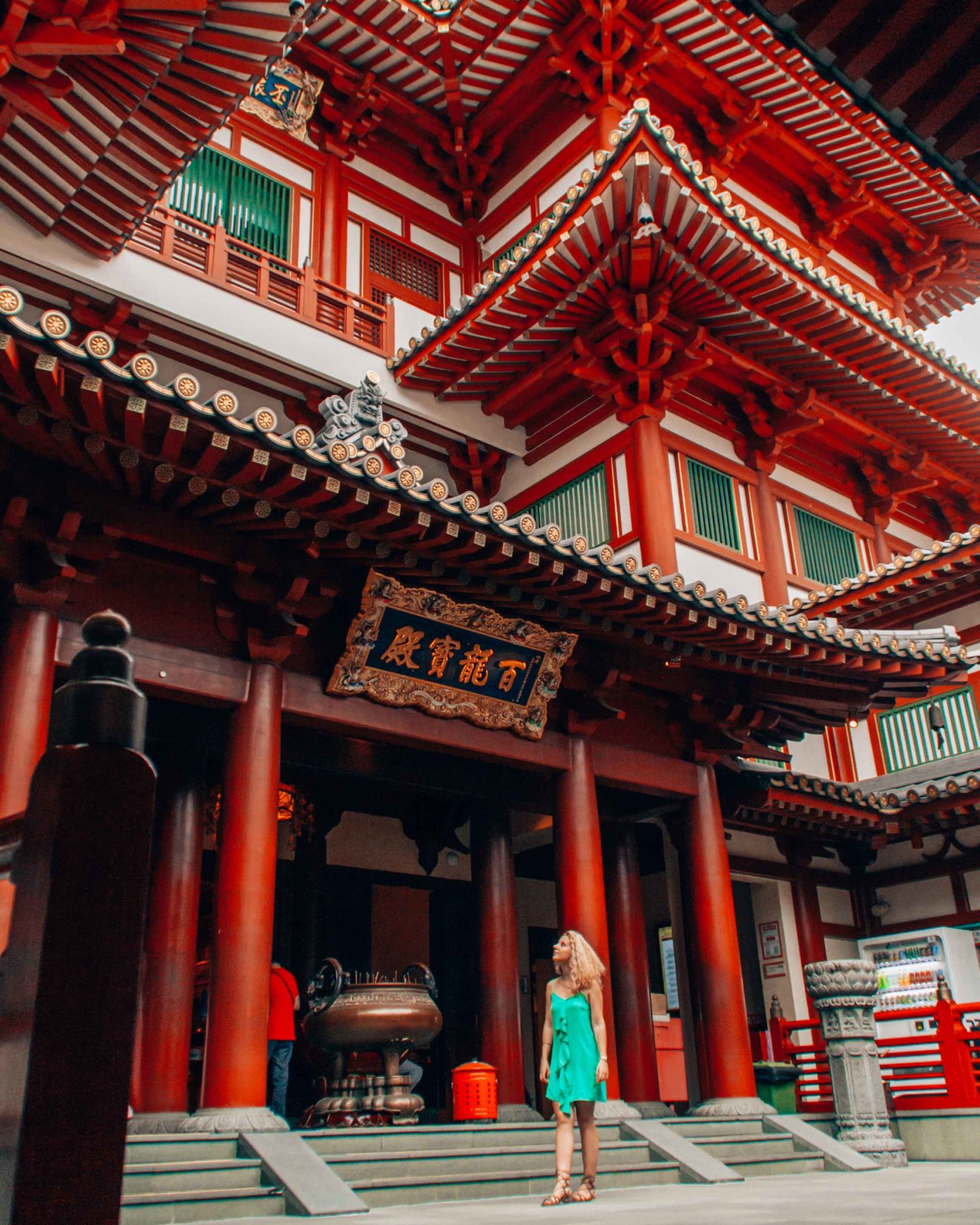 Photo tip:
To shoot the inside of the temple, you will probably need to use a wide-angle lens once again. This is the best I could get without it, and I can tell you it doesn't show the beauty of the place properly.
> MRT view on Pagoda Street
Last but not least, head to the MRT station of Chinatown 2 streets away from here. You will find a bridge right on top of it, at the intersection of New Bridge Road and Pagoda Street. And isn't this view the best mix between architectural traditions & modernity?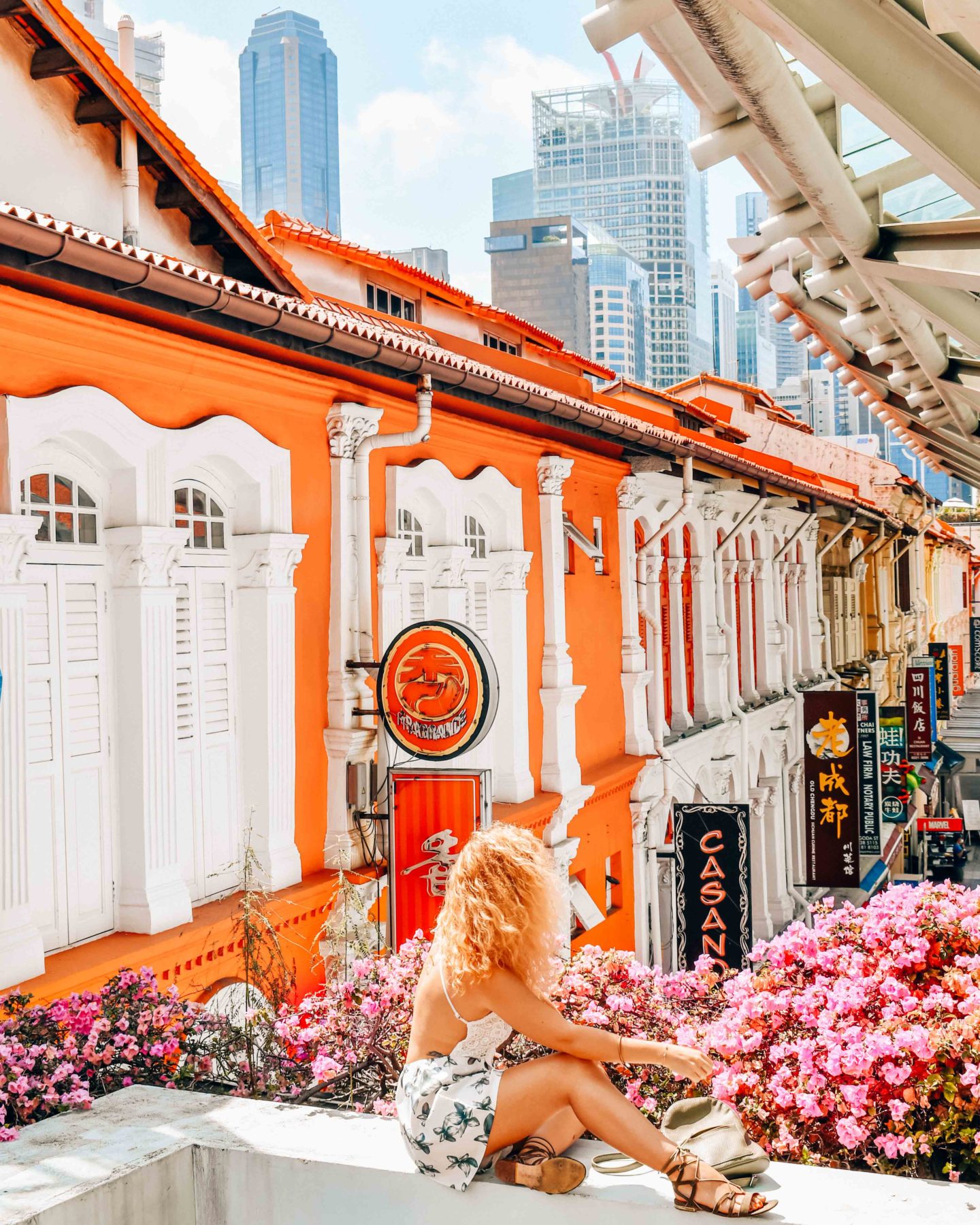 12. Japanese Cemetery Park
Next on this list of the most instagrammable spots in Singapore is the Japanese Cemetery Park. Indeed, the most wonderful bougainvillea tunnels are located here, far away from the buzzing city center. Apart from being the largest cemetery for the Japanese community, it is also the ideal place for a quiet morning stroll through these pretty arches. Only a few locals come here for a run or a stroll with their pets. Which means you will have all the time in the world to take your photos. It is definitely the most peaceful place I've been to in all Singapore!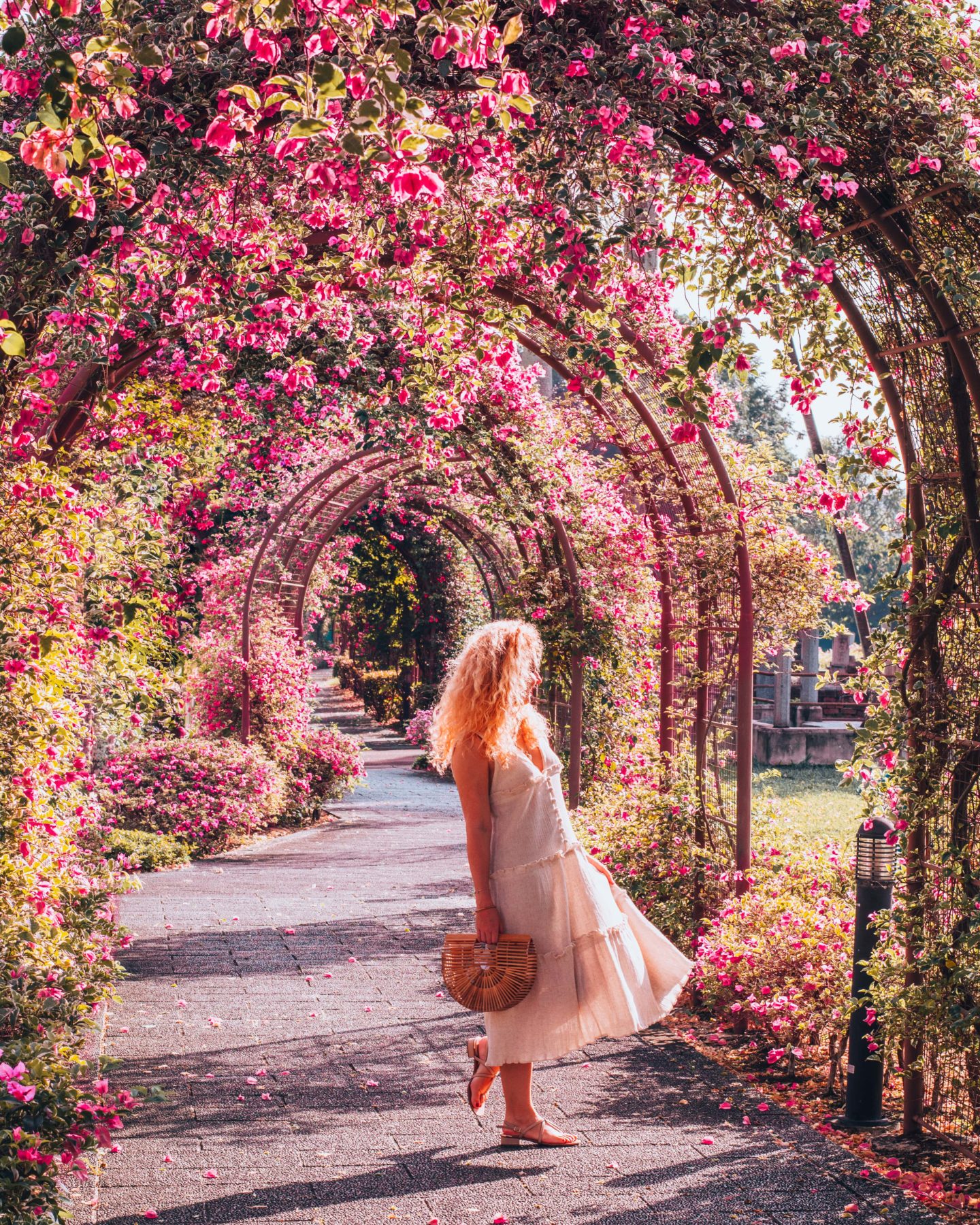 Photo tip:
If you're not comfortable with the fact that it's a cemetery, let me tell you that it didn't feel weird at all to wander here. As long as you show respect, there's no reason to. However, please note that the flowers aren't blooming that way all year round. There are actually two adequate seasons to go admire them: around mid-March, and at the end of August/beginning of September. The blooming lasts around 3 weeks each time.
13. The Botanic Gardens
This 13th instagrammable spot is just another proof of why Singapore is nicknamed "the city in a garden". Conserving the biodiversity & tropical heritage of the island was the original plan of the government (as seen in the Gardens by the Bay already). And they did it wonderfully for the very lush Botanic Gardens! It is actually the only tropical garden on the UNESCO World Heritage Site list. And cherry on the cake, it is of course full of photo options!
> National Orchid Garden
The most famous spot of them all, and for good reasons, is this vegetal arch above. You can find it in the National Orchid Garden area precisely. It's the only part of the Botanic Gardens where you will have to pay a fee to enter. But it is only $5 SGD and I highly recommend it. It contains not only these iconic archways, but also over 1000 beautiful species of orchids (and 2000 hybrids!) on display, and giant bird cages that are highly photogenic too.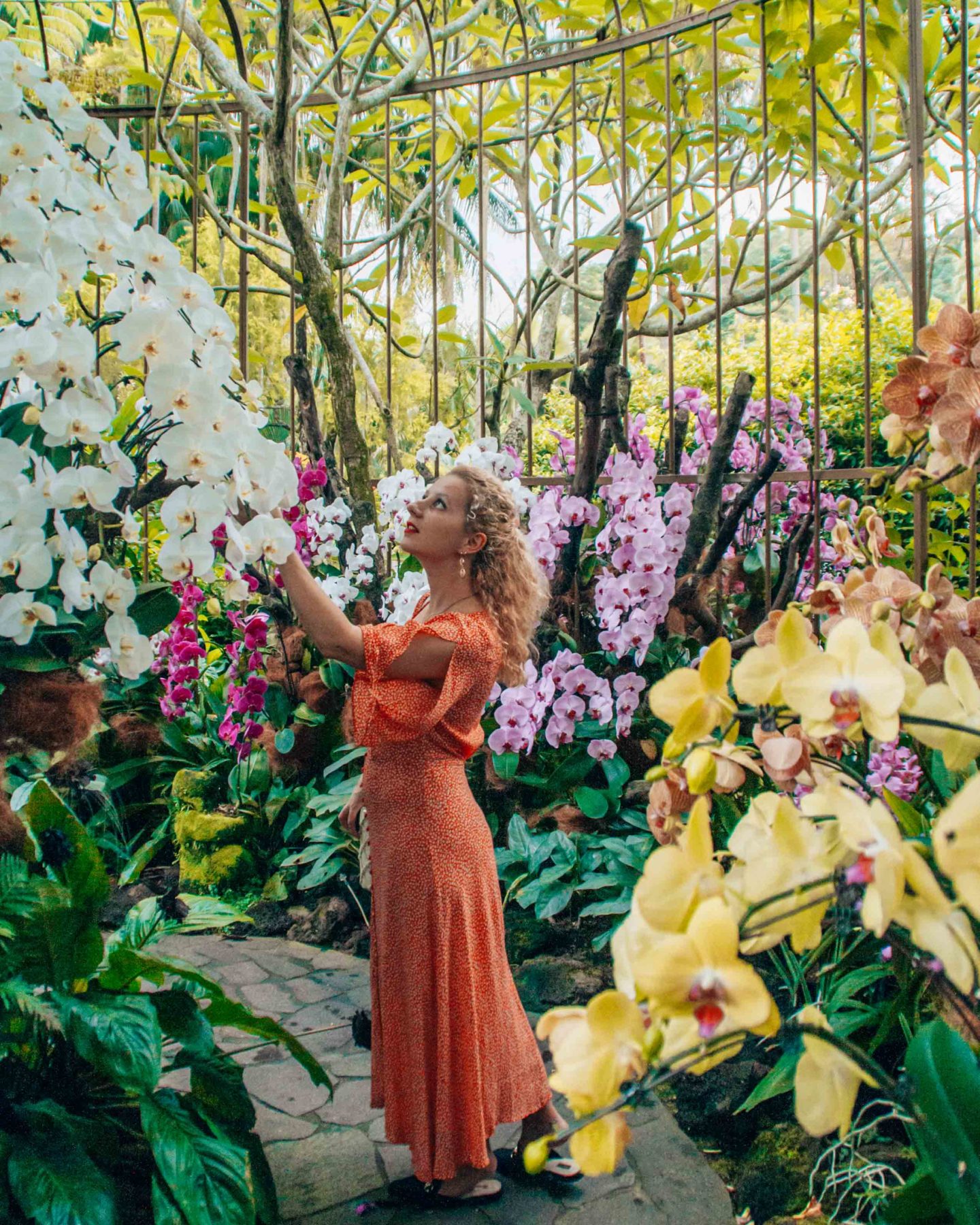 Photo tip:
The National Orchid Garden is open from 8.30am to 7pm, with tickets sales closing at 6pm. To go there straight away when you enter the Botanic Gardens, use the northern Tyersall Gallop entrance.
The rest of the park is completely free and offers the perfect breath of fresh air inside the bustling city. You'll wander among an incredible variety of plant species, lakes, jungle alleys, pretty water ponds and harmonies of trees… The Swan Lake gazebo and the Bandstand are two other photo-worthy locations inside the gardens.
14. Palawan beach bridge
Let's head to island beachy vibes! At the very south of the city, on Sentosa Island, Palawan beach hosts this very instagrammable suspension bridge, leading to the southernmost point of continental Asia. It's also Asia's closest point to the Equator!
Photo tip:
Since it's a one lane bridge, you will have to be quite patient to get a photo here. Obviously, going on a weekday might make it a bit easier. Another tip: bring mosquito repellent if you intend on shooting there without moving during more than 5 minutes. The entrance of the bridge is surrounded by humid tropical trees so it's a real mosquito den!
15. Library@Orchard
And the last but not least on this list of the most instagrammable spots in Singapore is… the very famous Library@Orchard! Very unique for the lines it offers, this authentic library will therefore force you to remain completely silent while shooting. Among the rows of curvy bookcases, you can capture a neat shot perusing the books, but only if you are very patient. Indeed, as it's a public space where people do come to read or work, sometimes it's necessary to wait a solid amount of time before the rows clear.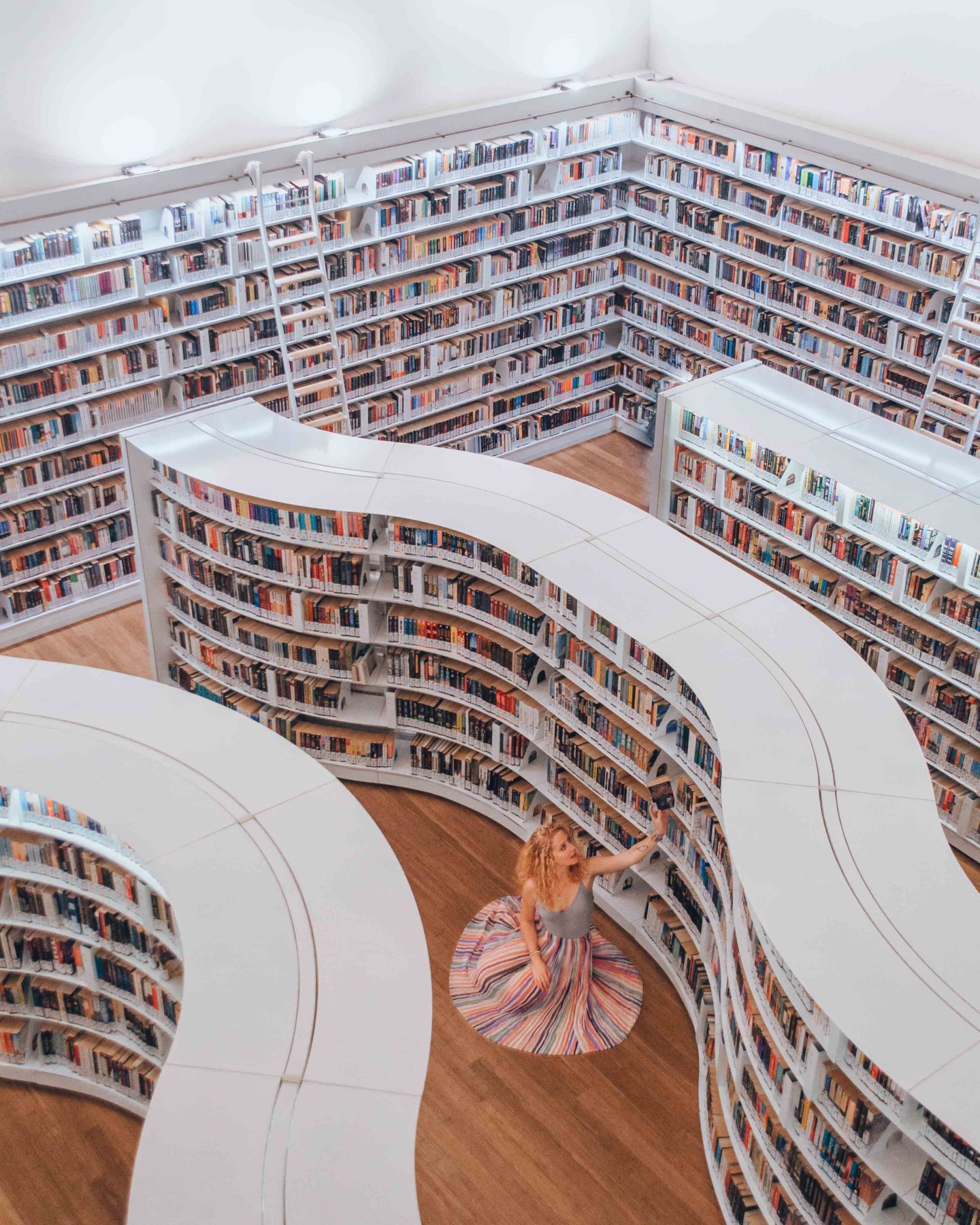 Photo tip:
To get the shot, the photographer needs to be on the higher steps of the stairs facing this spot. Keep your phone with you if you want to communicate, cause obviously you won't be able to scream at each other in a place where everybody whispers!
To conclude…
Do I need to say anything more to convince you on how instagrammable Singapore is? From colorful buildings and modern architecture to lush gardens and traditional heritage, the huge diversity and multiculturalism of the stunning city-state make it an ideal playground for both amateur & professional photographers.
Pin this! ↡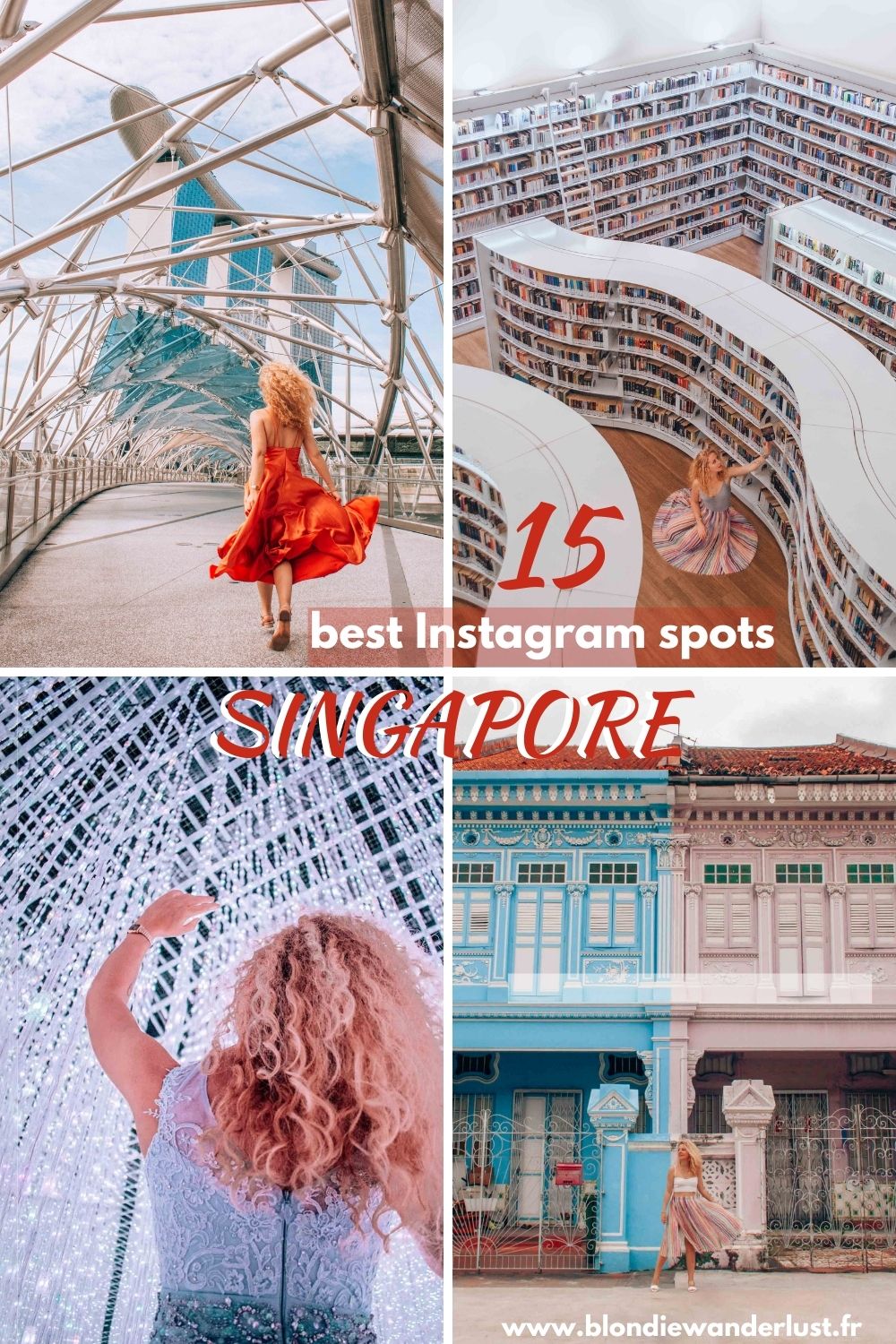 Of course, this blogpost is far from exhaustive and only includes the 15 instagrammable spots I personally think you cannot miss. I could surely write another one about less famous instagram gems in Singapore for instance! Do not hesitate to let me know in the comments if that is something you'd like to read, and also which spot of this list is your favorite. And if you are planning a trip to South-East Asia, do not hesitate to also include Kuala Lumpur in your visit! The Malaysian capital is full of instagrammable spots as well.
In the meantime, I hope you found this post helpful and that you'll get all the instagram pictures you want in Singapore thanks to it! Should you have any question left, please feel free to leave a comment below. And remember that I'm always just a DM away on Instagram!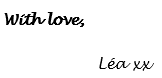 If you enjoyed this blogpost, save it on Pinterest! ↡