In February 2020, as we were on a weekend getaway in Da Nang, the main city of Central Vietnam, we enjoyed the occasion to explore the famous and charming Hoi An which is very near. If you have a very limited time in the area as well, keep reading, you will learn how to perfectly visit Hoi An in one day only!
Make sure to pin the image below to save it for later! ↡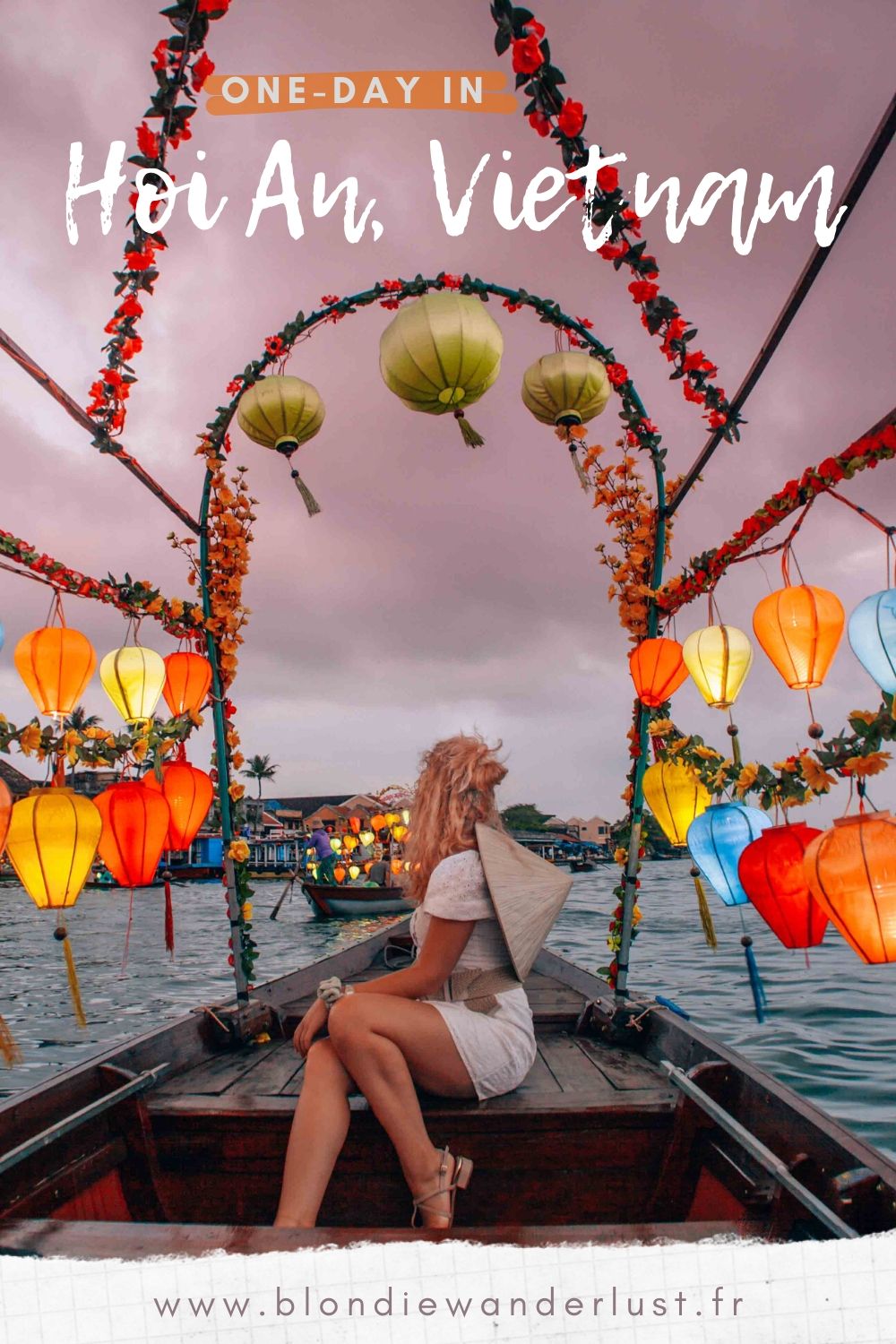 About the city
You probably already heard about the so-called "city of lanterns" many times, but if you didn't, let me introduce it briefly. Located on the coast of Central Vietnam, just like Da Nang, Hội An is an ancient town classified since 1999 as a UNESCO World Heritage Site. Its population is not very big (approximately 120,000 inhabitants), but its historic district and former trading port are so incredibly well preserved that they made it famous internationally. It was a very bustling import/export center between the 15th and 19th centuries, before Da Nang replaced it, which explains why the city is cut through with canals. It could also be the reason behind the meaning of its name, literally translatable to "peaceful meeting place".
And peaceful is clearly the appropriate word to describe it. Indeed, it has a magical vibe that I have rarely seen anywhere else, probably thanks to the tremendous number of decorative handmade lanterns hanging everywhere in the streets, hence the nickname I mentioned above. They are due to the Lantern Full Moon Festival, taking place in the city every full moon cycle to honor the ancestors. Then, people exchange flowers, lanterns, candles and fruits, for prosperity and good fortune. If you want to experience it at the fullest, make sure to check a Full Moon calendar to know which day of the month it falls and plan your trip accordingly! We had the chance to be there on the day before Full Moon (which was a lucky hazard as we didn't check upstream) so I am not sure how it is the rest of the month.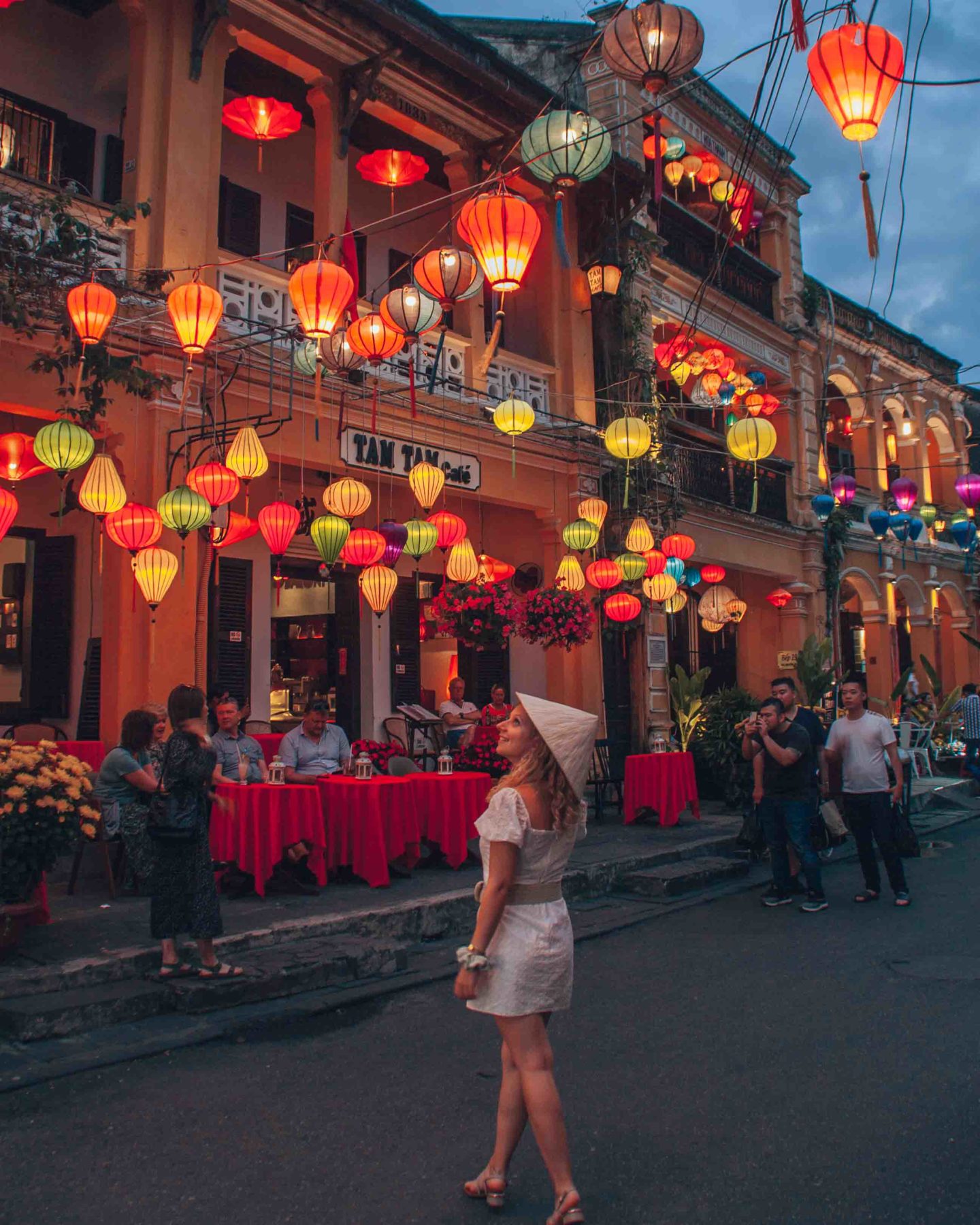 To be honest, I was a bit afraid of being disappointed after hearing so many dreamy stories about Hoi An. But actually, it has been exceptionally surprising – in a good way! In only one day (and not even a entire one), we got to discover that it's even way better than any of the speeches we'd heard! So -spoiler alert- if you were thinking about witnessing its magic yourself, do not hesitate any more minute, I entirely recommend you to go without a doubt! Now let me take you through all the authentic experiences you will be immersing yourself in during one single day in Hoi An, Vietnam.
Getting to Hoi An
First, you need to get there! The nearest airport is located in Da Nang, which is why combining both cities is the most logical, as they are right next to each other. I dedicated another blogpost to Da Nang, which you will definitely need to explore too before or after your visit of the city of lanterns. As said above, we personally went to Hoi An on a one-day trip from Da Nang and didn't stay there itself.
We actually spent our morning in the Ba Na Hills – I am telling you everything about it in this blogpost – and then came directly to Hoi An via Grab (the Asian Uber-type taxi service). The ride took around 1h and cost us 23€ (26 USD) from there. From Da Nang center, rather count 45 minutes and 13€ (14.6 USD) – that's what it cost us on our way back in the evening.
As you can read, it is totally doable to sleep in Da Nang (or somewhere else nearby) and just come to the Ancient Town for the day. On our side, we arrived at noon and stayed until 7pm. We had lunch straight at our arrival so our exploration truly began at 1pm. Of course, if you have more time, you can totally spend a night or two in Hoi An, but I would not recommend more than that, at least if you stay in the city only.
1pm-3pm: Visit the Ancient Town
If it is so easy to visit in only one day, it is because the Ancient Town is super small. Most of the sightseeing spots are literally 30 seconds from each other. The whole area is managed by the Hội An Center for Cultural Heritage Management and Preservation, and as so, obeys to several rules. For instance, as soon as you enter the gates limiting the Ancient Town, you are no longer allowed to smoke. The streets are also pedestrian every day from 9am to 11am & from 3pm to 10pm. It helps both preserving the site and making way for the crowds of tourists, while creating this very "intimist" atmosphere. It surely makes the wandering experience way better!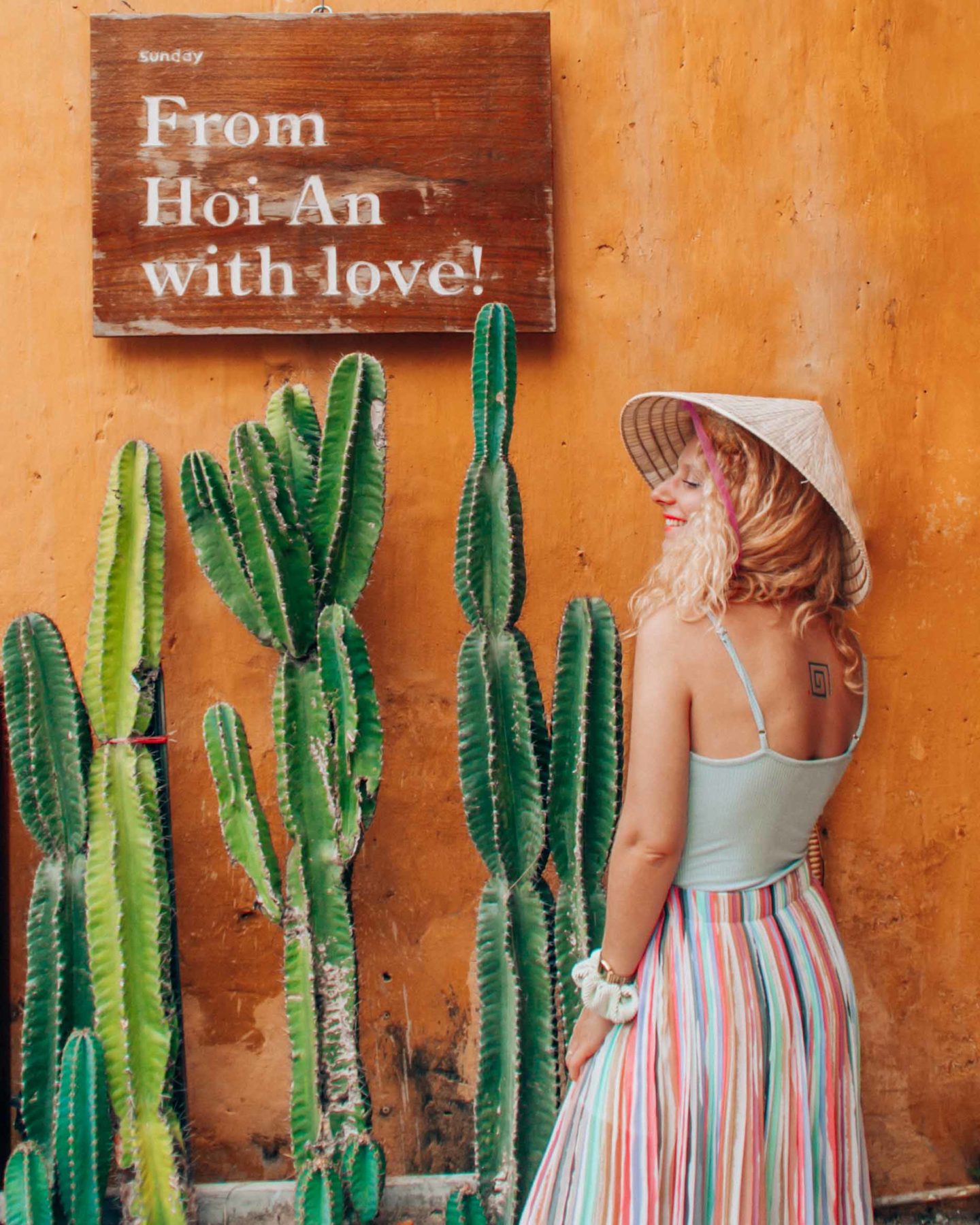 Historical sightseeing
To visit most of the different monuments and traditional houses, you need to buy the Hội An Entrance Ticket. You can find it in one of the sites directly or in one of the tourist centers. It costs 120,000 dong (VND) per person – around 5€ – and gives access to 5 sightseeing places of your choice during 24h. Each place will take one token out of the fifth on your ticket, so don't lose it! If you want to see more than 5 attractions, then you simply have to buy another ticket. However, a few remain free, as you will see in the following list. Most of those places being actually located on the same street, I listed them in the same order than their location. You will also be given a very helpful map showing all the Ancient Town spots you can visit when you buy the ticket anyway.
A. The Japanese Bridge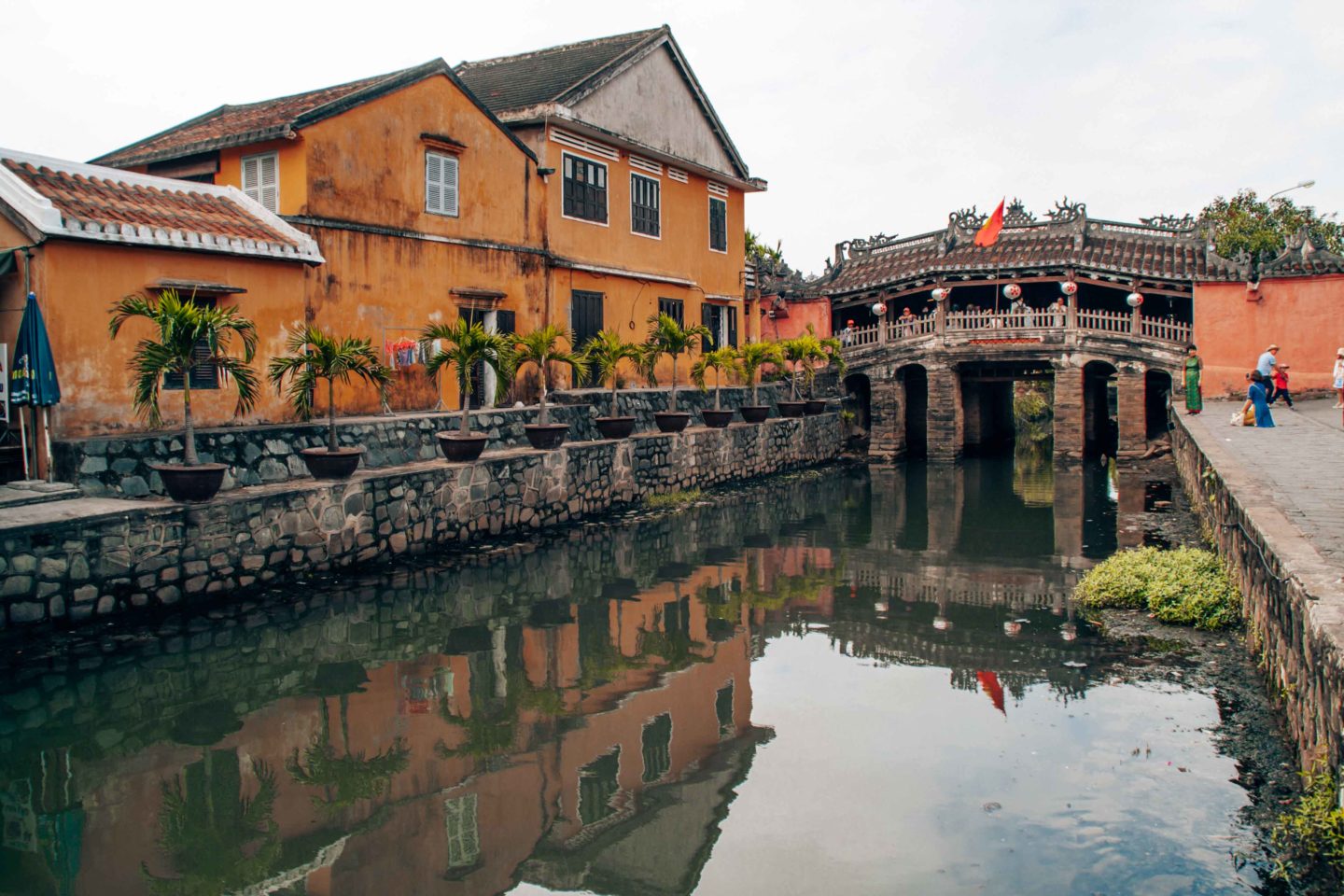 The Japanese Covered Bridge, one of the many marks left by the foreign communities which settled in Hoi An, is probably the most iconic attraction in town. It dates back to the 18th Century, and was apparently built by the Japanese as a way to reach the Chinese quarter across the canal. That is the reason why its architecture also integrates some Chinese symbols, like dogs and monkeys' sculptures, commemorating the years when the bridge construction started and ended. It stands as a symbol of Hoi An, and therefore is usually quite crowded.
Location: at the west beginning of Tran Phu Street.
The access is free and the place always open.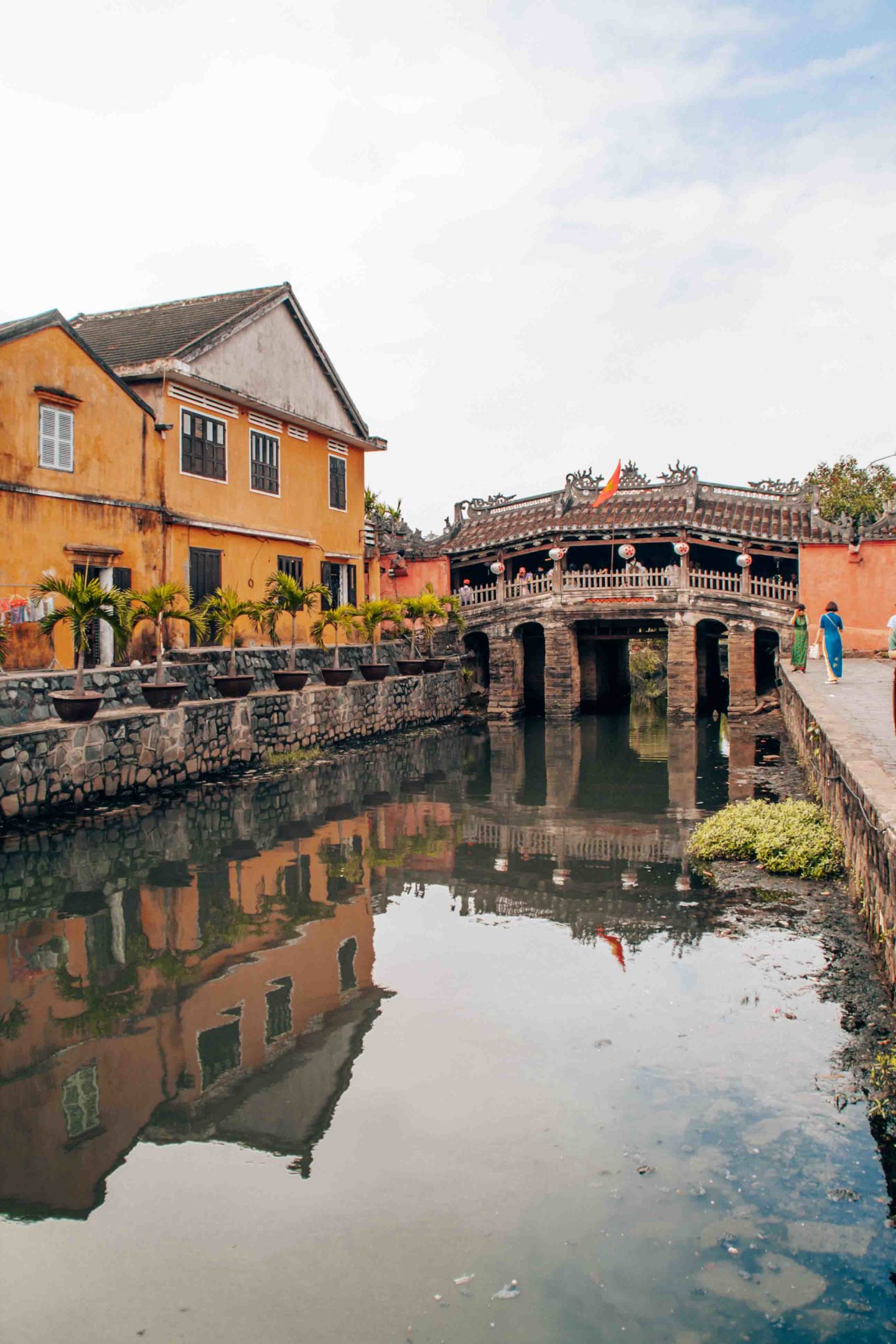 B. The Quảng Triệu (Cantonese) Assembly Hall
A few steps away from the bridge, you will find Quang Trieu Assembly Hall, also known as the Cantonese Assembly Hall. Built in 1885, it is famous because of its magnificent central courtyard and peaceful garden, filled with dramatic dragon and goat statues.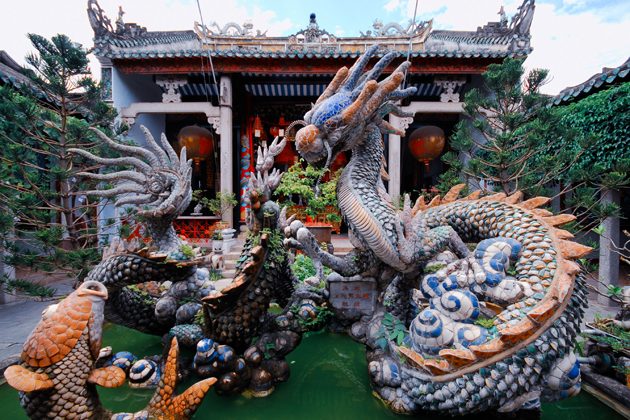 Opening Hours: Daily 8am-6pm
Location: 176 Tran Phu Street
Entrance thanks to the Hội An Entrance Ticket.
C. Cổng Chùa Bà Mu
When leaving the Cantonese Assembly Hall, take the first alley on the left, called Hai Bà Trung. After around 100 meters, you will see the Ba Mu Temple Gate on your right. Originally named Cổng chùa Bà Mụ in Vietnamese, it plays an important role in the spiritual life of the Minh Huong Community of Hoi An. Built in 1626, it used to be a big temple complex filled with architectural and cultural works typical of the Vietnamese style. However, nowadays only the Tam Quan gate (or "three-entrance gate") remains, after the complex was ruined due to war and bad weather.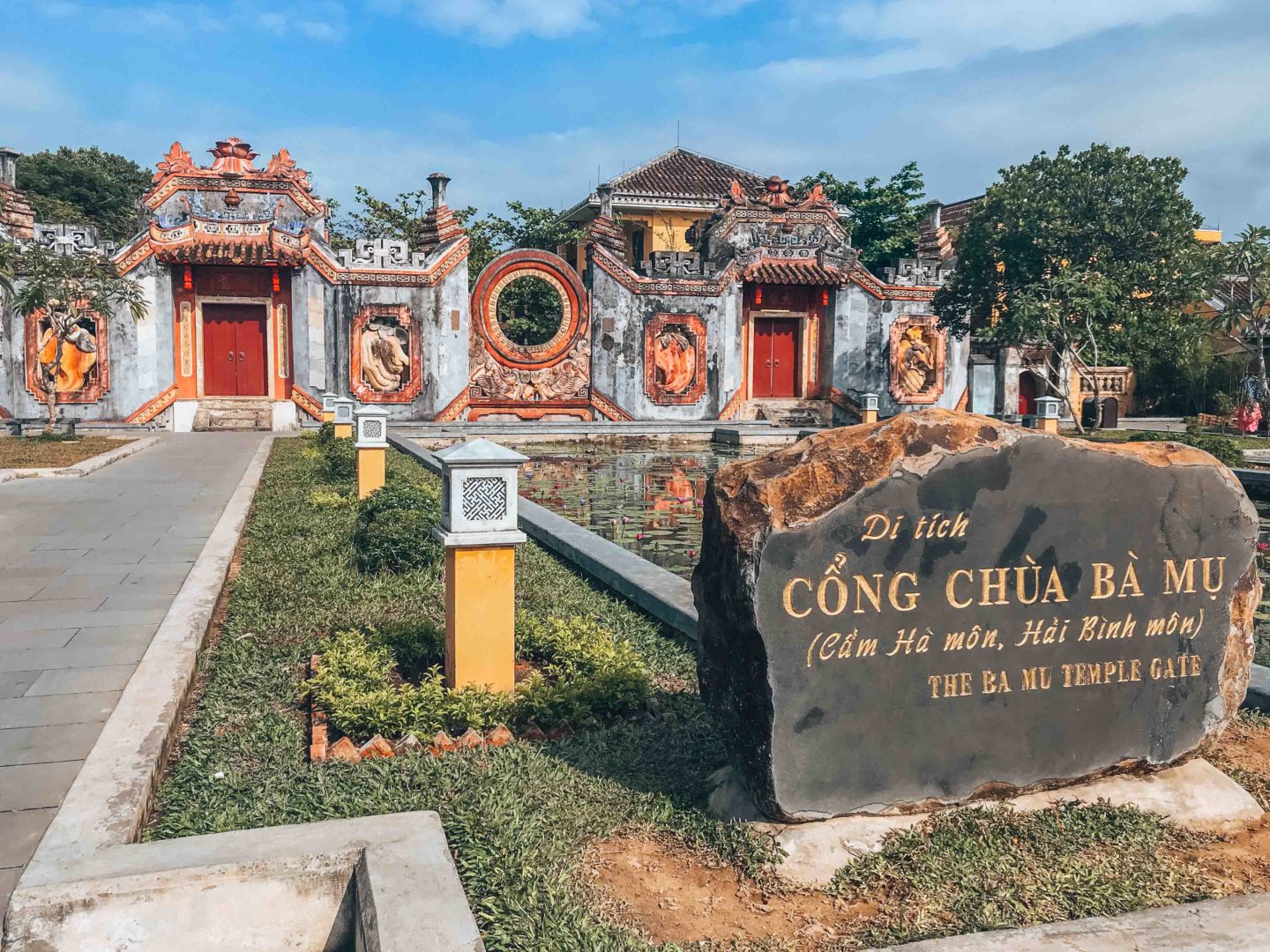 In 2018 though, the local government spent over 5.3 billion VND (228,000 USD) on restoring the gate and landscaping the complex. It now has electric lighting, a pool, flower beds arranged in patterns, and paths for strolls flanked by lawns. This newly restored Ba Mu Temple Gate is already a hotspot for photographers, and hence very popular on Instagram. If you go on a sunny day, you will be able to capture a stunning water reflection!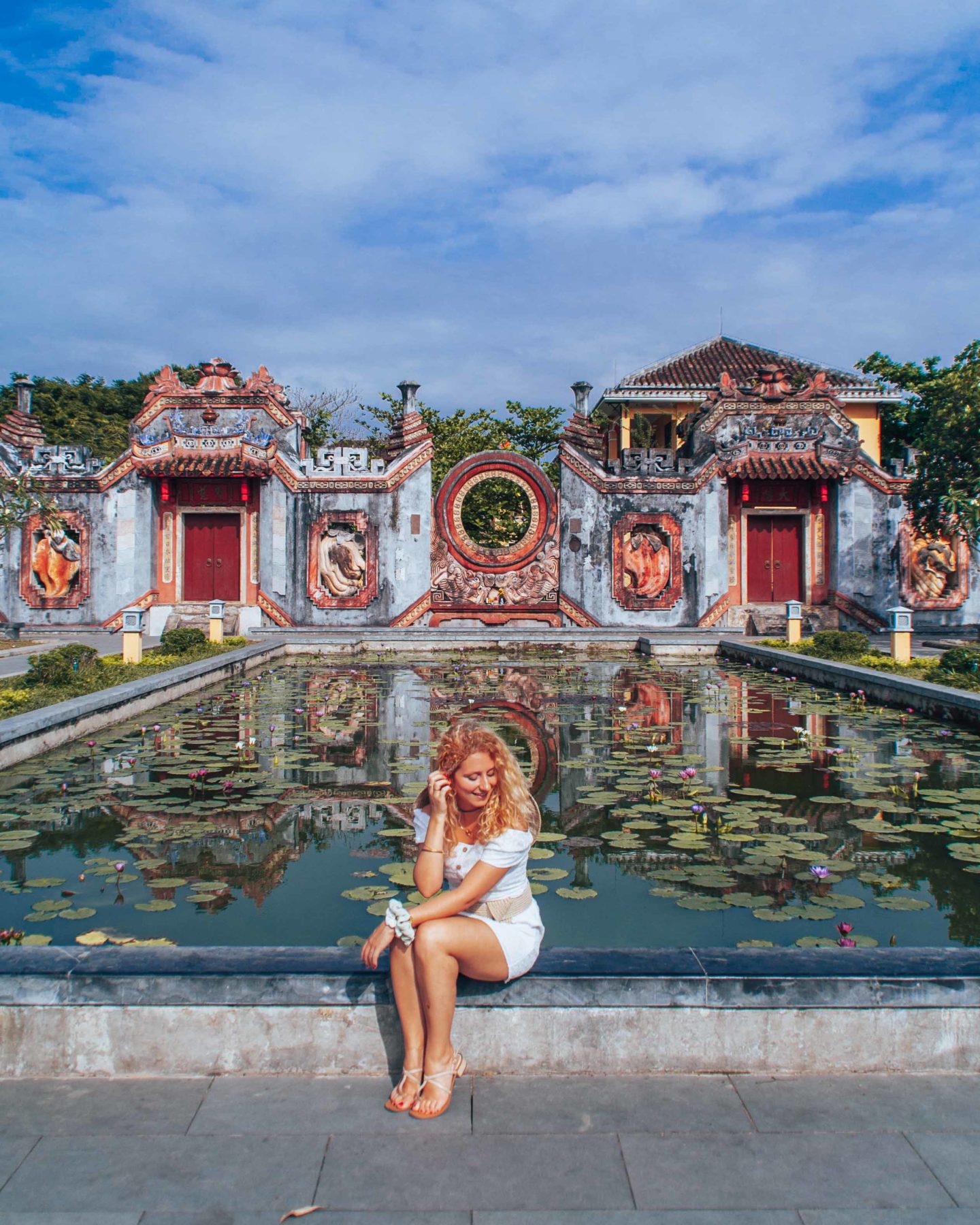 Location: between Hai Bà Trung Street and Dam Chay Alley.
Free access and no specific opening time.
D. The Fujian Chinese Assembly Hall
Come back to Tran Phu Street, and keep walking in the opposite direction, leaving the bridge behind you. You will soon find the Fujian Chinese Assembly Hall on your left. Hội Quán Phúc Kiến, from his local name, is one of the most photogenic places of Hoi An. It was originally created, in 1690, as a meet up spot for the Chinese people coming from Fujian who were living in town. Its superb architecture made it classified as a World Cultural Heritage site as well. To my opinion, it is the prettiest of all Hoi An's monuments.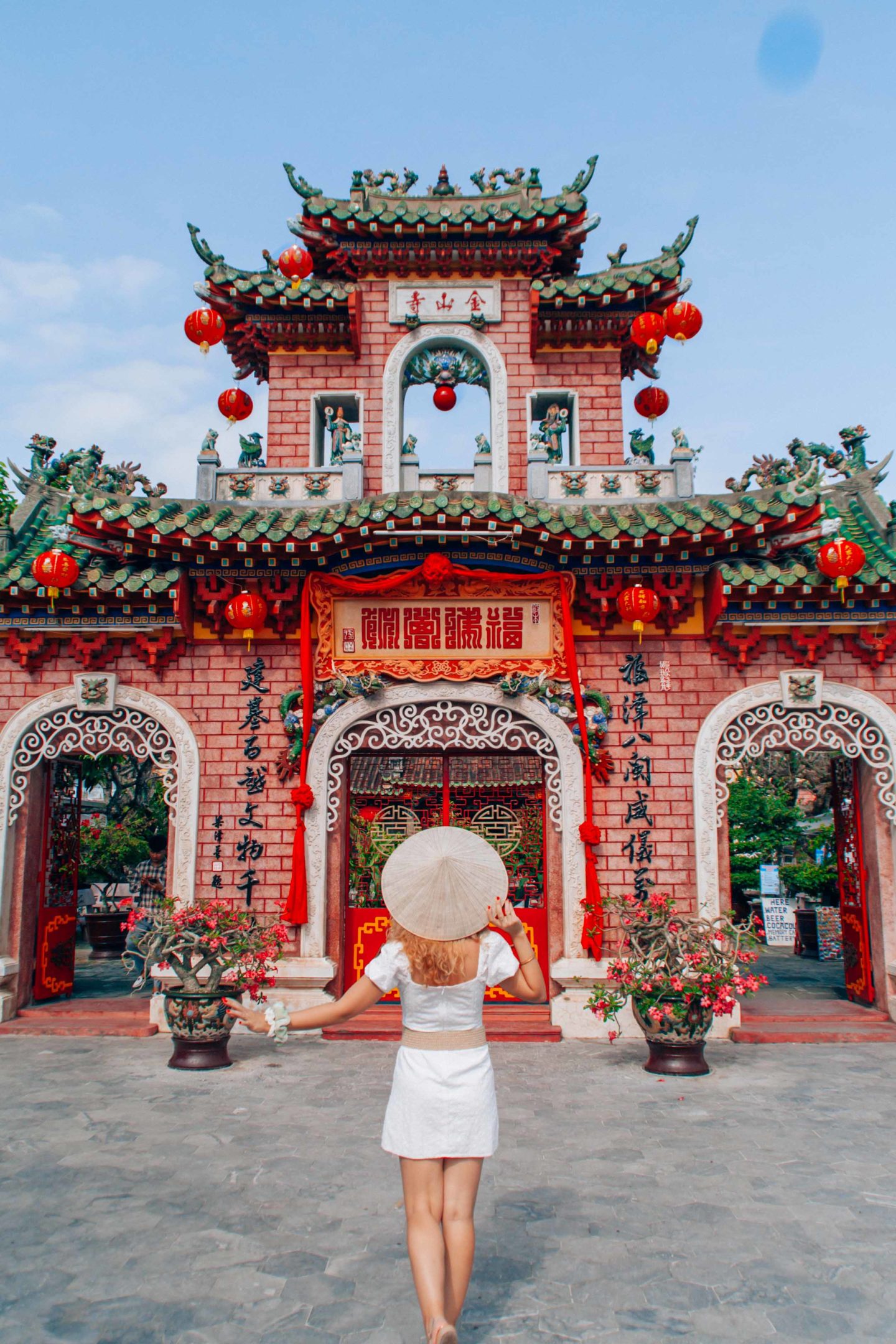 Inside, you will find the Jinshang Golden Mountain temple, dedicated to Thien Hau (or Tian Hou), the goddess of the sea and caretaker of sailors. Little anecdote: if you read my blopost about Kuala Lumpur, or visited it yourself, you probably remember this goddess, as the famous Thean Hou Temple was made for her too! She is very commonly celebrated amongst Chinese overseas communities.
Opening Hours: Daily 8am-5pm
Location: 46 Tran Phu Street
Entrance thanks to the Hội An Entrance Ticket.
E. Hai Nam Assembly Hall
Last but not least, near the end of Tran Phu street, you will get to a last cultural gem: the Hai Nam Assembly Hall. It was built in 1875 in honour of 108 traders who were sailing from China to Hoi An and were mistaken for pirates, sentenced to die. Years later, they were finally recognised as martyrs, hence the construction of this Assembly House. Therefore, you will find many ships representations inside the monument, along with tablets in memory of the traders.
Opening Hours: Daily 8am-5pm
Location: 10 Tran Phu Street
Entrance thanks to the Hội An Entrance Ticket.
In addition to those 5 main sites, and still on the same main street (especially near Hai Nam Assembly Hall), you will find other pagodas, temples and communal houses. Many old houses around are open to sightseeing as well. They are all indicated on the map given with the Entrance ticket.
Museums
The city also has 5 museums highlighting the history of the region. For each one, you will need to use a token from the Hoi An Entrance Ticket again.
The Museum of History and Culture, originally a pagoda, traces the history of Hoi An's inhabitants from its earliest settlers through to French colonial times. You can also visit the Hội An Folklore Museum, the Museum of Trade Ceramics, the Museum of Sa Huỳnh Culture (the original settlers on Hội An site) and the Precious Heritage Museum.
3pm-5pm: Wander in the streets & take it slowly
The two main streets you need to wander in to properly soak up the local atmosphere are Nguyen Thai Hoc Street and Tran Phu Street. Actually, you probably already know the second by heart now after visiting all the monuments above! As the center is pedestrian for the major part of the day, the exploration is very relaxed. The only vehicles you might cross are bicycles and not motorized rickshaws, and they really add to the charm of the town.
Taking some time to just walk in the little alleys and look around you is definitely what will make you fall in love with Hoi An. You will be able to admire all the colorful streets lined with beautiful lanterns, and to look at all the shops, cafes and other corners full of life.
Sunday in Hoi An gift shop
There are many lovely shops in Hoi An, but I had to talk about this one in particular. Indeed, it is absolutely adorable, and 100% instagrammable as you can see on the pictures. Make a stop in one of them (there is 2 in Hoi An) while you wander in the little streets and hop on from shop to shop. Inside, you will find some great Vietnamese and Southeast Asian handicrafts (apparel, homeware, lifestyle accessories) made for explorers at heart.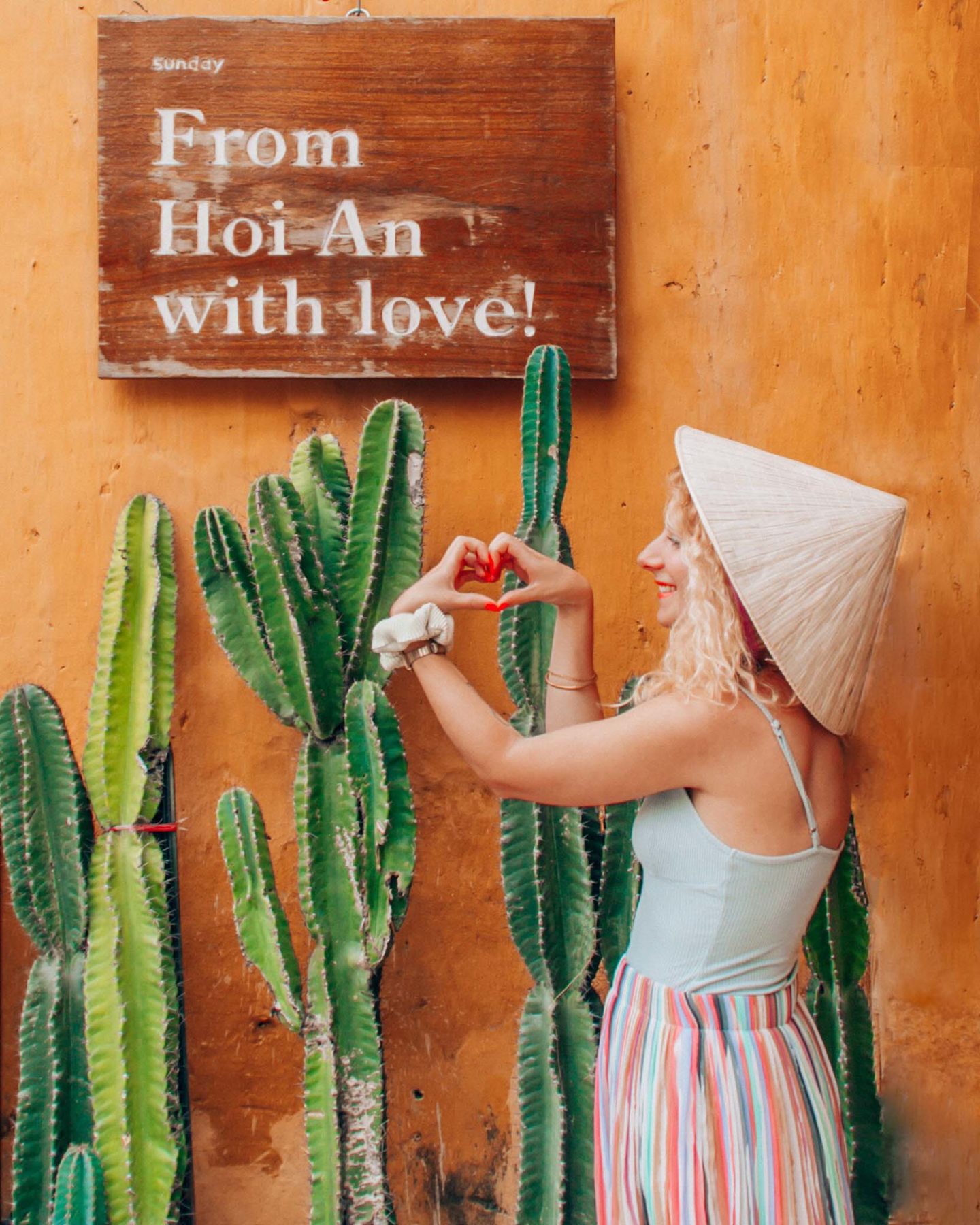 It is a very pretty place filled with clear boho vibes, and you might not resist snapping a picture too! I know I personally couldn't! But make sure to ask before doing so. I have seen many people racing through the shop only to get to the famous insta-spot (below) without even looking at the beautiful pieces they sell, and I think it is not fair to the owners of the place. If you want more information, have a look at their beautiful website, it speaks for itself!
Opening Hours: Monday to Sunday 9am-9pm
Locations: 25 Nguyen Thai Hoc Street // 76 Tran Phu Street (the one with the famous pink wall)
Fun fact about Vietnam: as the local currency, the dong, is the third less expensive in the world (1€ = approximately 26,000 VND), you will probably find yourself millionaire! I took the picture above right after withdrawing money and I must say I found it quite impressive to hold 2 millions for our "only" 75€. And we didn't even use all of it for the whole weekend!
Anyway, other than shopping and wandering, take it slowly by having a smoothie or a coffee in one of the very pretty cafes you'll find everywhere. You can also get a massage in many dedicated places – we had a foot massage as we often do, and it was heaven. It usually cost a few euros only for 30 min. Last but not least, go for a stroll in the central market, on the east side, near the canal. It will take you 10 minutes as it's not a huge one, but you will taste another authentic piece of Vietnamese culture.
In the streets themselves, one of the most picturesque spots I can recommend is the Tam Tam Cafe. Make sure to see it by day and by night, but I'm sure you will definitely fall on it at some point as it's very central.
5pm-7pm: Experience the magic by night
Due to its location on the globe, the sunset time doesn't vary a lot in Central Vietnam, and is never very late either. It means that no matter when you come throughout the year, sun usually sets between 5pm minimum and 6.30pm maximum. This is really arranging in our case, as the most part of Hoi An's magic happens at night; so, the sooner it comes, the better! Hands down the best moment of any Hoi An experience is seeing all of the beautiful lanterns lit up at night in the colorful streets. That's why, even if you don't sleep in the Ancient town, you can and you HAVE to stay until sunset to admire the spectacle 🔮
Pin this for later! ↡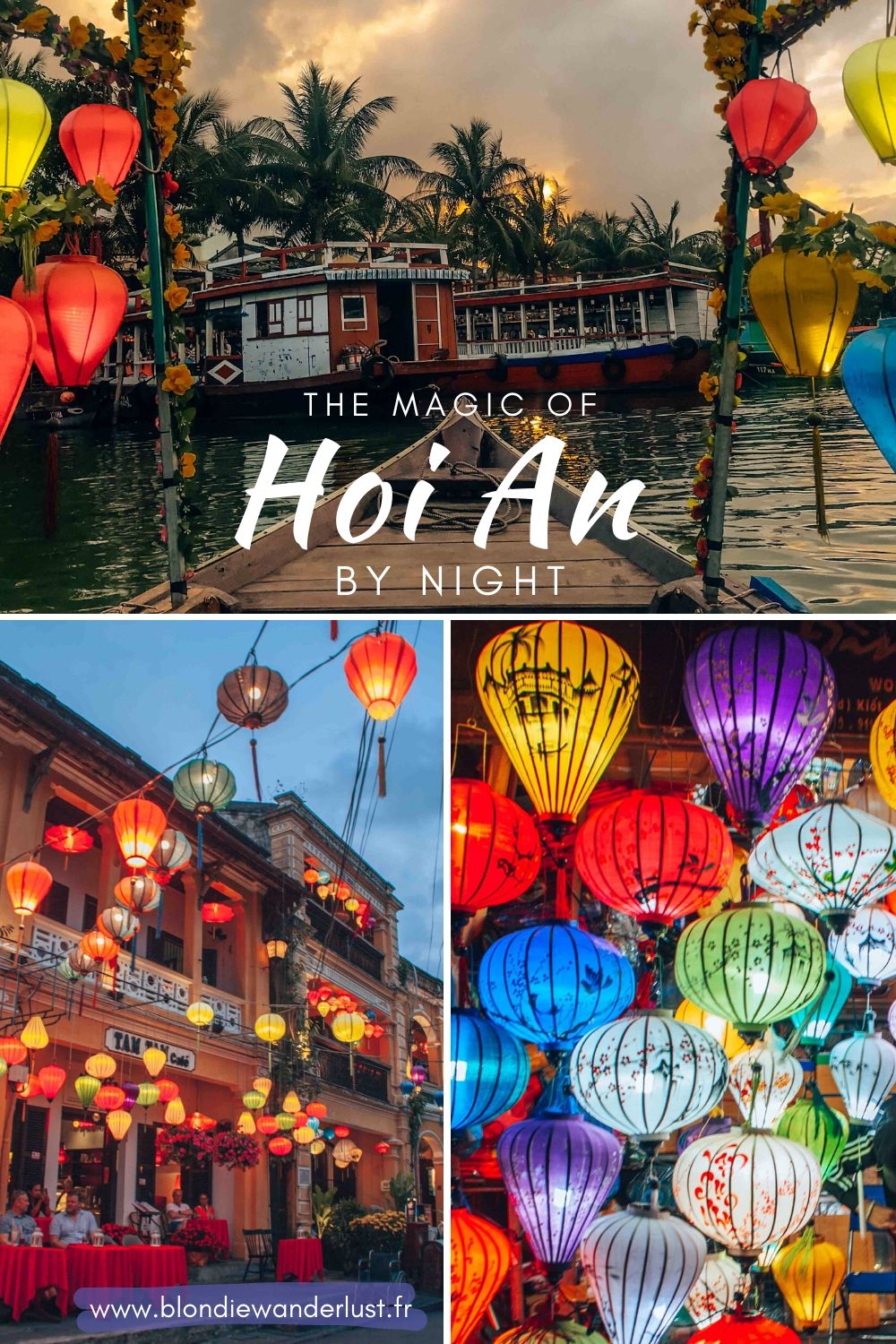 Enjoy the sunset on a lantern boat tour
Around 5pm (in winter) or 6pm (in summer), when golden hour appears, head to the river. The Thu Bon River is still essential to the region and remains an essential form of food production and transport in Hoi An. But apart from that, it is also where you will find plenty of adorable boats covered with lanterns and ready to take you on a tour.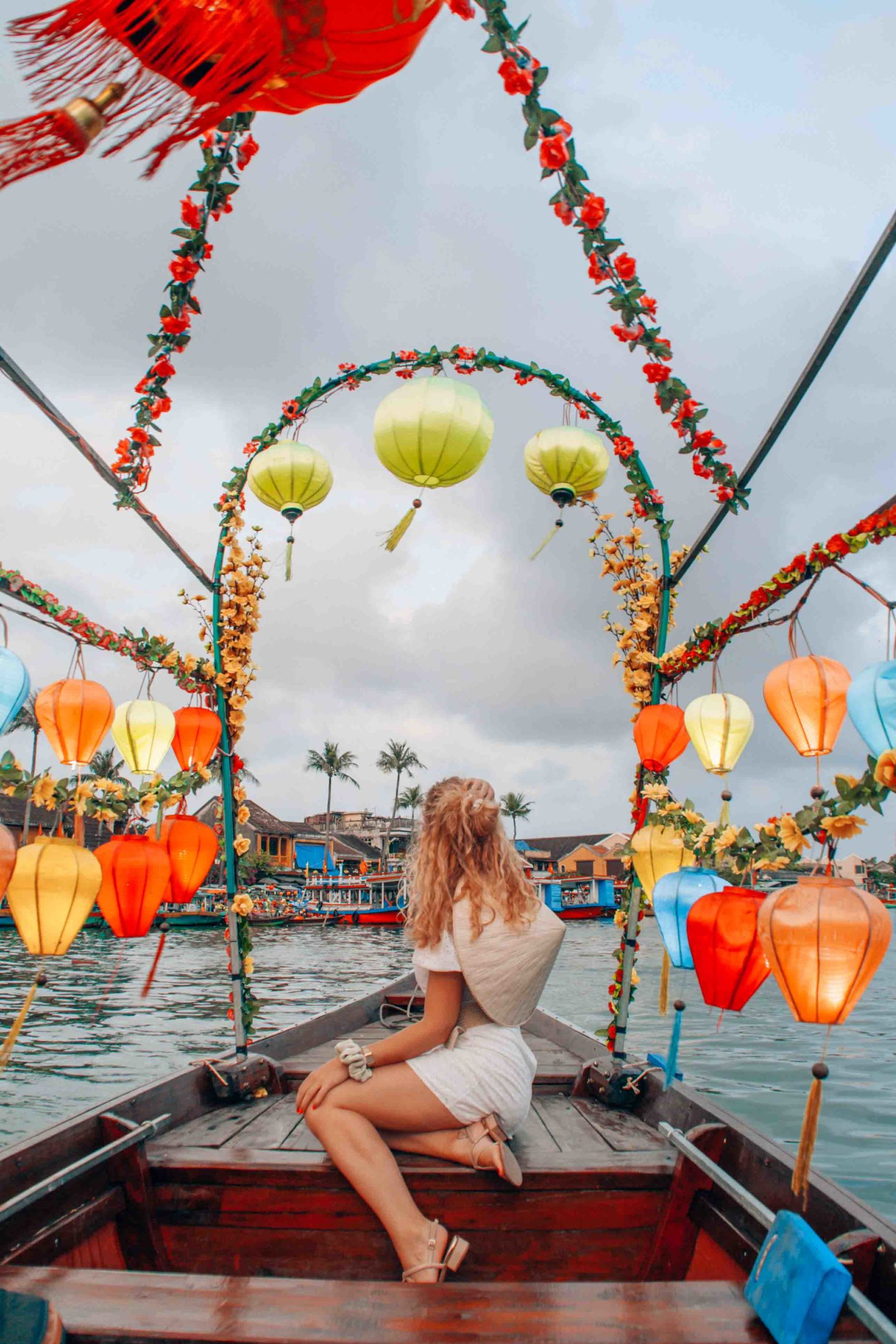 Check your weather app for the precise sunset time, and try to book on your river cruise about 20 mins before, when it starts. This is when you will get the best light for your pictures, and see everything in both daylight and night. The lanterns boat tours usually last around 15/20min, but you can negotiate a 30mins one! That's what we did, and we paid 300k VND (around 12€ / 13.5 USD).
Walk through the Night Market & the bridge of Lights
After your cruise is over, and now that the dark is here, walk to the night market, on Nguyễn Hoàng islet, over the canal. On your way you will cross the Ancient Town's main bridge, Cầu An Hội. Also called the bridge of lights, it is the other place to be at that moment, as its name indicates! Take some time to admire the illuminated river from it, and the locals exchanging flowers, candles and lanterns. The spectacle is magical!
On the other side of the bridge, you will find many small stalls selling lanterns all lit up. Some crowds usually gather around them at night, as they are really picturesque. If you don't want to buy a lantern, but just to take a picture with them, as I did, make sure to ask first. Some vendors will gently let you do so, some will ask for a small fee (which is totally understandable), and some will say no. It's better to know beforehand and to respect the locals. By the way, we witnessed some pretty aggressive conversations around us when the tourists didn't, and I think it's normal!
Have a local dinner & feel the vibe
This longtime trading port city offers a distinctive regional cuisine, that blends centuries of cultural influences from East and Southeast Asia. In fact, Hoi An hosts a number of cooking classes where tourists can learn to make cao lầu, the regional dish and signature of the city. It consists of rice noodles, meat, greens, bean sprouts, and herbs, most commonly served with a small amount of broth.
We didn't take a class, but we still wanted to taste it. That's what we did during our dinner in The Shamrock Hoi An. Despite being designated as an "Irish Pub", the place actually serves yummy local food. It is also wonderfully decorated with lanterns (right photo above). Cherry on the cake, it offers live music concerts during all afternoon and evening. The guy you can see on the picture is there every day (in 2020) and is really talented! We loved our dinner there even more thanks to him.
We then tried the famous cao lầu, and also some ba'nh xèo, Vietnamese pancakes filled with shrimps and vegetables. It was delicious and cost us 315,000 VND in total for 2, with the drinks (12€ / 13.5 USD). In case you want to grab something quick for dinner instead, you will also see street food stalls pop up all along the Thu Bon River. That's where we took our dessert, banana pancakes, that we paid 30,000 VND (1,10€).
After dinner, it was time for us to get back to Da Nang. But if you are staying in the Ancient Town, then have more time, you'll find other tips and things to do in this article. For instance, something I didn't mention before but which is super popular in Hoi An, is to get custom-tailored clothing. It is one of the specialties in town!
To sum up, in only 7 hours in Hoi An, we got enough time to: have lunch, wander in the little streets, hop on from shop to shop, visit most historical sightseeing spots, get a massage, explore the central market, take a sunset lantern boat tour, admire the city lights by night, and have dinner while listening to a live concert. And all of this without feeling in a rush at all!
Our experience was clearly incredible and I really hope this blogpost will help you get the same. Do not hesitate to ask me any question you'd still have left in the comments below! I would also love to know if Hoi An is now on your bucket list! In the meantime, feel free to contact me directly on Instagram, I will answer you with pleasure!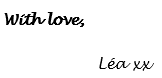 If you enjoyed this blogpost, save it on Pinterest for later! ↡